Pesto Chicken Salad is loaded with pine nuts, shaved parmesan, and fresh tomatoes. A delicious, flavor-packed twist on classic chicken salad, this chicken salad recipe is perfect for spring!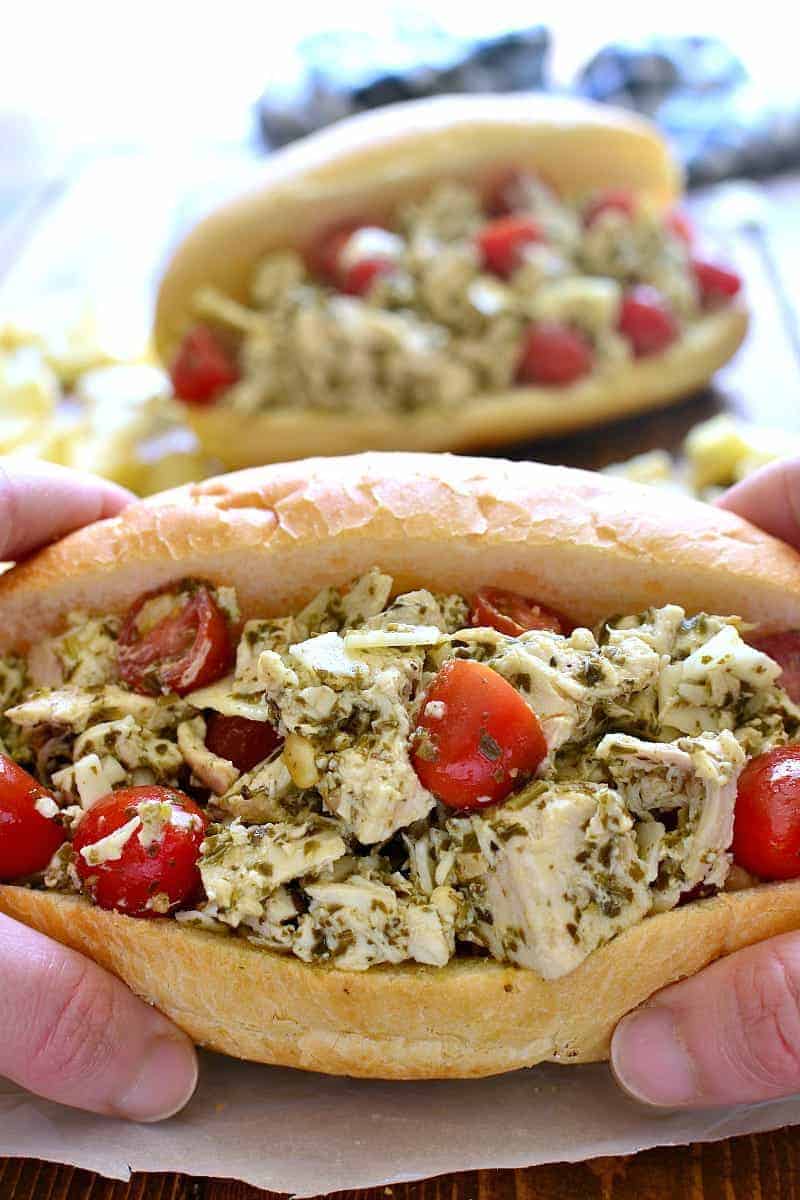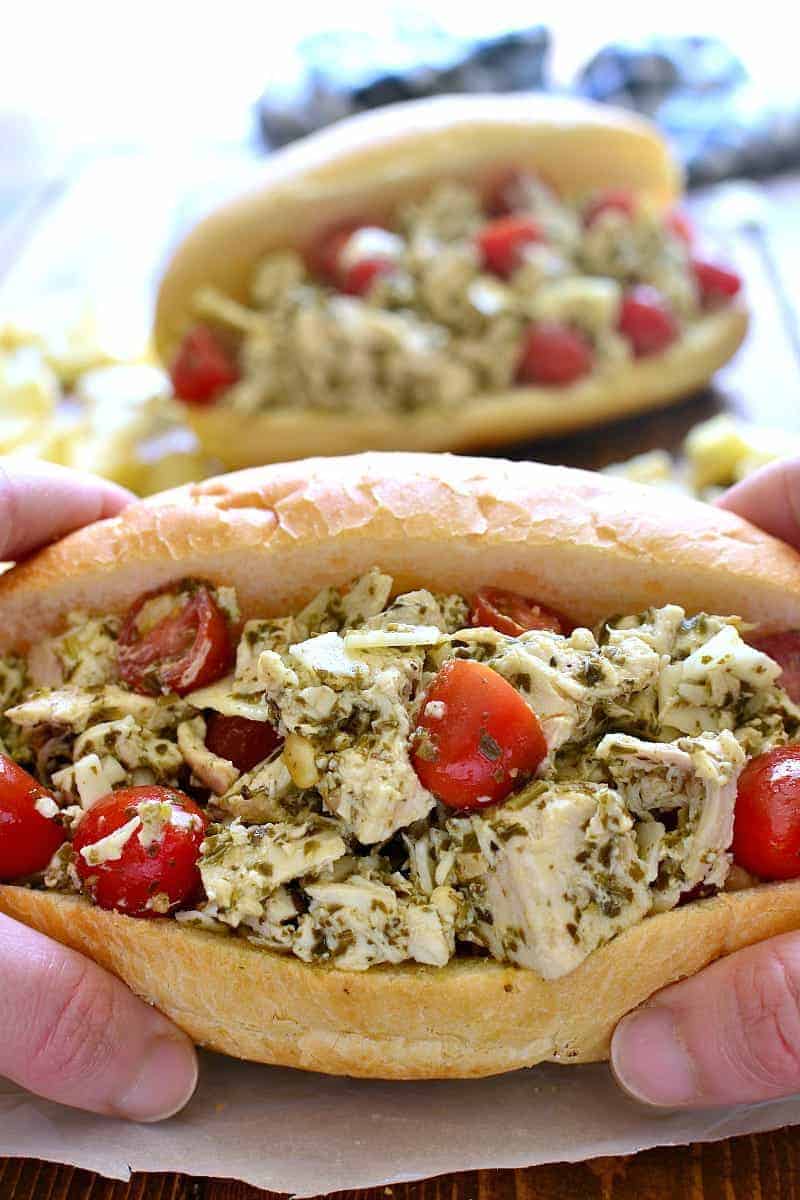 Sometimes being a food blogger is weird. Like when I have random packages delivered to my house, filled with anything from salad dressing to cheese to sandwich rolls or candy bars. Or when people show up at my house and my entire kitchen looks like a bomb went off. Or when I'm mixing mojito cocktails at 9 am and making lemon chicken piccata before noon (only to be re-heated later in the day).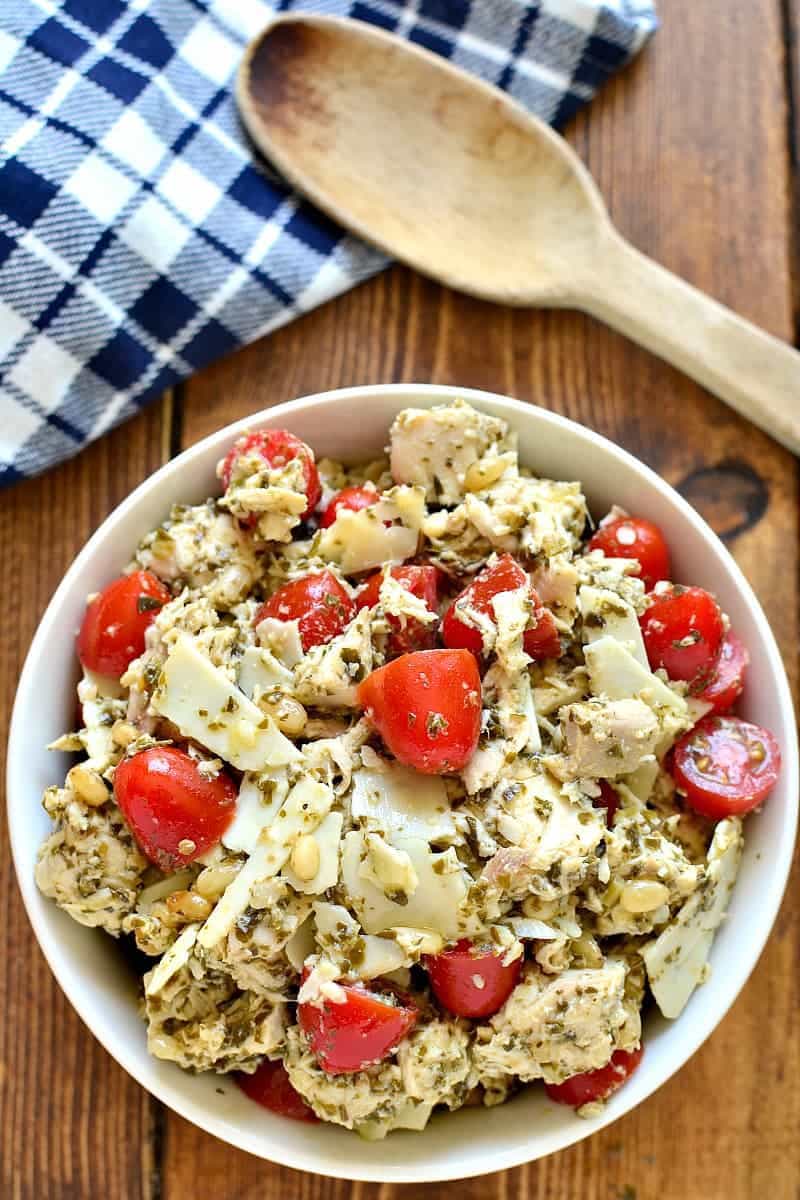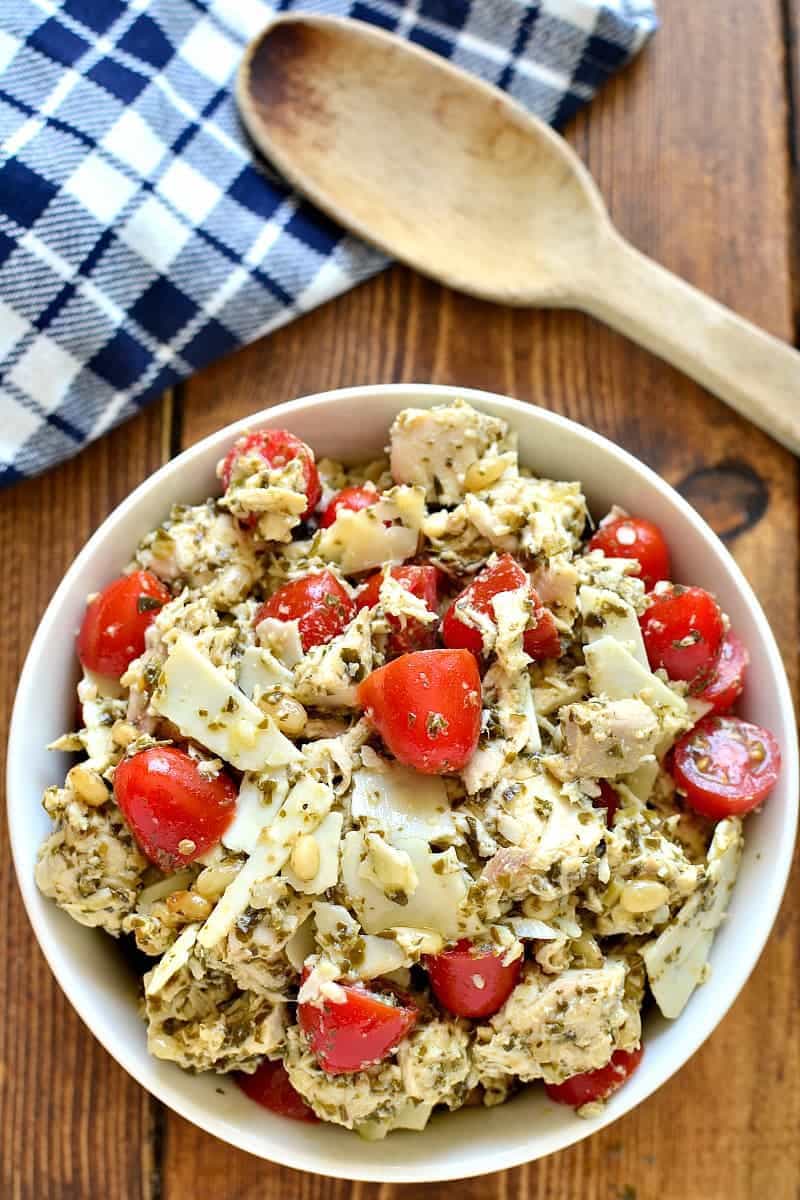 Yes, sometimes I stop and think about the fact that most people don't grocery shop 12 times a week (slight exaggeration) or have a laundry room filled with kitchen props or have closets full of the same brand of chips in different flavors.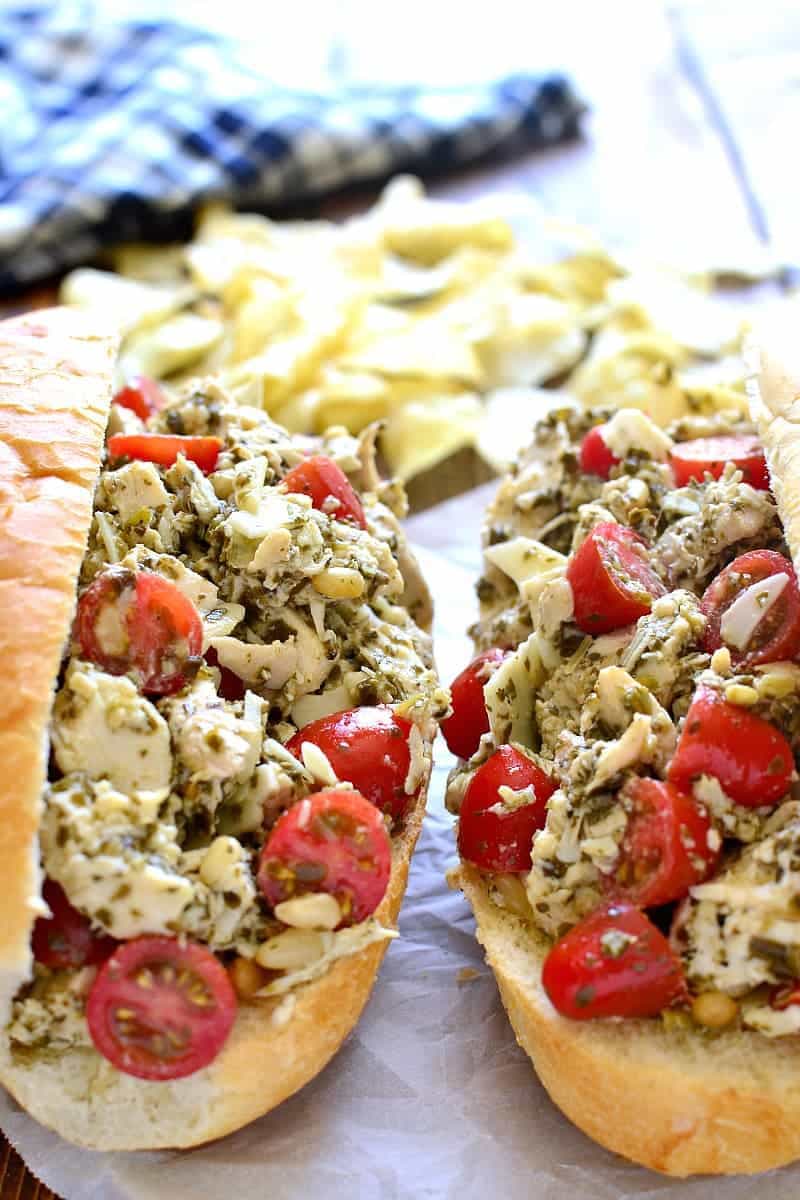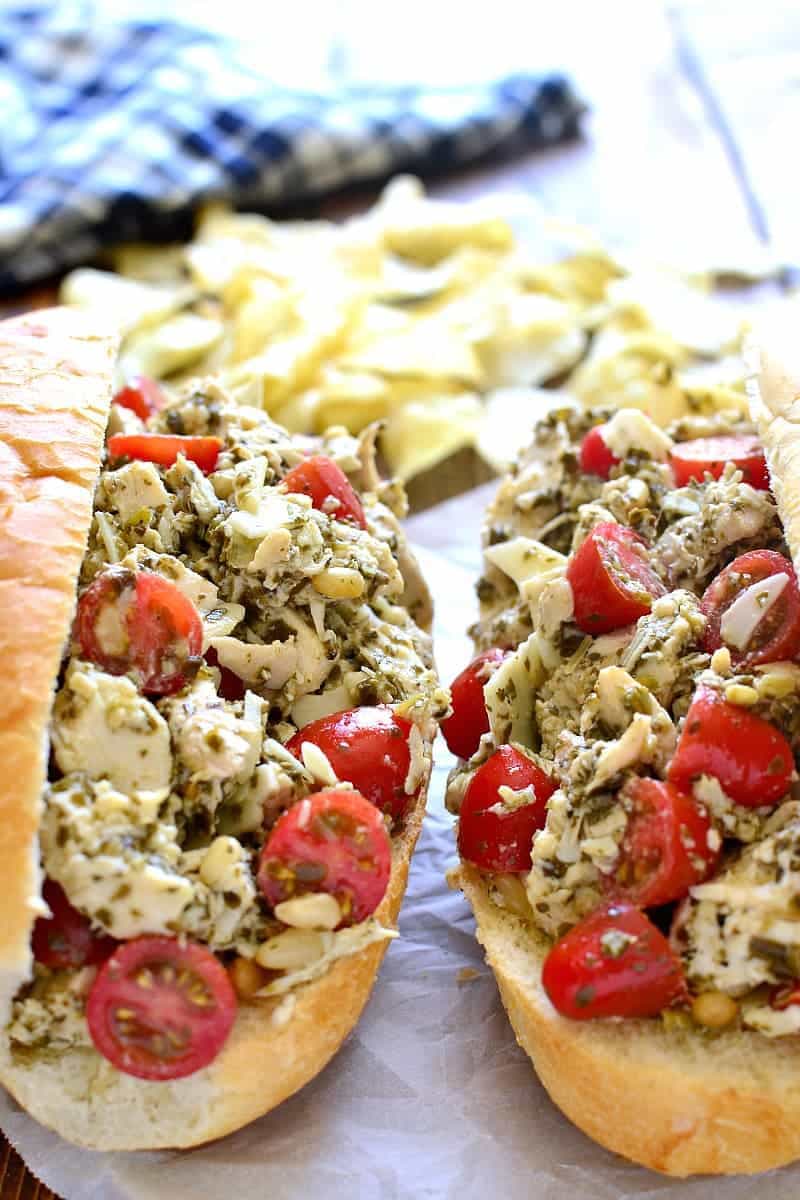 It's something we've grown accustomed to, but I try to remind myself….especially when the girls have friends over….that the life of a food blogger is a little bit odd. The fact that I often think of food as "just another prop"? Strange. The fact that my fridge is filled with random toppings and condiments "just in case"….? Weird (and kind of annoying)! Although, truth be told, my fridge has always been that way. But it's usually filled with delicious food, like pesto chicken salad, for creating easy weeknight meals. Because occasionally, who has time for more than that?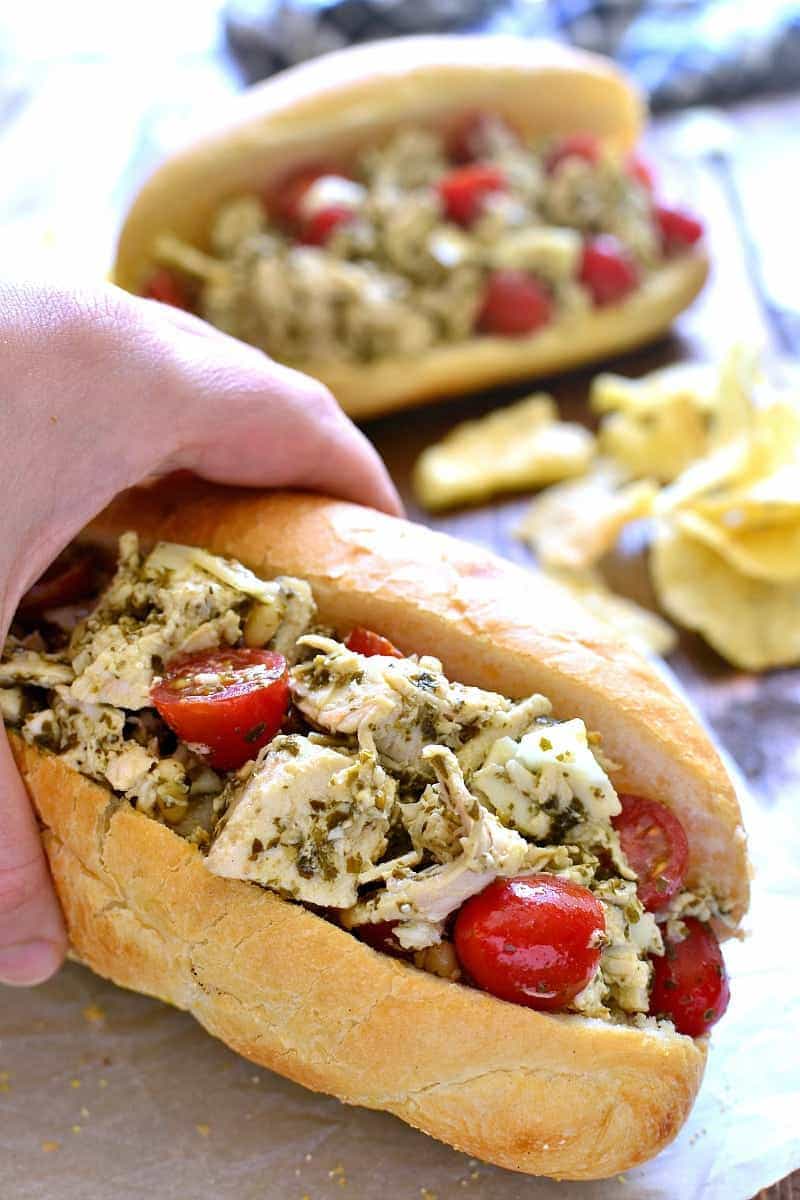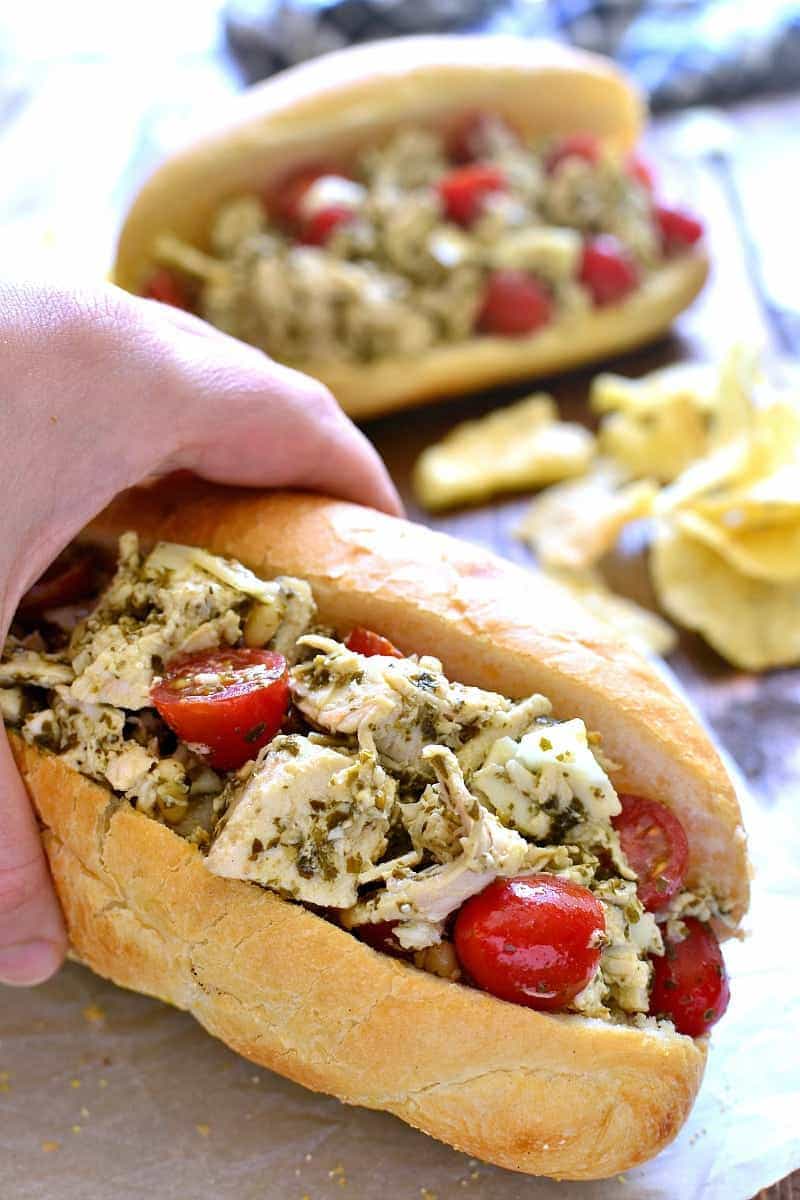 Pesto Chicken Salad
And then there's the issue of the actual recipes that show up here on Lemon Tree Dwelling. So often, I make 3 or 4 recipes in the same day and photograph them all at once. Case in point: this Pesto Chicken Salad! I was on a roll this past Sunday and the chicken salad was one of four. And as much as I wanted to eat it ALL….(pesto chicken salad, brunch egg bake, jalapeño poppers, and a fresh batch of salsa), I decided that sharing it might be even better.
So I texted my neighbor, asked her if she had eaten lunch, and sent a pesto chicken salad sandwich home with her son (who, incidentally, carried it home on roller blades).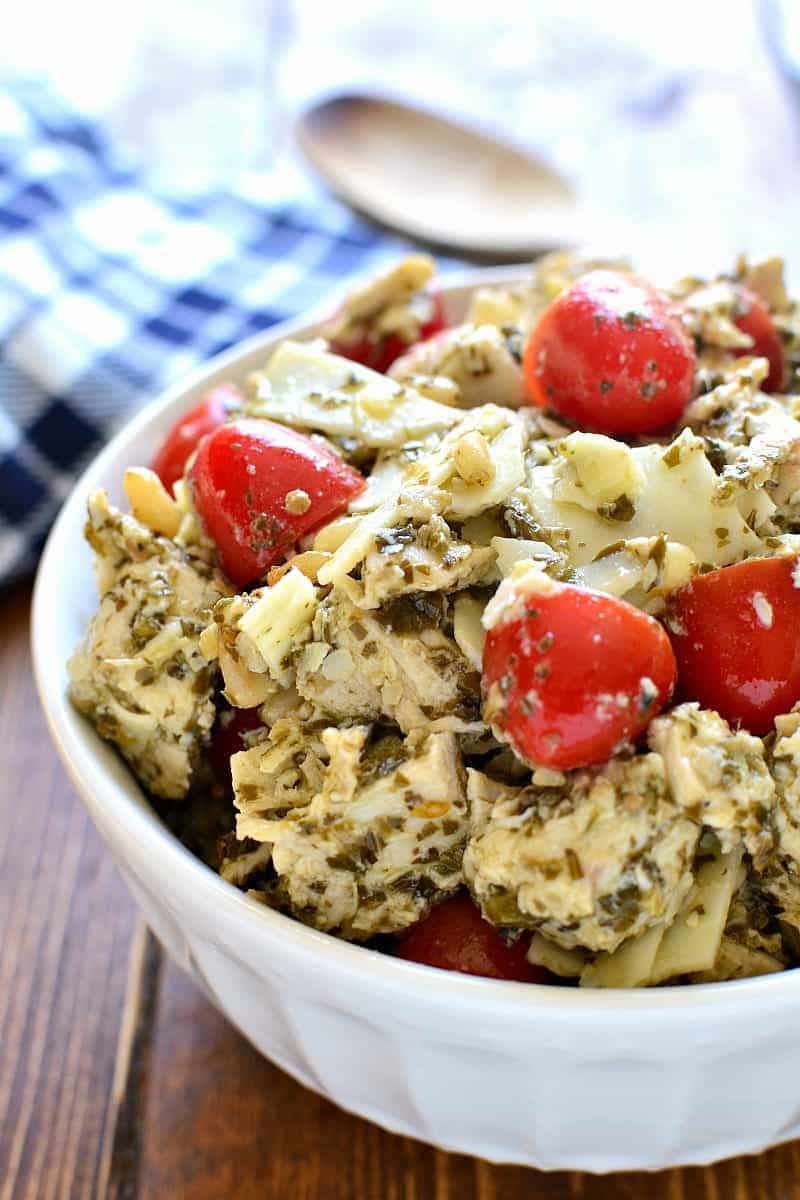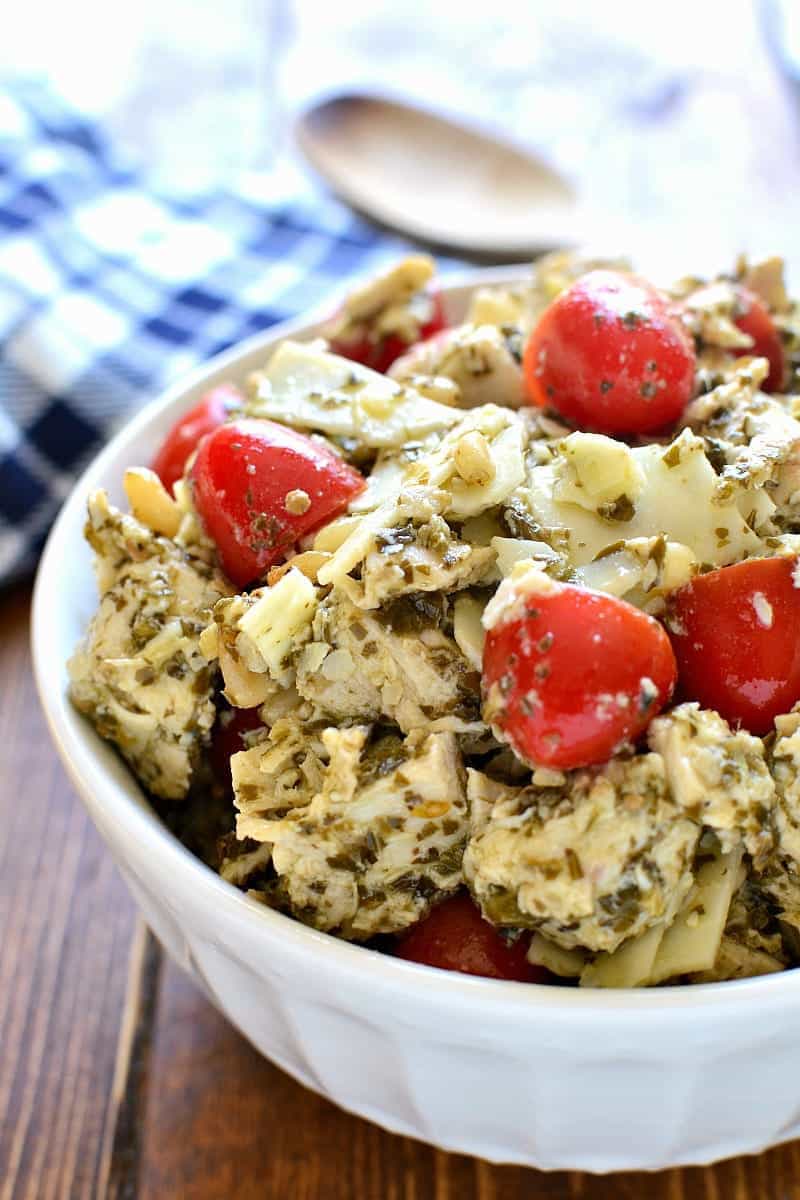 Random, I know. Like I said….being a food blogger is weird! And we know it. So here's my advice to those of you with food bloggers in your lives: If you want to participate in the deliciousness (and clearly you do….) you have to put up with the weirdness. Even embrace it. We're a weird bunch! Or, at the very least, we have a weird job. Either way, I'd say it's all worth it in the end.
If you're lucky, you live close to my blogger friend Lisa, so you can devour her cookie dough lush for dessert.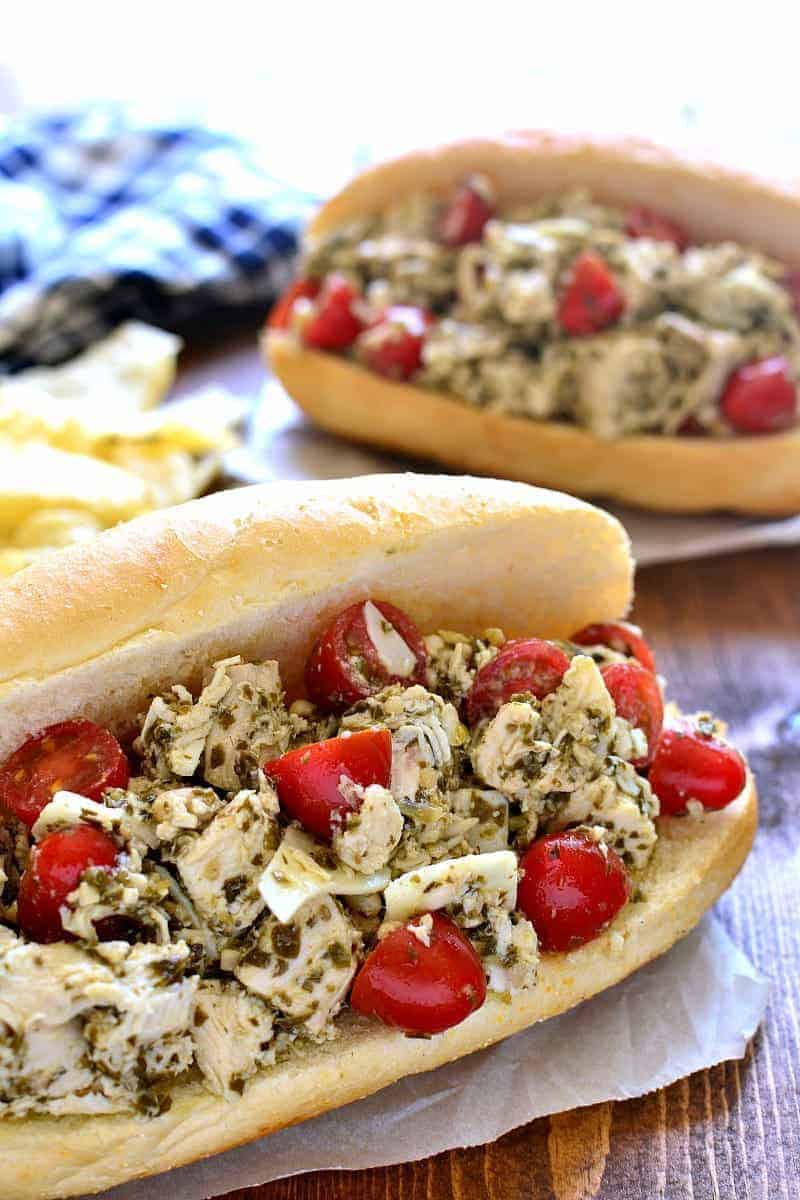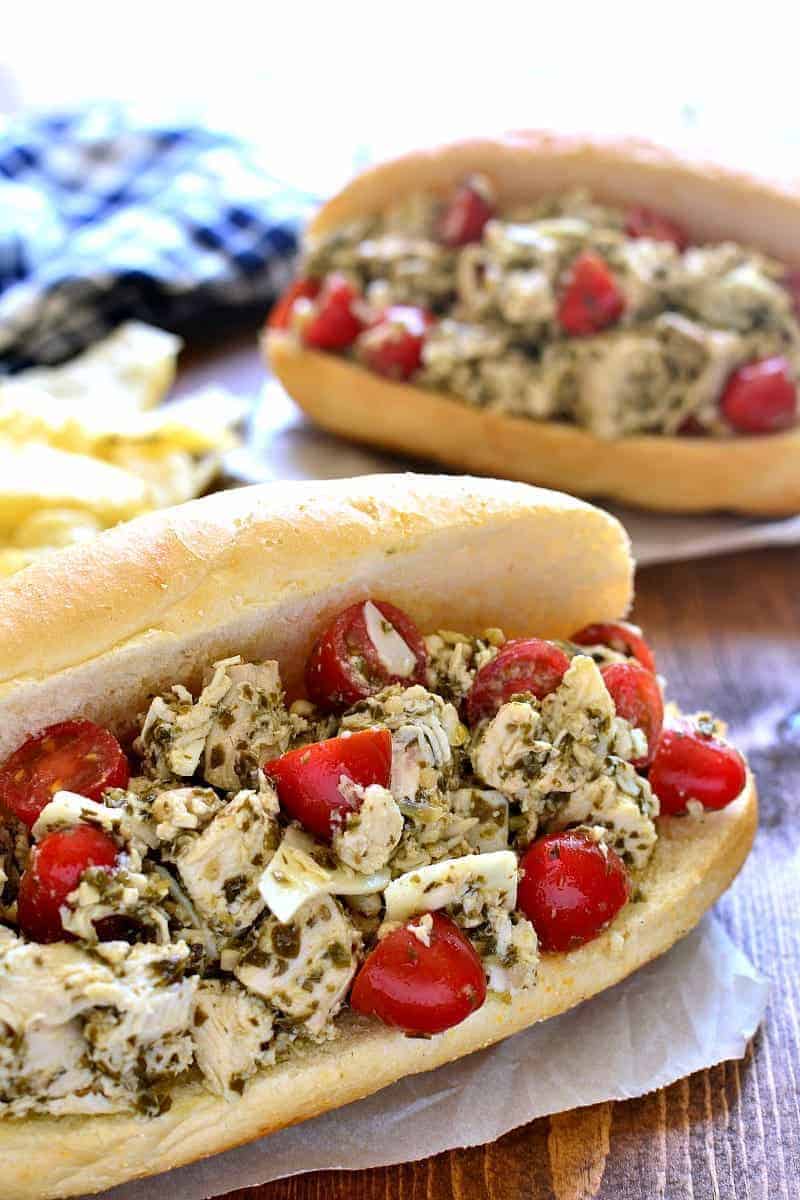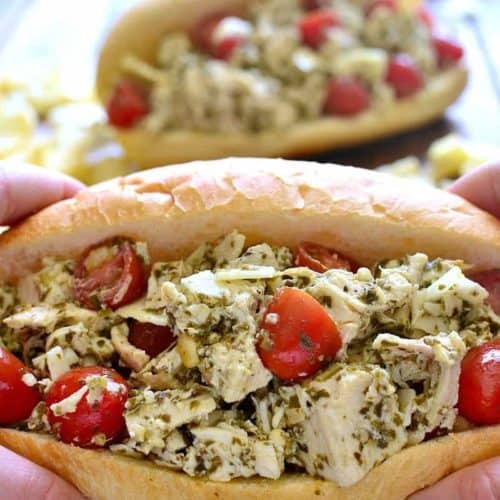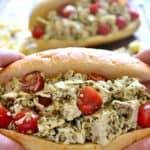 Pesto Chicken Salad
This Pesto Chicken Salad is loaded up with pine nuts, shaved parmesan, and fresh tomatoes. A delicious, flavor-packed twist on a classic....this chicken salad is perfect for spring!
Ingredients
2

c.

cooked

chopped chicken

1/2

c.

basil pesto

1/2

c.

shaved parmesan cheese

2

Tbsp.

pine nuts

1

c.

grape tomatoes

halved

sandwich rolls
Instructions
Combine chicken and pesto; stir until combined.

Add parmesan, pine nuts, and grape tomatoes and mix.

Enjoy "as is" or divide chicken salad evenly between sandwich rolls.