I am a member of the Collective Bias® Social Fabric® Community. This shop has been compensated as part of a social shopper amplification for Collective Bias and its advertiser.
Herbed flatbread topped with pesto, grilled chicken, pine nuts, Parmesan cheese, arugula, lemon juice, and a drizzle of olive oil.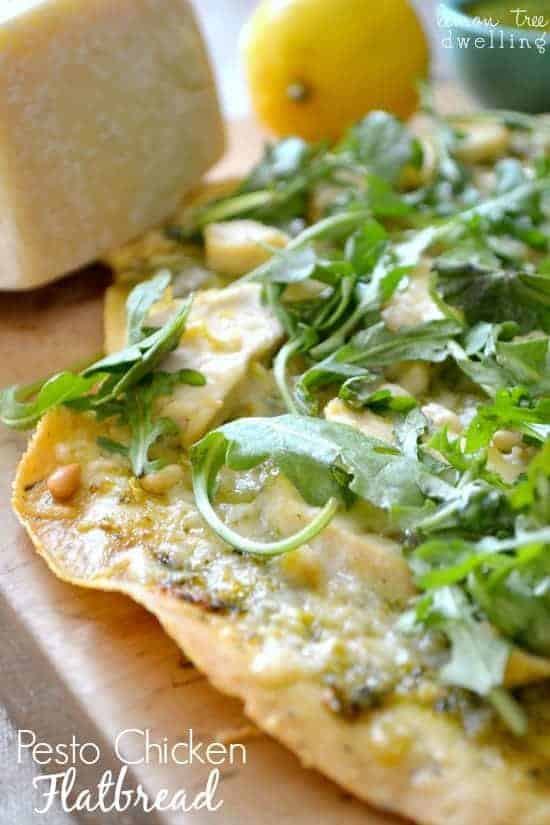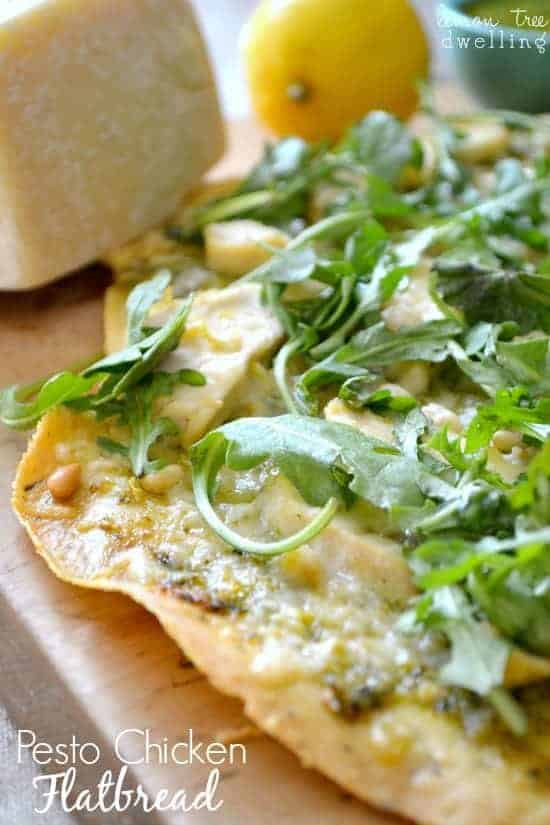 When it comes to dinner, my kids regularly give me a run for my money. Especially lately! I'm not sure if it's the weather, and the fact that they've been locked inside on so many brutally cold days….or their ages (7, 5, and 2)….or just an extra dose of sass they all seem to have inherited (from their dad, of course)….but lately, it seems like I can't find a dinner recipe they all approve of! Even our old standbys, like spaghetti and tacos, have been met with some type of complaint lately. And as much as they like pizza, they're tired of the same old sausage and pepperoni. They've actually been complaining when we order it! Pizza! Seriously, what kind of kids am I raising!?!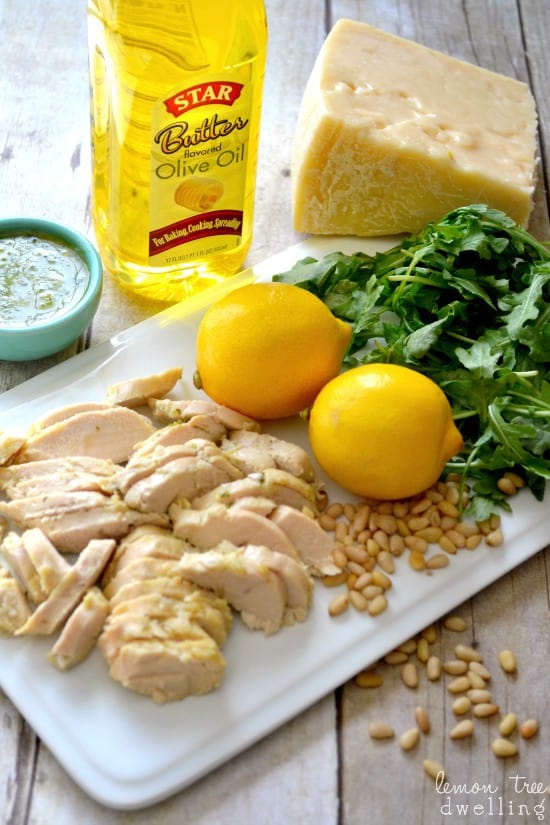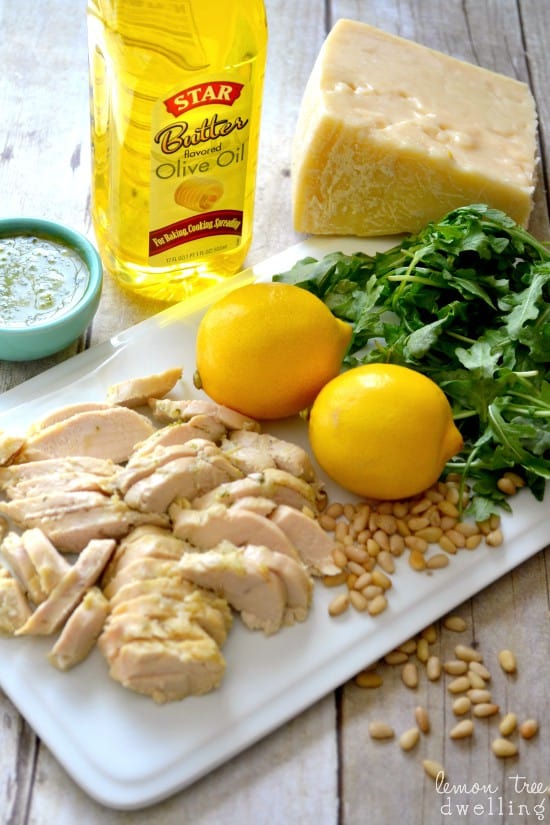 I've never been one to let my kids call the shots when it comes to dinner. They eat what we eat, period! So there's no way I'm going to let their complaints about pizza stop me from making it. I'll just call it flatbread, instead! I'll make the crust a little thinner and the toppings a little different and call it a day….and my kids will never even know! As you may have guessed, I've been cooking up this plan for a while now. So when #CollectiveBias gave me the opportunity to create a recipe using Star Butter Flavored Olive Oil and a protein of my choice, you can guess where my mind went!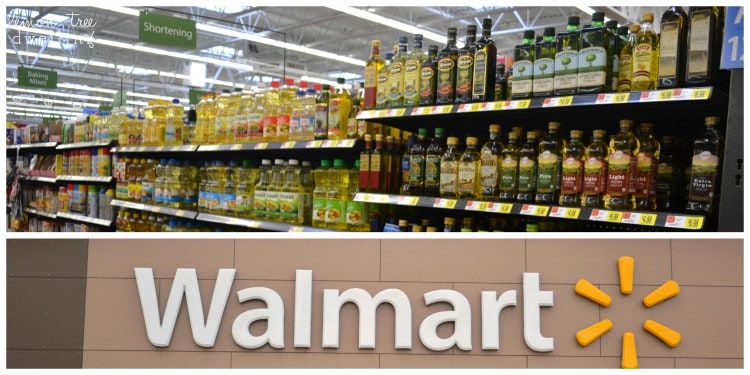 I headed to Walmart, currently the ONLY store where you can find this olive oil, and then to Costco for my chicken and other ingredients. I love shopping at Costco for so many reasons, but mainly because they seem to have it all! I knew that, in order for my flatbread experiment to work, I would need to use ingredients my kids would like….chicken, pesto, cheese….! The arugula was a bit of a stretch, but I wanted to get some healthy greens on there! In no time at all, I had everything I needed – from chicken to pine nuts to Parmesan cheese – and was all set for dinner!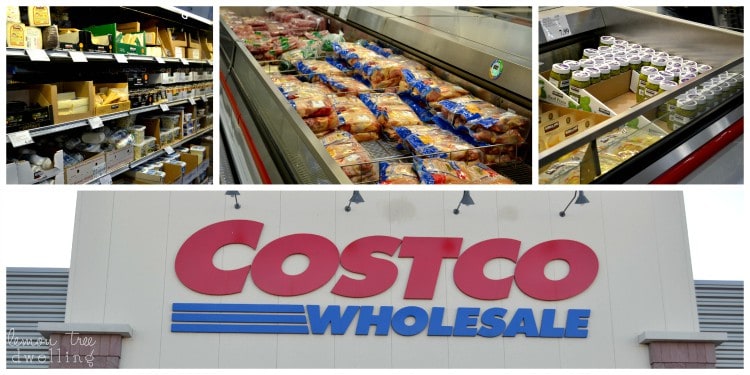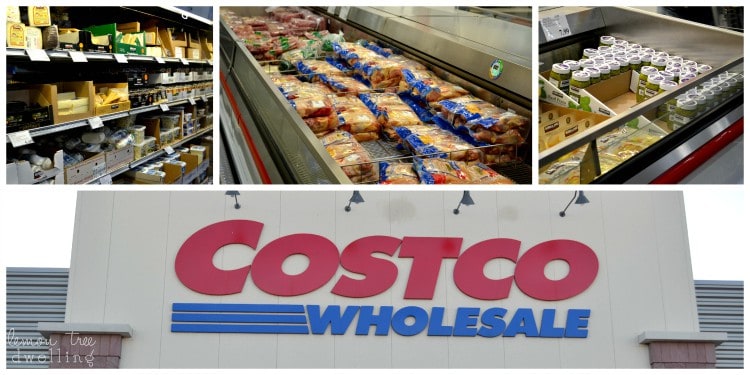 Just in case there was any doubt in your mind, let me just say this flatbread was AMAZING. It was fresh, flavorful, and best of all, green for spring! The pesto gave it a huge shot of flavor right off the bat, the pine nuts gave it some great texture, the arugula added a fresh, peppery note, and the drizzled olive oil gave it the right amount of moisture and an additional flavor boost. What more could you ask for from dinner?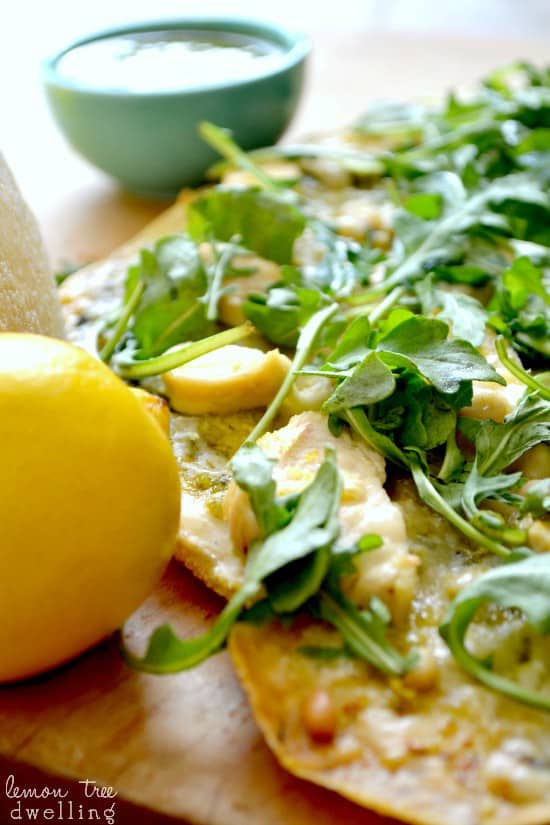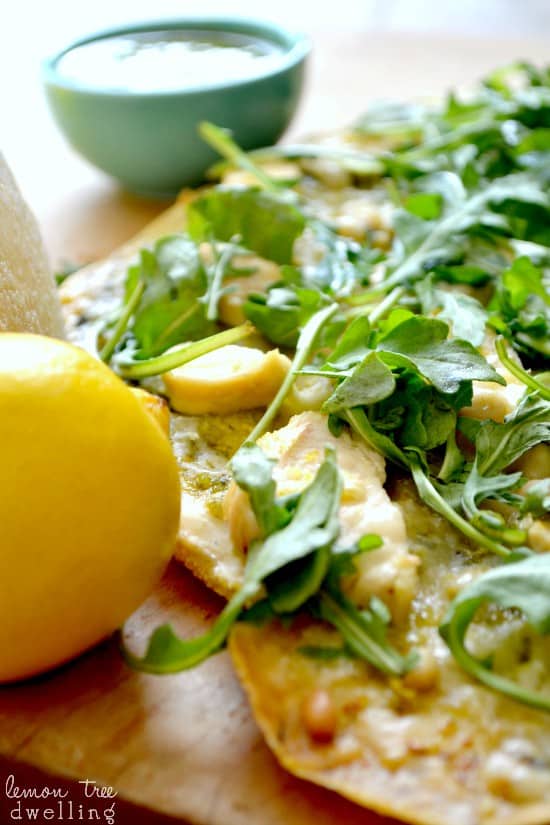 As for my kids (the true test)? What did they think? Well let's just say I heard a LOT fewer complaints than I've grown accustomed to. Not to say there weren't any (dinner around here just wouldn't be the same without them), but they were dramatically scaled back. Which might not sound like much to you, but to me, it says it all! SUCCESS!!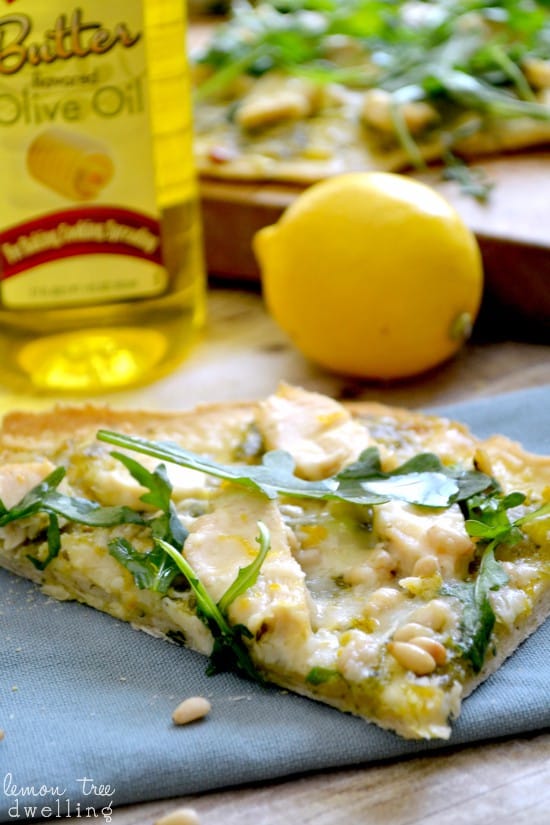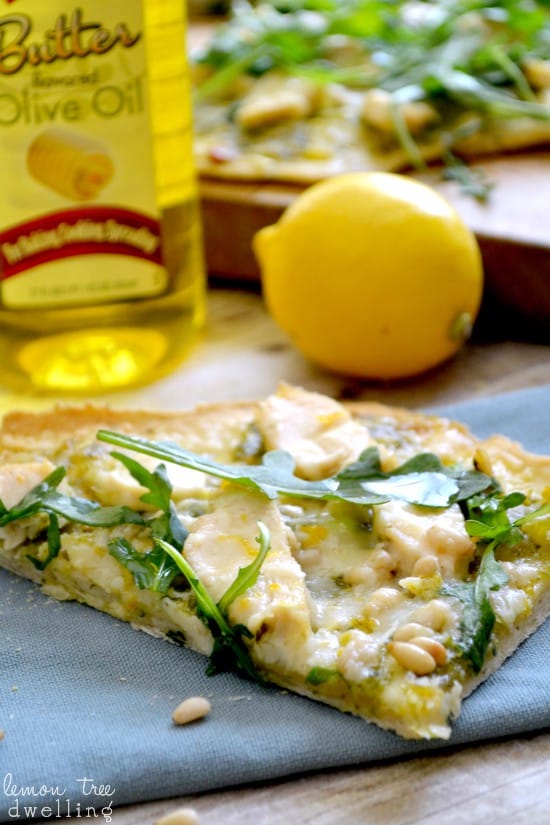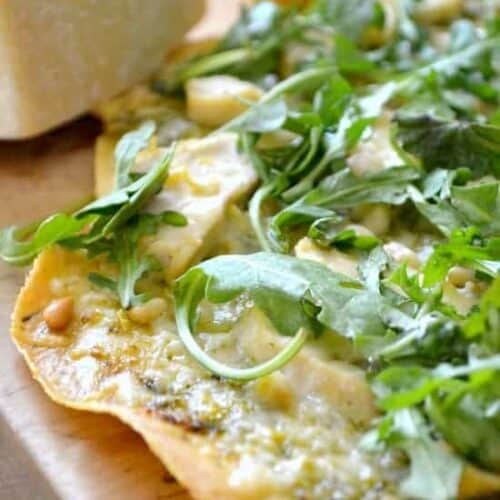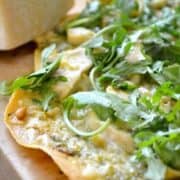 Pesto Chicken Flatbread Recipe
Ingredients
Crust (*Feel free to use a pre-made crust to save time)
2 3/4 – 3 1/4

c.

flour

1

package active dry yeast

1/4

tsp.

salt

1

c.

warm water

2

Tbsp.

olive oil

I used Star Butter Flavored

1

tsp.

dried Italian herb blend
Marinade
1/4

c.

olive oil

I used Star Butter Flavored

1/4

c.

white wine vinegar

1

Tbsp.

prepared pesto
Toppings
1/2

lb.

chicken

3 tenderloins, marinated, baked & sliced

1/3 – 1/2

c.

prepared pesto

2

Tbsp.

pine nuts

1/2

c.

freshly grated Parmesan cheese

1

lemon

1

c.

fresh arugula or greens of your choice

olive oil for drizzling

I used Star Butter Flavored
Instructions
Chicken/Marinade
Combine olive oil, white wine vinegar, and pesto in a medium bowl.

Add raw chicken; cover and marinate for at least 30 minutes.

Bake in a glass baking dish, covered with foil, at 375 degrees for 30 minutes or until chicken is no longer pink.

Slice thinly and set aside.
Crust
In a large mixing bowl combine 1 1/4 c. flour, yeast, and salt.

Add water and olive oil.

Beat on low speed for 30 seconds, scraping bowl. Beat on high speed for 3 min.

Stir in Italian herbs and as much of the remaining flour as you can.

Turn out onto a lightly floured surface and knead until dough is moderately stiff, smooth and elastic. (6-8 minutes total).

Divide in half; cover and let rise 10 minutes.

Grease two large cookie sheets and sprinkle with cornmeal.

On a lightly floured surface, roll each dough portion into a 13-inch circle.

Bake at 425 degrees for 10 minutes; remove from oven.
Assembling the Pizza
Top baked pizza crust with prepared pesto, sliced chicken breast, pine nuts, Parmesan cheese, and zest/juice of 1 lemon.

Bake at 425 degrees for 10 minutes.

Top with 1 c. fresh arugula and drizzle with olive oil.