Peppermint Eggnog Muddy Buddies combine two classic flavors in a holiday treat that's as simple as it is delicious! This 5 minute holiday snack is a fan favorite!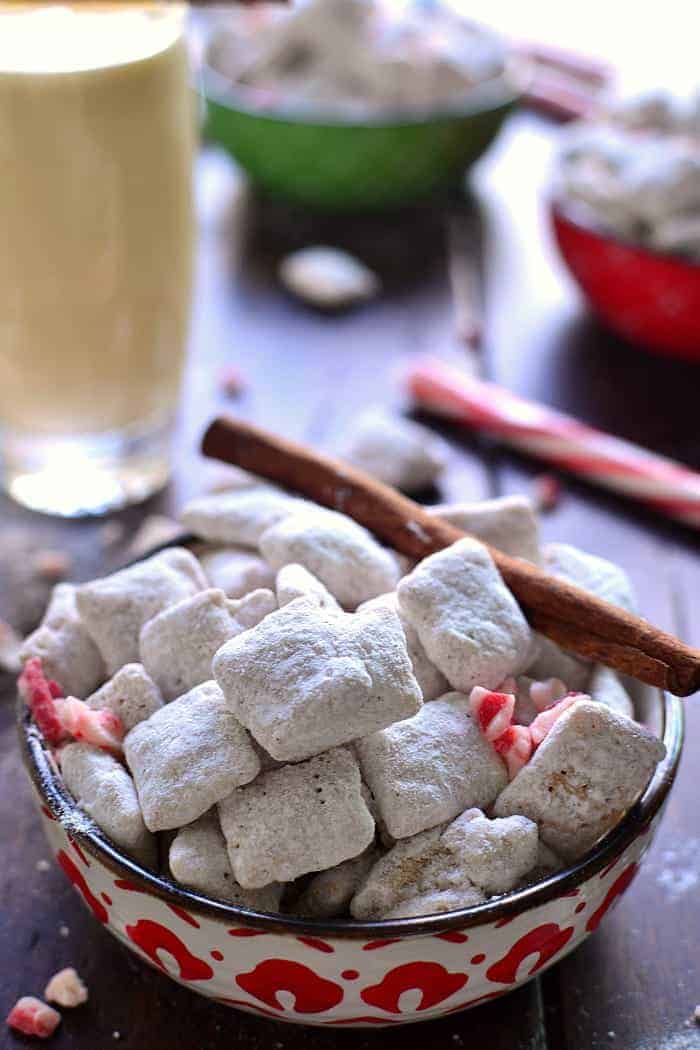 Let's talk about the weather for moment....shall we? Not because we have nothing else to talk about (haha) but because MAN have I got the story for you! It was early this past Sunday morning - around 6:00 am - and the entire house was sound asleep. It was sleep we were happy to be getting, since the past two nights Jorden and I had stayed up way too late....and Saturday morning the girls had woken up way too early. I think it's safe to say neither one of us had any plans of getting out of bed anytime soon.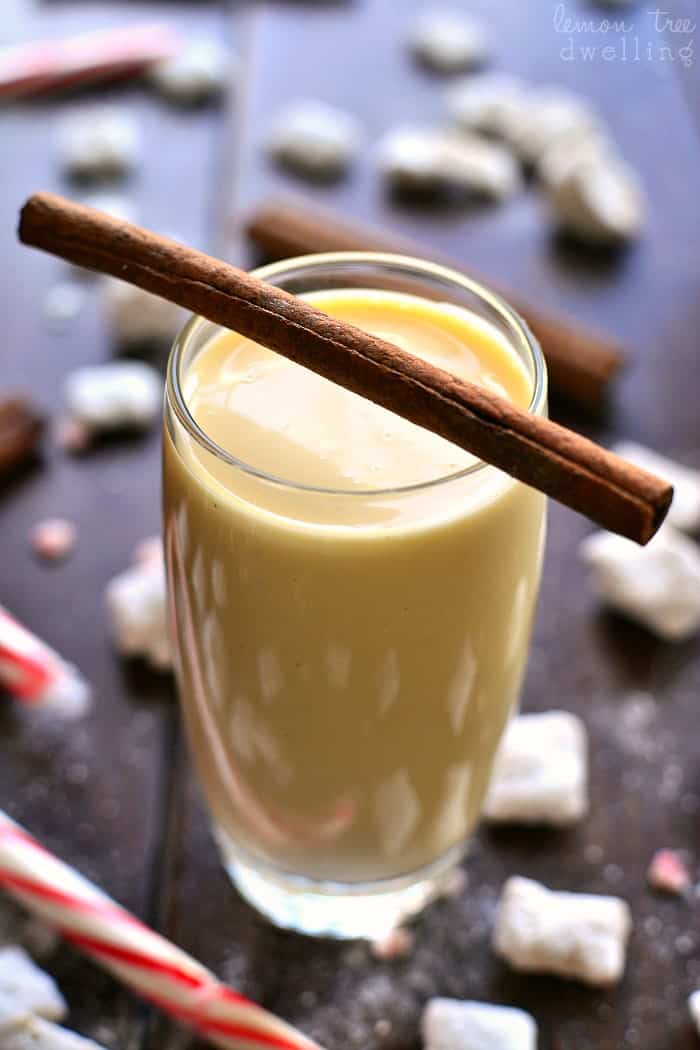 And then, suddenly, BOOM! One of the loudest cracks of lightning I've ever heard. And just like that, kids were yelling for us, jumping out of bed, running down the hall. And, to be fair, I was too! My heart pounded as I ran to grab Nora....and, you know, make sure our house was still intact.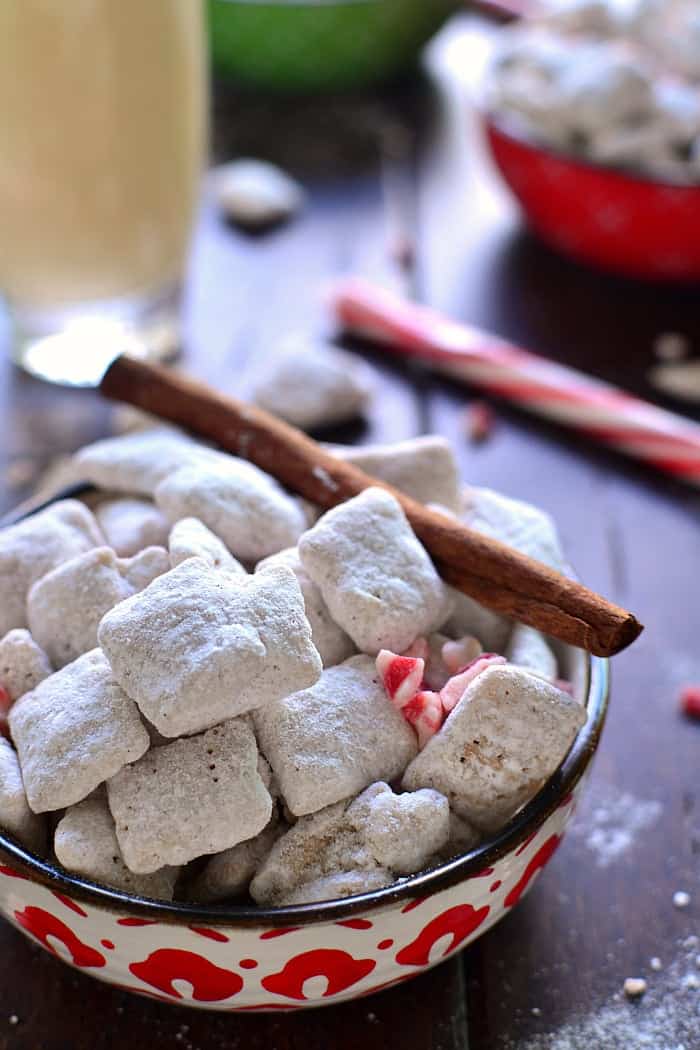 Once we were certain everything was still intact, we tried (unsuccessfully) to get our kids to close their eyes for just a little bit longer. We told them it was just lightning....and even though it sounded like it was close, it was probably miles away. I think we almost had them convinced....until Greta looked outside and noticed that one of our trees was missing a strip of bark from the very top all the way down to the bottom. And then we knew. The BOOM was our tree getting struck by lightning!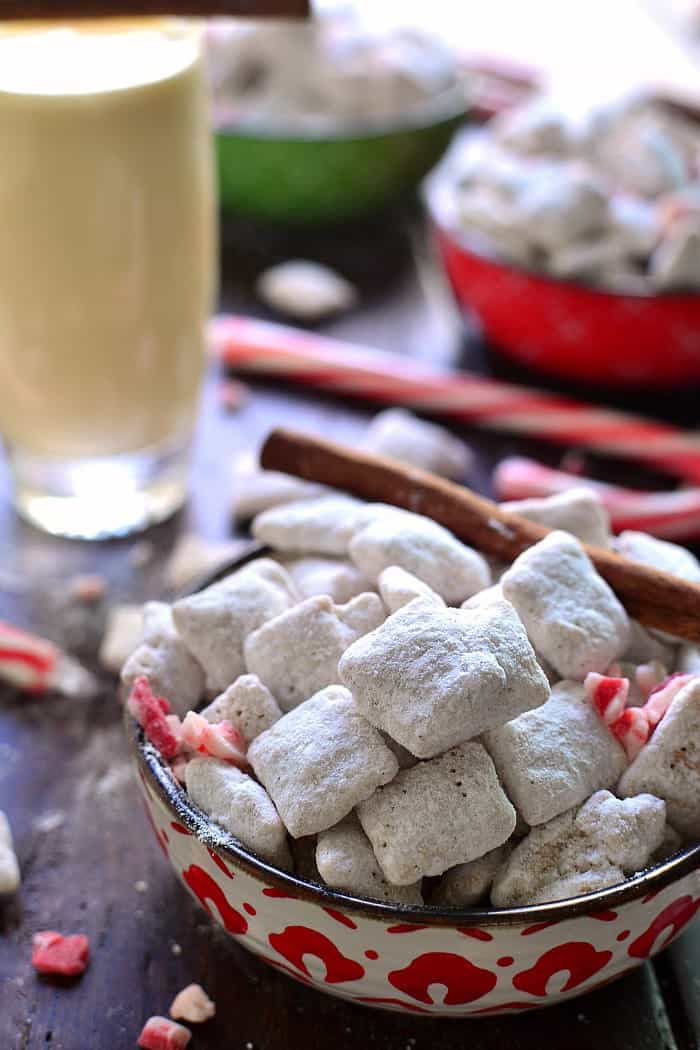 Further proof was the splintered tree bark all over our front yard and all over the street in front of our house. Talk about a rude awakening.....! It's funny - I'm not one to wish for snow - but if it's a choice between thunderstorms or snowstorms, at this point, I'd take the snow. Wouldn't you??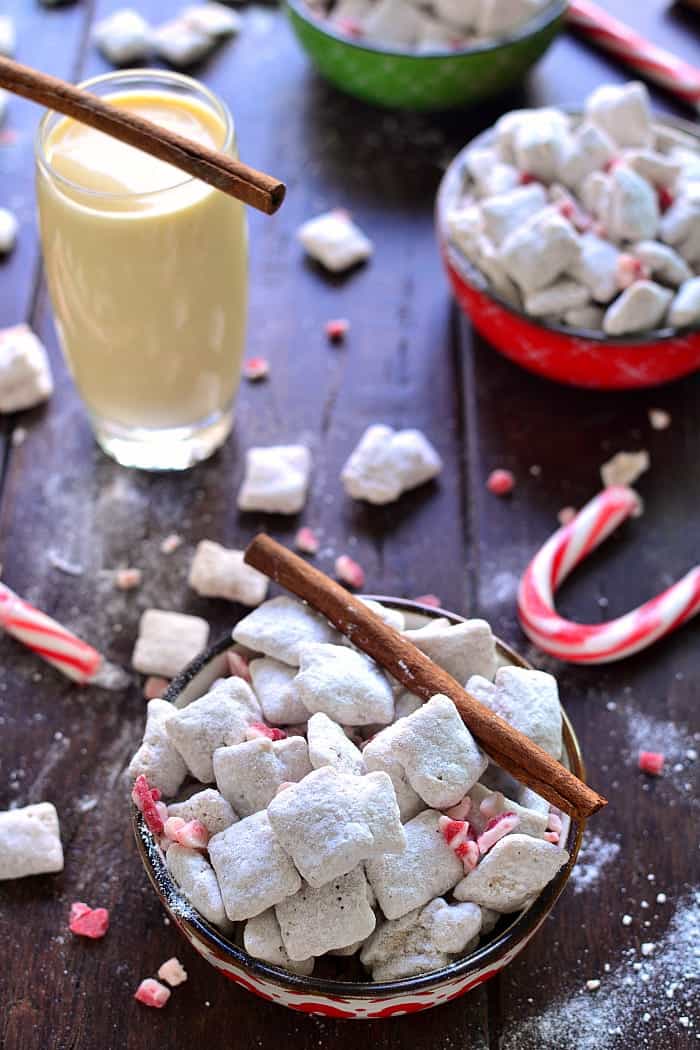 Peppermint Eggnog Muddy Muddies
Either way, I'd take a big batch of these Peppermint Eggnog Muddy Buddies no matter the weather! Perfect for lazy winter days at home, and equally perfect for holiday parties! They're the perfect blend of minty and sweet, so well-balanced you won't even know what hit you. Kind of like the lightning! Only SO much better.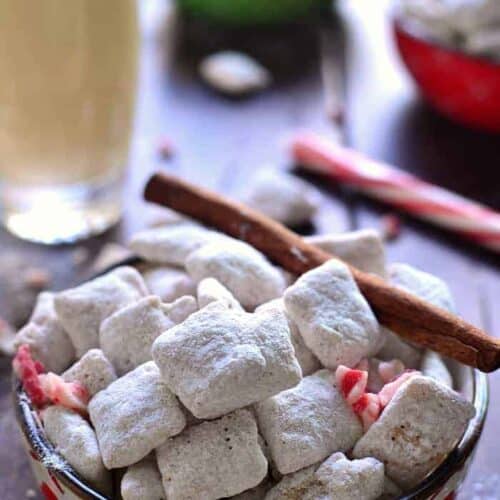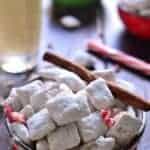 Peppermint Eggnog Muddy Buddies
These Peppermint Eggnog Muddy Buddies combine two classic flavors in a holiday treat that's as simple as it is delicious!
Ingredients
6

c.

Chex cereal

I used Rice Chex

1

bag

12 oz. white chocolate chips

2

Tbsp.

shortening

¼

tsp.

cinnamon

¼

tsp.

nutmeg

¼

tsp.

rum extract

¼

tsp.

peppermint extract

1 ½

c.

powdered sugar

¼

tsp.

cinnamon

¼

tsp.

nutmeg

¼

c.

Andes Peppermint Pieces
Instructions
Combine white chocolate chips and 2 Tbsp. shortening. Melt over low heat, stirring until smooth.

Add ¼ tsp. cinnamon, ¼ tsp. nutmeg, ¼ tsp. rum extract, and ¼ tsp. peppermint extract.

Pour white chocolate mixture over 6 c. Chex cereal. (I use a large paper grocery bag, but you can also do this in a very large mixing bowl.)

Stir or shake until cereal is coated in white chocolate.

Sprinkle powdered sugar and additional ¼ tsp. cinnamon and ¼ tsp. nutmeg over cereal mixture.

Shake or stir gently until cereal is coated in powdered sugar.

Sprinkle with Andes Peppermint Pieces.
Love Muddy Buddies? Try some of my other recipes this holiday season!

'Tis the season for eggnog! try these Eggnog Cookies from Genius Kitchen!