Pad Thai has always been one of our favorites, and this recipe is the BEST! It combines traditional rice noodles with tofu, eggs, bean sprouts, green onions, chopped peanuts, and cilantro.
It's easy to make, ready in under 30 minutes, and tastes just like your favorite restaurant dish.
If you love Thai food but have never tried making it at home, you'll love how easy and delicious this recipe is!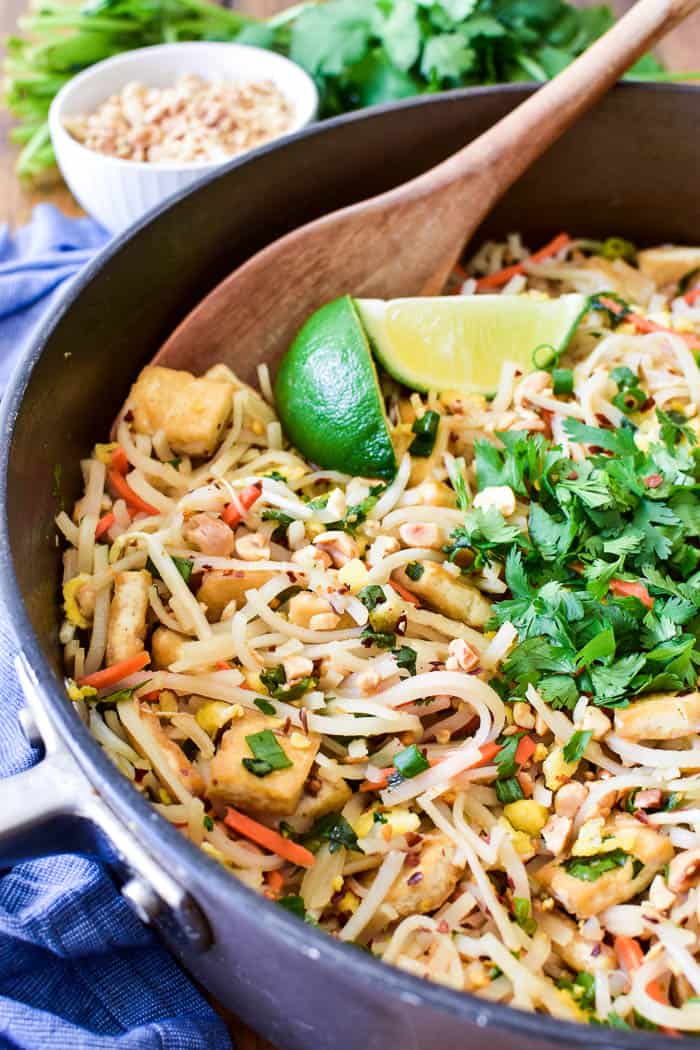 I partnered with Best Food Facts to bring you this recipe. All opinions are my own.
Mmmmm Pad Thai. It's always been one of my favorites….but I have to be honest. Until recently, I had never tried making it at home. Because it can be intimidating trying something new! Especially when it's something you really love.
But I was inspired by a trip I took this past month with Best Food Facts and the United Soybean Board, where I learned all about soybean production and soy foods. It made me realize I want to start cooking more with soy products….and what better place to start than with tofu?!
This Pad Thai recipe is loaded with all the delicious flavors you know and love, and uses tofu as its protein. It's surprisingly easy to make, and tastes just like the version from my favorite restaurant.
Let's get started!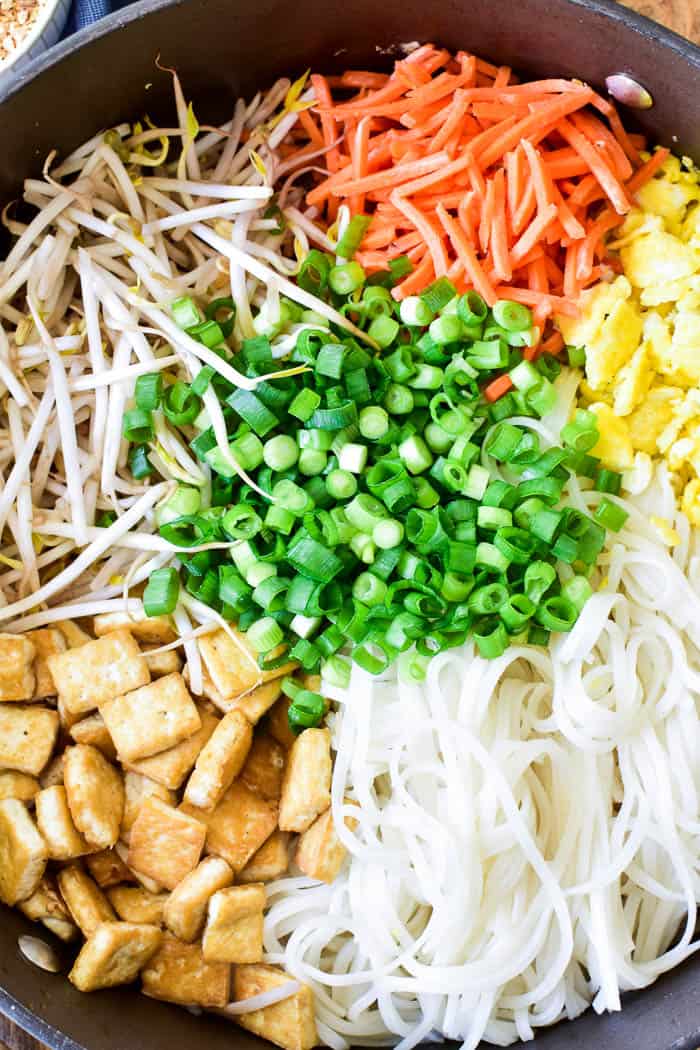 WHAT IS PAD THAI?
Pad Thai is a stir-fried rice noodle dish commonly served as street food and at most restaurants in Thailand as part of the country's cuisine. It can be customized with various vegetables and proteins, and its sauce is a blend of sweet, salty, umami and sour.
WHAT INGREDIENTS ARE IN THIS RECIPE?
Rice noodles
Extra firm tofu
Eggs
Bean sprouts
Shredded carrots
Green onions
Peanuts
Cilantro
Crushed red pepper
Fish sauce
Brown sugar
Rice wine vinegar
Soy sauce
Lime juice
Vegetable oil
HOW DO YOU MAKE PAD THAI?
Prepare the noodles by soaking them in hot water.
Cut the tofu into bite sized pieces and saute them in oil until browned.
Cook the eggs, breaking them into small pieces.
Combine the noodles, tofu, eggs, bean sprouts, shredded carrots, peanuts, and green onions in a large skillet or wok.
Combine the ingredients for the sauce and pour it over the noodle mixture.
Heat through; garnish with additional chopped peanuts and cilantro.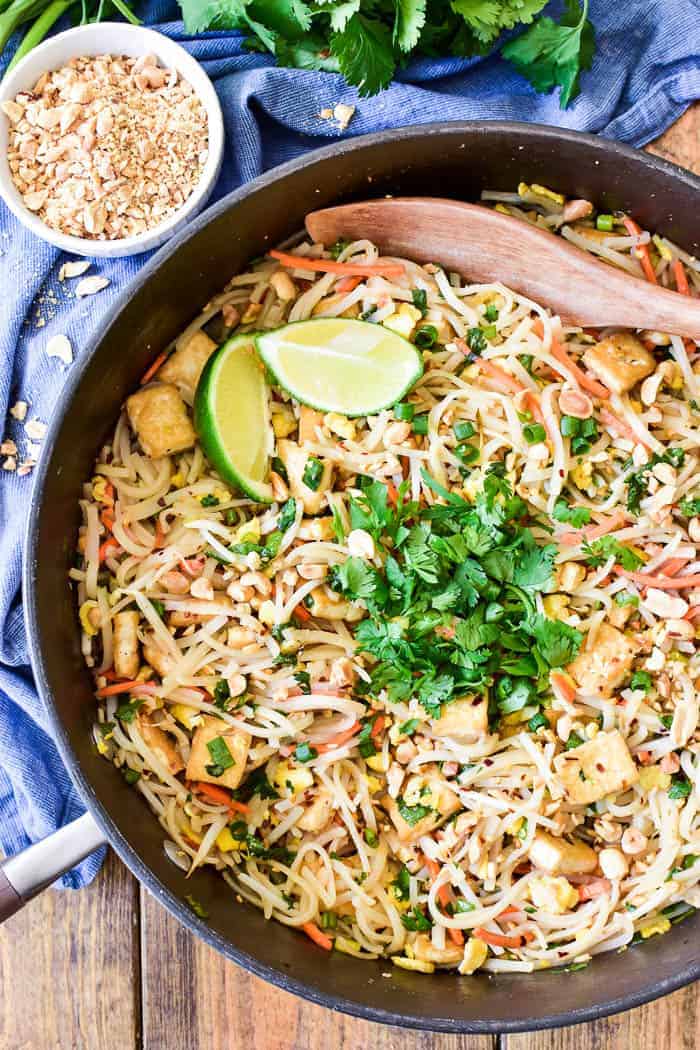 WHAT IS TOFU?
Tofu, also known as bean curd, is a food prepared by coagulating soy milk and pressing it into solid blocks. There are different types of tofu, including silken, soft, firm, or extra firm, and each is used in different ways. It is often seasoned or marinated, and absorbs flavors well.
IS TOFU GOOD FOR YOU?
Tofu is a great source of protein, fiber, iron and calcium. It's also low in fat and cholesterol free. In recent years, there has been much debate about whether tofu (and soy in general) is good for you. This is due to the fact that the soybean plant contains naturally occurring chemicals called phytoestrogens, which help the plant carry out necessary functions. The term "estrogen" has led many people to be concerned about whether consuming soy products will cause hormone disruption and/or increase the risk of breast cancer. However, plant estrogen does NOT affect humans the same way that human estrogen does. In fact, soy has actually been proven to reduce the risk of breast cancer when consumed as part of a healthy diet.
WHAT ARE SOME OTHER VARIATIONS OF THIS RECIPE?
Use chicken, beef, or pork in place of the tofu
Add red pepper, broccoli, bok choy, or any of your favorite vegetables
Use granulated white sugar or cane sugar in place of the brown sugar
Make the sauce using tamarind paste
Add a spoonful of peanut butter to enhance the peanut flavor
Use linguine in place of the rice noodles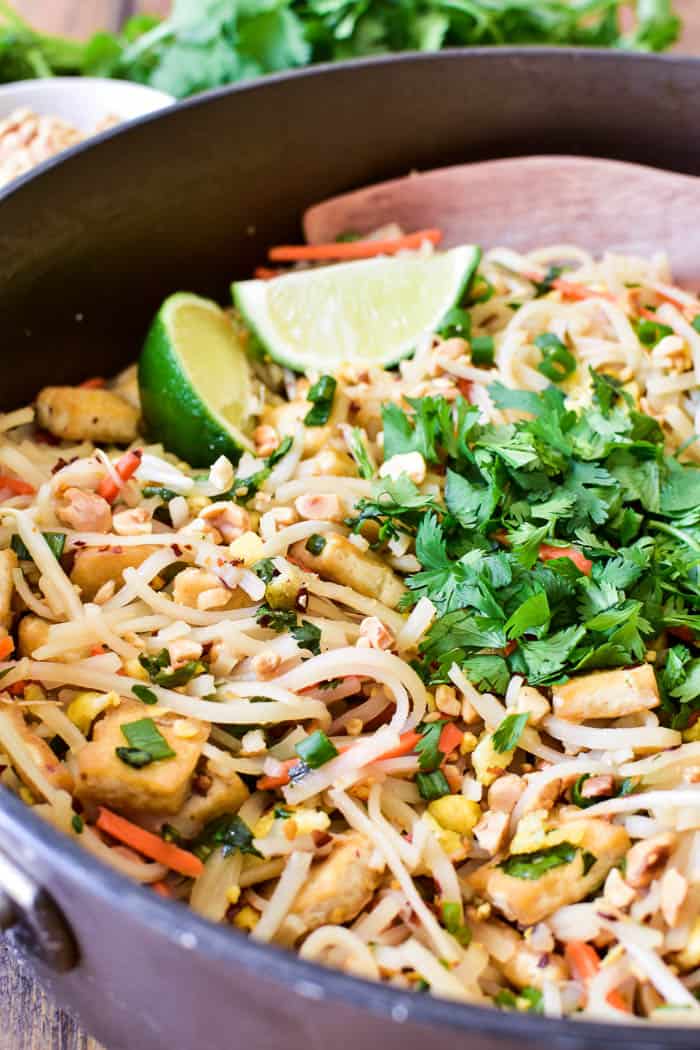 As I said, this recipe was inspired by a recent trip I took with Best Food Facts and the United Soybean Board. Best Food Facts is an organization that is supported by the Center for Food Integrity and works to offer objective, fact-based information about food.
I traveled to Ocean City, Maryland with a group of food bloggers and spent two days learning all about soy. We visited a soybean farm and spoke with the farmers about their practices, we toured the Perdue Agribusiness Factory and learned about how soybeans are processed for chicken feed, we met with a nutritionist who taught us about the many health benefits of soy, we enjoyed a dinner with soy included in every dish, and we even did some cooking with soy, ourselves.
Our first stop was Lazy Day Farm, a farm owned by the Layton family. We met Willian Layton, who told us all about the practices they use to grow soybeans. Lazy Day is a no-till farm, which means they never till the soil. There are many benefits of no-till farming, including the use of less horsepower, it doesn't disturb insects, there's less soil lost, and water can move through the soil more efficiently. Essentially, no-till farming is a practice based in sustainability, which William spoke a great deal about. Other sustainable practices they implement at Lazy Day are integrated pest management, cover crops, yield monitors (GPS based tools that monitor crop yield), site specific soil sampling, plant tissue sampling, and precision farming which allows the use of fewer pesticides.
We learned that Lazy Day Farm grows both GMO and non-GMO soybeans. From a farmer's perspective, GMO soybeans are easier to grow and provide a better yield. Additionally, they require fewer pesticides than non-GMO. In William's words, GMO's are helpful to farmers and to consumers, as they yield better quality products.
From there, we went to the Perdue Agribusiness Factory, where we learned about how soybeans are processed into chicken feed. 3/4 of the soybeans grown at Lazy Day are actually sent to Perdue, with the remaining 1/4 being sold for human consumption.
We enjoyed a delicious dinner that actually included soy in every single dish. It's amazing to see all the different ways there are to use it! There are so many different soy products, including edamame, tofu, soy milk, soy sauce, tempeh, miso, and soybean oil (vegetable oil)….and so many different ways to incorporate them into recipes. And I love the fact that they're inexpensive and highly accessible.
One of my favorite parts of the trip was learning about the many health benefits of soybeans. They're naturally cholesterol-free and high in protein and fiber. They're also rich in B vitamins, phosphorus, and iron. The nutritionist we met with was able to put to rest some of the myths and concerns surrounding soy, and I can absolutely say I'm excited to introduce more soy into my cooking!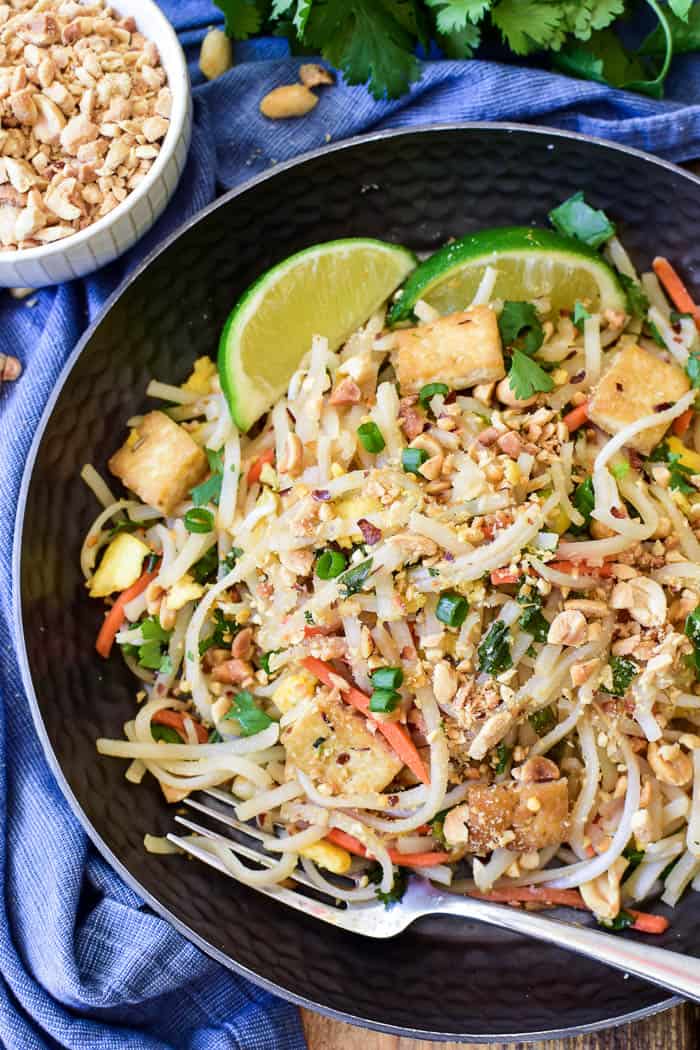 Looking for more 30 minute meals? Here are some of our favorites: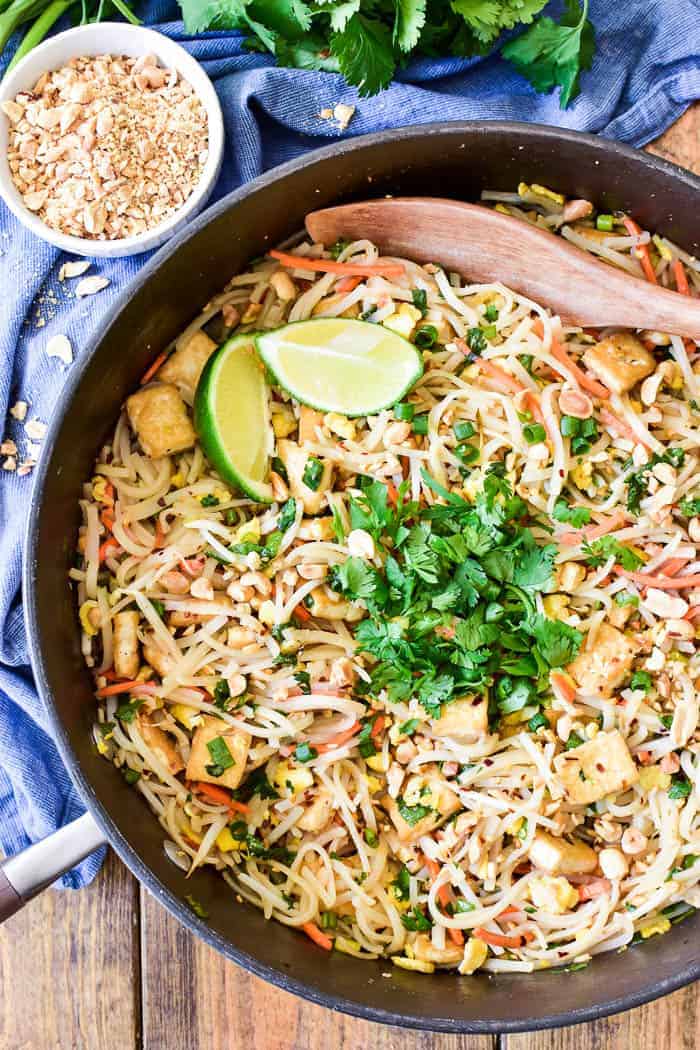 Pad Thai has always been one of our favorites, and this recipe is the BEST! It combines traditional rice noodles with tofu, eggs, bean sprouts, green onions, chopped peanuts, and cilantro. It's easy to make, ready in under 30 minutes, and tastes just like your favorite restaurant dish.
Ingredients
12 oz. rice noodles
3 Tbsp. vegetable oil
12 oz. extra firm tofu
4 large eggs
2 c. bean sprouts
1 c. shredded carrots
4 green onions
3/4 c. coarsely chopped peanuts
1/2 c. chopped cilantro
1/2 c. brown sugar
1/4 c. fish sauce
1/4 c. rice wine vinegar
2 Tbsp. soy sauce
2 Tbsp. lime juice
1 tsp. red pepper flakes
Instructions
Bring a large pot of water to a boil. Remove from heat and add rice noodles. Soak noodles, stirrring occasionally, 5-7 minutes (until pliable).
Prepare sauce by combining brown sugar, fish sauce, rice wine vinegar, soy sayce, and lime juice in a small mixing bowl. Whisk well; set aside.
Cut tofu into bite sized pieces.
Heat 2 Tbsp. vegetable oil over medium-high heat in a large skillet or wok. Saute tofu until browned on both sides, about 10 minutes. Remove from pan.
Heat remaining 1 Tbsp. oil; add eggs to skillet and scramble them into small pieces.
Add softened noodles, bean sprouts, shredded carrots, green onions, tofu, and 1/2 c. peanuts to the skillet.
Add sauce and heat through, stirring occasionally, until sauce is absorbed.
Garnish with additional chopped peanuts, cilantro, and red pepper flakes.
Nutrition Information:
Yield:
6
Serving Size:
1
Amount Per Serving:
Calories:

410
Total Fat:

22g
Saturated Fat:

4g
Trans Fat:

0g
Unsaturated Fat:

17g
Cholesterol:

124mg
Sodium:

1394mg
Carbohydrates:

38g
Net Carbohydrates:

0g
Fiber:

4g
Sugar:

19g
Sugar Alcohols:

0g
Protein:

18g