Mint Oreo Cheesecake Bars are a delicious bar pan cheesecake dessert. Simple cheesecake with delicious mint chocolate and a crunchy Oreo crust. Only 6 ingredients! Cheesecake you can eat with your fingers! Even your tiny helpers can get involved with this quick dessert!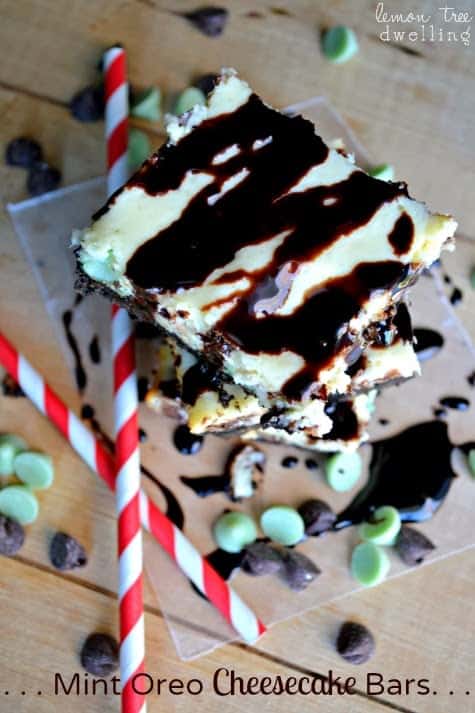 Happy Black Friday! I hope you had a wonderful Thanksgiving and ate LOTS of turkey! I know I did!! Are you doing any Black Friday shopping this year? Are you finding any good deals? I am staying as far away from the stores and the crowds as possible….heading to Discovery World with the kids and relatives who are visiting from out of town….and I could not feel better about my decision! There is something about shopping on the busiest day of the year that is completely unappealing to me. Not to mention the lack of sleep that is just entirely out of the question right now!!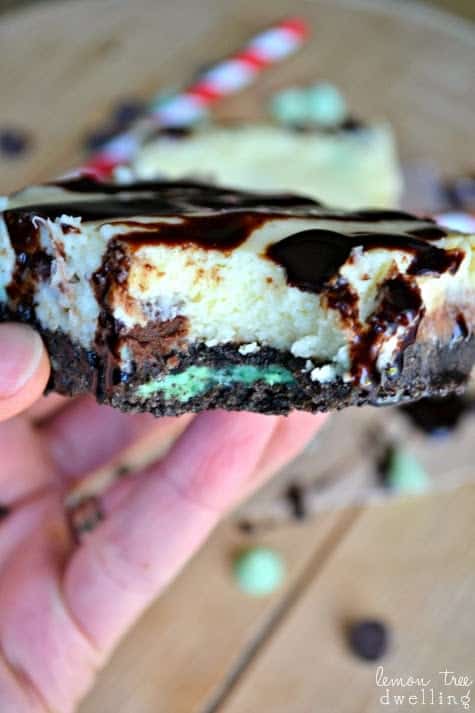 Don't get me wrong – it's not that I'm against Black Friday or the people who love it – in fact, at one point, I probably thought I could love it, too! But after trying it a few years in a row….and missing out on the "hot" items I really wanted…..or realizing I came home with no Christmas gifts and a bunch of new clothes for myself….or feeling crabby and exhausted the entire next day….it lost some (ALL) of its appeal! So now, instead of doing my Christmas shopping on Black Friday, I do it early! Like starting in early November. On weekday mornings. When the stores are empty. And I can shop in peace. Because the last thing I want is for Christmas shopping to feel like a CHORE!!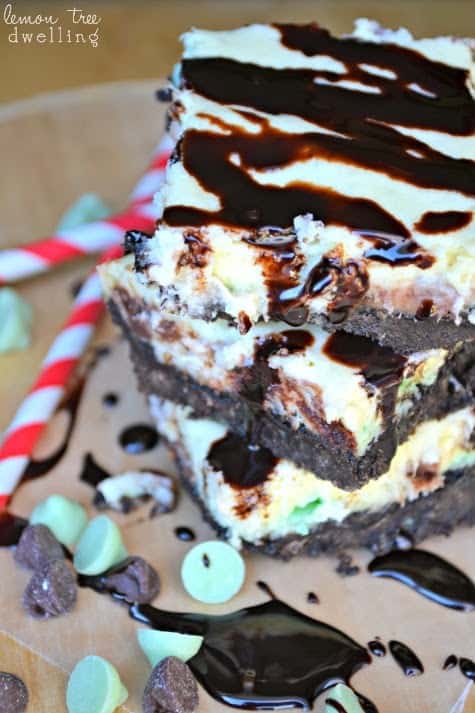 Mint Oreo Cheesecake Bars are never a chore!
I try to stay away from most things that feel like a chore. Really, I do. And when it comes to food, I'm the same way! If it feels too much like work, forget it! Well I can tell you, the last thing these Mint Oreo Cheesecake Bars feel like is a chore. They are easy to make and enjoy….and best of all, they're made with just six ingredients! Which is about as far from a chore as you can get, especially for something this delicious. Enjoy your day, everyone!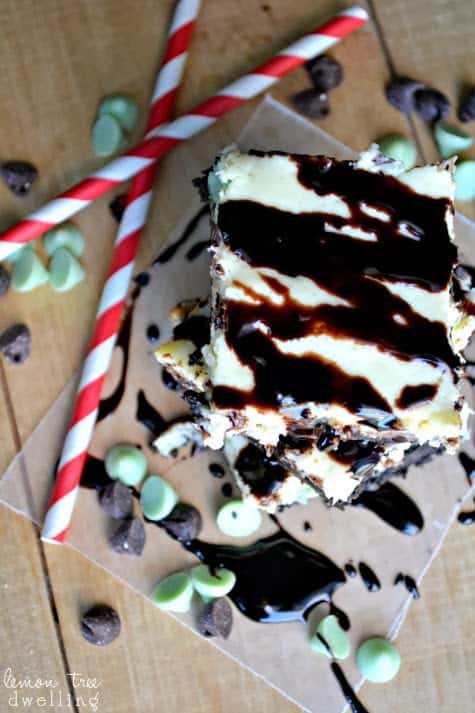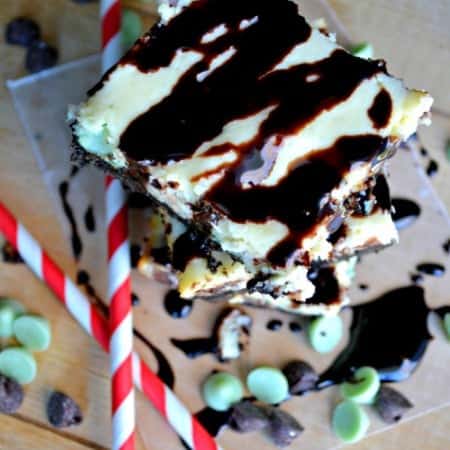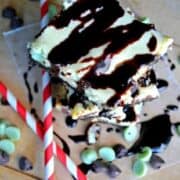 Mint Oreo Cheesecake Bars
Ingredients
1

package Cool Mint Oreos

finely crushed

1/4

c.

butter

softened to room temperature

2

8 oz. packages cream cheese, softened

2

eggs

3/4

c.

granulated sugar

1

c.

Nestle Dark Chocolate & Mint Morsels

optional Hot fudge topping
Instructions
Mix Cool Mint Oreos and softened butter in a medium mixing bowl until combined.

Using buttered hands, press mixture into the bottom of an 8×11 inch baking pan.

In a separate bowl, combined cream cheese, eggs, and granulated sugar and blend at medium speed until smooth. Stir in chocolate & mint morsels.

Pour cheesecake mixture over crust; bake at 375 degrees 35-40 minutes or until top is set and just starting to brown.

Cool to room temperature; refrigerate until ready to serve.

Drizzle with hot fudge and enjoy!
Looking for more delicious desserts that don't feel like a chore?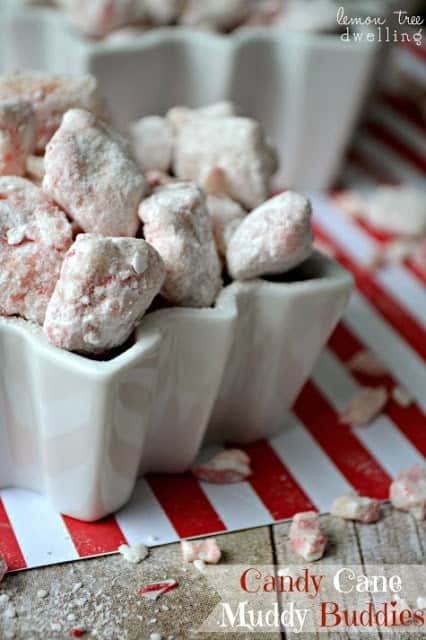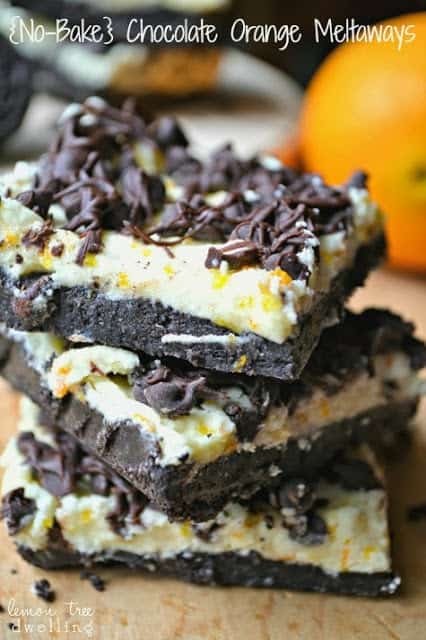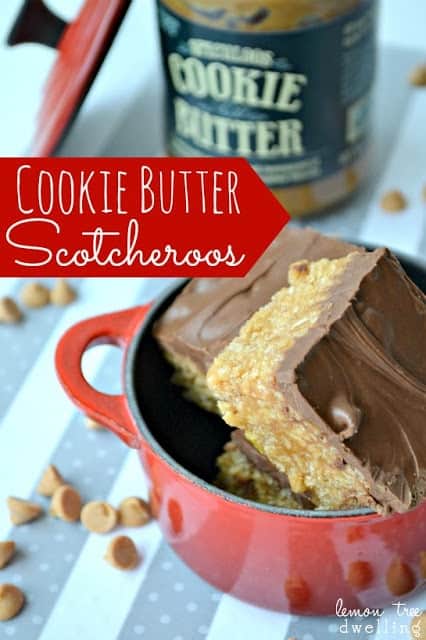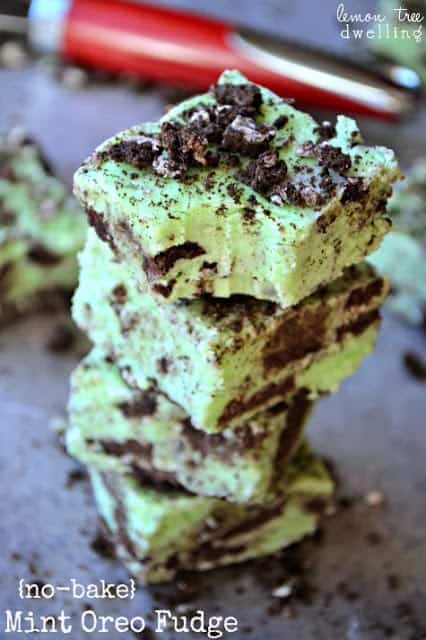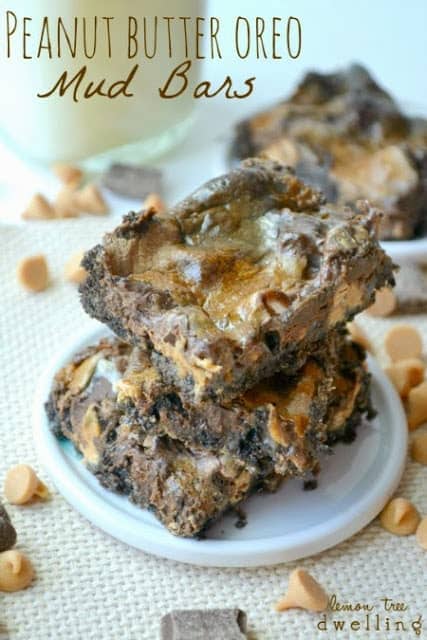 Mint lover? Then you need to look at Something Swanky's list of the 50 best Chocolate Mint recipes!