These Loaded Baked Sweet Potatoes make the most delicious dinner! Stuffed with chicken, bacon, mushrooms, swiss cheese, and a creamy cheese sauce, they're easy to make and packed with flavor! Sure to become a new family favorite!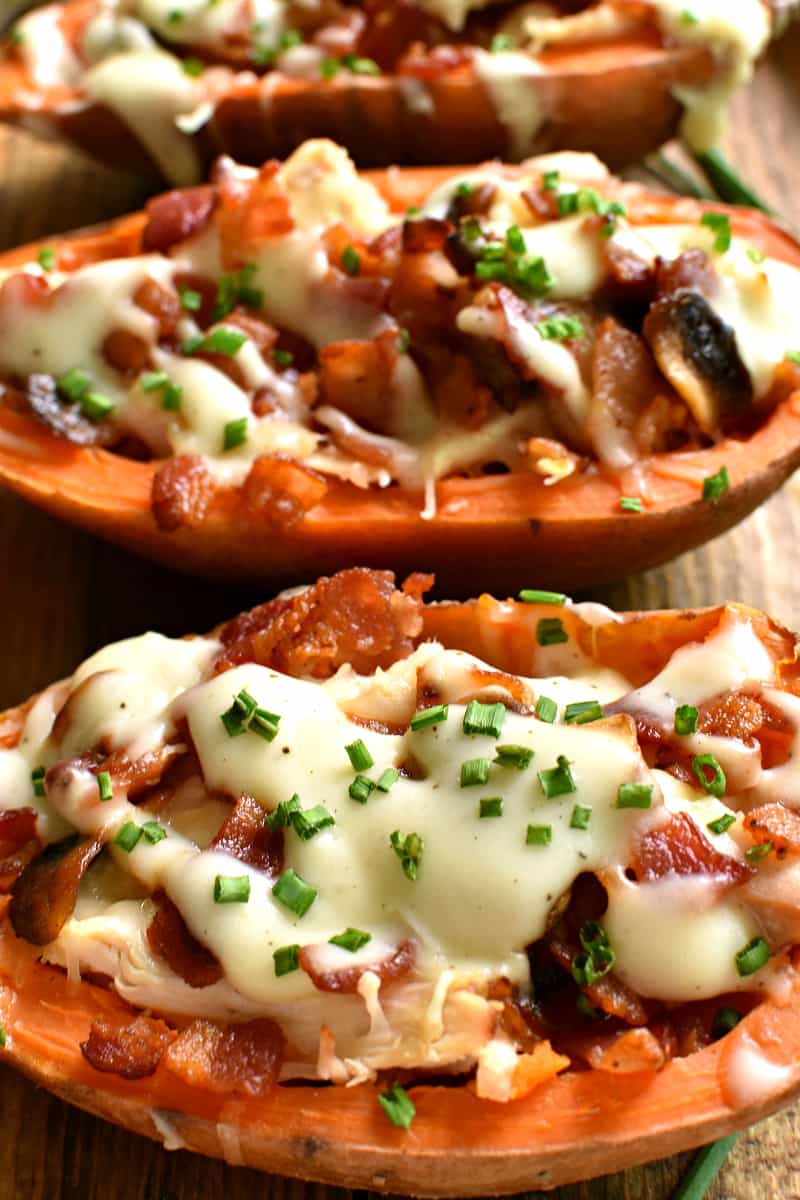 I did something the other day that I haven't done in a while. I chaperoned a school field trip! It's something I always have mixed feelings about, since finding childcare for Myla on the right day at the right time isn't always easy….but since I know how much the girls love it, I at least try to make it to one a year. So….field trip for Greta? Check. And of all the outings I could have chosen from, I feel like I chose well.
We spent the day at an historic stagecoach inn, built in 1842 and now open to the public as a museum. We learned about what life was like in the 1800's….and let me just say it made me really glad to be alive today. Not just because of the hand washing of laundry and the dozens of layers of clothing (and corsets!?) and the hours spent spinning wool into thread….but because of ALL the time I would have had to spend in the kitchen just to make a simple meal. And something like these Loaded Baked Sweet Potatoes? They'd be pretty much out of the question.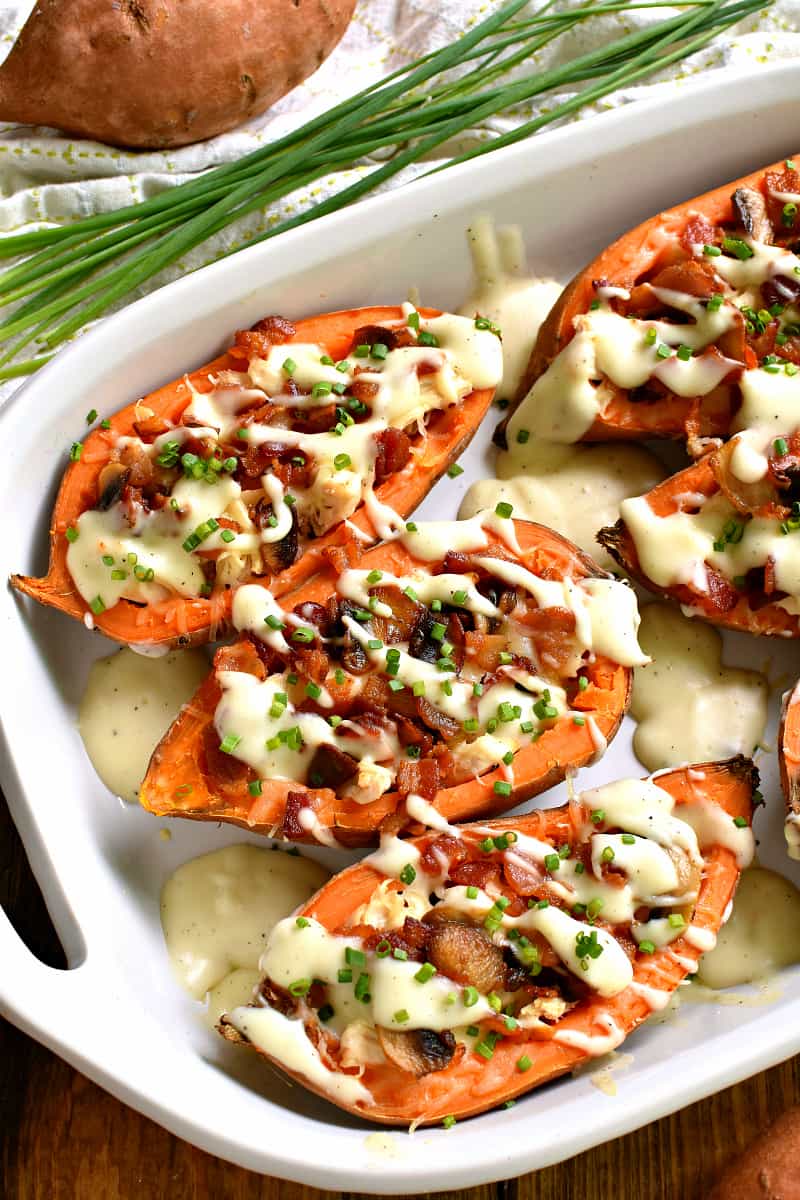 They walked us through all the steps of gathering the vegetables and collecting the water and lighting a fire and making the cheese…and as for the chicken or the bacon? Well, I'm pretty sure we all know what that would entail. A far cry from finding everything I need at my local Pick 'n Save! I seriously love shopping at Pick 'n Save this time of year, because every time I do, I find some type of delicious new fall produce to try. There are pumpkins and brussels sprouts and every type of squash imaginable….and, of course, sweet potatoes! My favorite!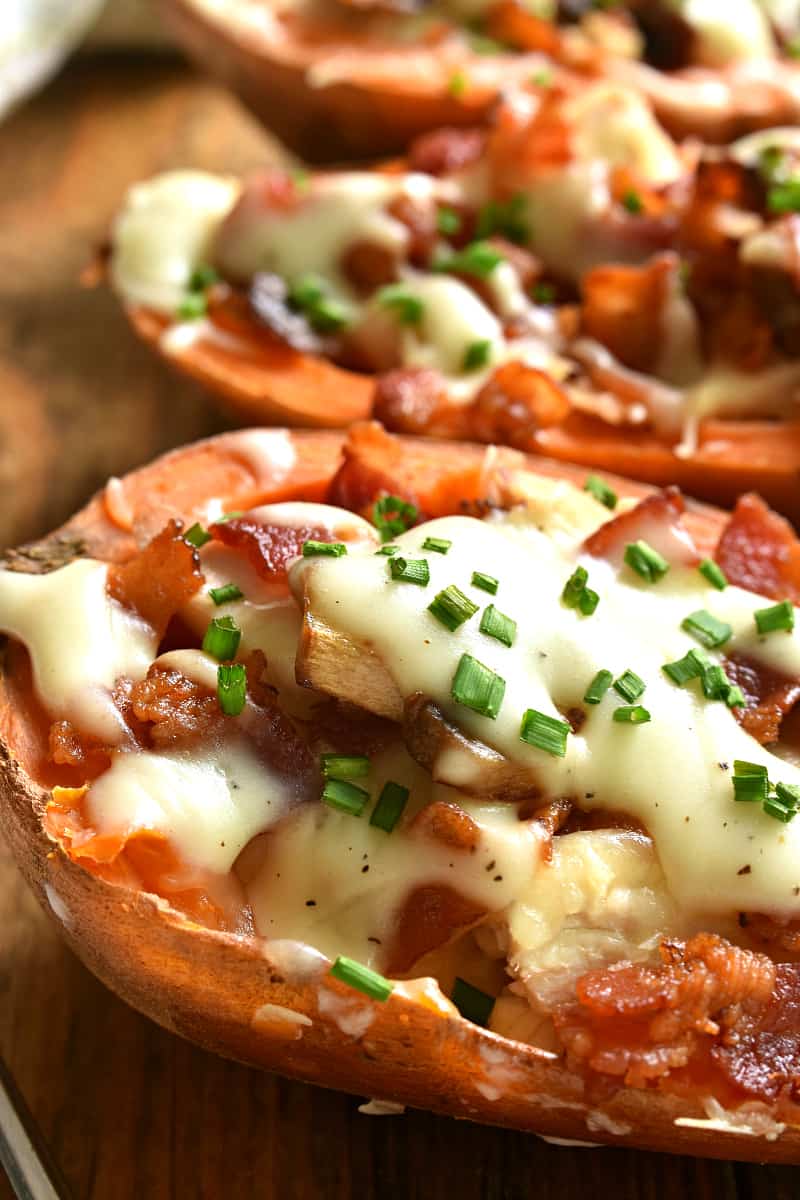 I love all the dessert versions of sweet potatoes that are served around the holidays, but recently I've really fallen in love with savory sweet potatoes. These Loaded Baked Sweet Potatoes are nothing short of amazing….loaded with chicken, bacon, mushrooms, swiss cheese, and the most delicious homemade cheese sauce. Once you try them, you'll fall in love with them, too. Because with these flavors, how could you NOT?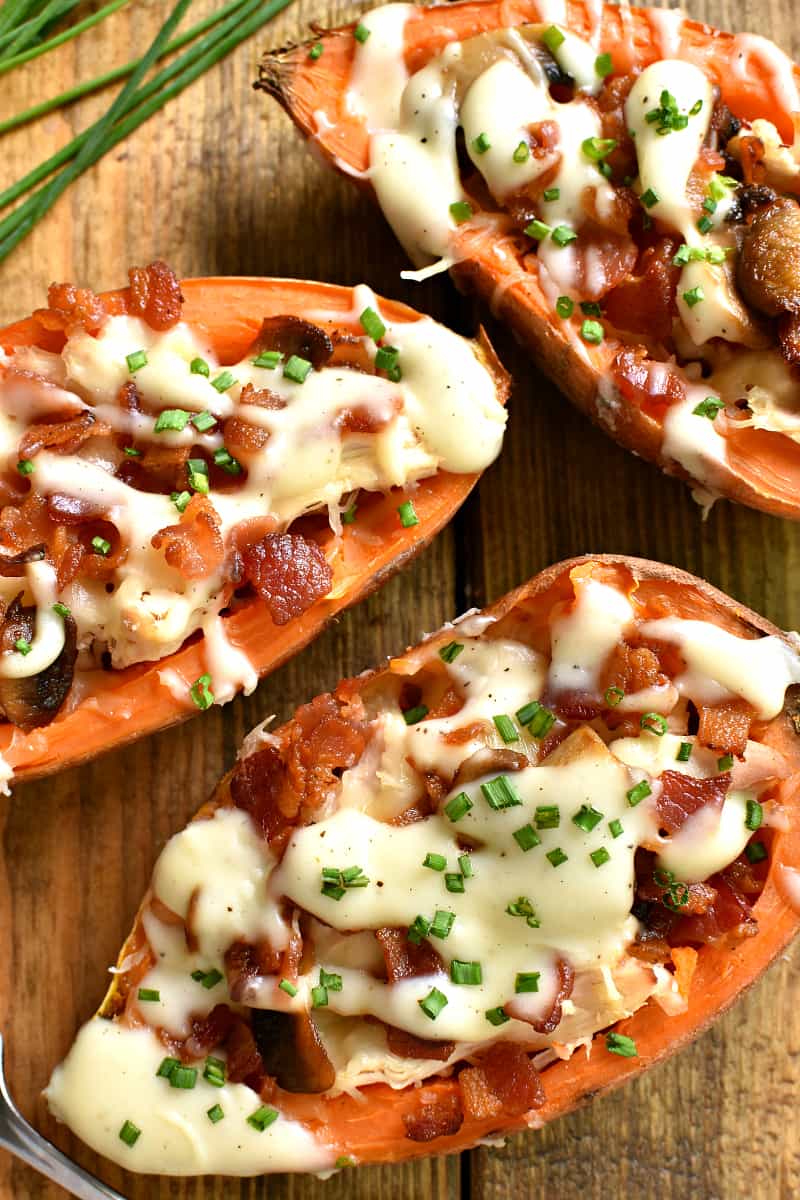 Delicious recipes like these Loaded Baked Sweet Potatoes are one of the many things I love about fall. And shopping at Pick 'n Save makes it so easy to take advantage of everything fall has to offer! And even though sweet potatoes have been around since the 1800's, I must say I'm happy to be making them….fully loaded….today!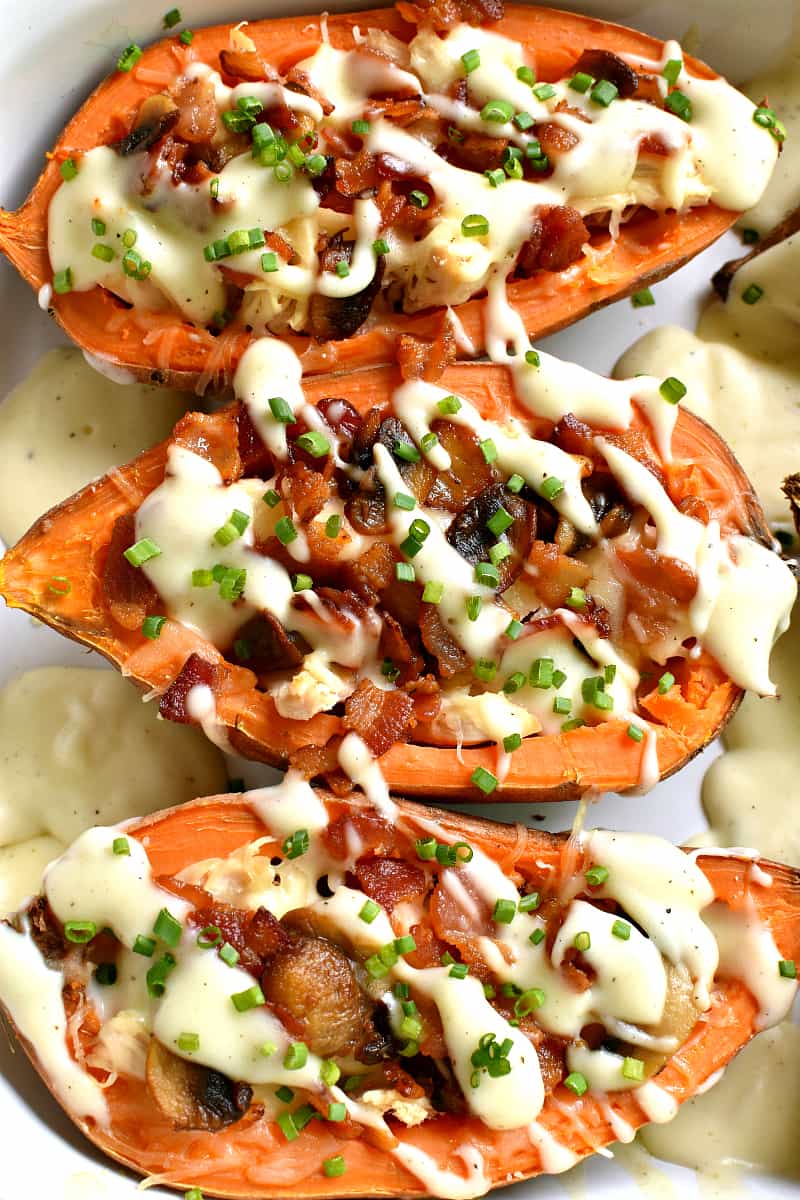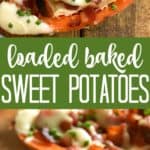 Loaded Baked Sweet Potatoes
Ingredients
3

large sweet potatoes

1

Tbsp.

olive oil

6

slices

bacon

chopped

1

c.

sliced mushrooms

2

c.

shredded

cooked chicken

3/4

c.

shredded swiss cheese

divided

3/4

c.

cheese sauce

recipe below

1

Tbsp.

fresh minced chives
Cheese Sauce
2

Tbsp.

butter

2

Tbsp.

all purpose flour

1 1/2

c.

milk

1 1/2

c.

shredded swiss cheese
Instructions
Preheat oven to 425 degrees.

Use a fork to poke several holes in each sweet potato.

Place potatoes directly on oven rack; bake 1 hour or until potatoes are tender.

Remove from oven; slice in half lengthwise and scoop out center, leaving 1/2 inch of flesh.

In a medium skillet, heat olive oil over medium heat. Add chopped bacon and sliced mushrooms and heat, stirring regularly, 10-15 minutes or until bacon is fully cooked.

Fill sweet potato halves with chicken, shredded cheese, and mushroom + bacon mixture.

Return to oven and bake for an additional 10 minutes.

While sweet potatoes are baking, prepare cheese sauce.
For cheese sauce:
In a small saucepan, melt butter over low heat.

Add flour and cook, stirring, until bubbly.

Add milk and continue stirring constantly until mixture is thickened and bubbly.

Remove from heat and stir in swiss cheese.

Drizzle sauce over baked sweet potatoes.