This Baked Italian Party Sub is perfect for feeding a crowd! Loaded with the delicious flavors of salami, turkey, ham, provolone, tomatoes, peppers, red onions, and homemade Italian vinaigrette, this sandwich is party-ready whenever you are….and guaranteed to make all your guests very happy!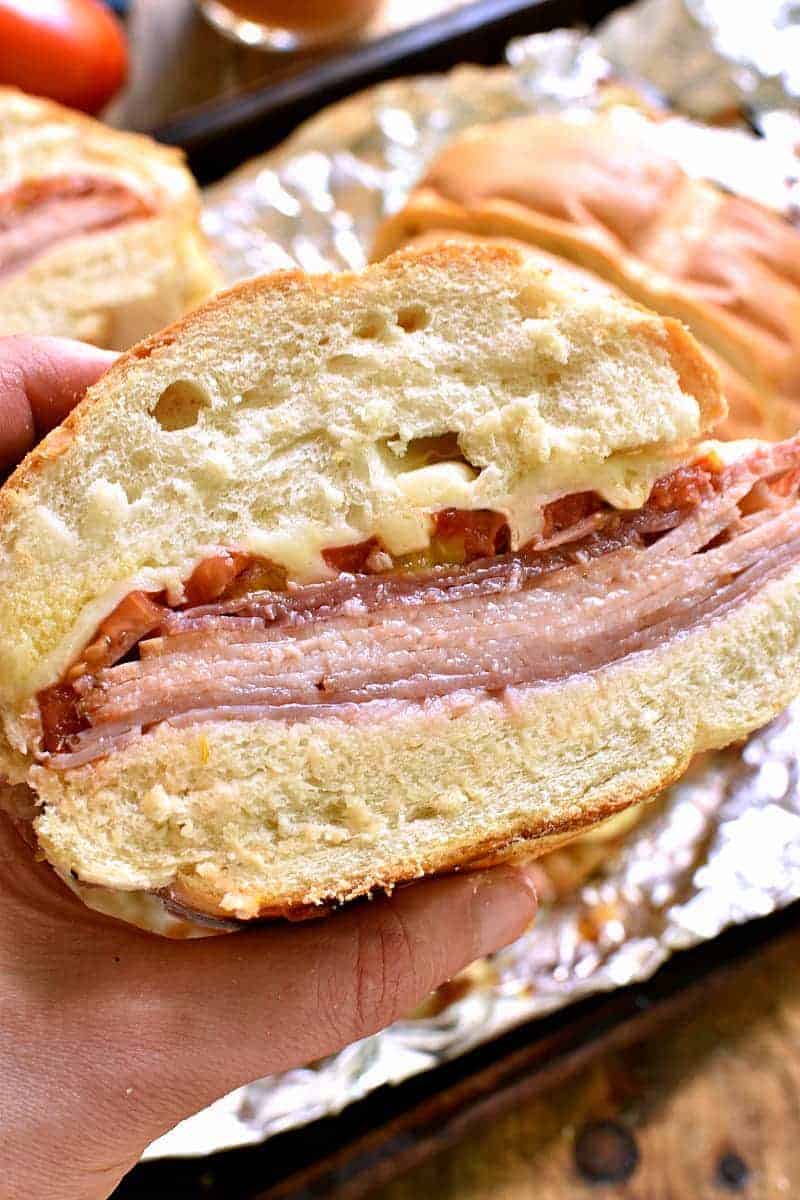 So. The countdown is officially on. We're a week and a half away from our annual summer birthday bash…..the huge party we have each year to celebrate the girls' birthdays. And this year? I have the feeling it's going to be bigger than ever. Because, well, this year we invited more people than ever. And so far, no one can't make it.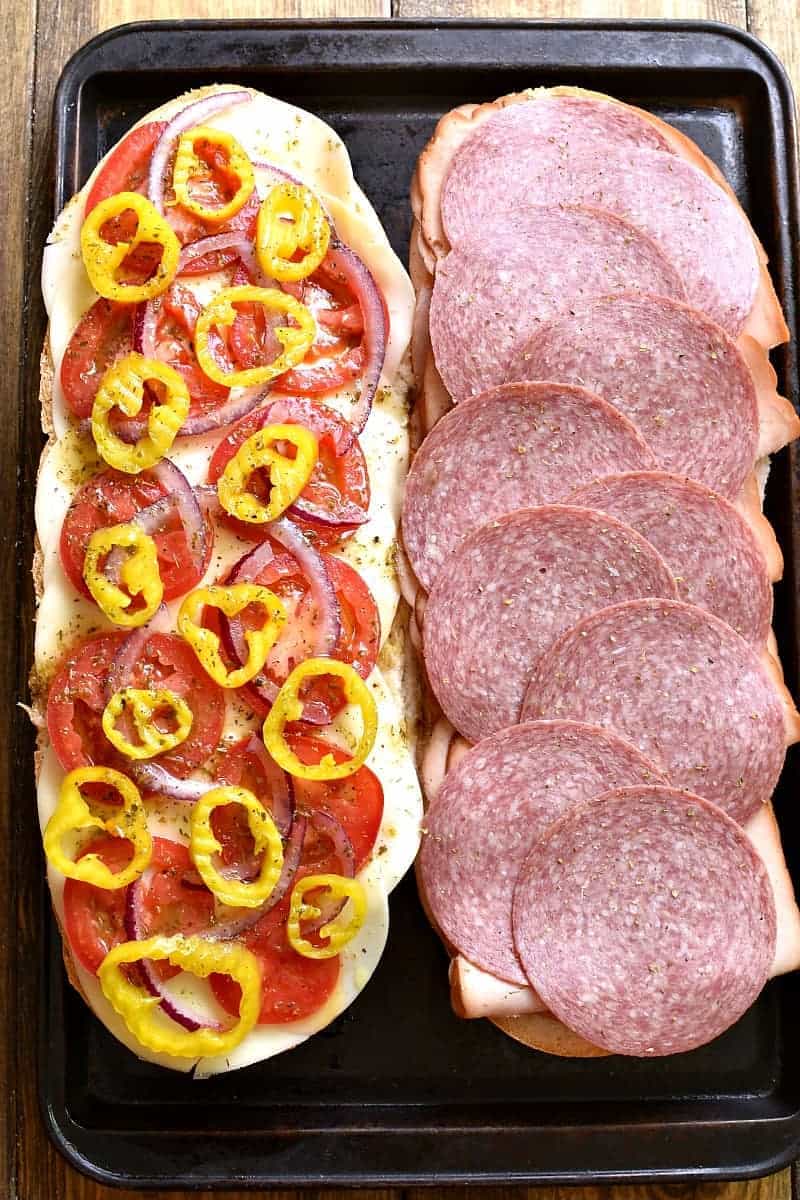 As for this year's theme? It's a carnival party! And it's turning out to be so much fun. It was actually all Jorden's idea…based on a recent trip to Six Flags with the two older girls. They came home with ALL the excitement and ALL the ideas…and ever since then we've been busy putting it into action.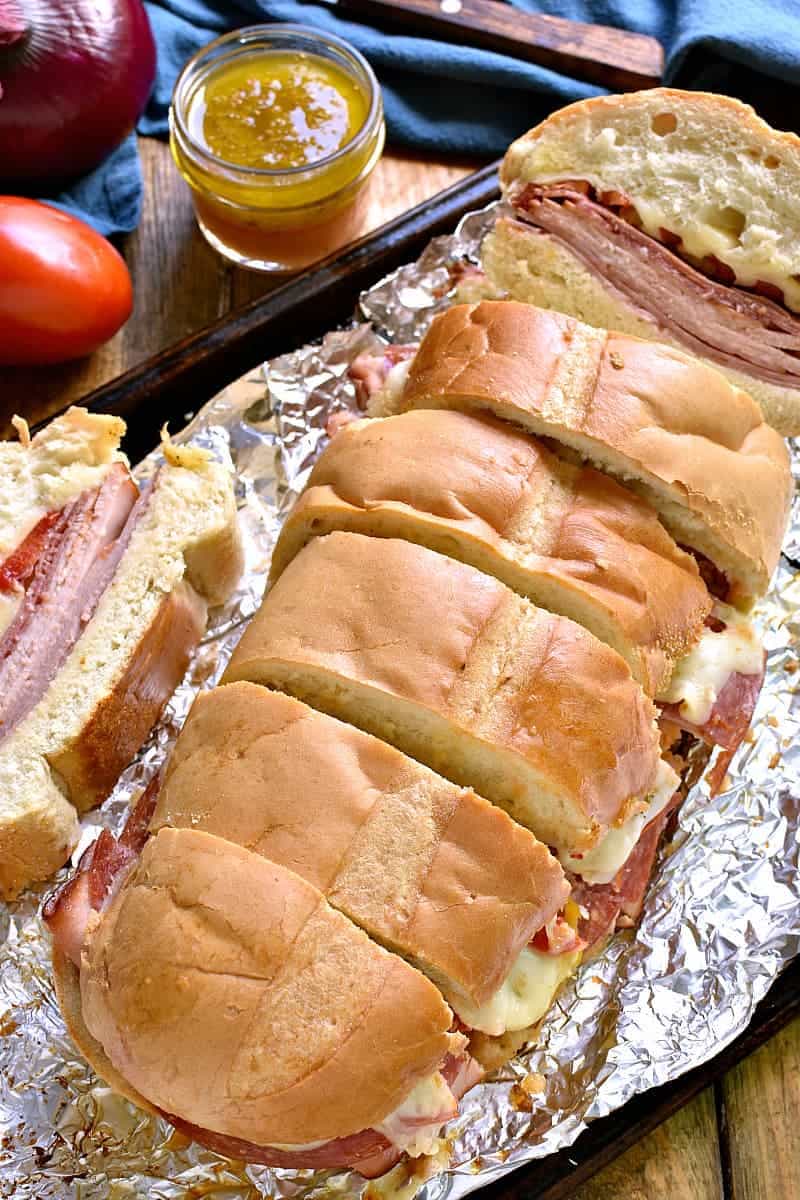 We have raffle tickets and carnival signs and kiddie pools and floating ducks and bottles and rings and cans and bean bags….the list goes on and on. We even have one of those cut out photo booths with holes for your head. Seriously, it's going to be so much fun. And since Jorden seems to be the one with the carnival mind? The game specifics are on him. (For the record, he wants you to know he does NOT have a carnival mind, haha.)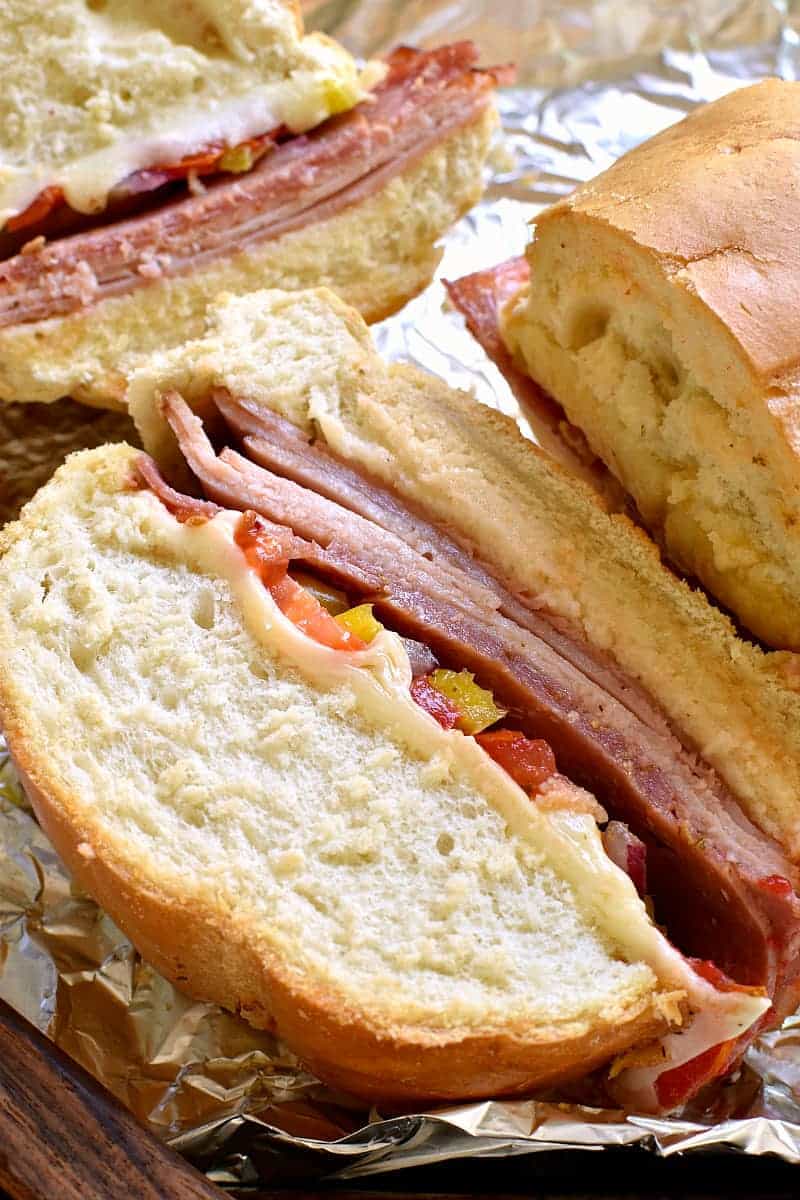 Regardless, party prep is well underway. And now?  The one thing we have left to consider is the FOOD! I'm not sure if we should go full on carnival food (think corn dogs and snow cones and cotton candy) or if we should make something everyone will actually enjoy. Like this Italian Party Sub! Sure, it might not match our carnival theme….but when a sandwich is loaded with salami and turkey and ham and provolone and veggies and Italian seasonings….you really can't go wrong!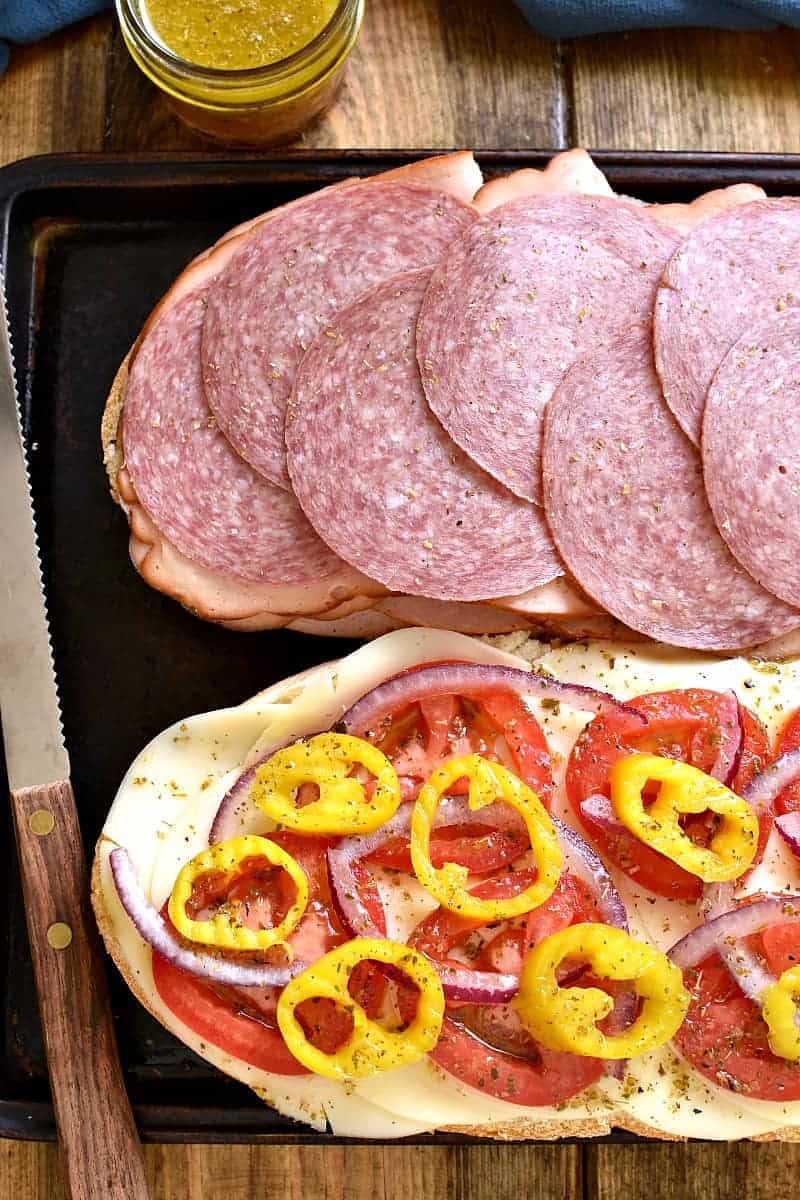 And this Italian Party Sub isn't just for parties…it's also ideal for game days, dinners, or weekend lunches. Simple, flavorful, and so much fun! I can see us making this Italian Party Sub all. the. time. And loving it! And once you try it for yourself? I have the feeling you're going to love it too!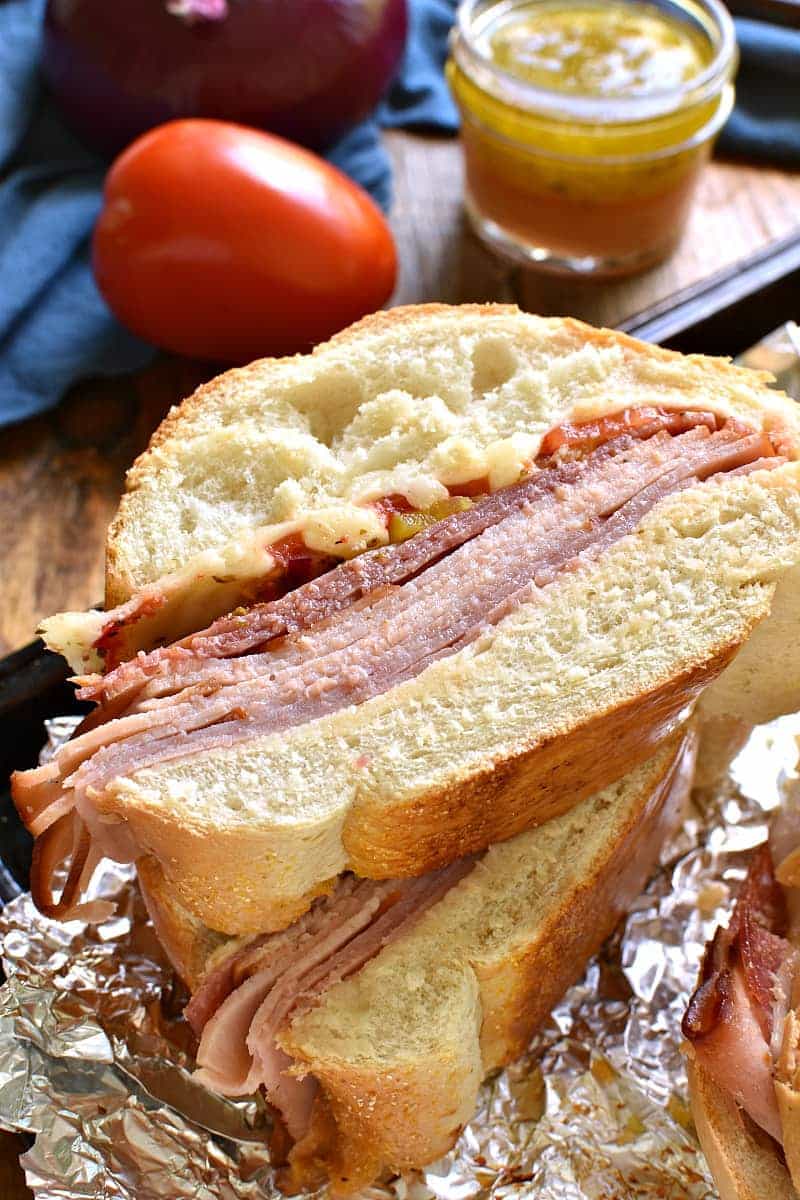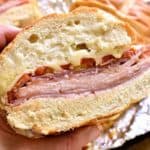 Italian Party Sub
Ingredients
1

loaf Italian bread

1/2

lb.

sliced deli ham

1/2

lb.

sliced deli turkey

1/2

lb.

sliced salami

6

oz.

provolone cheese

sliced

1

large Roma tomato

1/3

c.

sliced banana peppers

sliced red onion

to taste
For vinaigrette:
3

Tbsp.

olive oil

2

Tbsp.

red wine vinegar

1

tsp.

sugar

1

tsp.

oregano

1/4

tsp.

dijon mustard

1/8

tsp.

salt
Instructions
Slice bread in half lengthwise.

Assemble sandwich by layering meat, cheese, and veggies.

Combine dressing ingredients and whisk or shake well; drizzle over sandwich toppings.

Close sandwich and wrap in foil.

Bake at 350 degrees for 15-20 minutes or until cheese is fully melted.