Grilled, marinated chicken breasts and juicy pub burgers, all dressed up Southwest Caesar style! These sandwiches are loaded with grilled vegetables, bacon, avocado, and Parmesan cheese, and topped with a deliciously creamy Southwest Caesar dressing. Perfect for all your summer grilling!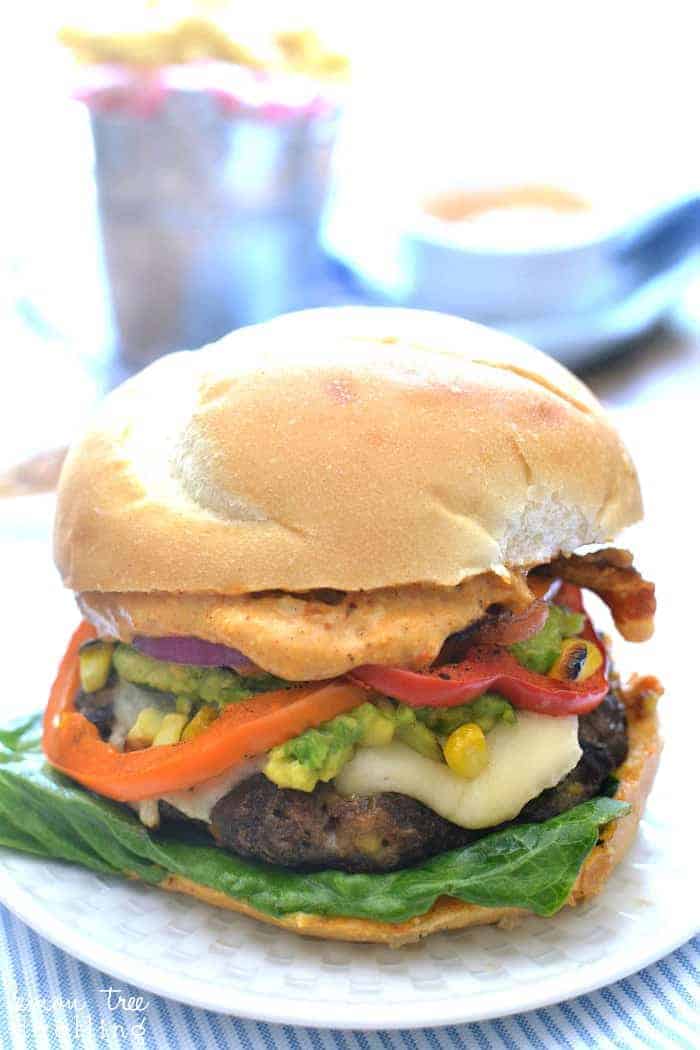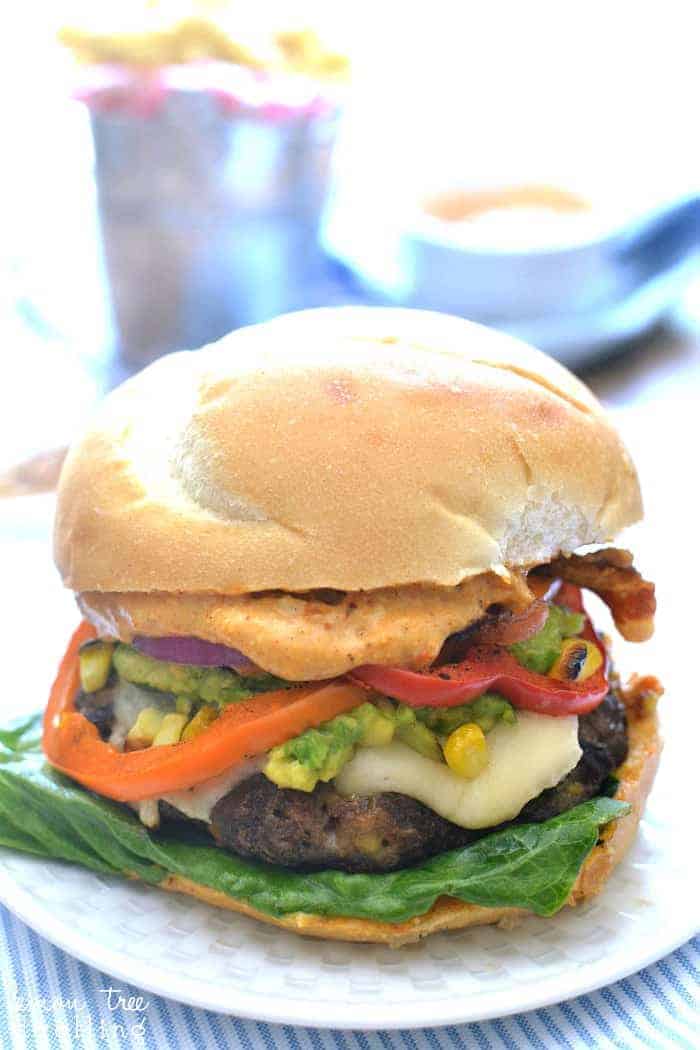 Summer is here, which means time for grilling….and lots of it! I, for one, couldn't be more excited. There's just something about grilling that makes eating more exciting. The outdoors, the smell of charcoal, the kids playing in the backyard, the togetherness. It feels like the way meals should be. And in the summer months, it's the way most of our meals are!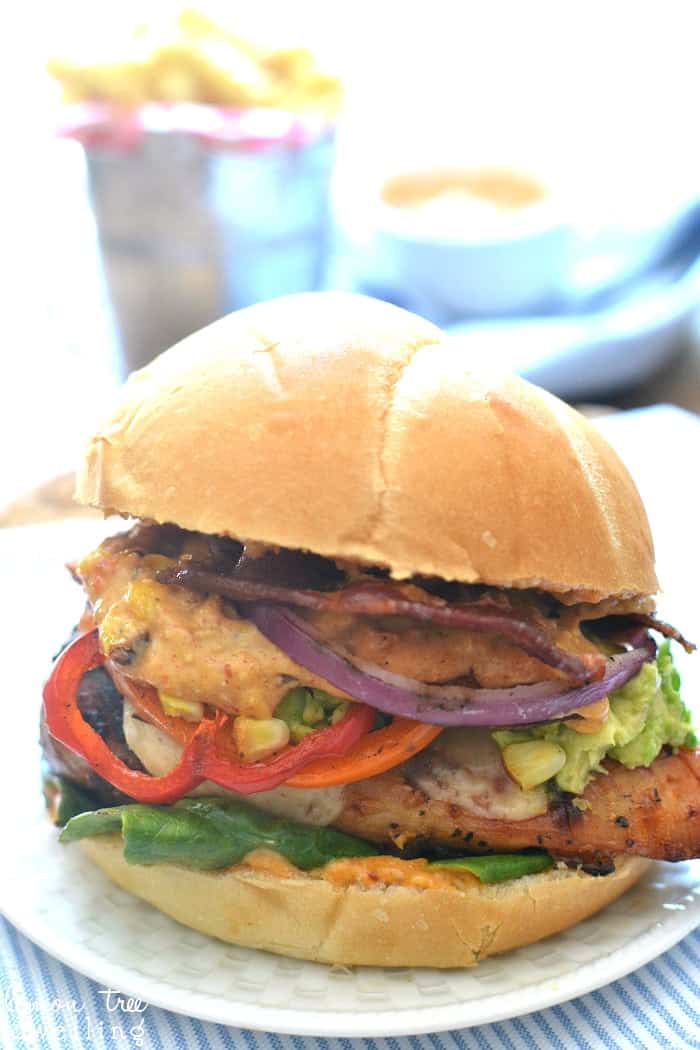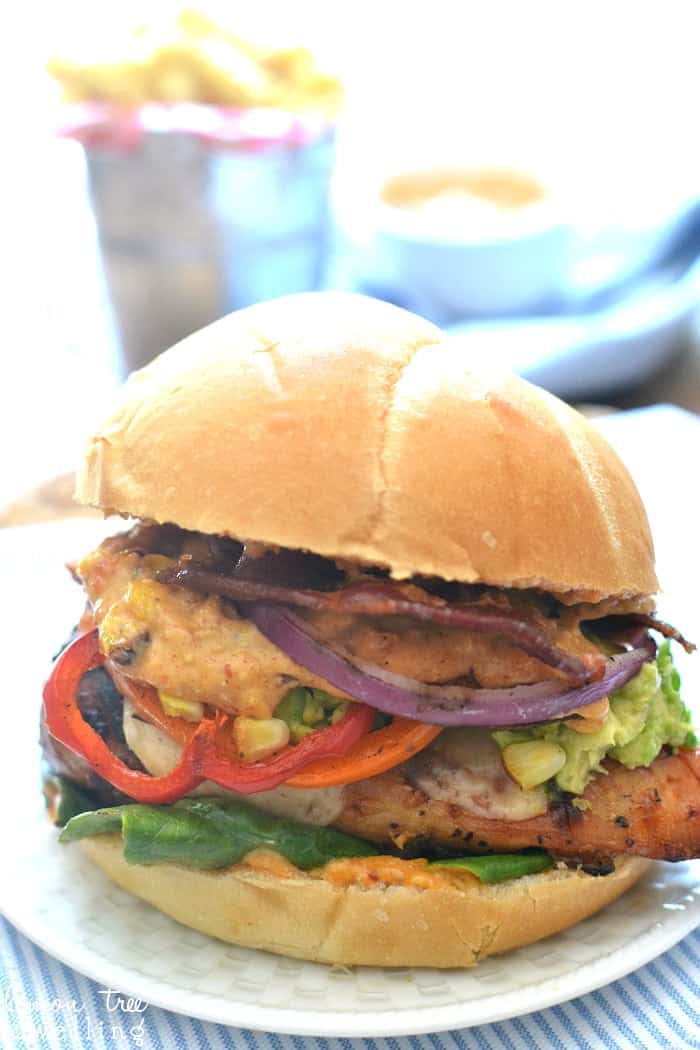 Of course, like all good food, there are memories attached to it. Whenever I smell charcoal burning, I'm instantly transported back to my dad's company picnics – the games, the face painting, the ice cream truck, the giant grills packed full with hamburgers and hot dogs and sweet corn. It was an event we looked forward to all year long, and one we NEVER missed. (It was probably the only time in our lives we got cotton candy AND snow cones…..can you blame us??)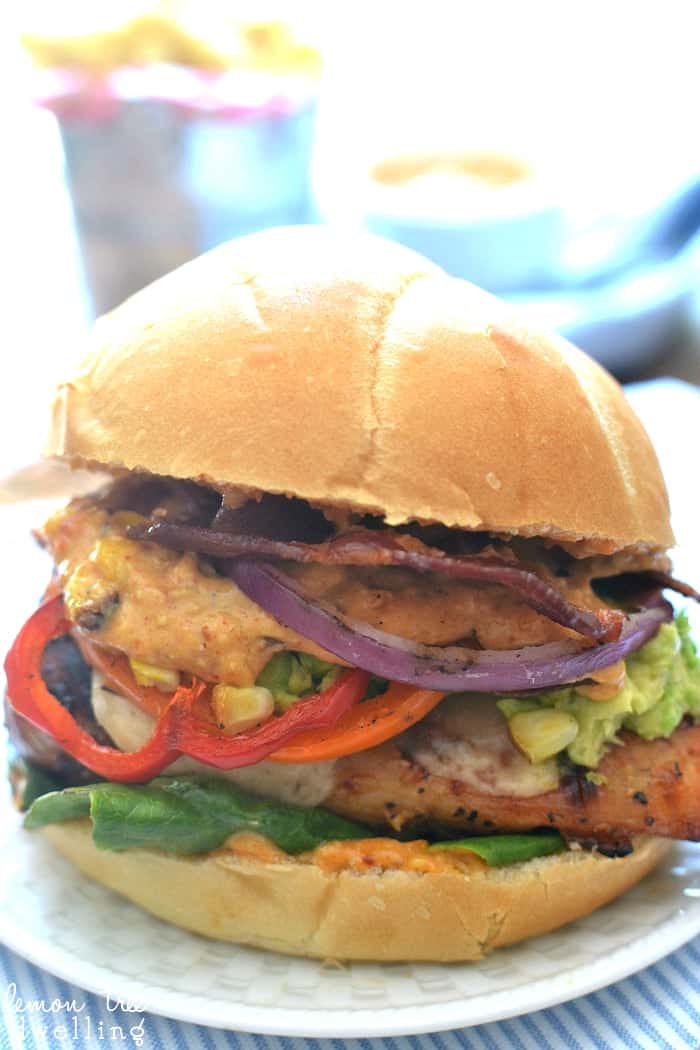 As an adult, my kids are sadly deprived of fun company picnics and the promise of cotton candy and snow cones, but one thing they're not deprived of is summer grilling. They love it just as much as I do, and I love the idea of creating our own fun memories. Filled with lawn games and laughter and fireflies and s'mores…..and, of course, GREAT food.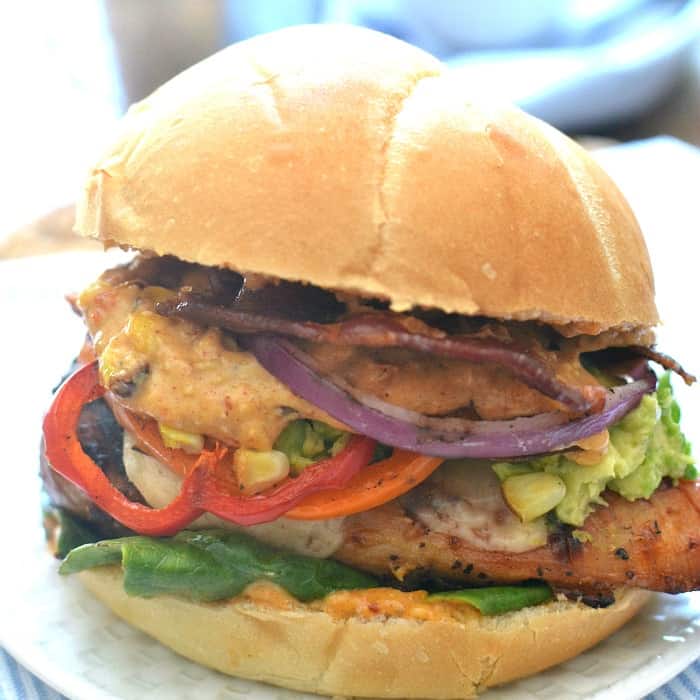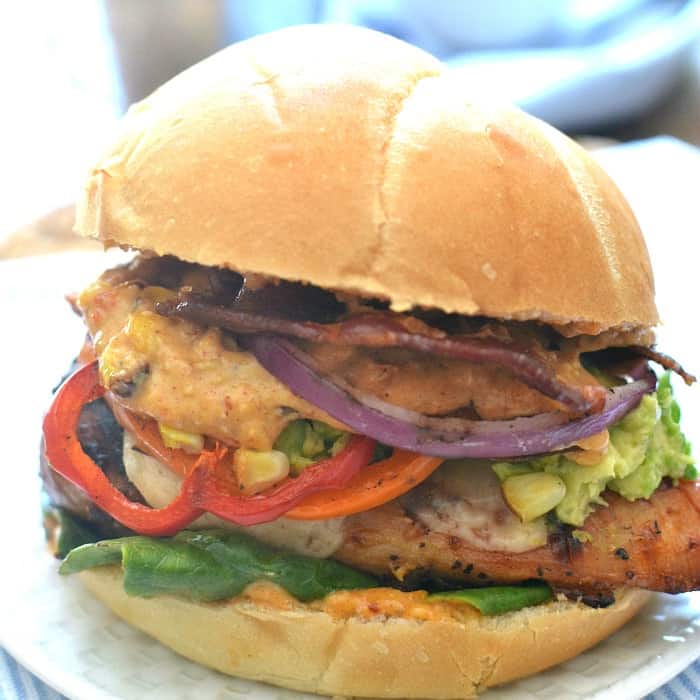 Which leads me to these Southwest Caesar Sandwiches. All loaded up with grilled veggies and bacon and cheese and the most amazing Southwest Caesar dressing. It's like a party in your mouth, which makes it the perfect sandwich for all your summer parties!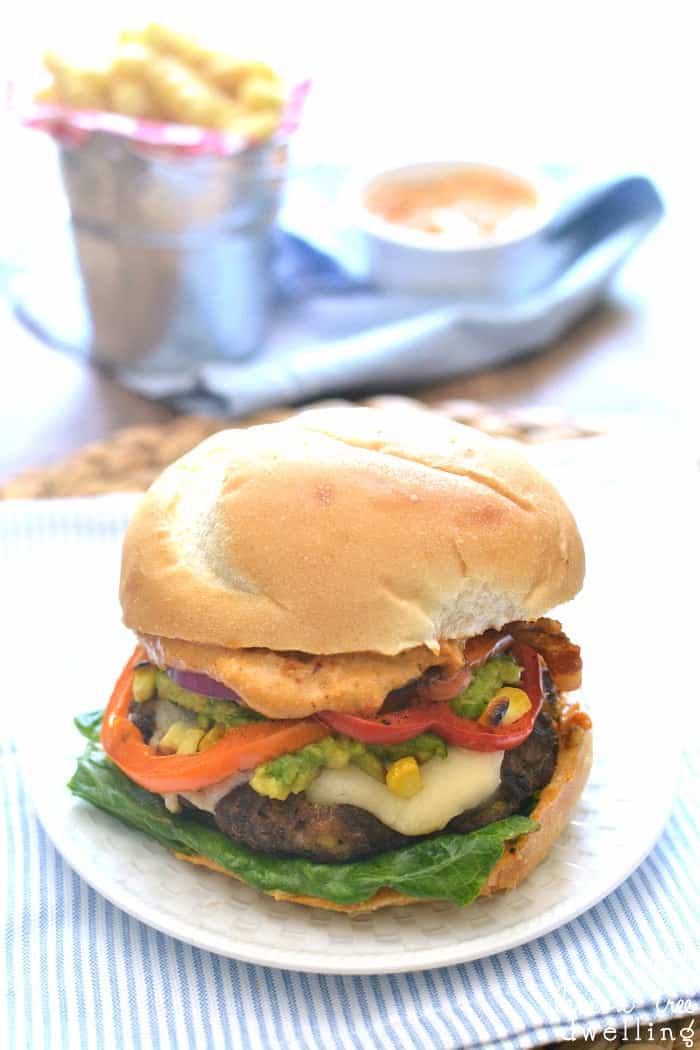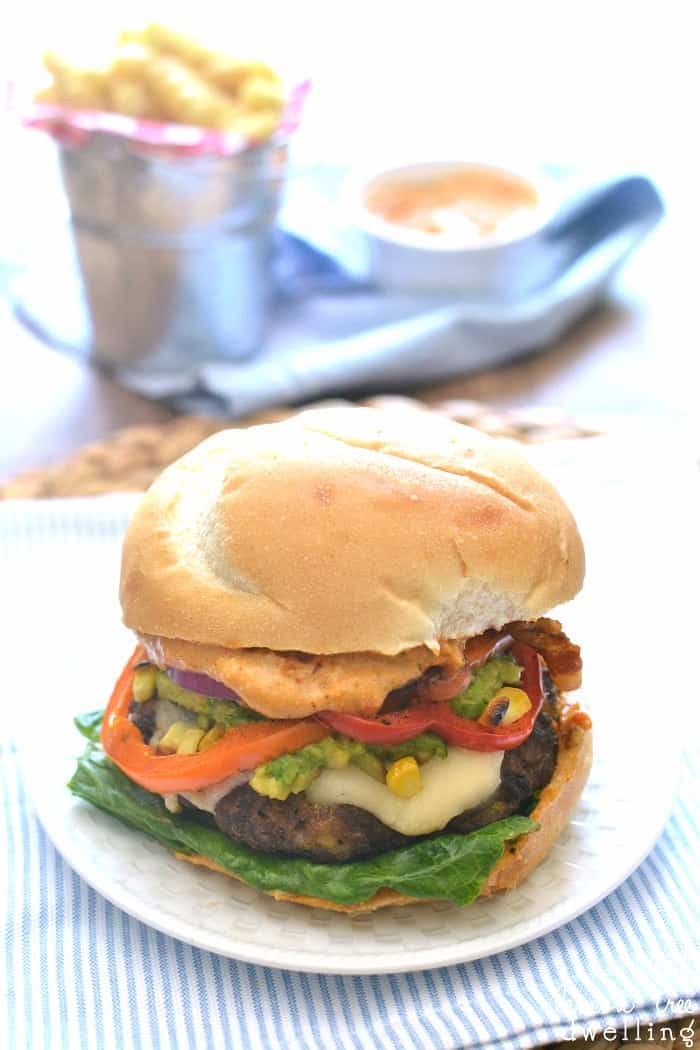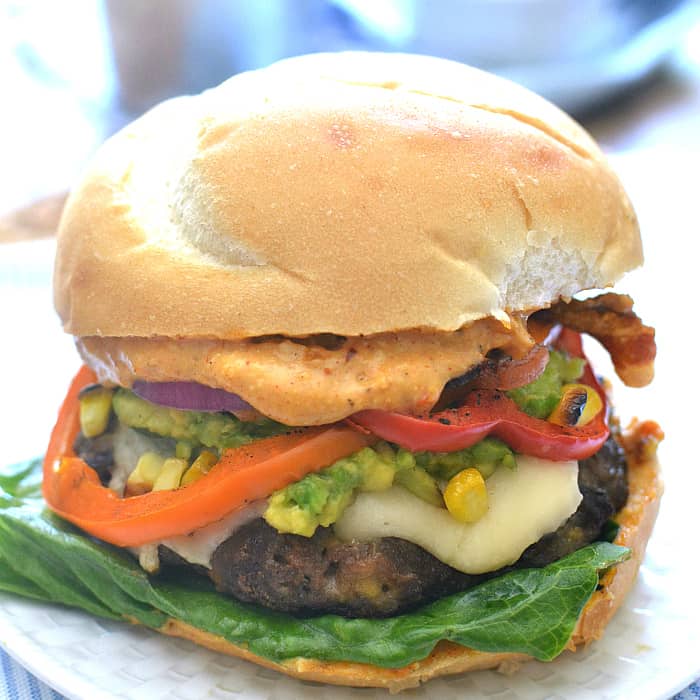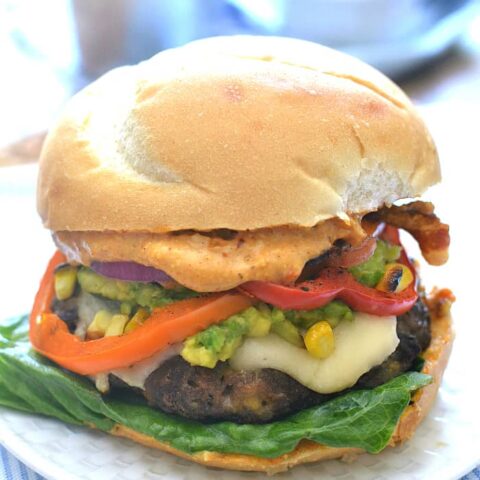 Grilled Southwest Caesar Sandwich
Grilled, marinated chicken breasts and juicy pub burgers, all dressed up Southwest Caesar style!
Ingredients
Sandwiches
4 hamburger patties OR marinated chicken breasts
4 sandwich rolls
4 ounces sliced Parmesan cheese, sliced
8 pieces bacon, cooked
4 romaine lettuce leaves
1 avocado, mashed
1 ear sweet corn, grilled
2 purple onion rings, grilled
1/2 red pepper, cut into rings and grilled
1/2 orange pepper, cut into rings and grilled
Southwest Caesar Dressing
1/2 cup mayo
2 Tablespoons grated Parmesan cheese
1 Tablespoon lemon juice
2 teaspoons Southwest seasoning
1 teaspoon Worcestershire sauce
1 teaspoon dijon mustard
1/2 teaspoons garlic powder
Instructions
Grill burgers and/or chicken according to taste; top with Parmesan cheese to melt.
Assemble sandwiches by layering meat, avocado, corn, onions, and peppers.
Prepare Southwest Caesar dressing by combining all ingredients in a small bowl and whisking well.
Drizzle dressing on sandwiches as desired.
Nutrition Information:
Yield:

4
Serving Size:

1 grams
Amount Per Serving:
Calories:

1434
Total Fat:

88g
Saturated Fat:

22g
Trans Fat:

1g
Unsaturated Fat:

58g
Cholesterol:

158mg
Sodium:

3302mg
Carbohydrates:

100g
Fiber:

10g
Sugar:

10g
Protein:

61g