Grandma's Banana Cake is a moist and delicious cake, perfect for any occasion. Serve for a quick breakfast or for a holiday brunch menu. This simple cake will be loved by all.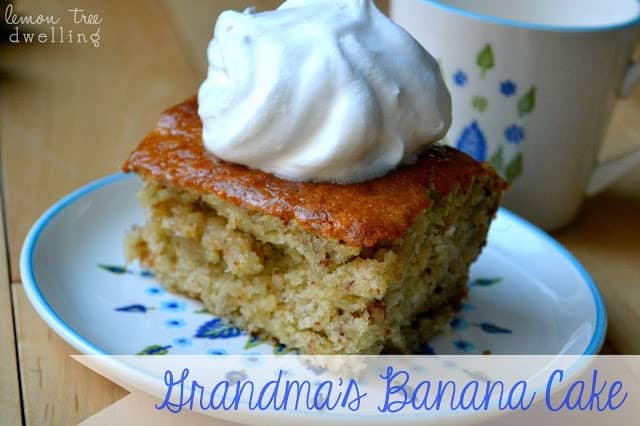 Grandma's Banana Cake
Today is my Grandma's birthday. If she were still alive, she would be turning 89. But my grandma died 14 years ago on Valentine's Day… 3 days before her 75th birthday. When I called my grandpa today, he reminded me of this (he's a numbers guy) and joked that if my grandma hadn't had a birthday, they probably never would have gotten married. So yes, today was an important day, after all. Even at the ripe old age of 94, my grandpa is witty.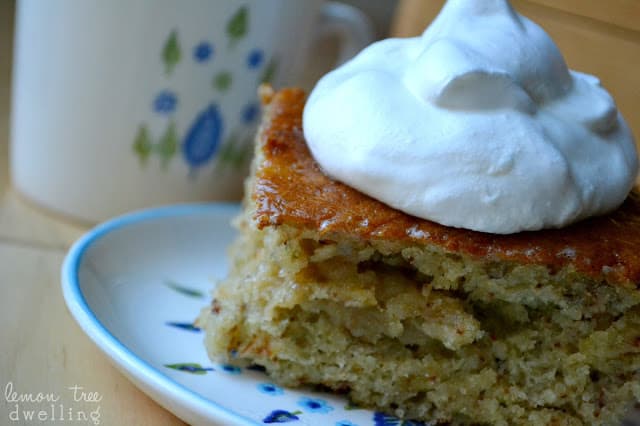 He still lives on his own, in the house my mom grew up in, and still does everything from raking his leaves to shoveling his driveway. He makes his own meals, does his own shopping, and cleans his own house. In fact, he has cleaned out a lot from his house (like the beautiful plates & mugs in the pictures) and much of what remains is memorabilia. My grandpa loves to tell the stories of his life, and always has a bit of memorabilia to share. Like these, my grandma's diaries.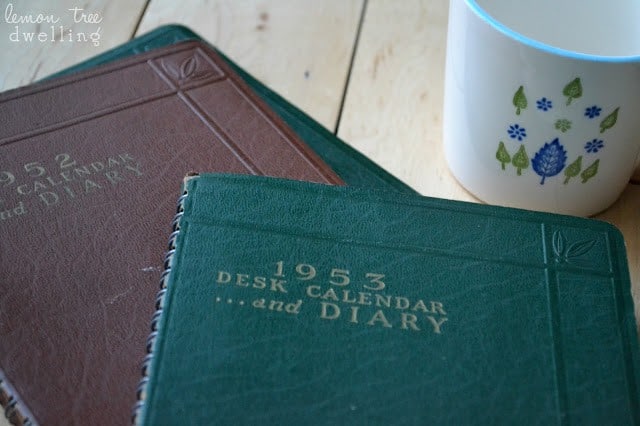 To be fair, they are not so much diaries as records of day-to-day events…and I have enjoyed looking through them to get a glimpse into my grandma's life as a young mom. April 9, 1954: "Clarence took us to Sears. Bought Patrick a brown suit with houndstooth fronts."  June 29, 2953: "Washed today. Had almost two weeks wash." December 13, 1953: "Baby had a fever of 102."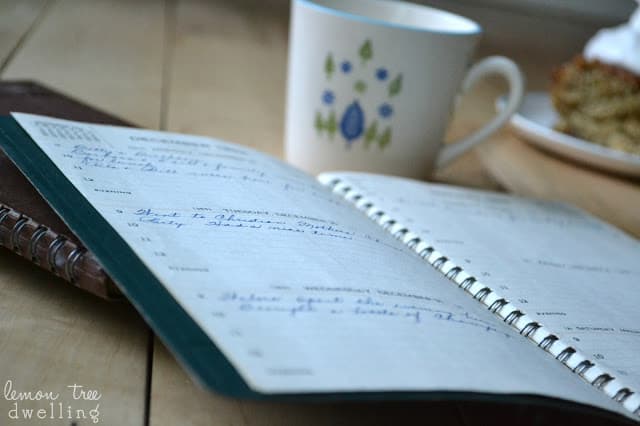 And then there was my favorite: February 17, 1954: "My birthday. Baked a banana cake. Clarence went to play cards at Cudworth Legion Post with Ferd." Typical. I'll make myself a birthday cake, you go play cards. Some things never change.  🙂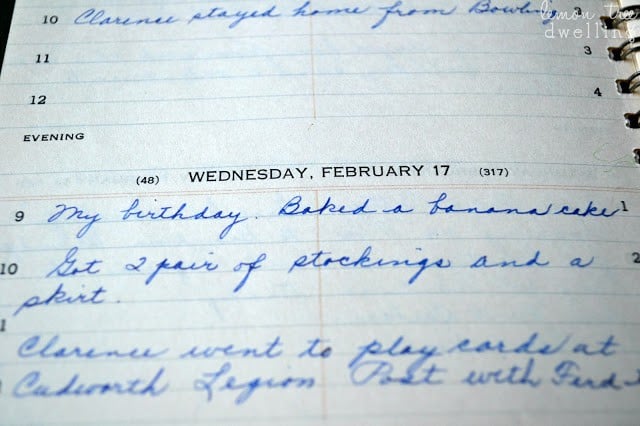 Grandma's Banana Cake – Happy Birthday Grandma
Well, Grandma… today I wanted to bake a cake for you. To let you know you are loved, and missed. To say that I'm sorry you never got to meet my children. To remember how sudden, and how sad, it was when you left this world. To celebrate your life – a life well lived.
The other thing my grandpa told me when I talked to him today is that all 5 of his children had called in honor of their mom's birthday. He joked (again) that he wasn't sure such thoughtful children could really be his. All I said was, "I guess Grandma did something right." 🙂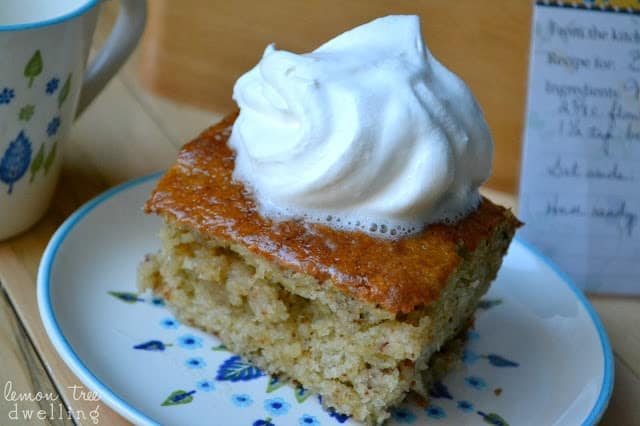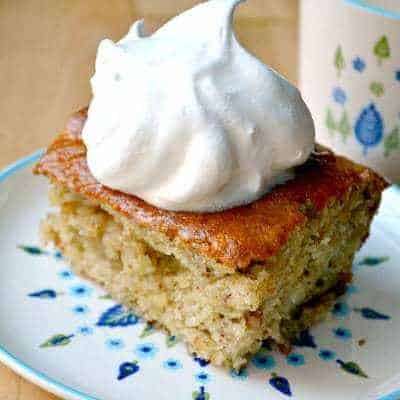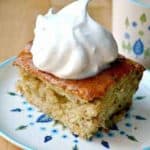 Grandma's Banana Cake
Ingredients
2 5/8

c

flour

1 1/2

tsp.

baking powder

1 1/2

tsp.

baking soda

1 1/8

tsp.

salt

2

c

sugar

3/4

c

shortening

I used softened butter

3/4

c

sour milk

1 1/2

tsp.

vanilla

1 1/2

c

ripe mashed bananas

3/4

c

chopped nuts

3

eggs
Instructions
Mix dry ingredients in medium bowl; set aside.

Stir shortening or butter to soften.

Add 3/8 c milk, half of dry ingredients, and bananas. Mix 2 minutes at low speed.

Add eggs, nuts, and remaining milk and flour. Mix 1 minute at low speed.

Pour into greased 9x13 inch pan.

Bake at 375 for 45 minutes.

Serve with whipped cream.