These Fruity Pebbles Muffins are the perfect St. Patrick's Day treat! Topped with white chocolate and Fruity Pebbles, they make a delicious snack or treat any time of day!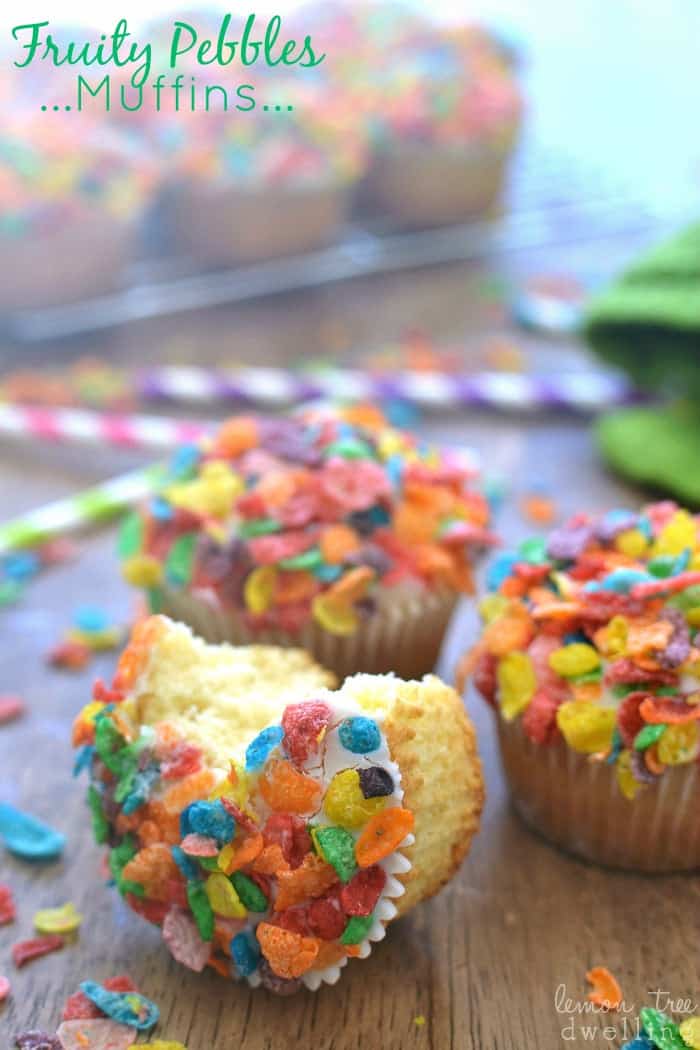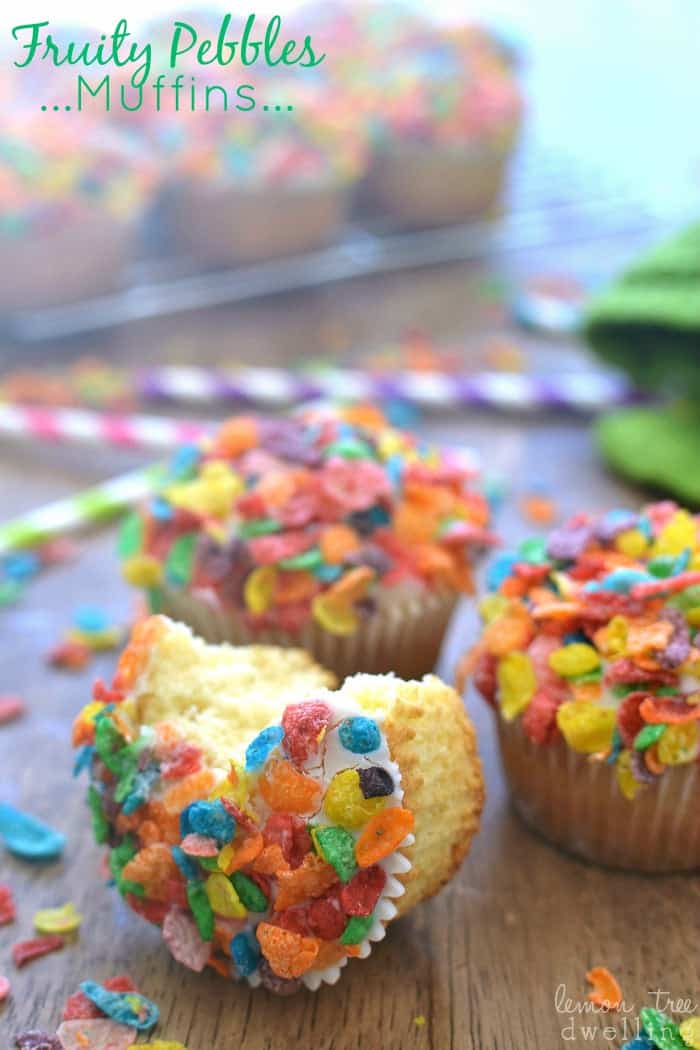 I haven't really had a chance to say this yet, but Happy March!!! It completely snuck up on me this year….and somewhere, in the midst of Samoa recipes and cheesecake parfaits, I completely lost track of the fact that St. Patrick's Day is just 2 weeks away! I finally posted my first recipe yesterday (did you catch my Lucky Charms Milkshakes?) and I plan to share a few more ideas with you this week. Whew – just in time!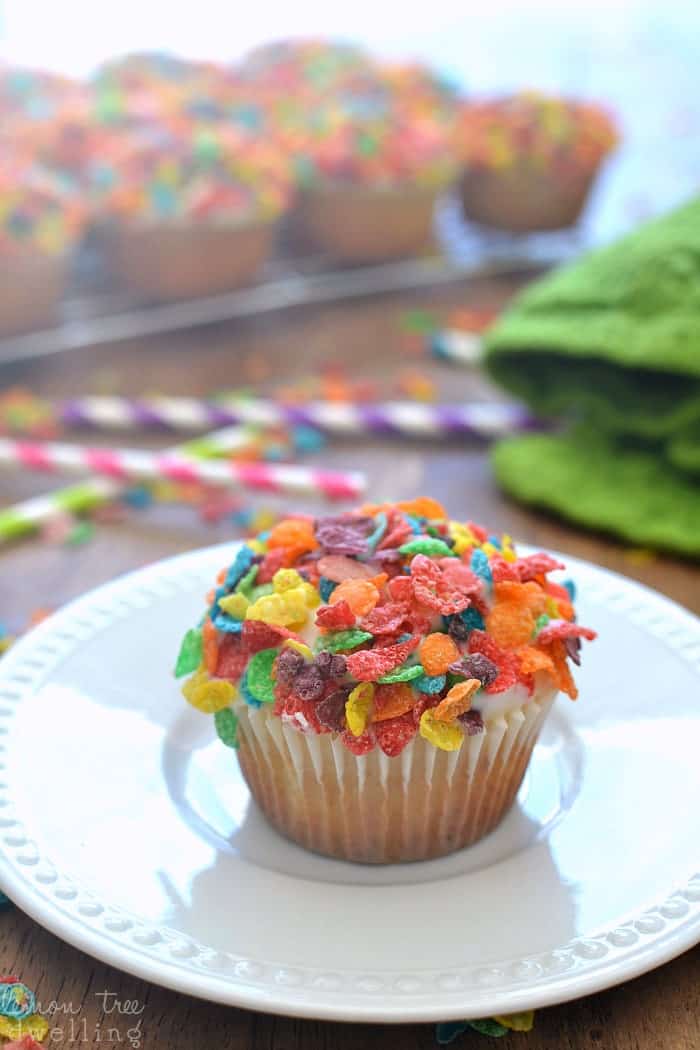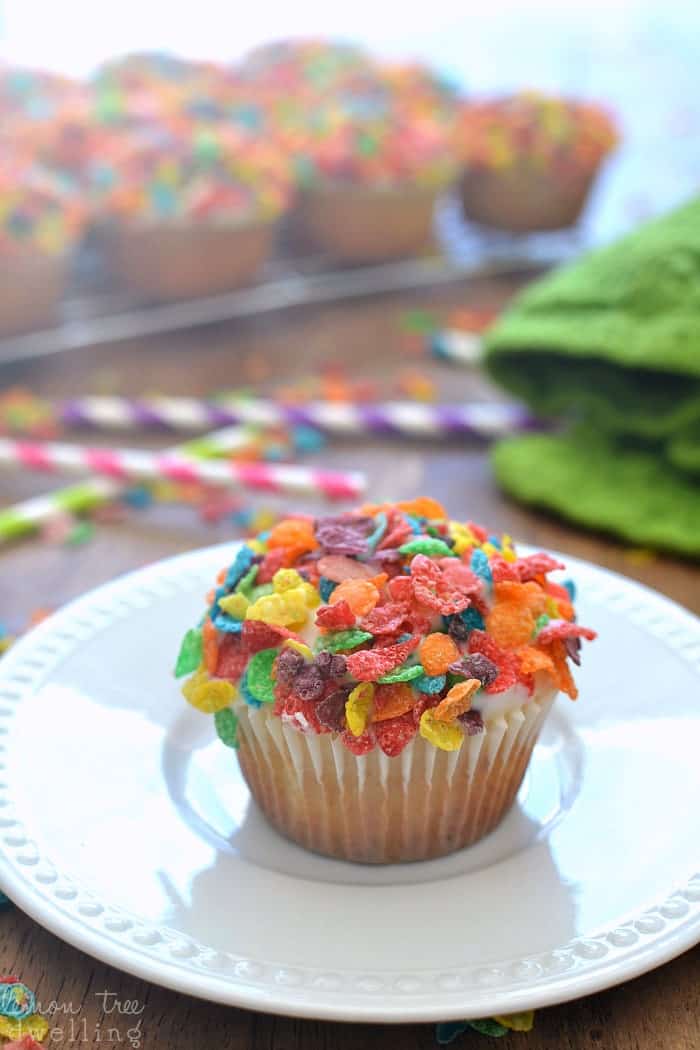 Part of the problem is there are just so many holidays! Which, I must say, I did NOT feel as a kid. Don't you remember waiting for the next holiday for what felt like an eternity? I sure do. And now I feel like I can just barely catch my breath between them! Every time I turn around there are new decorations to put up, new t-shirts to sport, new presents to buy, new candy to eat, new treats to make…….(not that I'm complaining)!

And you know who else isn't complaining? Yep – you guessed it. My kids! What kid wouldn't love sweetness covered in more sweetness and sprinkled with Fruity Pebbles? Especially when you call them muffins (that means they're acceptable for breakfast, right?)! You better believe it! These Fruity Pebbles Muffins start with the Vanilla Muffin recipe I grew up with and adored. And the rest, as they say, is history.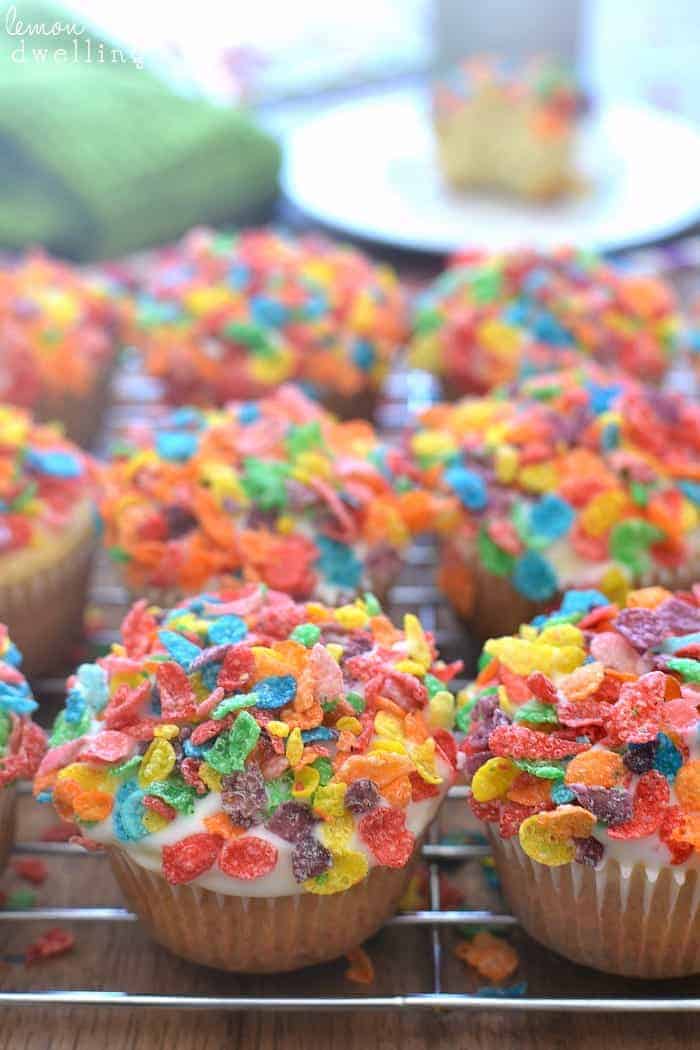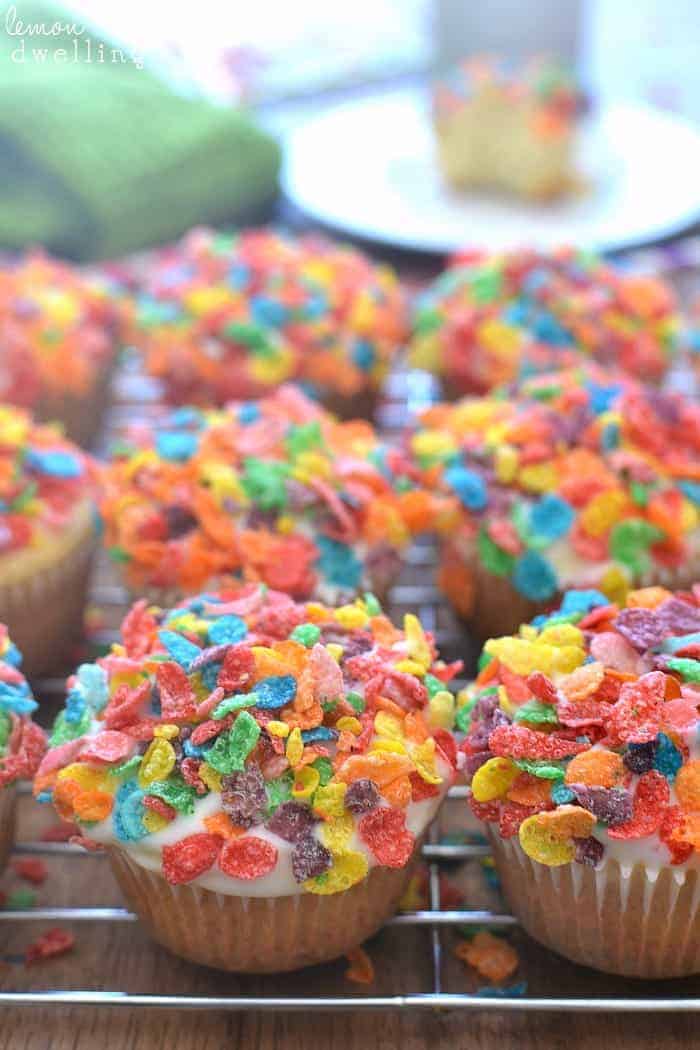 Truth be told, these cupcakes will quickly become history at your house, too. They're just too good to keep around….especially once the kids get their hands on them! The good news is they couldn't be easier….so you have plenty of time to make them for St. Patrick's Day……and making more is always an option! Whew!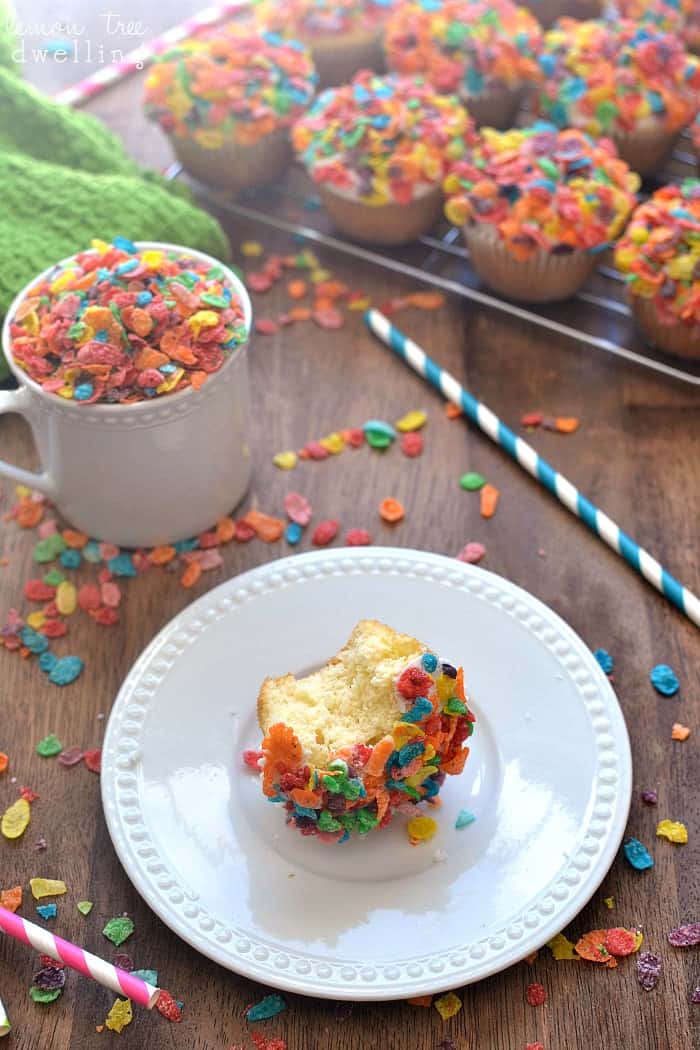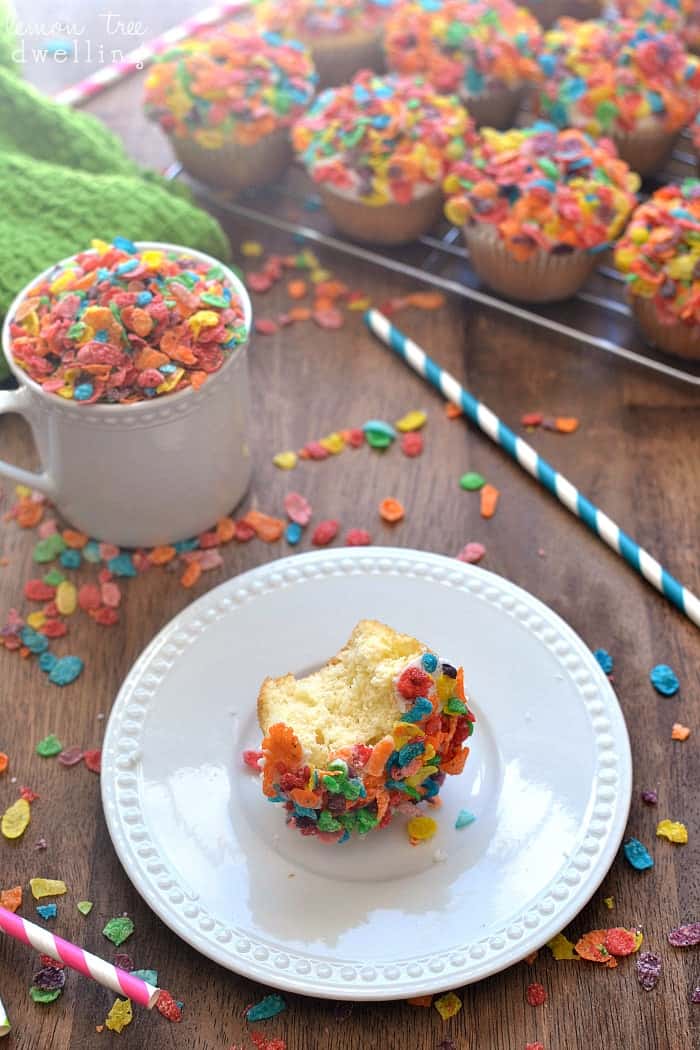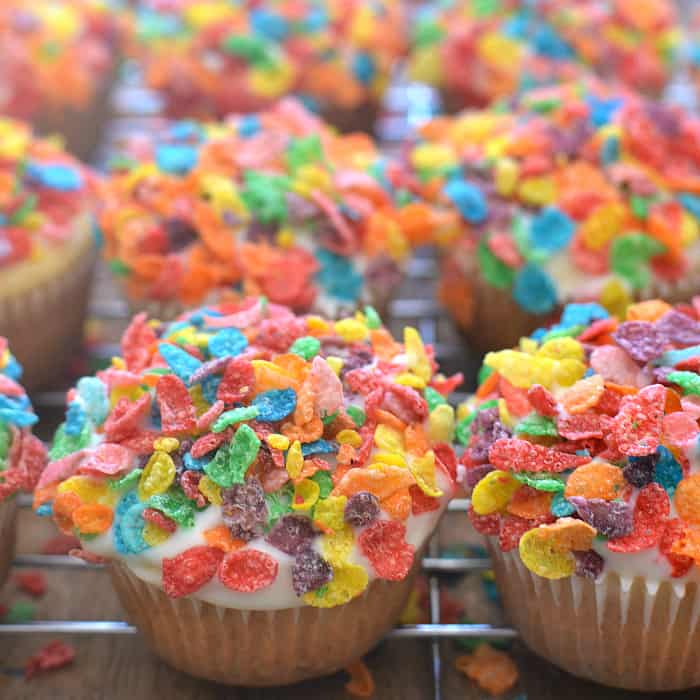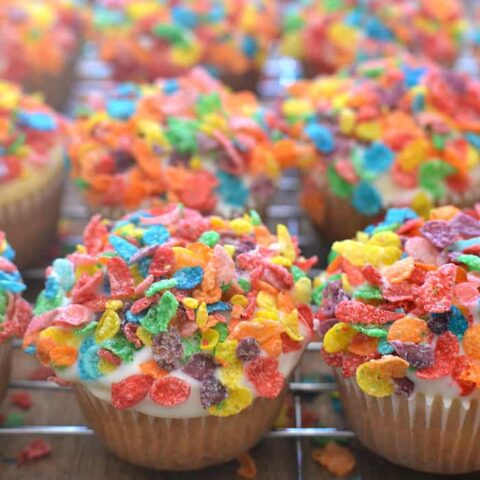 Fruity Pebbles Muffins
These Fruity Pebbles Muffins are the perfect St. Patrick's Day treat! These breakfast muffins are topped with white chocolate and Fruity Pebbles. A delicious snack or treat any time of day!
Ingredients
1 cup granulated sugar
2 large eggs
2 cups flour
1/2 Tablespoon baking powder
1 cup milk
1/2 stick (4 Tablespoons butter)
1/2 Tablespoon vanilla
6 ounces white chocolate
1 1/2 cups Fruity Pebbles Cereal
Instructions
Beat sugar and eggs in a large mixing bowl until creamy.
Combine flour and baking soda; add to sugar mixture alternately with milk.
Add melted butter and vanilla and beat thoroughly.
Line muffin tins with cupcake liners. Fill cups about 2/3 full and bake at 375 degrees for 20-25 minutes or until light golden brown. Cool on a wire rack.
Dip cooled muffin tops into white chocolate to coat.
Dip into Fruity Pebbles to coat.
Nutrition Information:
Yield:

24
Serving Size:

1
Amount Per Serving:
Calories:

130
Total Fat:

3g
Saturated Fat:

2g
Trans Fat:

0g
Unsaturated Fat:

1g
Cholesterol:

18mg
Sodium:

60mg
Carbohydrates:

23g
Fiber:

0g
Sugar:

14g
Protein:

2g