Cinnamon S'more Blondies don't need any campfire to enjoy! These chewy blondies will have you dreaming of summer! Filled with marshmallow and graham crackers, a perfect sweet treat anytime.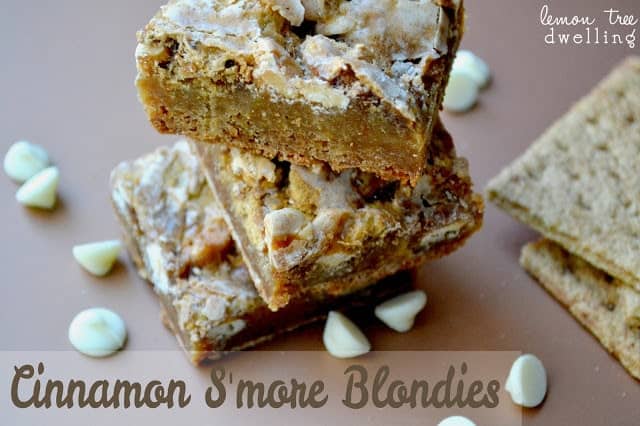 I can't remember the last time we didn't have snow here. And I don't just mean on the ground…..I mean falling from the sky. It has been snowing daily for what feels like weeks now….so much that we can no longer distinguish our driveway from the rest of our yard or remember what the world looks like in color! I know that sounds dramatic, but if you could see out my windows right now you'd understand!
I'm not much of a snow person….or a cold person, for that matter….which is unfortunate since I live in Wisconsin! But winters in Wisconsin are uncomfortable – the below zero windchills, the slippery roads, the numb fingers and toes, the need to either stay inside or be bundled in 18 layers….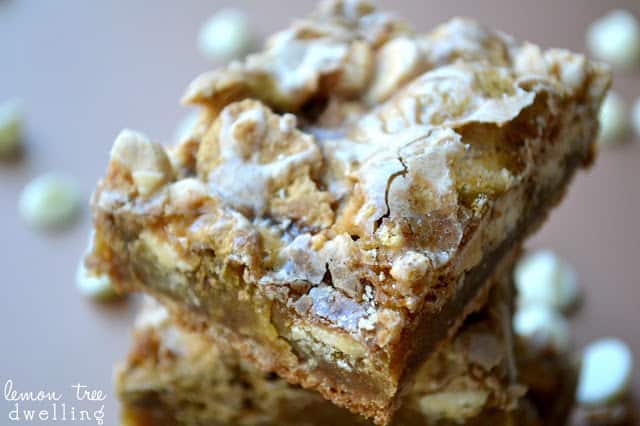 And so, every year around this time (February is the worst), I start thinking about summer. And tank tops. And sun. And cookouts. And cocktails. And firepits. And s'mores….. And since s'mores are tricky in winter, I decided I needed to figure out how to make them Wisconsin winter-friendly.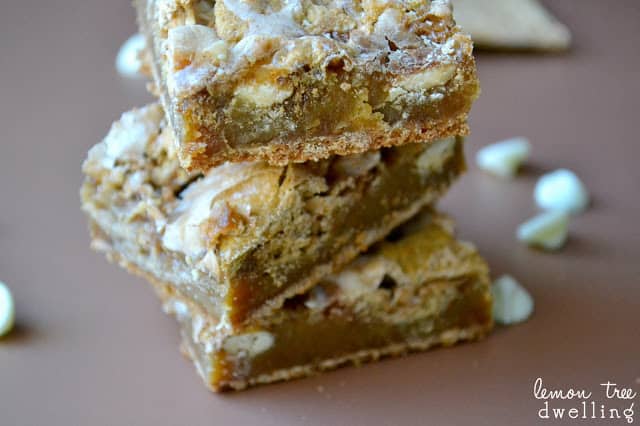 Cinnamon S'more Blondies – No campfire needed
Okay….so the other part of the story is these marshmallows that have been staring me in the face every time I open my cupboard. I think I found them sometime after Christmas, and have been waiting for just the right way to use them.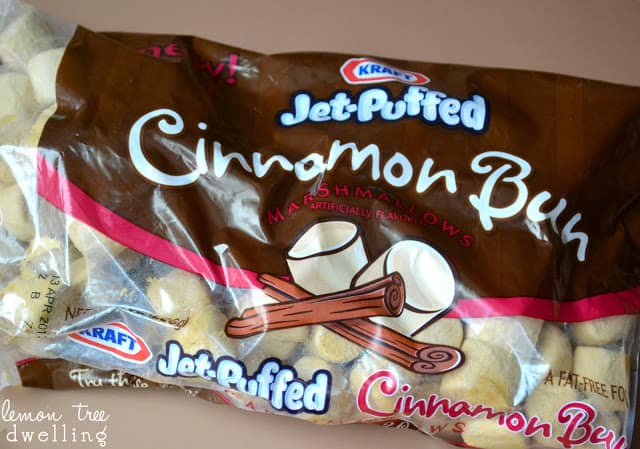 Cinnamon s'mores! How fun!! Cinnamon s'more blondies….!? Even better.I don't know about you, but I'm not so sure
Punxsatawney Phil
is right about an early spring. The way things are looking around here, winter will be holding on a LOT longer. More time for these bad boys, I guess… 🙂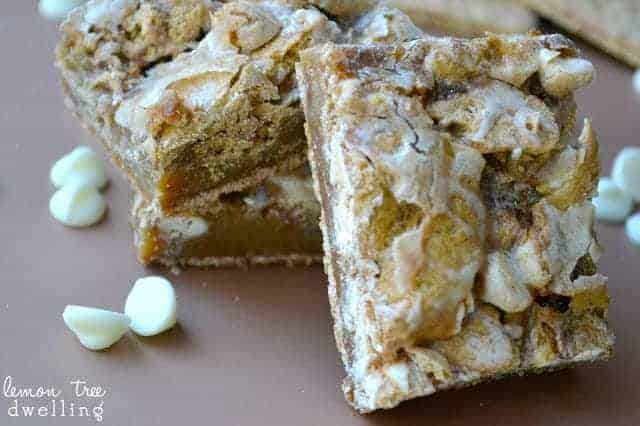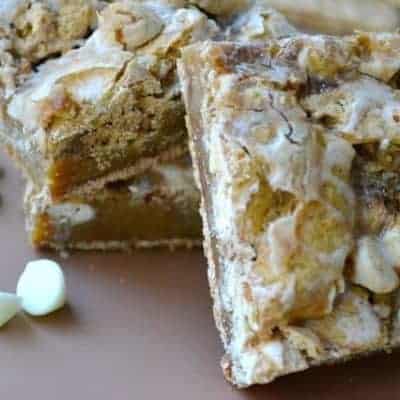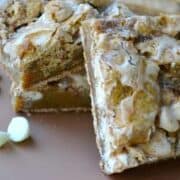 Cinnamon S'more Blondies
Ingredients
2

c

packed brown sugar

2/3

c

butter

2

eggs

2

tsp

vanilla

2

c

all-purpose flour

1

tsp

baking powder

1/4

tsp

baking soda

1

c

white chocolate chips

7

cinnamon graham crackers

crushed

2

c

Kraft Cinnamon Bun Marshmallows

For Cinnamon Glaze:

1

c

powdered sugar

2

Tbsp

milk

2

tsp

cinnamon
Instructions
Grease a 9x13 inch pan; set aside.

In a medium saucepan heat brown sugar and butter over medium heat until sugar dissolves, stirring constantly. Cool slightly.

Stir in eggs, one at a time, and vanilla.

Stir in flour, baking powder, and baking soda.

Spread batter in prepared pan. Sprinkle with white chocolate, graham crackers, and marshmallows.

Bake at 350 for 30 minutes or until done.

Remove from oven and drizzle with cinnamon glaze.
For another great S'more recipe try my S'mores Monkey Bread or this S'mores Marshmallow Malts