Chicken Spinach Artichoke Pizza is a delicious taste of heaven in a game day dinner option. This artichoke dip is turned into a appetizer pizza and is perfect for feeding a crowd!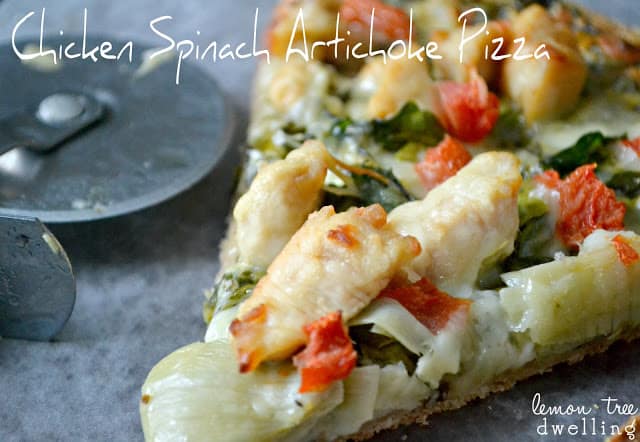 One of my favorite childhood memories is making homemade pizza with my dad. Maybe it's because it was the one meal he was always in charge of, or maybe it's because the whole family got involved in making it, or maybe it's because my dad would give us a little piece of dough to play with while he did the hard part….. but whatever the reason, homemade pizza nights were always something to look forward to!
In fact, when we celebrated my parents' 40th wedding anniversary recently, my siblings and I came up with a list of 40 things their love has created. "Cravings for homemade pizza" was number 15.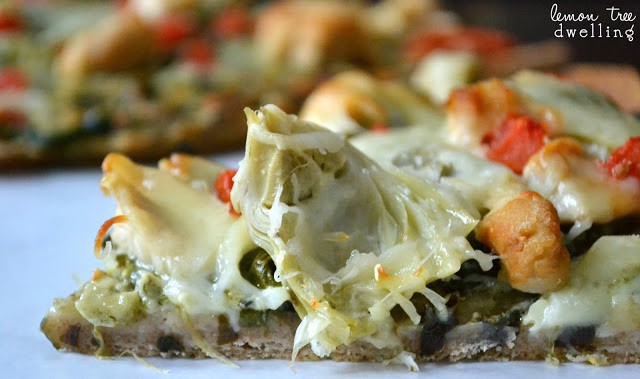 As an adult, I haven't been great about creating mealtime traditions for our family. I make a lot of meals, and we sit down to eat them together, but I guess I like to mix it up too much to have specific meals that my kids know and ask for (unless you include mac & cheese and quesadillas….)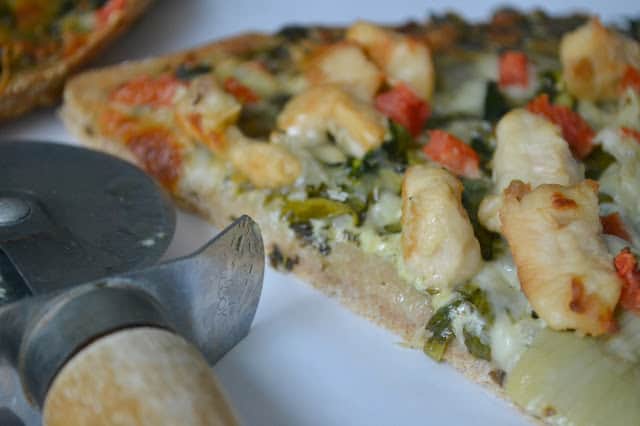 Chicken Spinach Artichoke Pizza
Case in point: this pizza. I know I've been leading you to believe that I'm sharing my family's pizza recipe with you today….(you wish!) But I'm actually not. This is actually nothing like the pizza from my childhood… because as much as I love the pizza from my childhood, what I love (even more) is coming up with new ideas and giving them a whirl. (No worries – I will share my family's pizza recipe with you soon – I promise!)
So here's my whirl at Chicken Spinach Artichoke Pizza. With the Superbowl upon us, I've been playing around with turning party dips into main dishes. I always struggle with what to serve as the main dish at a party, so why not take my cue from the things that always go over well: the dips?? One of my favorite go-to dips is spinach dip – you know the one you pick up from the deli? Yep, that one. It's quick, it's easy, and everyone likes it. Even my kids.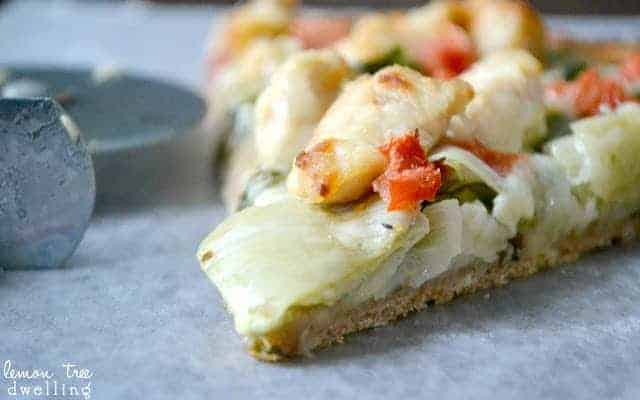 So why not use it on pizza, in place of sauce? And then why not load on more spinach (the more, the merrier), some artichoke hearts (spinach's best friend), chicken (universally well-liked), tomatoes (they're pretty), and cheese (no explanation necessary!) You got it.I guess I'm hoping that, even if my kids won't have memories of specific meals I always made, they will have a sense that food is something to be celebrated and enjoyed….and that cooking it can even be kind of fun! 🙂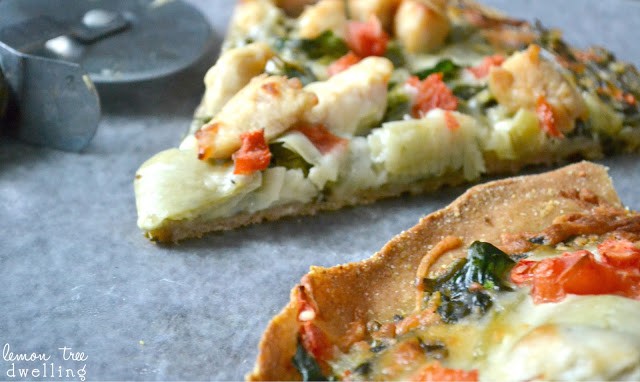 Chicken Spinach Artichoke Pizza Recipe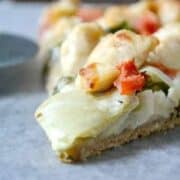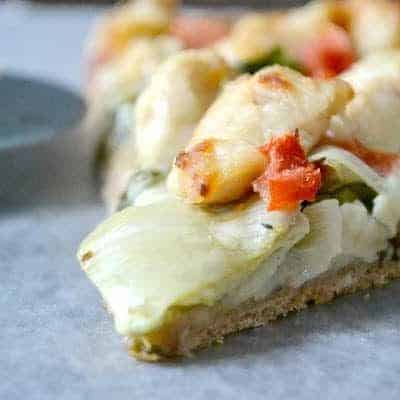 Chicken Spinach Artichoke Pizza
Ingredients
For crust:

1 1/3

c

lukewarm water

1

packet granulated yeast

2 1/4

tsp

Kosher salt

1 1/2

tsp

sugar

1/8

c

olive oil

3 1/4

c

flour

I used half all-purpose and half whole wheat

For pizza:

3/4

cup

spinach dip

1

cup

fresh spinach

torn

1

7.5 oz jar marinated artichoke hearts

1

roma tomato

chopped

2

large chicken breasts

cooked & chopped

1 1/2

cups

mozzarella cheese
Instructions
For crust:

In a large bowl, mix yeast, salt, sugar, and olive oil with water.

Mix in the flour without kneading.

Cover (not airtight) and allow to rest at room temperature until dough rises and collapses (or flattens on top), approx 2 hours.

Dough can be used immediately or refrigerated in a lidded (not airtight) container for up to 12 days.

Makes 2 pizzas.

For pizza:

Preheat oven to 425.

Roll out pizza crust to desired size and bake 5 minutes in preheated oven.

Top with spinach dip, spinach, artichoke hearts, tomatoes, chicken, and cheese.

Bake at 425 degrees for 18-20 minutes.