Homemade Cherry Crisp, packed with almonds and topped with a thick layer of crunchy brown sugar streusel. Serve it with homemade amaretto whipped cream for an extra special treat!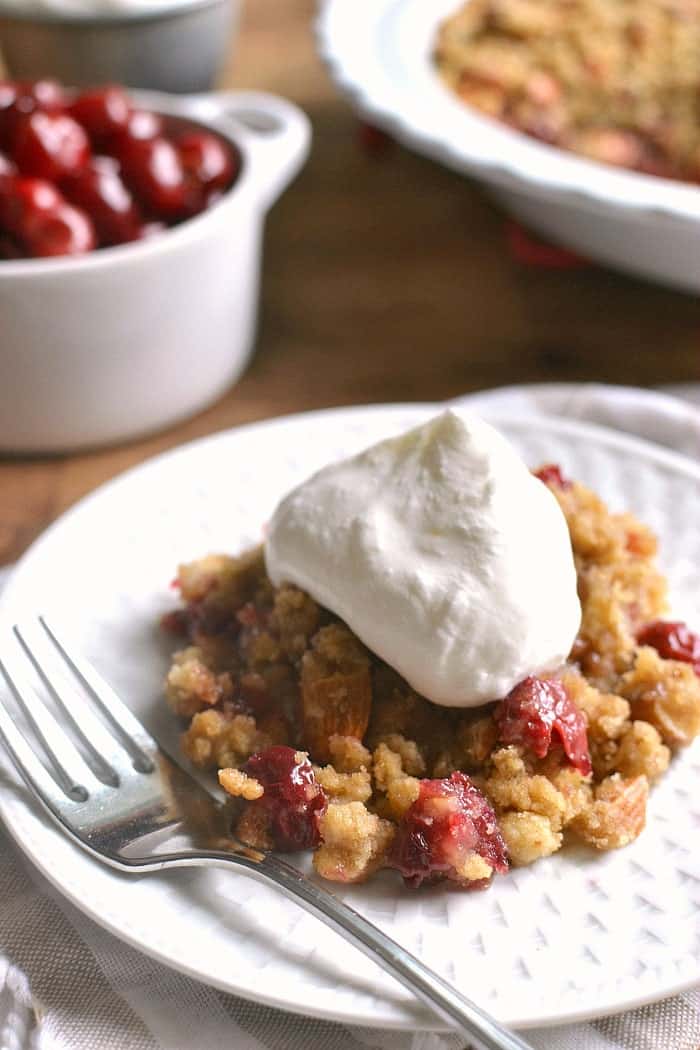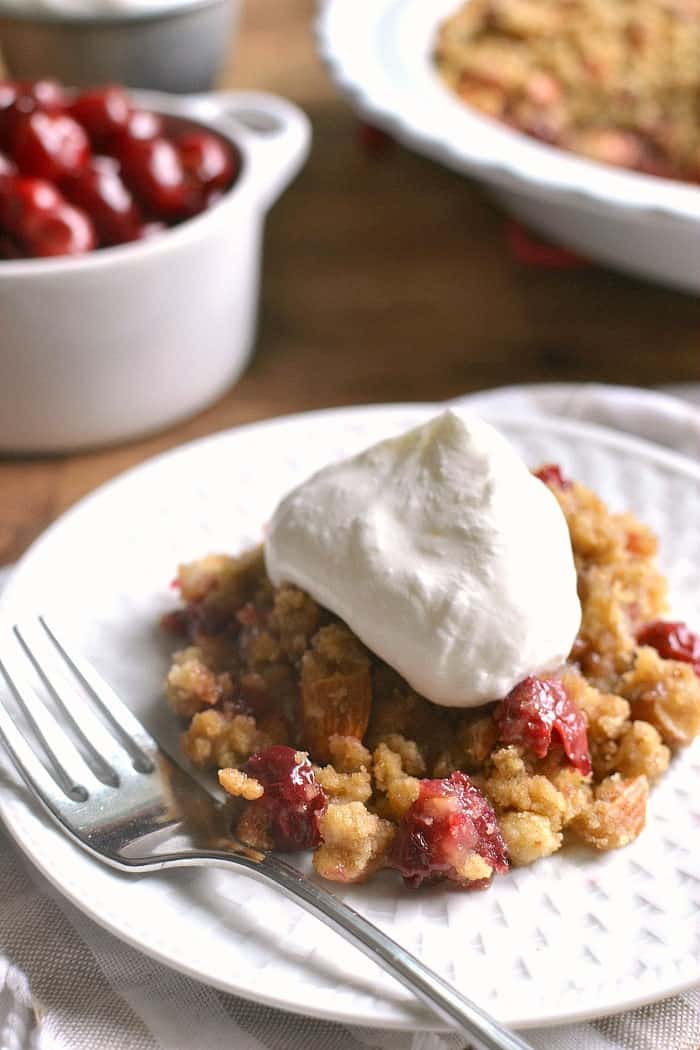 So, we've been working with Ellia on the word NO. And by we, I mostly mean me. Since I'm the one home with her all day, I get the lucky task of telling her no….repeatedly….to nearly everything she asks for. See, when you're working on something, sometimes you have to go a little overboard to prove a point. You know what I mean?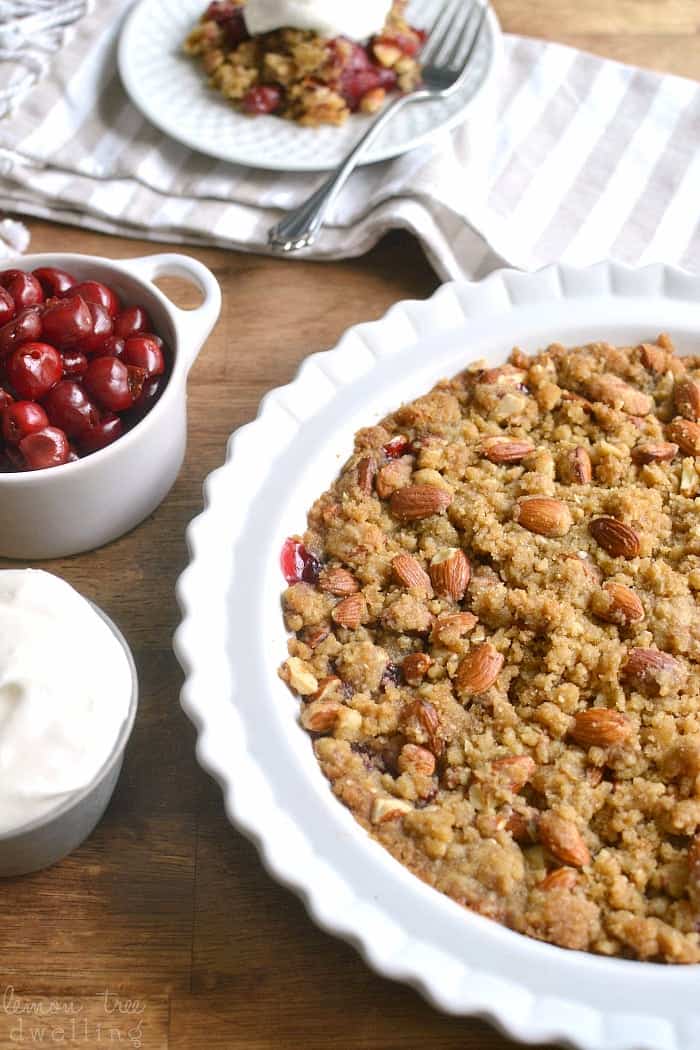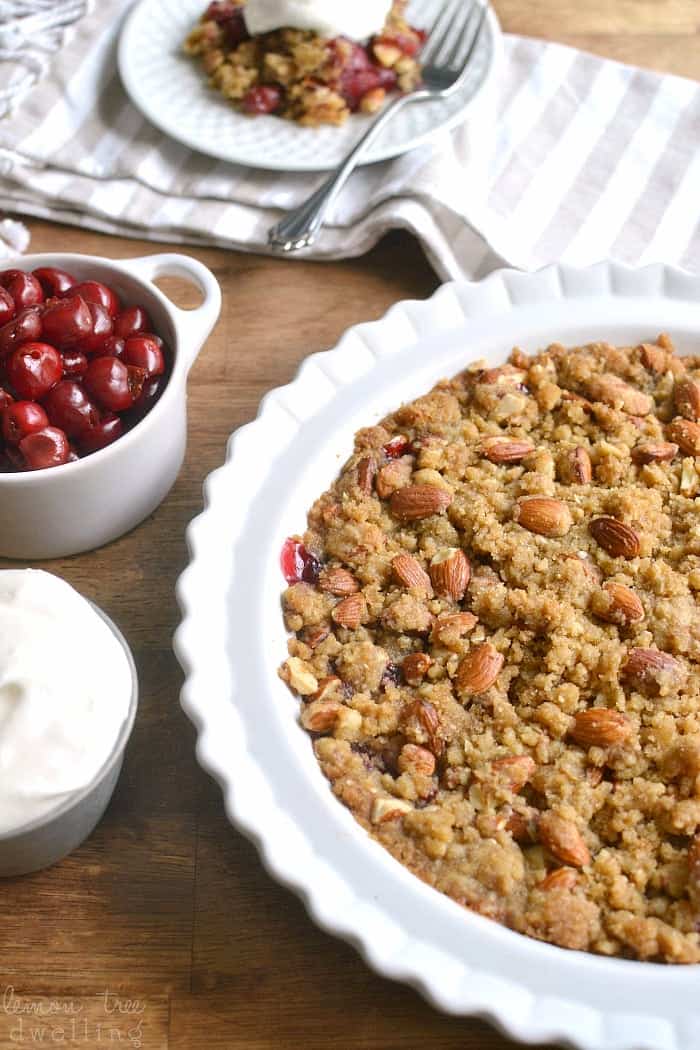 We could've seen it coming, really. The constant negotiation. The never knowing when to stop. And I suppose, to some extent, it's our fault for not nipping it in the bud sooner. But. Now's as good a time as any….or so I keep telling myself….and Project NO is well underway. My goal? To stop her from asking for EVERYTHING! My other goal? To give her enough practice with NO that she can learn to roll with it. Wish me luck.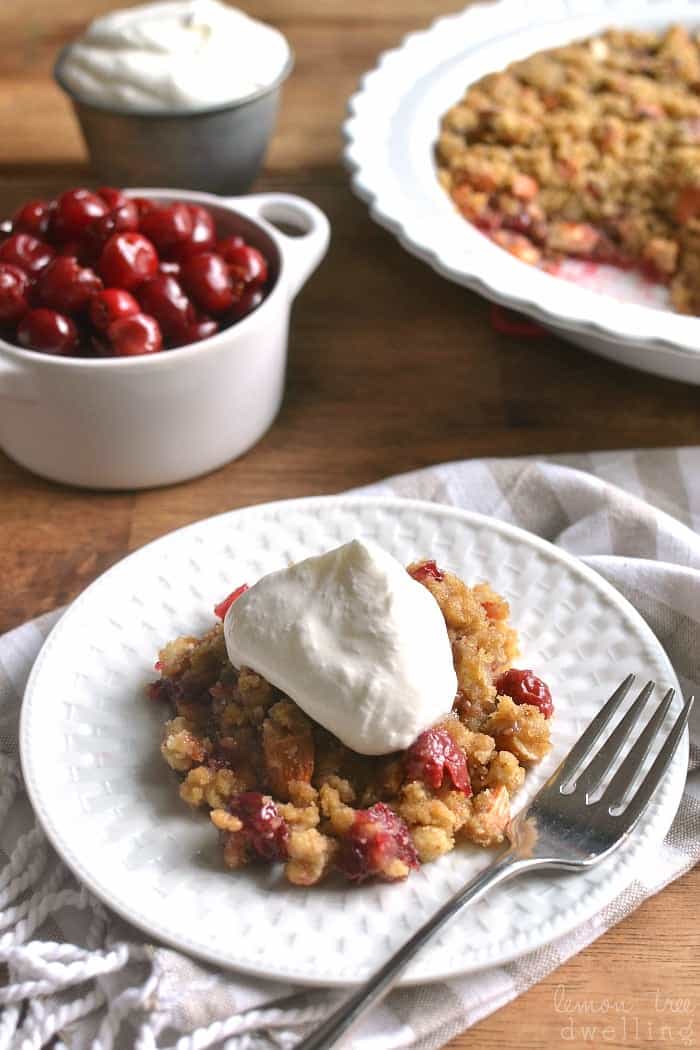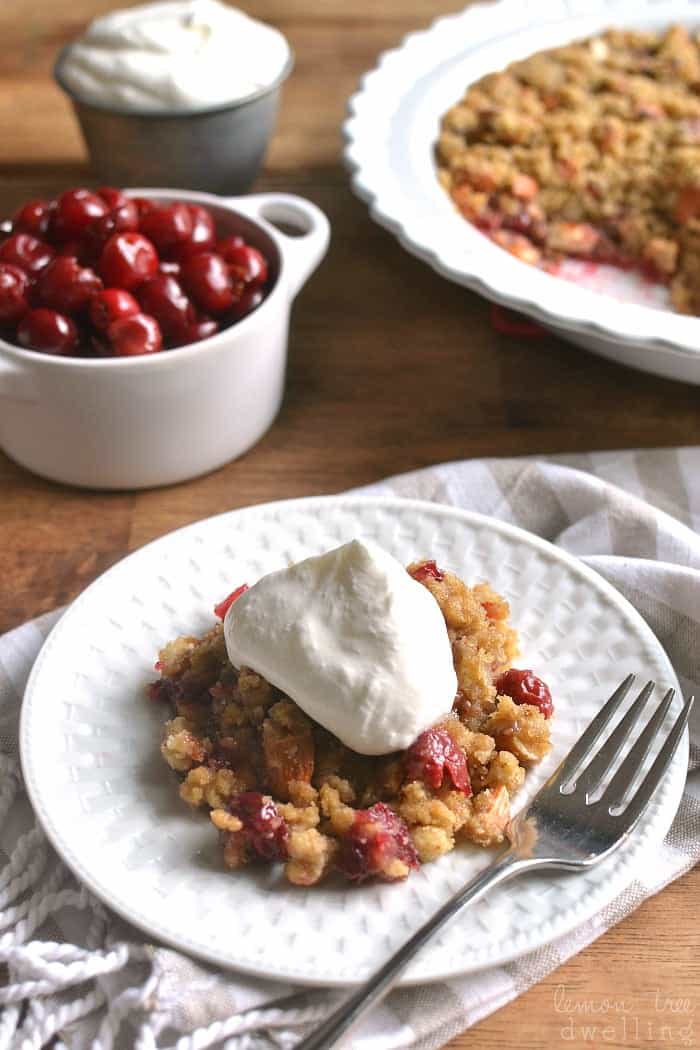 It all started about a week ago, on a little outing to the zoo. We were having a lovely time, and then it began. Requests for ice cream and train rides and popcorn and zip lines. And somewhere, in the midst of it, I decided I had had enough. Honestly, in the week since then, things have been going really well. She's making strides! Do we still have a long way to go? Yes. But I'm trying to celebrate the small victories.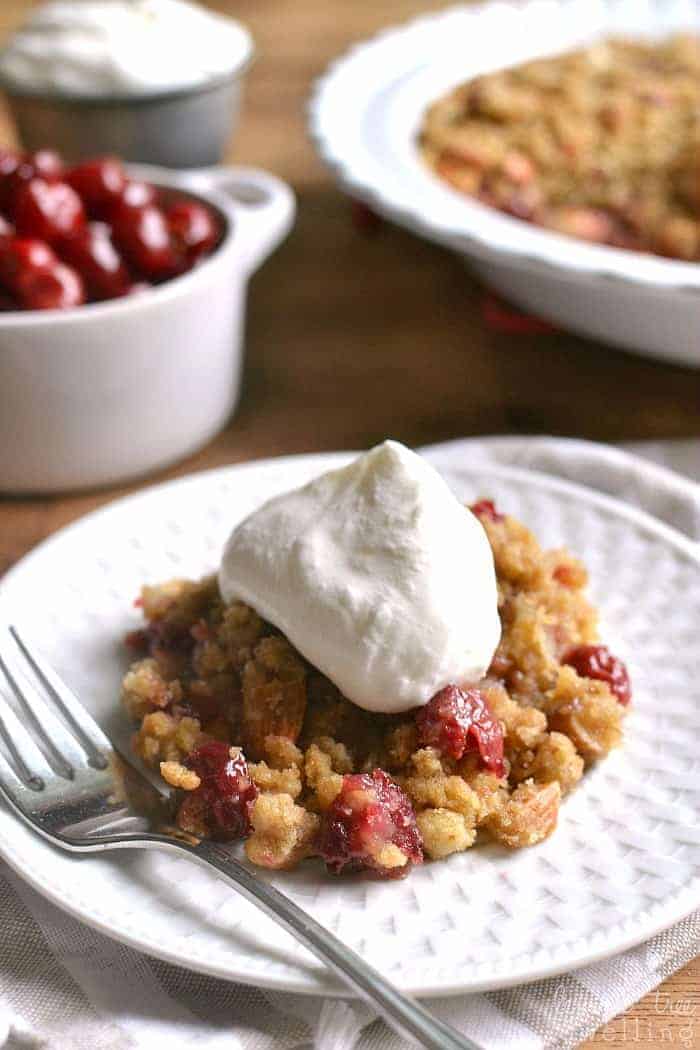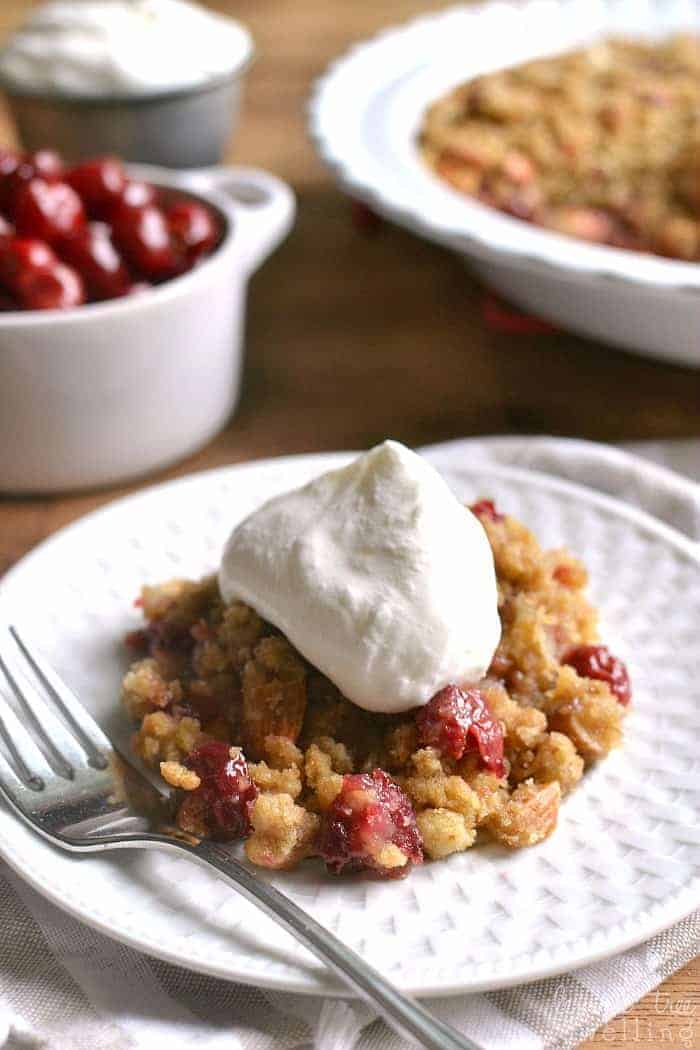 So, in the spirit of celebration, I decided to make a crisp. A delicious cherry crisp, using cherries from a family friend's tree. And I decided to add almonds, and amaretto whipped cream, because when you're celebrating, you pull out all the stops! Let's just say it was definitely celebration-worthy. AKA amazing. Sweet and crunchy and satisfying. Almost as satisfying as teaching Ellia the word NO. And definitely something I could get used to.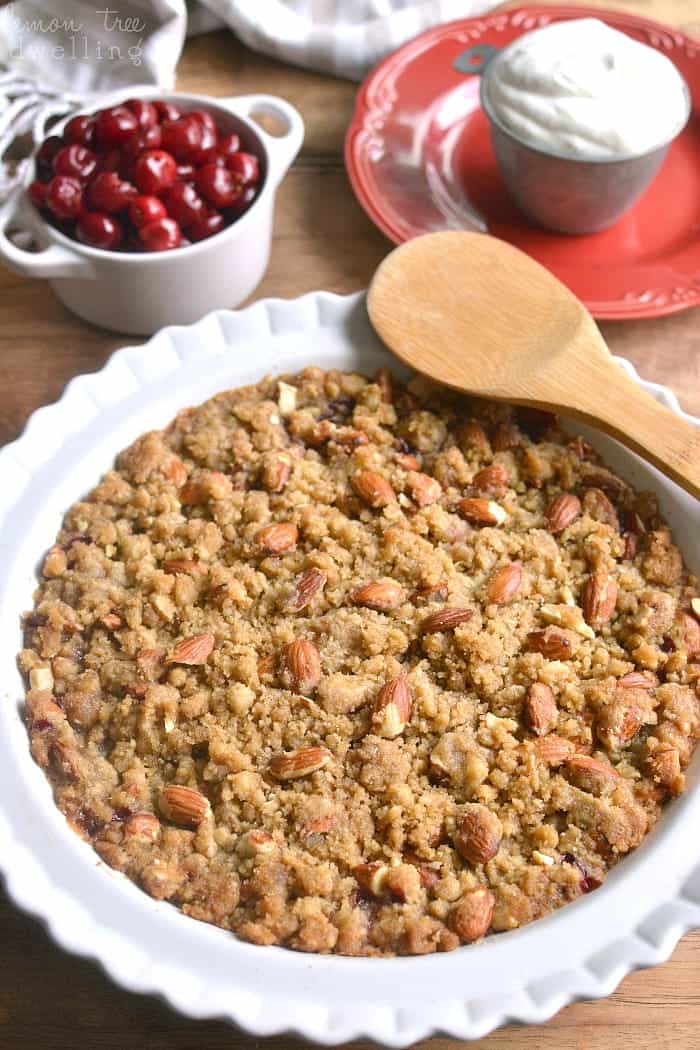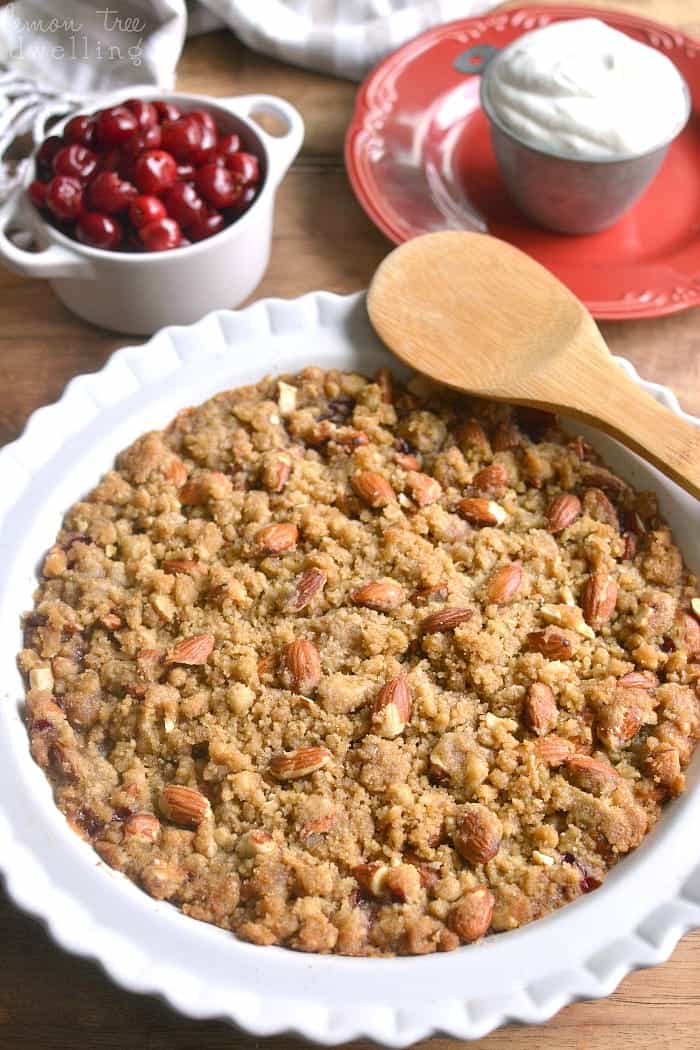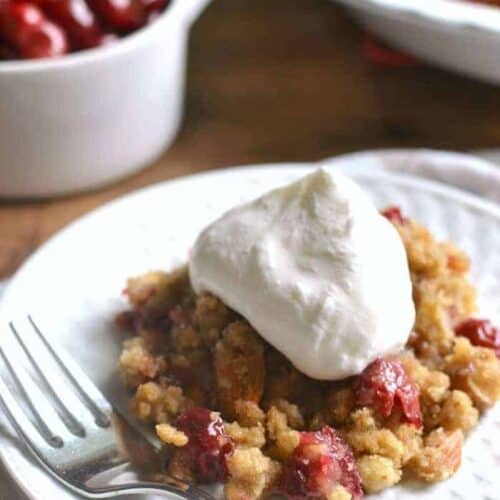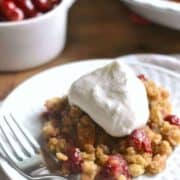 Cherry Almond Crisp
Ingredients
3

Tbsp.

cornstarch

1

tsp.

vanilla

1/2

c.

sugar

3

c.

pitted tart cherries

1

c.

brown sugar

1

c.

flour

1

c.

whole raw almonds

coarsely chopped

1/2

c.

butter

melted

For whipped cream:

1

c.

whipping cream

very cold

2

Tbsp.

sugar

2

Tbsp.

amaretto liqueur
Instructions
In a medium saucepan combine cornstarch, sugar, cherries, and vanilla.

Simmer 7-10 minutes until thickened.

Pour into greased 8x8 inch square pan or deep 9 inch pie plate.

In a separate bowl, combine brown sugar, flour, butter, and almonds.

Sprinkle evenly over cherries in pan.

Bake at 350 degrees for 25-30 minutes or until golden brown.

Prepare whipped cream by combining whipping cream and sugar in a chilled bowl.

Beat with chilled beaters on medium speed, gradually adding in amaretto, until soft peaks form.