Who doesn't love homemade chicken noodle soup….especially when it's kicked up a notch!? This Bacon Cheddar Ranch Chicken Noodle Soup takes the classic recipe to a new level with the addition of cheddar cheese, ranch seasoning, chives, and…of course…bacon! Perfect for the cold months of winter and equally delicious all year round, if you love a good creamy chicken noodle soup, you'll love this recipe!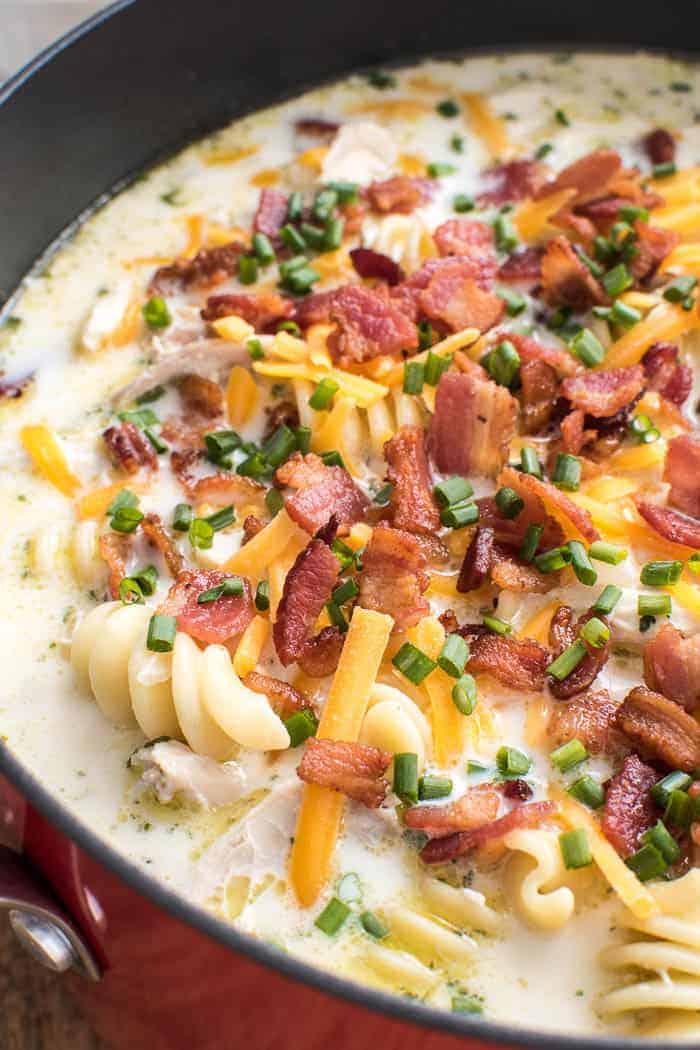 So. We're having our first ever snow day. Today! We got slammed with about 6 inches of snow overnight, and even though that's not a lot by Wisconsin standards, it fell at just the right time that school was canceled. And let me tell you. There were NO complaints (at least among my kids).
Part of me can't believe school was actually called off because of 6 inches of snow….and the other part of me can't believe this is the first time my kids have ever experienced it. The joy of an unexpected day off of school.
I remember how it felt when I was a kid….waking up, full of hope, looking outside, and waiting to see our school's name flash on the bottom of the TV screen. And then? Having the whole day to play outside or stay in our pajamas or whatever else our little hearts desired.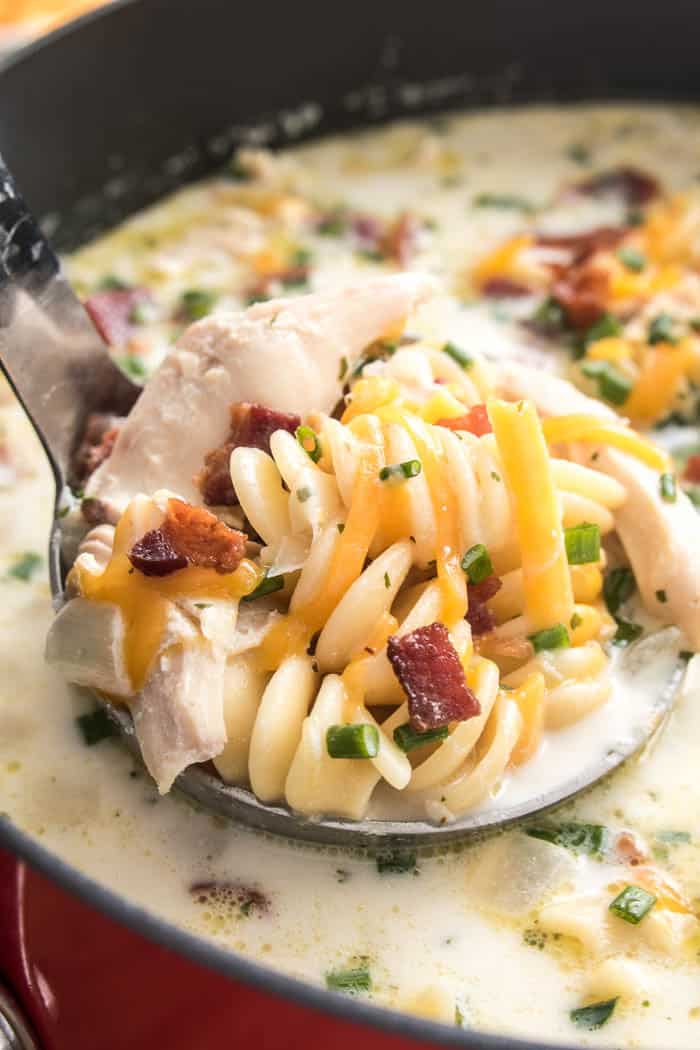 Now. I'm not saying our day off has felt quite as "magical" as I remember it feeling as a kid…(we've had our fair share of whining, fighting, and being bored)…but we've also had a little magic thrown in.
There's been some sledding and hot cocoa and play dates and extra video games. Pretty soon I'm thinking of starting a fire and cozying up in front of it. And then for dinner? We're having big bowls of this homemade Bacon Cheddar Ranch Chicken Noodle Soup.
Everyone knows that when it comes to comfort food, chicken noodle soup is right at the top of the list. And there's something about the bacon cheddar ranch flavor combination that does it for me. And for all of us! Every single time.
Whether it's Bacon Cheddar Ranch Pinwheels or Bacon Cheddar Ranch Chicken Salad or this yummy Bacon Cheddar Ranch Snack Mix, there's no denying our love of it.
And when it comes to this creamy Bacon Cheddar Ranch Chicken Noodle Soup? There's no doubt it will be one of our new favorites. Not only is it packed with flavor and perfectly creamy, but it's seriously SO easy to make. Ready in just 30 minutes from start to finish, this Bacon Cheddar Ranch Chicken Noodle Soup is perfect for busy weeknights and also ideal for cozy weekends at home. Or….you know….snow days.
And since I've made it more than a few times now, I've figured out how to make it just right. So before you try it (which you're definitely going to want to do!) be sure to check out my tips below!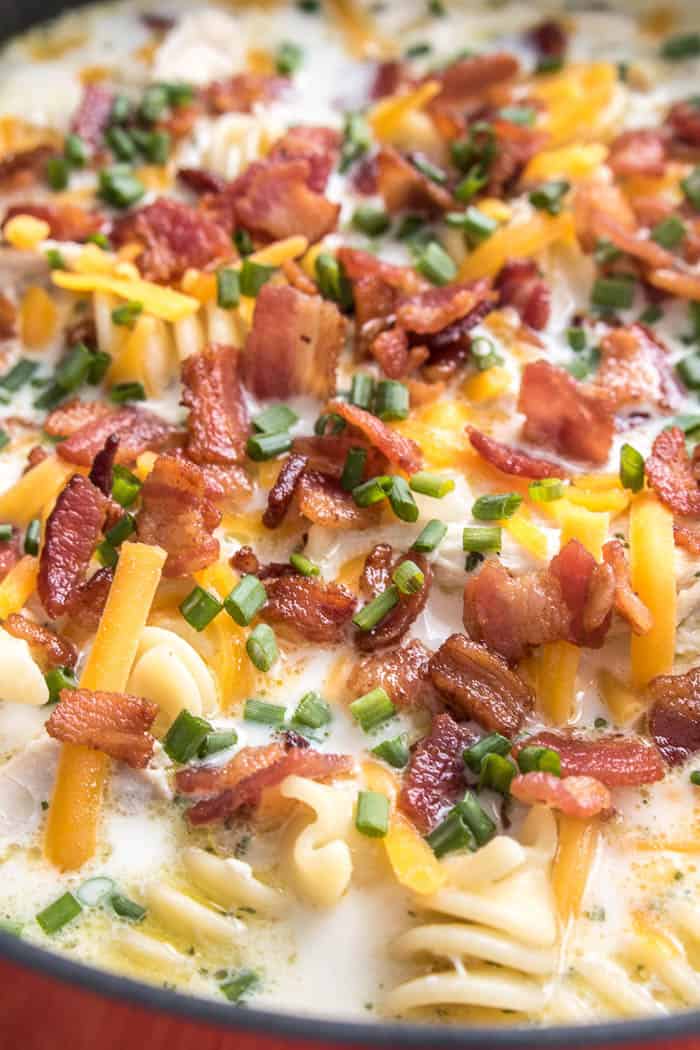 How to Make the Best Chicken Noodle Soup…Bacon Cheddar Ranch Style!
Cook the bacon until it's crispy…and don't add it until you're ready to serve the soup! Not only does this help keep it crisp and delicious, but it allows each person to choose how much bacon they want. (Hint: If your family LOVES bacon, you may want to make a little more!)
Use low sodium chicken broth. Between the ranch seasoning mix and the bacon, there's a danger of the soup becoming overly salty with regular chicken broth. (Hint: If you are sensitive to salt or need an even lower sodium recipe, feel free to substitute water for some of the chicken broth.)
Cook the noodles until they are slightly underdone. They will continue to cook in the broth, and this will help you avoid mushy, overcooked noodles.
Whisk the ranch dressing seasoning with the half and half before adding it to the broth.
Lighten things up by using fat free half & half, turkey bacon, and/or low fat cheese.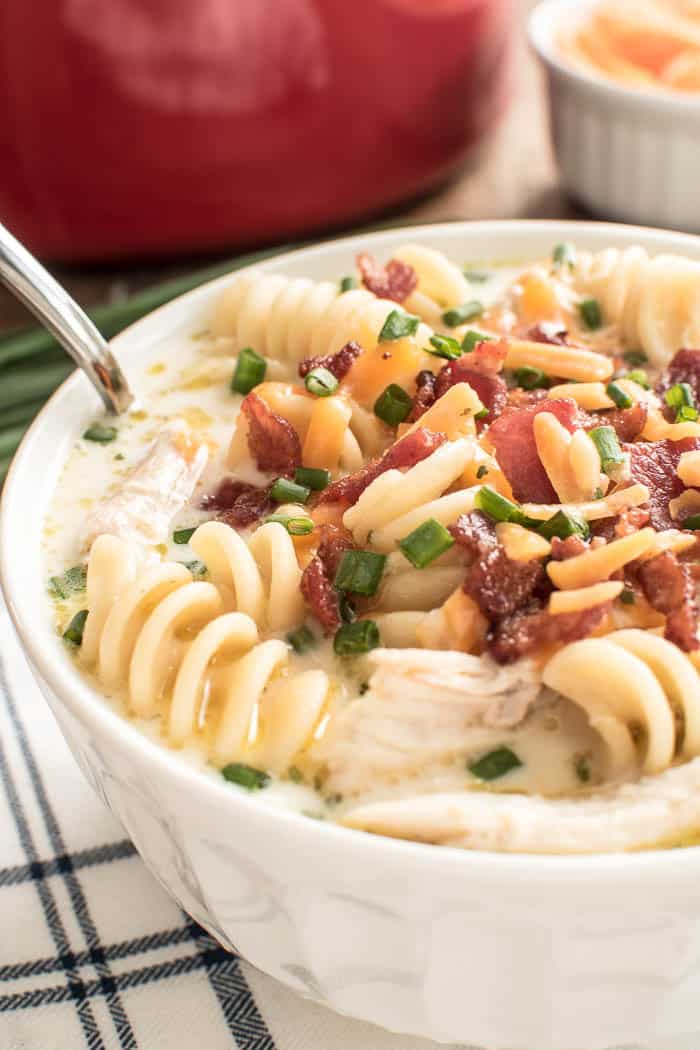 Enjoy!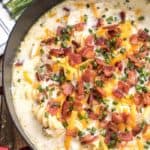 Bacon Cheddar Ranch Chicken Noodle Soup
Ingredients
1

Tbsp.

olive oil

1

cup

chopped onion

12

oz.

bacon,

chopped

8

cups

low-sodium chicken broth

3

cups

dry noodles

2

1 oz.

dry ranch dressing mix

2

cups

half & half

4

cups

cooked, shredded chicken

1/4

cup

minced chives

8

oz.

shredded cheddar cheese
Instructions
Add chopped bacon to a large frying pan and cook over medium-high heat, stirring occasionally, until crispy. Drain well.

While bacon is cooking, heat olive oil in a large pot. Add chopped onion and saute over medium heat 5 minutes.

Add chicken broth to onion; bring to a boil.

Stir in noodles and boil 1-2 minutes less than package instructions.

In a medium mixing bowl, combine half & half and ranch dressing mix. Whisk until smooth and creamy. Stir mixture into soup and whisk until combined.

Add shredded chicken and heat through.

Serve with cooked bacon, cheddar cheese, and minced chives.
Nutrition Facts
Bacon Cheddar Ranch Chicken Noodle Soup
Amount Per Serving
Calories 496
Calories from Fat 297
% Daily Value*
Total Fat 33g 51%
Cholesterol 107mg 36%
Sodium 616mg 26%
Potassium 509mg 15%
Total Carbohydrates 20g 7%
Protein 30g 60%
* Percent Daily Values are based on a 2000 calorie diet.