If you like berries, you're sure to fall in LOVE with this delicious Triple Berry Salad!
Packed with three types of berries, crumbled goat cheese, green onions, and crunchy almonds, this salad is the perfect way to take advantage of fresh berry season. And the honey balsamic dressing is to die for!
This salad makes a wonderful addition to any menu and is ideal for baby showers, brunches, picnics, or summer grilling. It's easy to make, travels well, and is guaranteed to become a new summer favorite!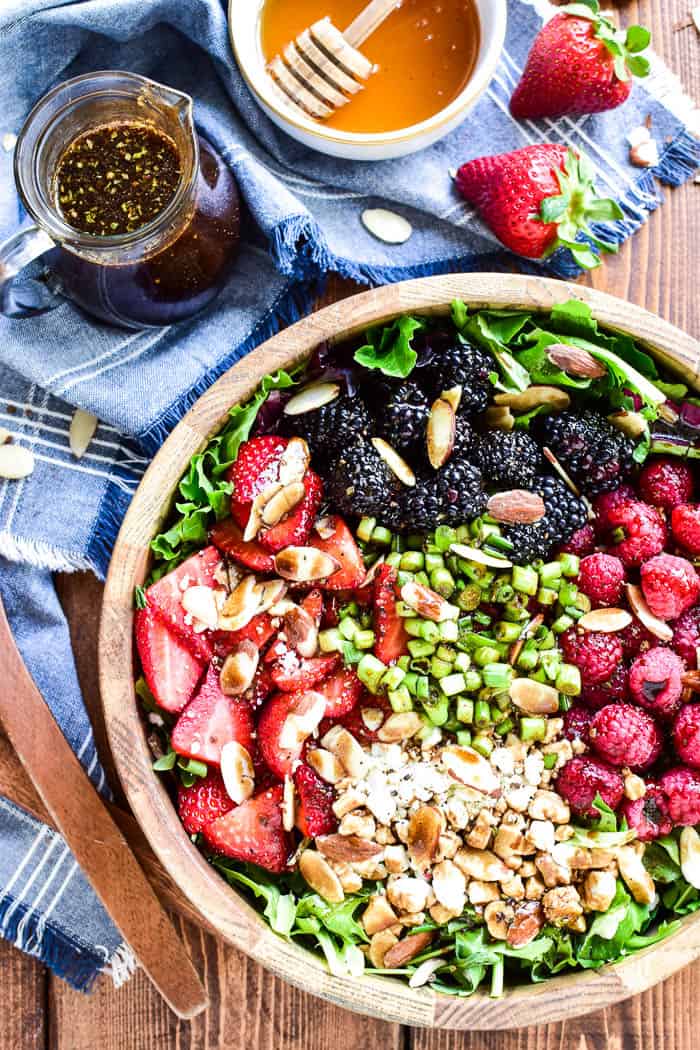 There's something about summer and salads, don't you think?
I mean…I'm clearly an anytime salad lover. But once summer rolls around, it's like a whole new world of possibilities opens up.
Between the hot summer days that call for something light…and the opening of farmer's markets with an abundance of fresh produce…is there anyone who doesn't love a good summer salad?
From Greek Salad to Summer Strawberry Salad to Cherry Almond Arugula Salad…the sky's the limit when it comes to summer flavor combinations. And this Triple Berry Salad is my new favorite.
It's simple, elegant, and makes a delicious side dish or main course! Add some chicken or salmon to it for a more filling main dish, or serve it as is for a lighter option.
Whether you're a salad lover like me or just looking to expand your horizons, this Triple Berry Salad is guaranteed to be a hit!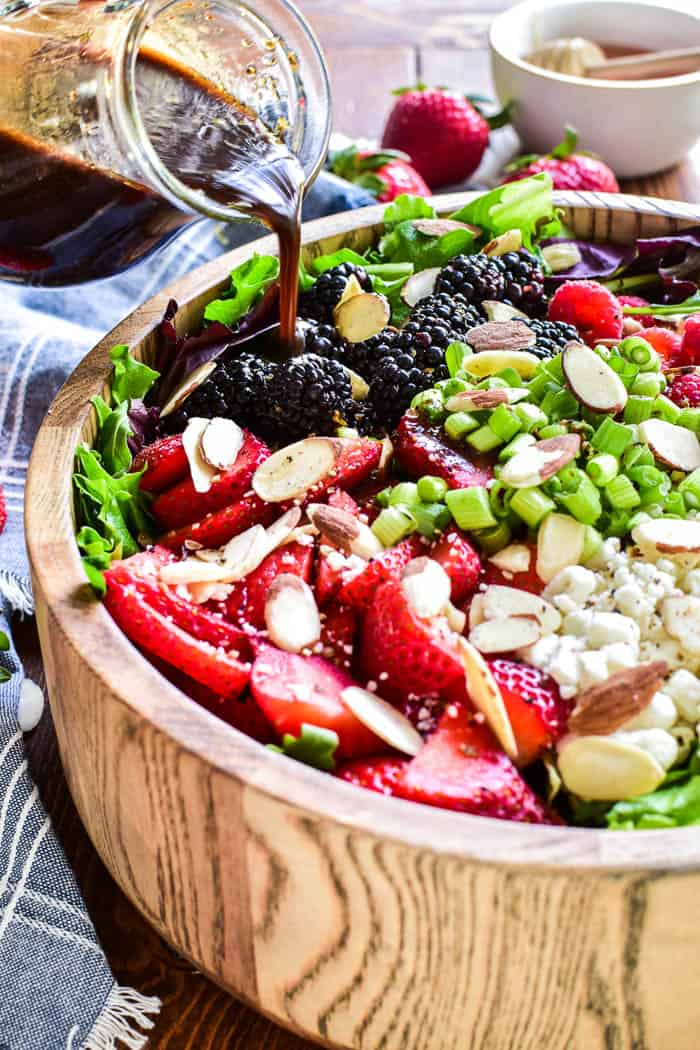 WHAT KIND OF LETTUCE SHOULD I USE IN THIS RECIPE?
I used a baby spring mix, which I chose because it's light and delicate, yet offers a bit of flavor. You could also use any of these options: fresh spinach, butter lettuce, romaine, or arugula.
CAN I SUBSTITUTE OTHER BERRIES?
Yes, you can feel free to omit, add, or substitute any of the berries in this salad without impacting the overall outcome. It will still be delicious no matter which berries you use!
WHAT CAN I SUBSTITUTE FOR GOAT CHEESE?
If you don't like goat cheese or are unable to find it, you can substitute any soft cheese. Feta, blue cheese, or even Brie cheese would all be delicious in this salad.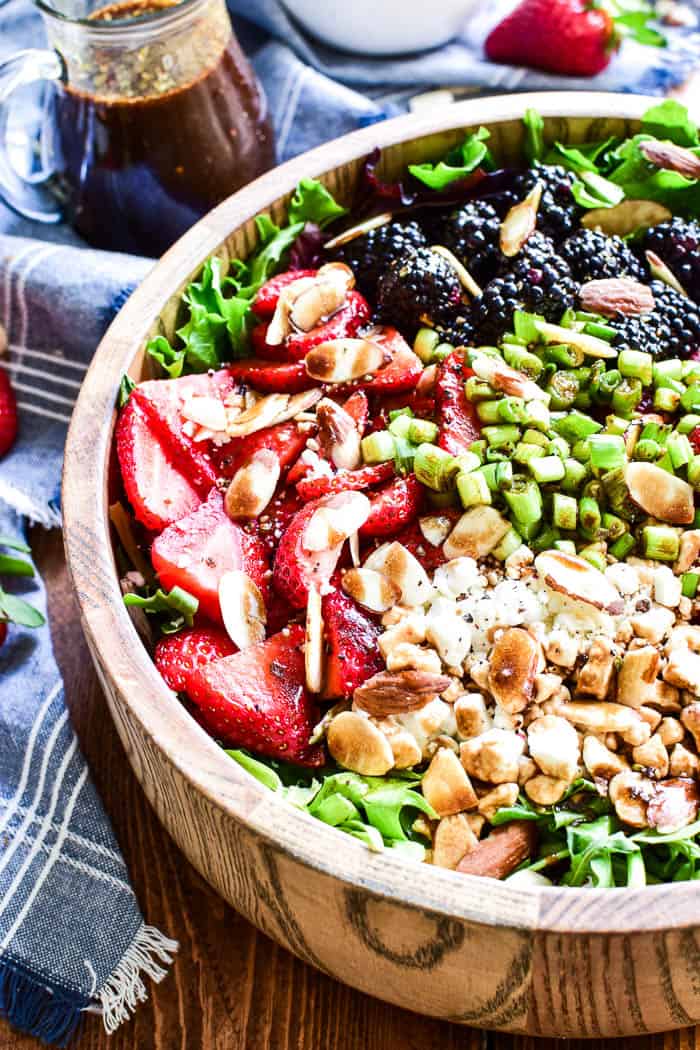 CAN I USE A DIFFERENT KIND OF NUTS?
Absolutely. You can feel free to use chopped pecans, walnuts, pine nuts, or really any type of nuts in place of the almonds. They do offer a nice crunchy element, so if you choose to omit them altogether you might want to add croutons or something else that offers a similar level of crunch.
WHAT KIND OF DRESSING IS GOOD ON A TRIPLE BERRY SALAD?
I chose to make a Honey Balsamic Vinaigrette, which was absolutely amazing with this salad. However, you can definitely substitute any of your favorite dressings in its place. Some good options would include raspberry vinaigrette, honey mustard, poppy seed, or oil & vinegar.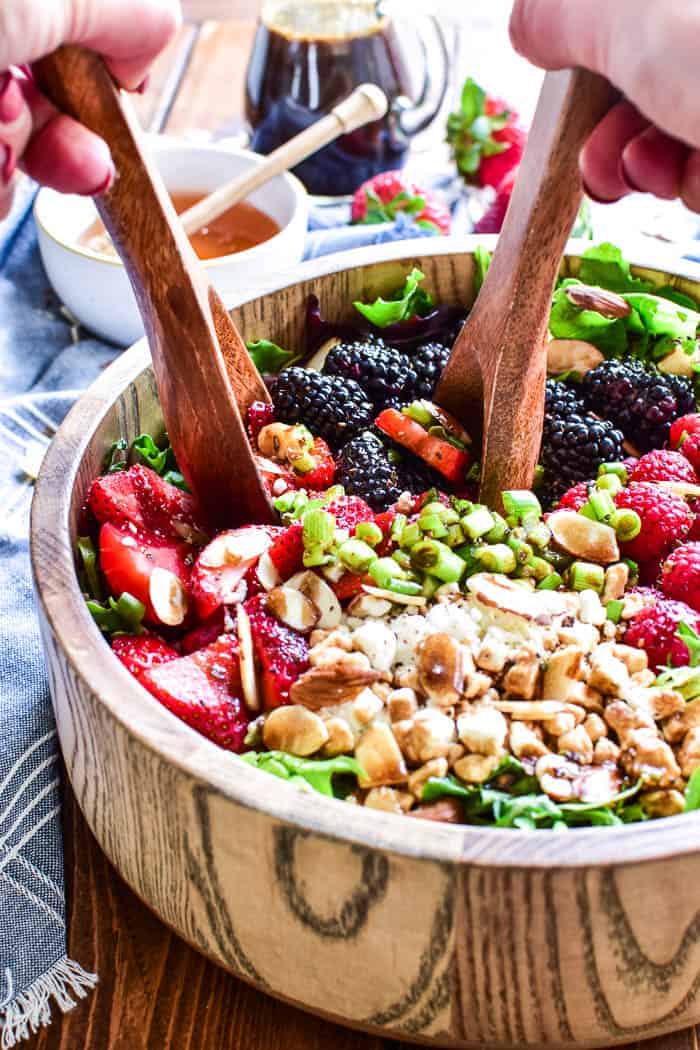 HOW WELL DOES THIS SALAD TRAVEL?
This salad travels very well! To take on the go, simply spread the greens into a large salad bowl or storage container (preferably with a lid) and top with the berries, goat cheese, green onions, and almonds. Take the dressing separately (don't add it right away or the greens will wilt) and drizzle it on right before serving.
HOW LONG DO LEFTOVERS LAST IN THE FRIDGE?
This all depends on whether or not the salad has dressing on it. If it does, you will want to store the leftovers in an airtight container in the refrigerator and eat them within 24 hours. If it doesn't, the leftovers will last up to 2-3 days in the refrigerator.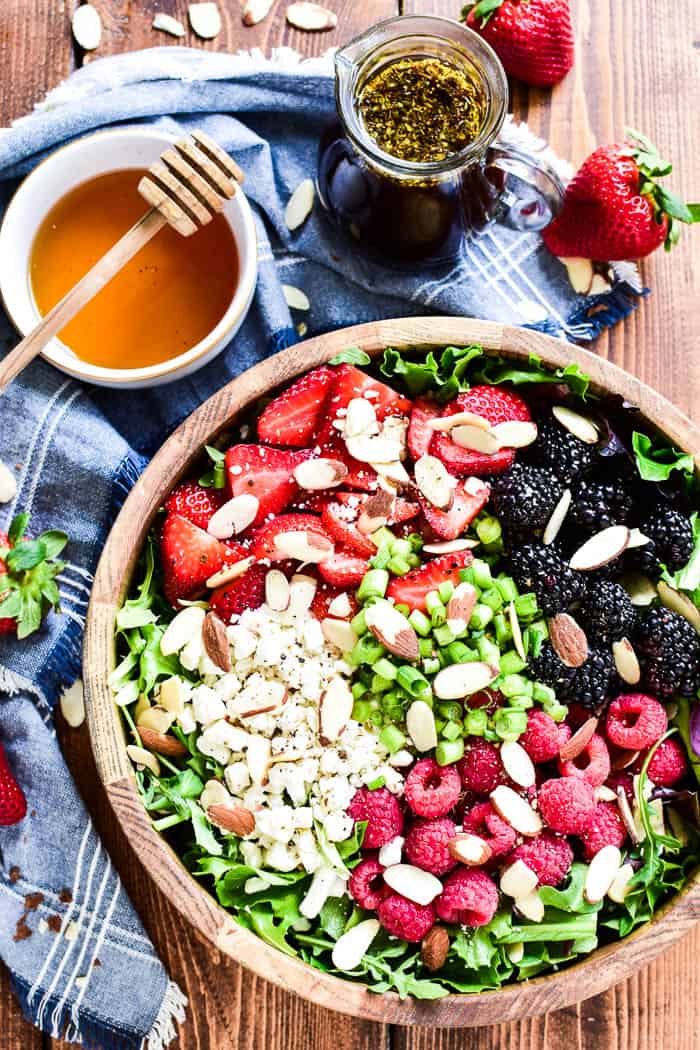 With summer just around the corner, I think it's safe to say we'll ALL be looking for more salad recipes. And this Triple Berry Salad is an absolute must try.
Loaded with fresh berries, creamy goat cheese, sliced almonds, and a sprinkle of green onions, this salad really does taste like summer on a plate.
Hope you enjoy it as much as we do!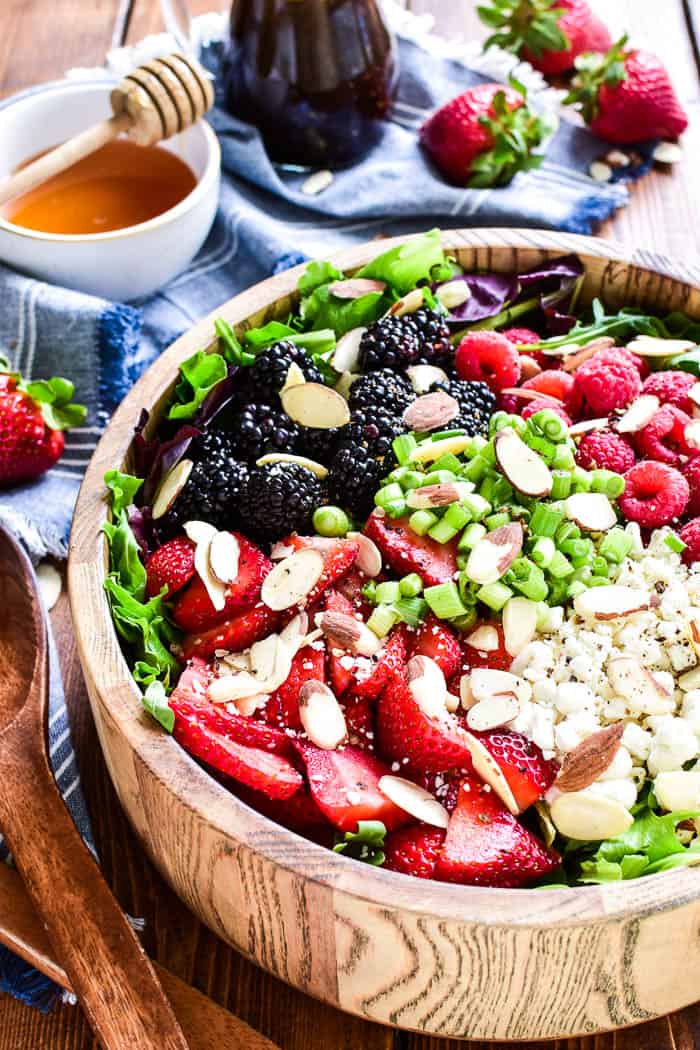 Yield: 8
Triple Berry Salad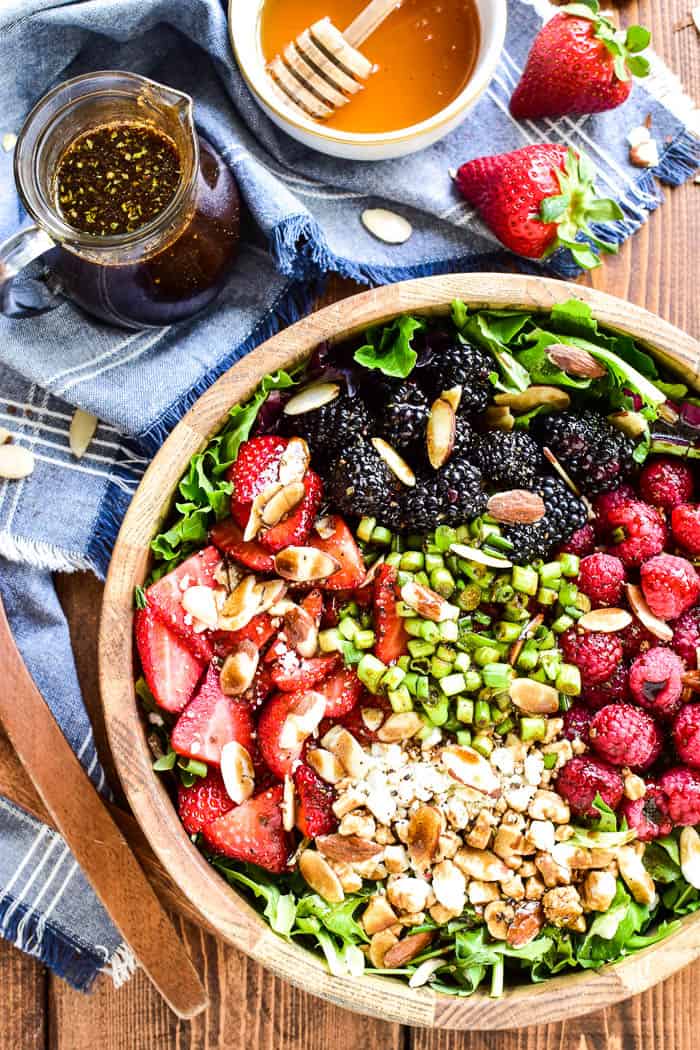 If you like berries, you're sure to fall in LOVE with this delicious Triple Berry Salad! Packed with three types of berries, crumbled goat cheese, green onions, and crunchy almonds, this salad is the perfect way to take advantage of fresh berry season. And the honey balsamic dressing is to die for!

Prep Time 15 minutes

Total Time 15 minutes
Ingredients
Salad
10 oz. mixed greens
1 c. fresh blackberries
1 c. fresh raspberries
1 c. sliced fresh strawberries
4 oz. crumbled goat cheese
1 bunch (6-7) green onions, sliced
1/3 c. sliced almonds
Honey Balsamic Dressing
1/3 c. olive oil
1/3 c. balsamic vinegar
1 Tbsp. honey
1 clove minced garlic
1/4 tsp. salt
1/4 tsp. pepper
1/4 tsp. dried oregano
Nutrition Information:
Yield:
8
Serving Size:
1
Amount Per Serving: Calories: 196 Total Fat: 15g Saturated Fat: 4g Trans Fat: 0g Unsaturated Fat: 10g Cholesterol: 7mg Sodium: 158mg Carbohydrates: 13g Fiber: 4g Sugar: 7g Protein: 5g