Dark chocolate, sea salt, and rich buttery caramel corn come together in this highly addictive, highly delicious snack. Perfect for those times when you just need to treat yourself….or someone else!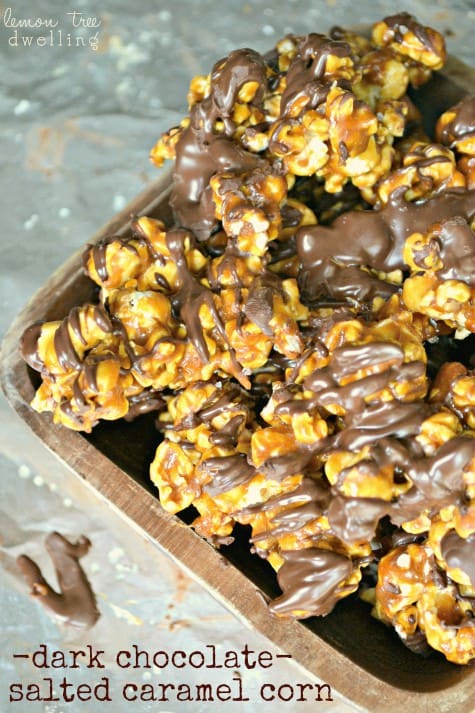 Before we had any kids, when we were pregnant with our first, Jorden woke up one morning in a huge panic. He had had the WORST dream, he said…..that he had been taking care of the baby and had LOST her!! She was so tiny…..and he was eating a chili dog….and somehow he lost her….INSIDE the chili dog! Totally unrealistic (of course) but dreams always have a way of feeling so real! Poor guy. I guess he was more nervous about having a baby than I realized…..!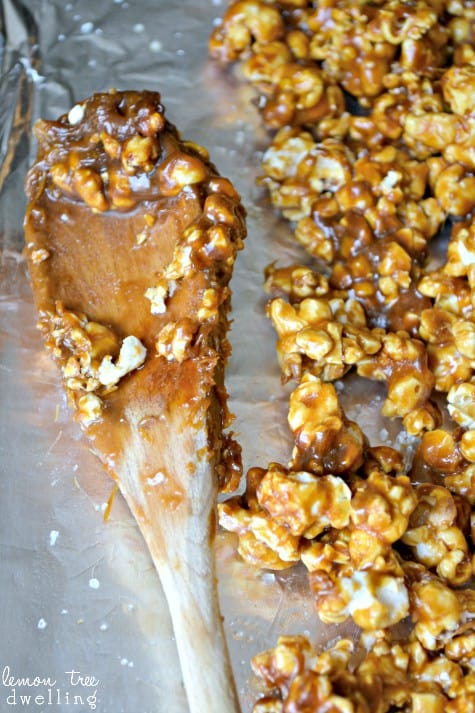 Well, as it turned out, Ellia was 8 lbs. 7 oz. when she was born. A good sized baby! Definitely no chance of losing her….especially in a chili dog. And our babies only got bigger the more we had. So when we went to see little Willow (my newest niece) yesterday, it was a bit of a shock! At 5 lbs. 9 oz., she is tiny! And SO CUTE. But tiny! So small you hardly know you are holding her. So small you almost can't believe she's real. Small enough to lose, even…..maybe inside a chili dog!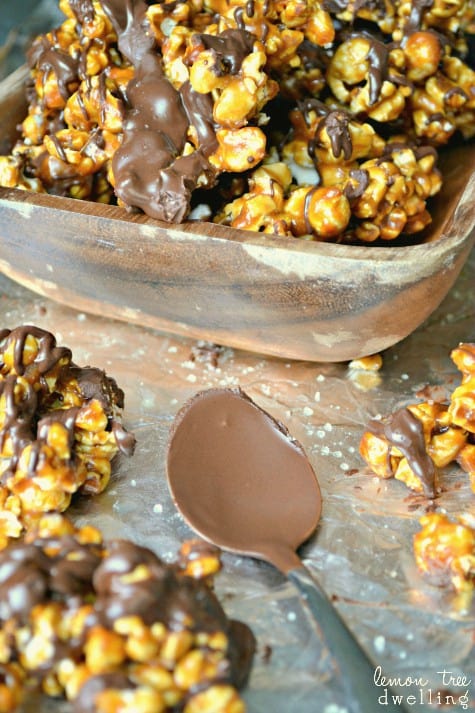 Since I've only had big babies, I can't even imagine having a baby that's so small. And since I always felt like I deserved a treat after after having a baby, I definitely feel like my brother and sister-in-law deserve a treat after having theirs! Not only was their baby 3 weeks early, which means they didn't have time to do all the last-minute things they wanted/needed to do….she also gave her parents quite a scare in the hours leading up to her birth! And….being so small….she is definitely going to require some extra supervision. So she doesn't get lost….! Luckily, I have the perfect treat for them. Dark Chocolate Salted Caramel Corn. It's basically everything you love about caramel corn, plus dark chocolate and sea salt. A definite treat….for new moms and dads, for old moms and dads, for teachers, for neighbors, for friends. Heck – I would make this for myself. Because keeping track of your kiddos can sometimes feel like a real feat, no matter how big or small they may be.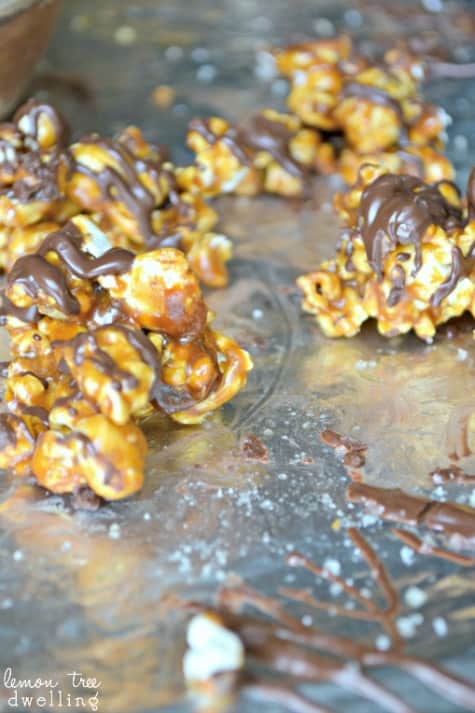 Dark Chocolate Salted Caramel Corn
10 c. popped popcorn
1 1/2 c. packed brown sugar
1 1/2 sticks butter (12 tbsp.)
6 Tbsp. light corn syrup
1/2 tsp. baking soda
1/2 tsp. vanilla
2 tsp. sea salt
1 c. dark chocolate chips
1 Tbsp. shortening
1. Put popcorn onto a large rimmed baking sheet.
2. In a medium saucepan, mix brown sugar, butter and corn syrup. Cook and stir over medium heat until mixture boils. Continue boiling at a moderate rate, without stirring, 4 1/2 minutes more.
3. Remove pan from heat. Stir in baking soda and vanilla.
4. our mixture over popcorn; stir gently to coat.
5. Bake at 300 degrees for 15 minutes. Stir mixture and add 1 tsp. sea salt. Bake for an additional 5 minutes.
6. Spread caramel corn on a large piece of buttered foil to cool. Sprinkle with remaining 1 tsp. sea salt.
7. Once cool, melt chocolate chips and shortening in a small saucepan or the microwave and drizzle over caramel corn.
8. Sprinkle with a small amount of additional sea salt, if desired.
(*Basic caramel corn recipe adapted from Better Homes and Gardens New Cook Book)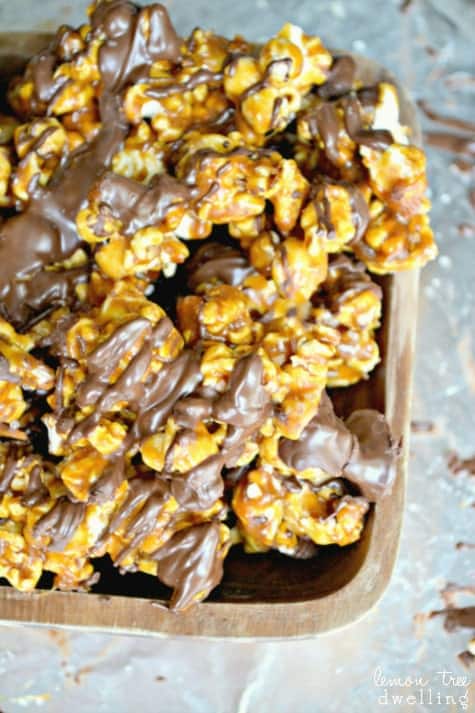 Enjoy!
Looking for some more delicious treat recipes?