Chili Cheese Potato Skins will be the hit of your game day menu! These super simple delicious appetizers also double as a side dish or a full meal deal! Perfect for sharing or eating all to yourself!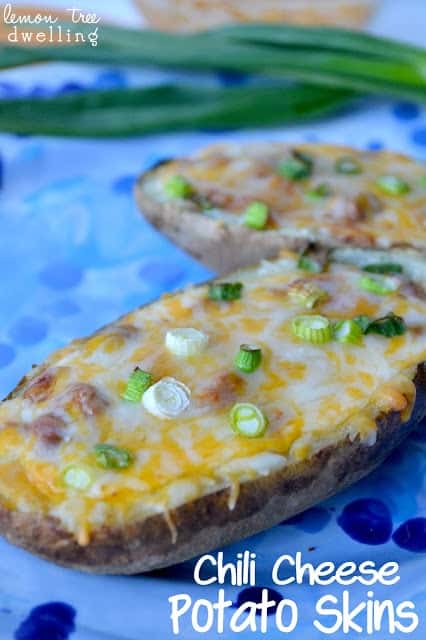 Are you as pumped as I am that Marquette is playing in the third round of the NCAA tournament tomorrow? No?? You haven't been keeping up with college basketball?? Even though I'm not a huge sports fanatic, there is something I love about March Madness. Is it the brackets, the excitement, the fast pace of it all…..? Yes, that too…..but let's be serious. What I mostly love is that it's an excuse to make (and eat!) yummy food! (I'm always looking for a good reason to do that…..isn't everyone??)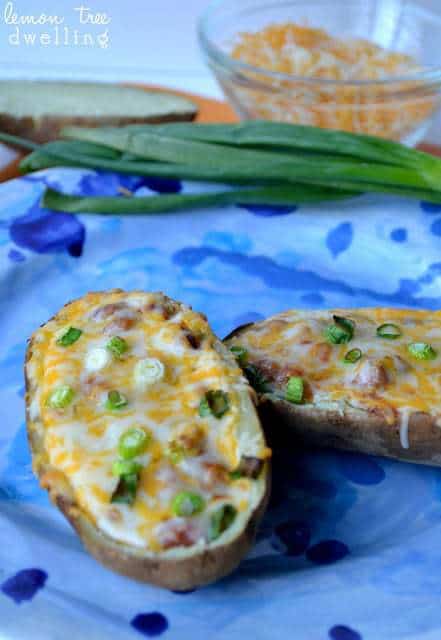 So when Jorden told me that our Golden Eagles had won by 1 (!) point in the last second of yesterday's game, I knew we'd be enjoying some weekend basketball…..and when he mentioned an "appetizer night" I knew I needed to get on the ball!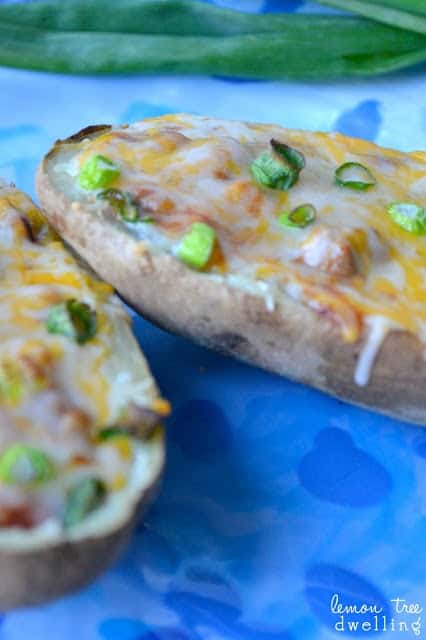 Back when we were first married, appetizer nights were our favorite. We were just out of college and were perfectly content to hit up the frozen food aisle at the grocery store and gorge ourselves on mozzarella sticks, jalapeno poppers, seasoned french fries, mini egg rolls…..you name it! I remember telling my sister about it once….and her only response was that we should re-name it "heart attack night." Ha! So true.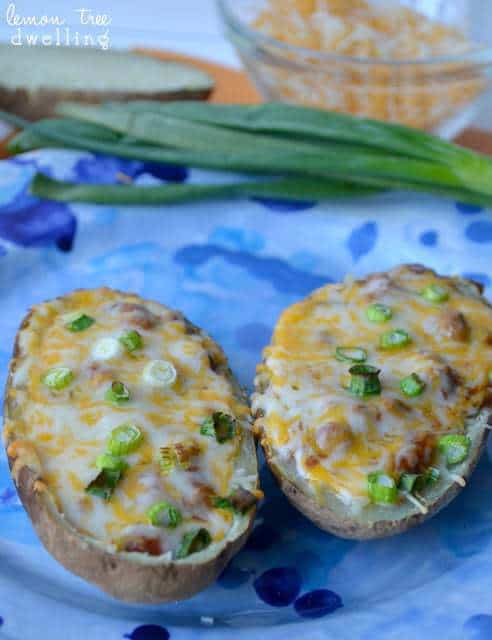 Chili Cheese Potato Skins – Delicious meal!
Well, a lot has changed since then…..including our taste in food. It's not that we always eat super healthy foods (clearly!)….it's just that if we're going to eat something unhealthy, we want it to taste reaaaally good! Better yet, we like to enjoy things that taste reaaaally good and are only a little bit unhealthy……like these chili cheese potato skins!
Are you with me so far…? Okay, here's the super easy how-to:
First, grab 3 large potatoes and poke some holes in them. Bake them at 425 degrees for 45 minutes. (I actually did this step the night before.)
Once they are cool enough to handle, cut the potatoes in half lengthwise and scoop out the centers. Leave a bit of potato around the bottom & edges (see pictures).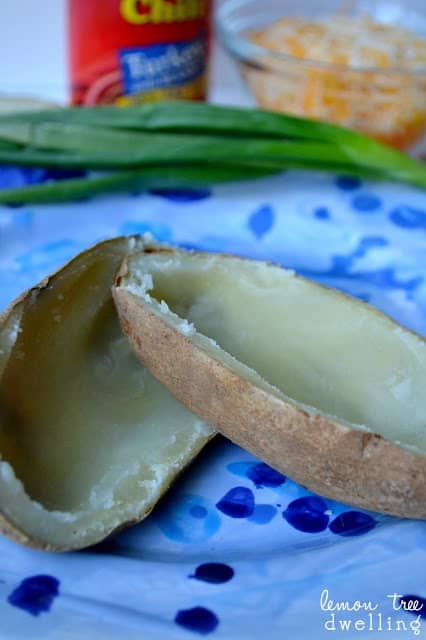 Fill each potato skin with 1/2 oz. cream cheese and 1/3 cup chili. I used canned Hormel turkey chili with beans….but homemade would be even better!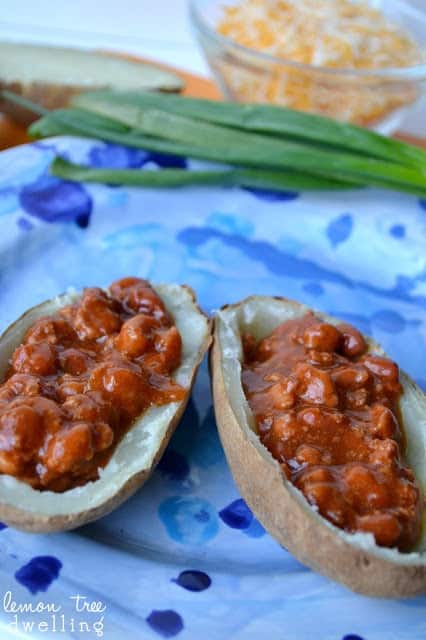 Top each with 1/4 cup shredded cheese and sliced scallions.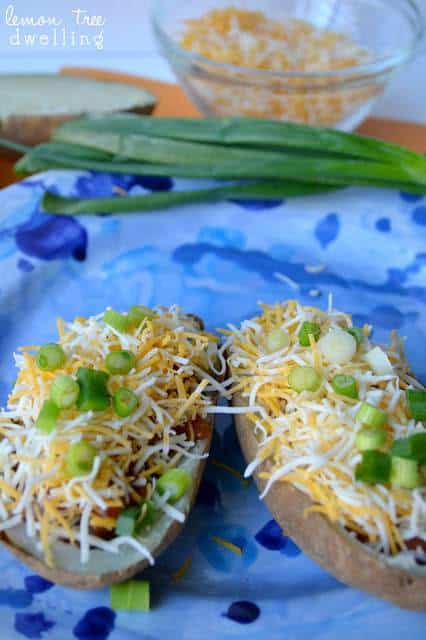 Bake an additional 10 minutes…..and….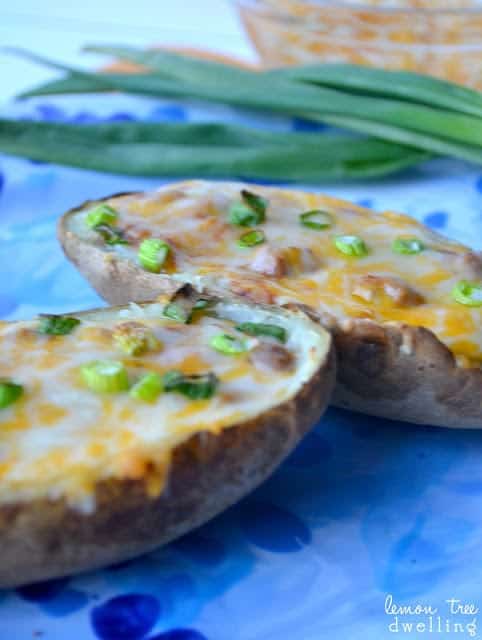 …enjoy!!
Chili Cheese Potato Skins Recipe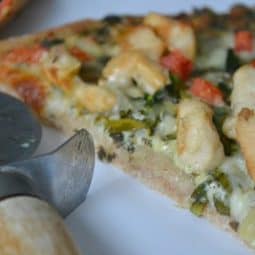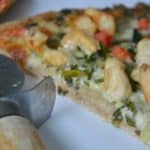 Chili Cheese Potato Skins
Ingredients
3

large potatoes

1

can

15 oz Hormel Turkey Chili w/Beans

3

oz.

cream cheese

divided

1 1/2

c.

shredded cheese

3

scallions

chopped
Instructions
Wash potatoes and prick with a fork. Bake at 425 degrees for 45 minutes. Let cool.

Cut potatoes in half lengthwise and scoop out the center of each. Leave some potato around the bottom and edges (see photos).

Fill each potato skin with 1/2 oz. cream cheese and 1/3 c. chili.

Top with 1/4 c shredded cheese and chopped scallions to taste.

Bake at 425 degrees for 10 minutes.
I know what I'm doing (and eating!) tomorrow……what about you? What are your plans for the weekend?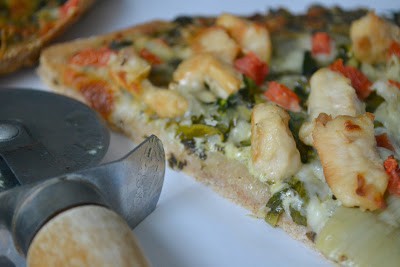 This French Onion Potato Salad from A Dash of Sanity would also make a great game day addition!