Brown Sugar-Glazed Carrots are everyone's FAVORITE! Made with just 4 simple ingredients, they're buttery, sweet, and completely delicious.
These glazed carrots come together quickly and will completely change the way you feel about vegetables.
They make the perfect holiday side dish and are guaranteed to be the one dish your friends and family won't be able to stop talking about!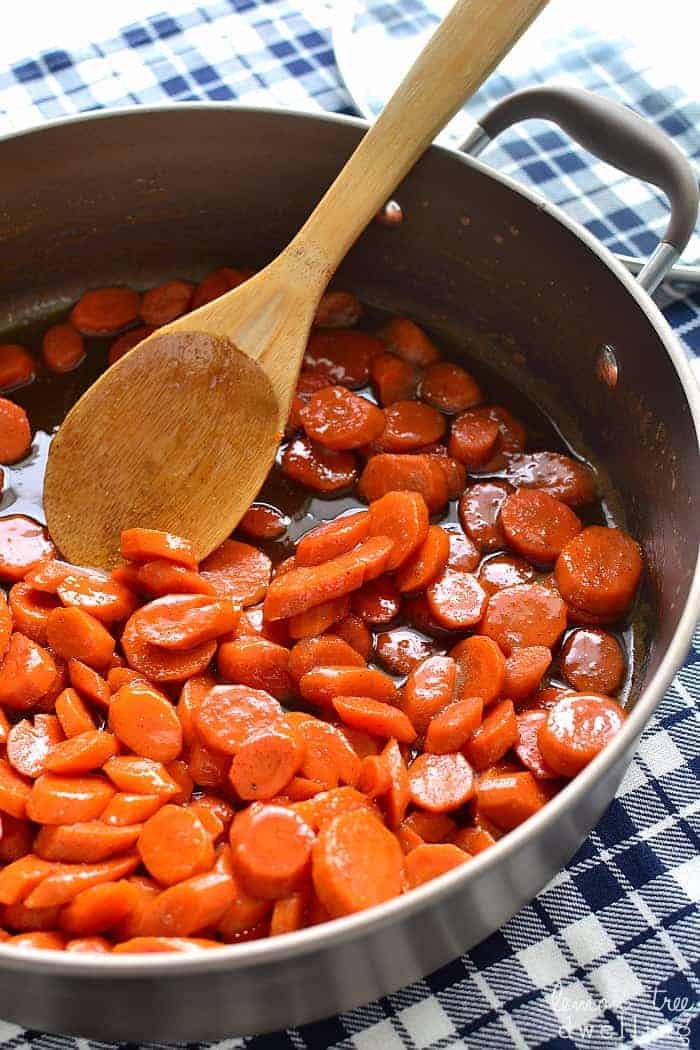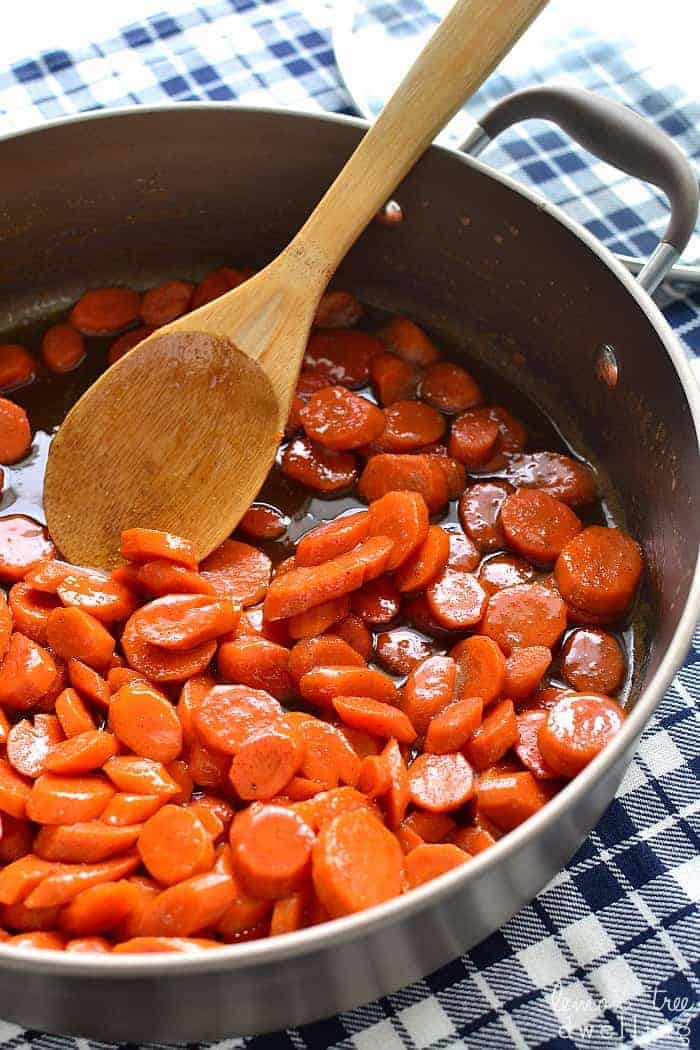 Can we talk for a minute about carrots? In particular, cooked carrots? For the life of me, I cannot get my kids to eat them! Or, I should say, I couldn't get my kids to eat them…..until now. I think it has something to do with the flavor. And the texture. And the fact that I'm convinced I've been preparing them wrong for years.
Because, for years, I've been treating my carrots too much like green beans. In reality, though? They're much more like sweet potatoes! Lightbulb moment. And the end result is the BEST carrots ever.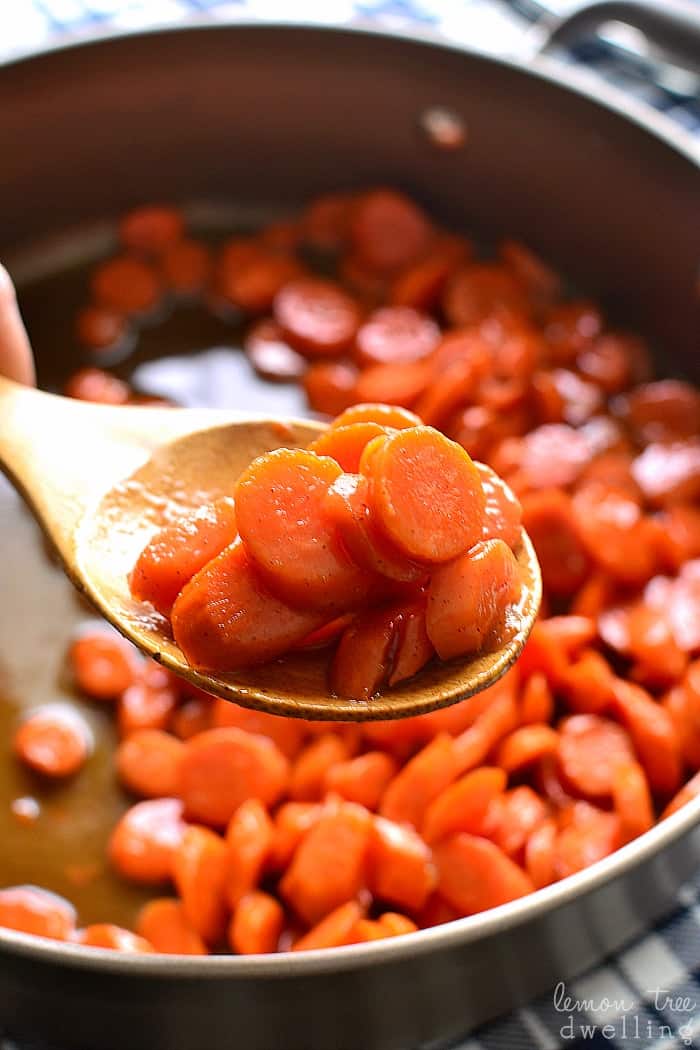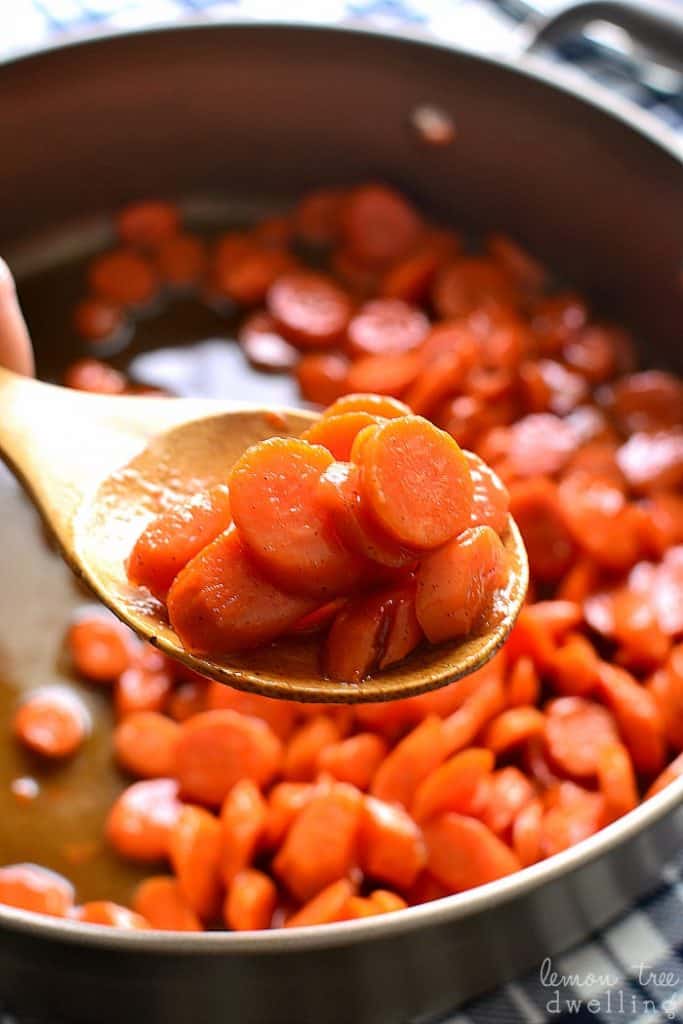 WHAT INGREDIENTS ARE IN THIS RECIPE?
Carrots
Butter
Brown Sugar
Pumpkin pie spice
HOW DO YOU MAKE GLAZED CARROTS?
Slice carrots diagonally; add to boiling water and boil 3 minutes.
Melt butter, brown sugar, and pumpkin pie spice and cook until bubbly.
Combine carrots and brown sugar mixture; stir to coat and continue cooking 2 minutes more.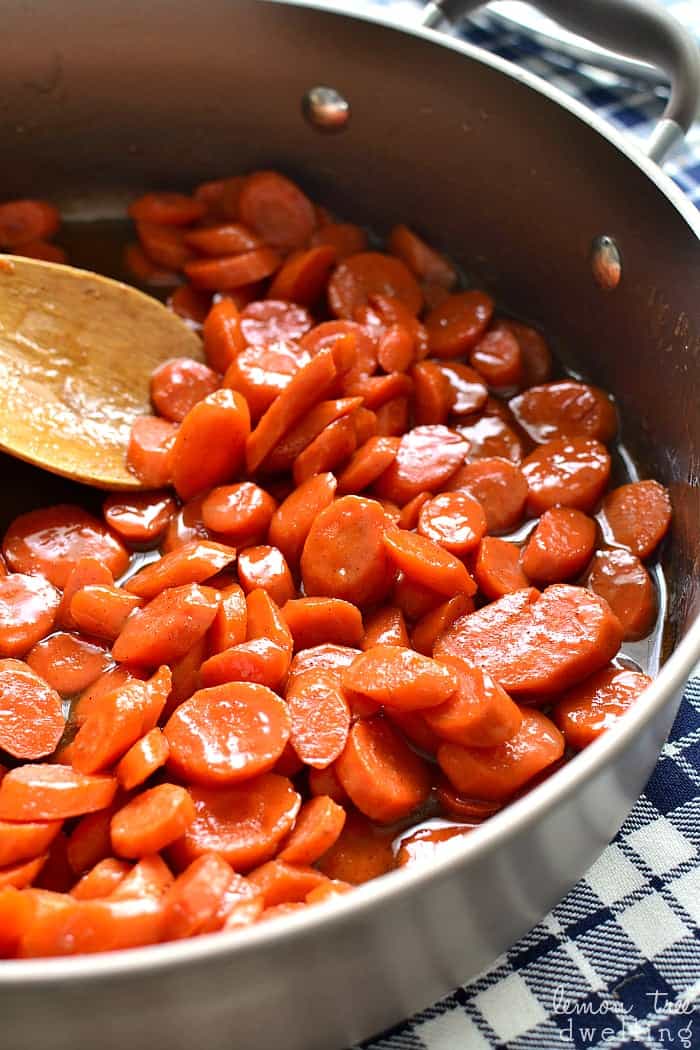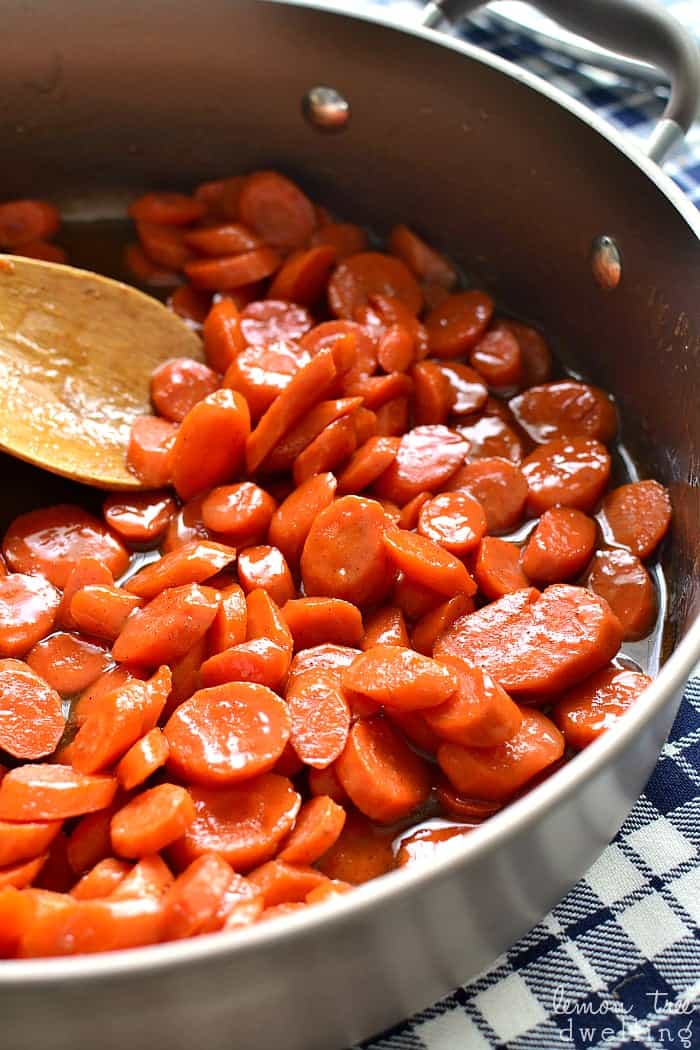 CAN YOU USE MINI CARROTS?
You can use mini carrots in this recipe if you choose. Either leave the carrots whole or cut them in half lengthwise, then follow the rest of the recipe instructions.
CAN YOU USE GRANULATED SUGAR?
Yes, glazed carrots are sometimes made with granulated (white) sugar instead of brown sugar. Simply use the same amount the recipe calls for. You may want to omit the pumpkin pie spice if you use granulated sugar.
CAN YOU MAKE THIS RECIPE IN ADVANCE?
The best way to make this recipe in advance is to peel and slice the carrots, then store them in the refrigerator until you're ready to use them. Once the carrots are sliced, the recipe comes together in just 10 minutes.
WHAT IF YOU DON'T HAVE PUMPKIN PIE SPICE?
You can make your own pumpkin pie spice by combining 4 tsp. ground cinnamon, 2 tsp. ground ginger, 1 tsp. ground cloves, and 1/2 tsp. ground nutmeg. Use 1 tsp. for this recipe, and store the rest for another time!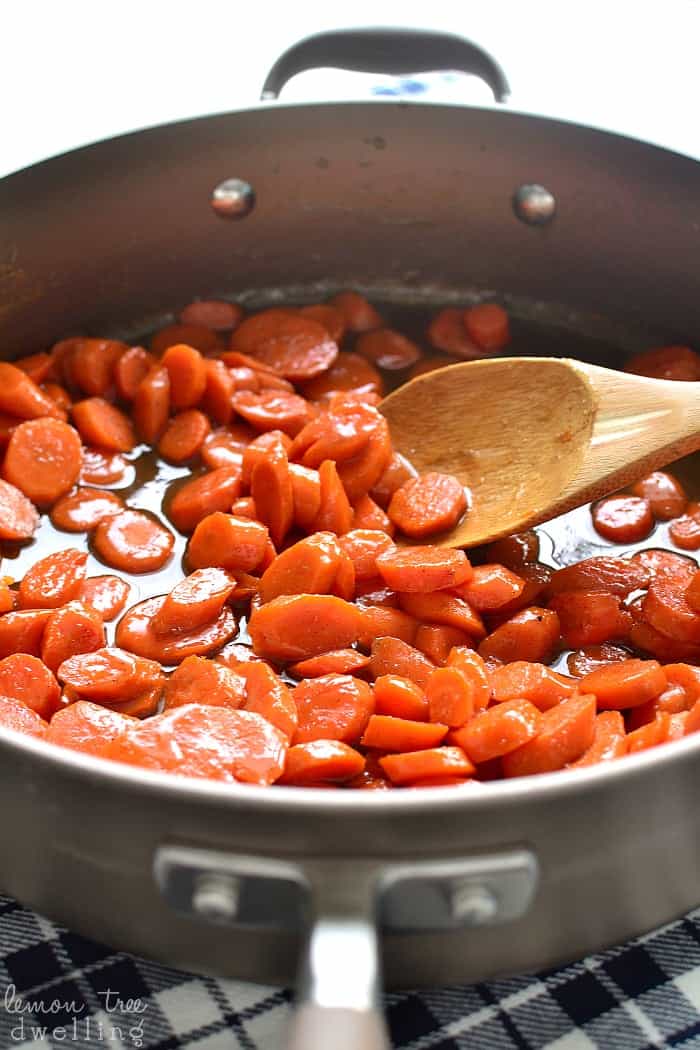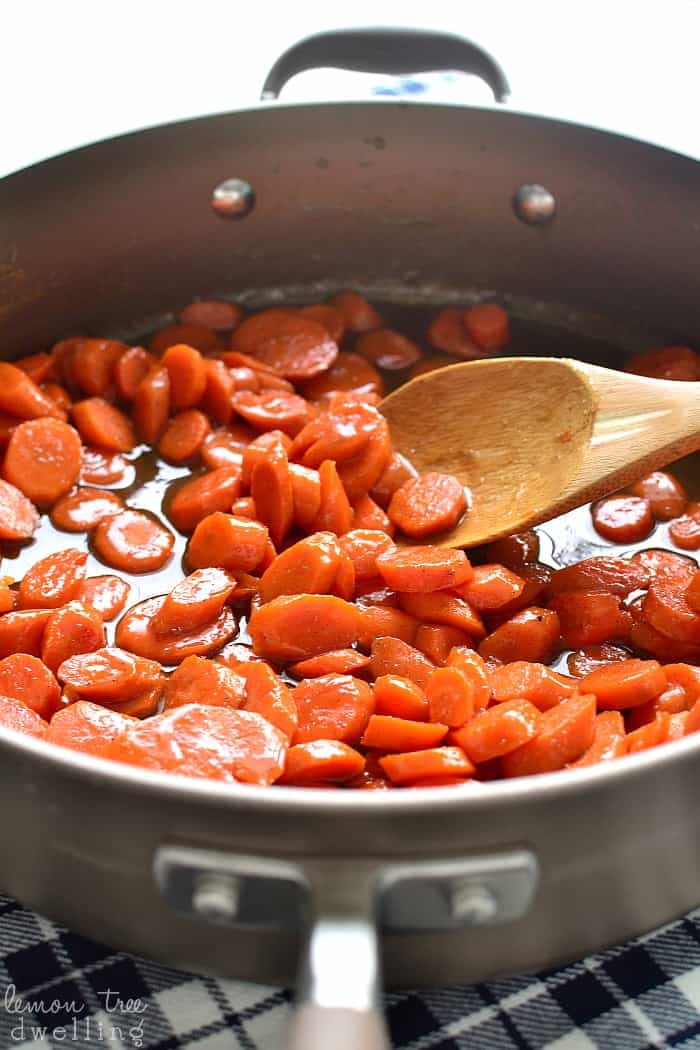 These Brown Sugar Glazed Carrots couldn't be more simple – just carrots, butter, brown sugar, and pumpkin pie spice – but the end result is beyond delicious. Sweet and buttery with a touch of winter spice. The way cooked carrots were meant to be.
Are you already thinking about how you could get creative in the kitchen? You can find out more about what Anolon has to offer by visiting their website or following them on Twitter, Instagram, Pinterest, YouTube, or Tumblr. You can also find Anolon products at Macy's, Bed Bath & Beyond, and Dillard's. And, if you visit them on Facebook, you can join the Anolon/Kendall-Jackson "Holiday Hosting" Sweepstakes for the chance to win an amazing prize pack! Happy holidays…..happy hosting!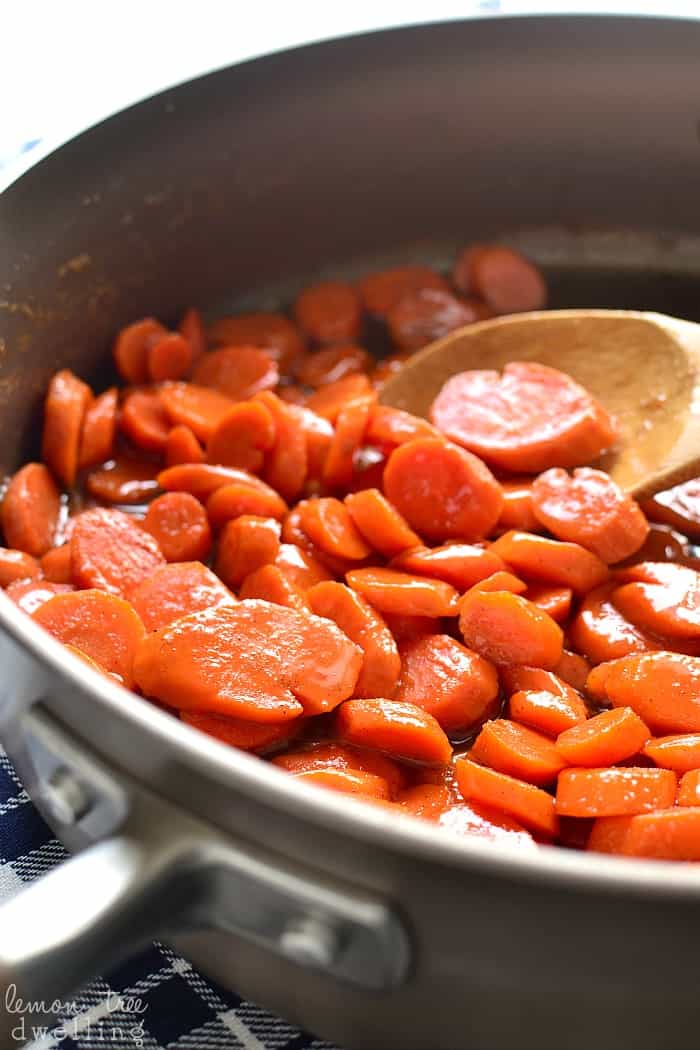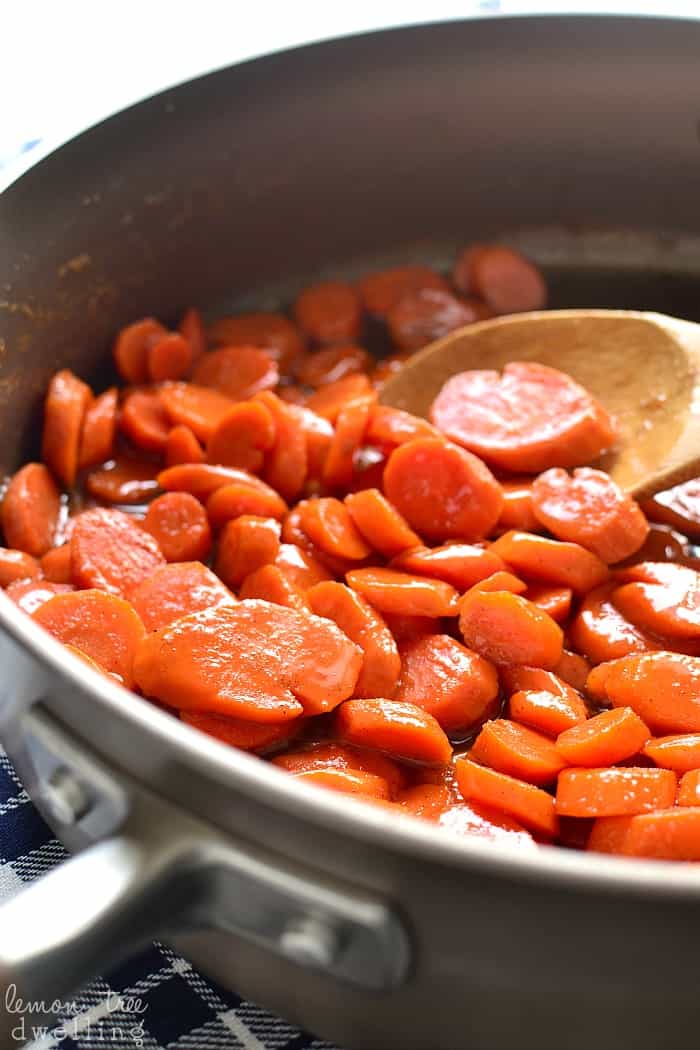 LOOKING FOR MORE HOLIDAY SIDE DISHES? HERE ARE SOME FAVORITES!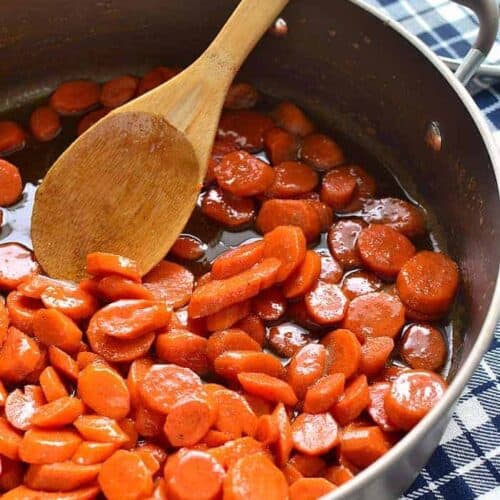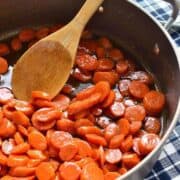 Brown Sugar-Glazed Carrots
Ingredients
2

lb.

carrots

peeled and sliced on a diagonal

1/2

c.

butter

1/2

c.

packed brown sugar

1

tsp.

pumpkin pie spice
Instructions
In a large, deep skillet, bring 1 inch of water to a boil.

Add carrots; boil 3 minutes. Drain.

In the same skillet, melt butter, brown sugar, and pumpkin pie spice over medium heat. Cook, stirring, until bubbly.

Add carrots and cook 2 minutes more.