These Brown Sugar-Glazed Carrots take carrots to a whole new level! Made with just 4 delicious ingredients, they come together quickly and make the perfect holiday side dish!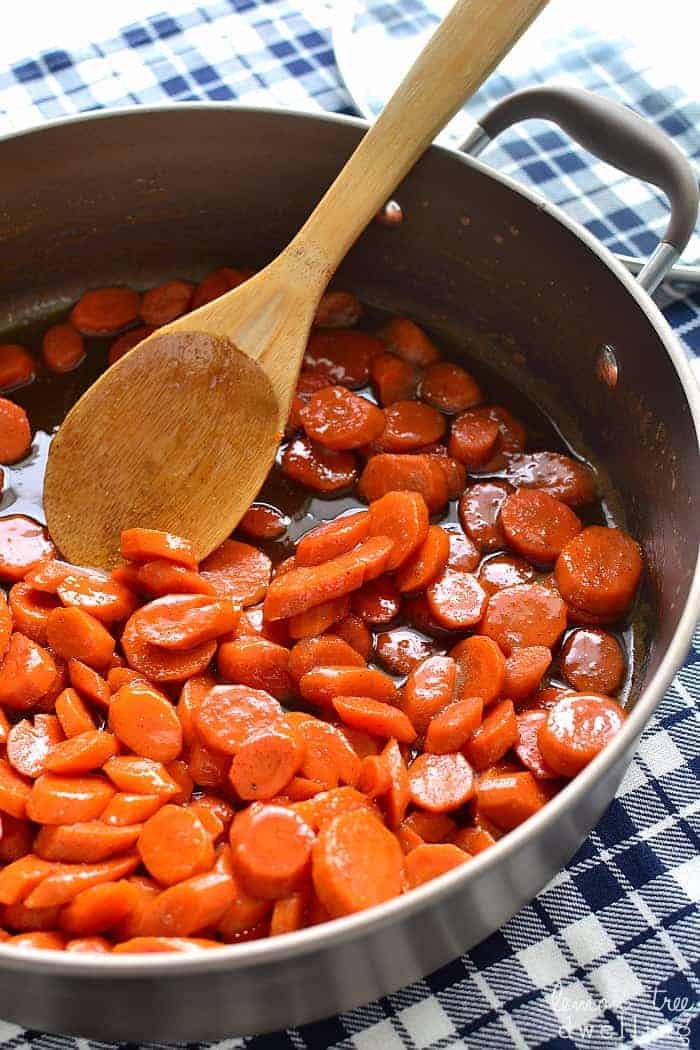 Can we talk for a minute about carrots? In particular, cooked carrots? For the life of me, I cannot get my kids to eat them! Or, I should say, I couldn't get my kids to eat them…..until now.  I think it has something to do with the flavor. And the texture. And the fact that I'm convinced I've been preparing them wrong for years.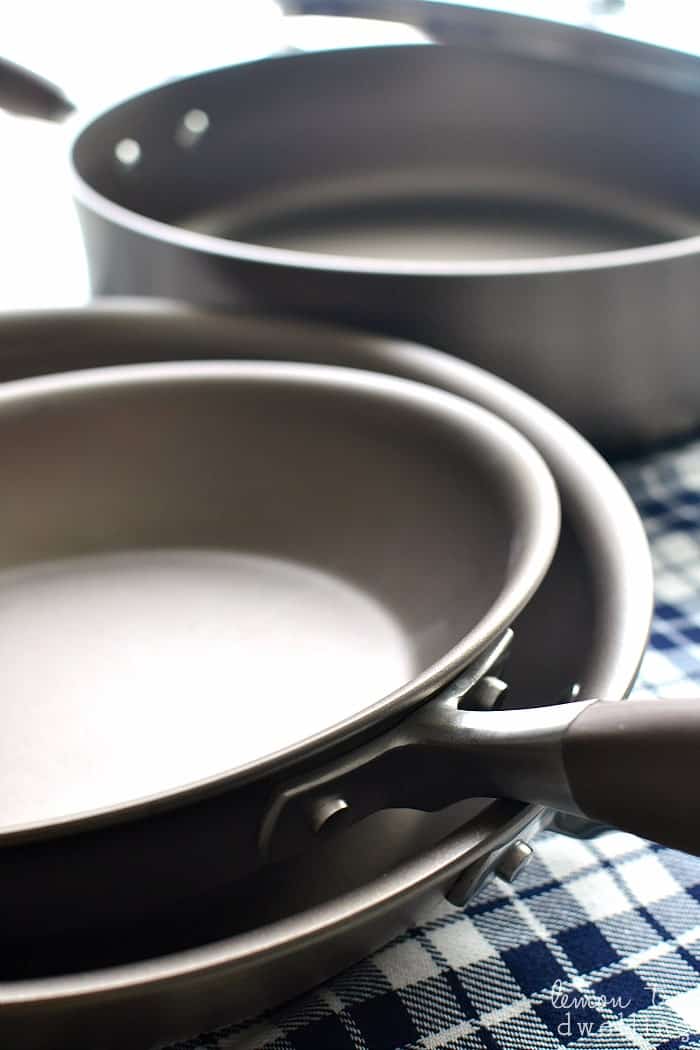 I happened to be thinking about this right around the time I got my new Anolon cookware….and in between admiring my new pans and contemplating carrots, suddenly it hit me. I had been treating my carrots too much like green beans, when in reality, they're much more like sweet potatoes! It was a lightbulb moment.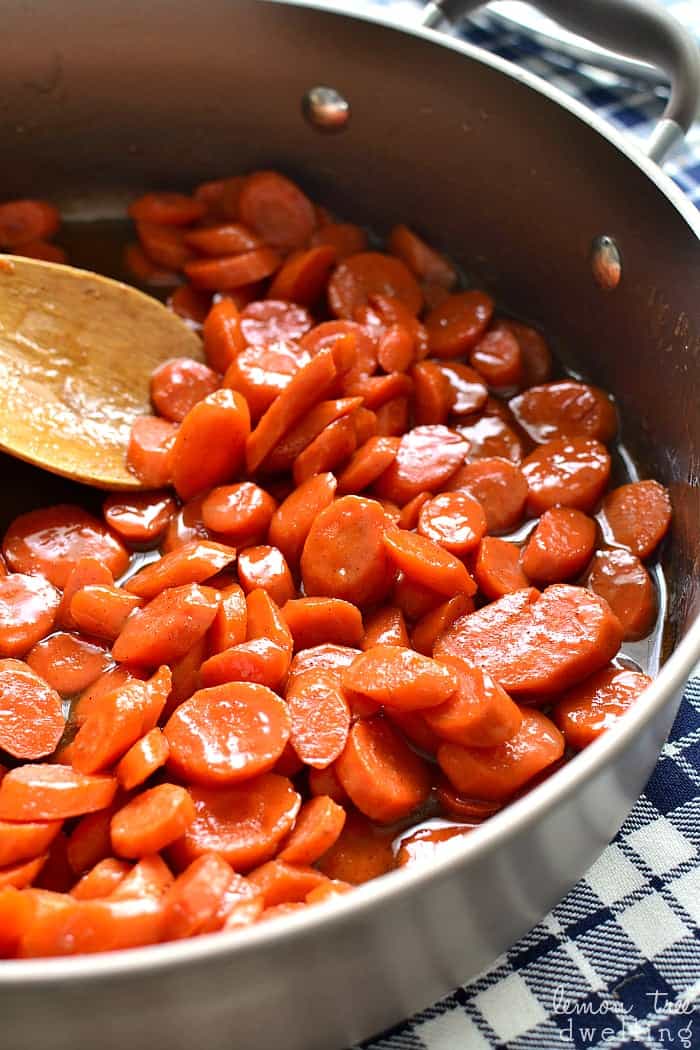 Before I get into the specifics of the recipe, I feel like I need to tell you how much I LOVE my new pans. They're part of the Anolon Advanced Umber Collection, and when it comes to cookware, they're top notch. Not only are they durable and so easy to clean, but they also feature SureGrip™ handles, making them extremely comfortable to cook with. And on top of it all, they're a beautiful umber color that is perfect for the holiday season.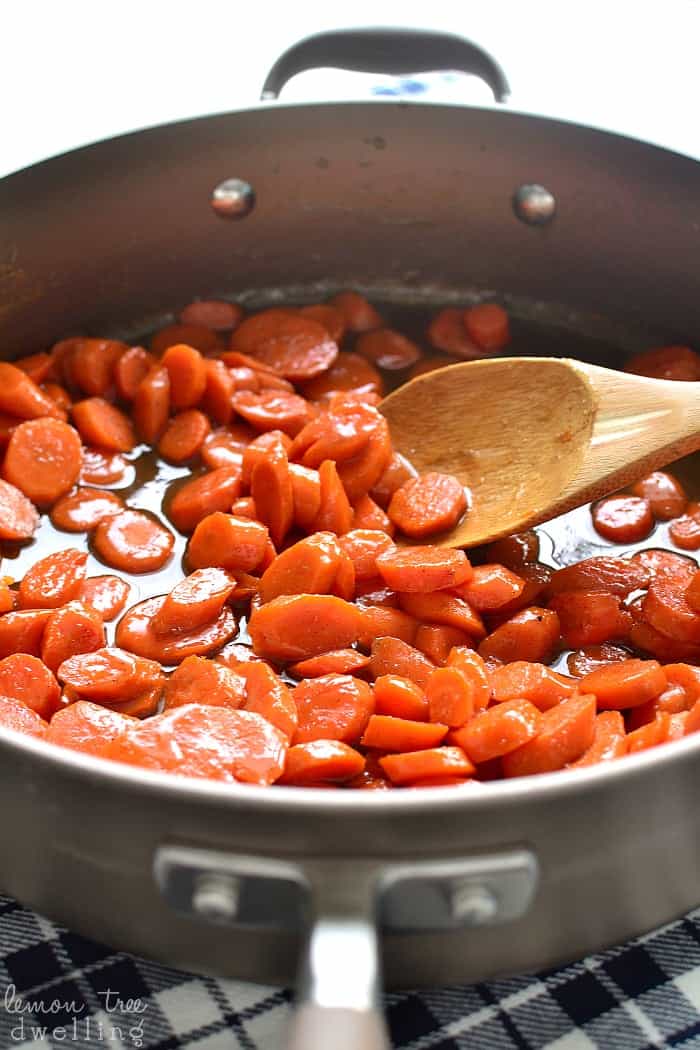 I'm not sure what it is about new (gorgeous) pans….but since I've had them, I've been inspired to get more creative in the kitchen! I think it has to do with the fact that they're the perfect sizes, and durable enough to handle whatever I might throw their way. (The fact that clean-up is a cinch definitely doesn't hurt, either!) I'm actually thinking of expanding my collection for Christmas, because the Anolon gourmet collections are vast. And when you find a product that inspires you in the kitchen, you need as many of them as you can get! (Am I right??)
Brown Sugar Glazed Carrots
 Okay. Now that I've expressed my undying love for Anolon cookware, let's talk about this recipe. My kids actually ate it….and loved it! Let's just say it's already on the menu for Christmas. These Brown Sugar Glazed Carrots couldn't be more simple – just carrots, butter, brown sugar, and pumpkin pie spice – but the end result is beyond delicious. Sweet and buttery with a touch of winter spice. The way cooked carrots were meant to be.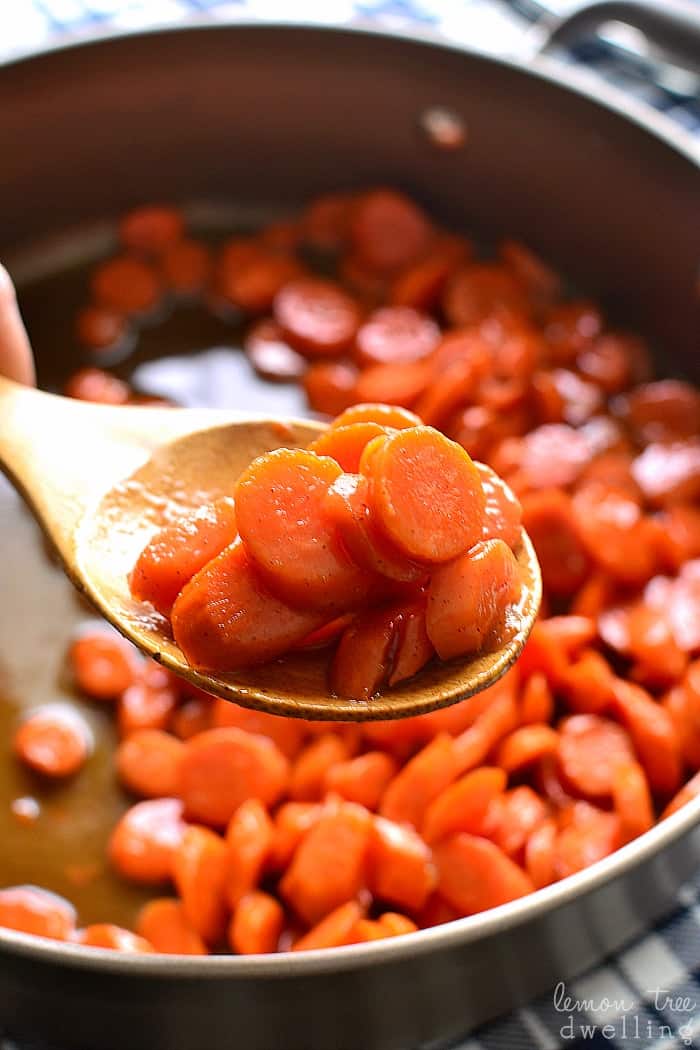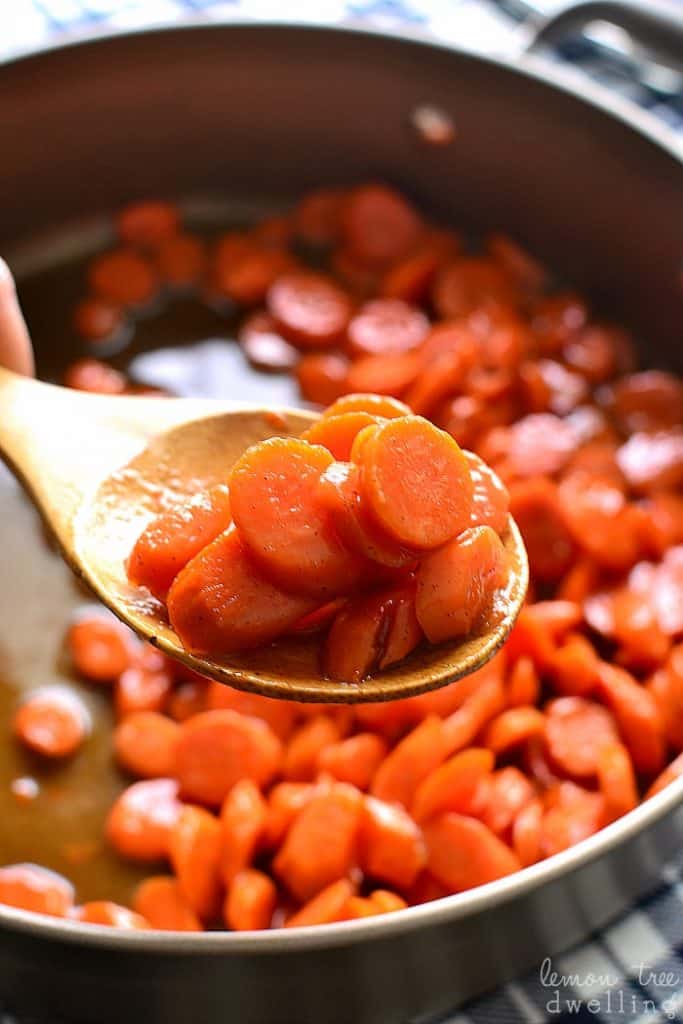 Are you already thinking about how you could get creative in the kitchen? You can find out more about what Anolon has to offer by visiting their website or following them on  Twitter, Instagram, Pinterest, YouTube, or Tumblr. You can also find Anolon products at Macy's, Bed Bath & Beyond, and Dillard's. And, if you visit them on Facebook, you can join the Anolon/Kendall-Jackson "Holiday Hosting" Sweepstakes for the chance to win an amazing prize pack! Happy holidays…..happy hosting!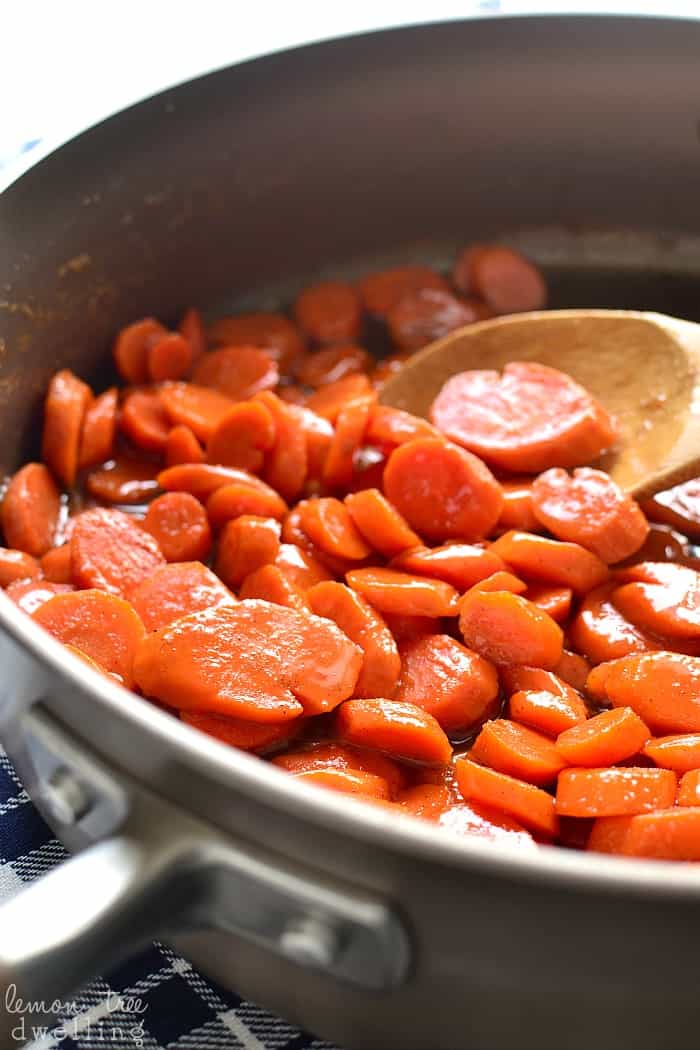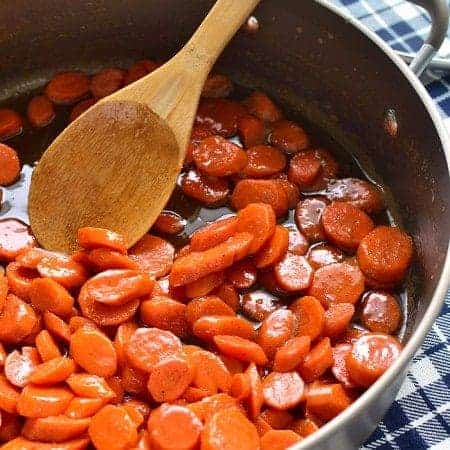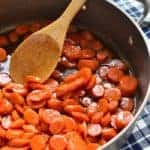 Brown Sugar-Glazed Carrots
Ingredients
2

lb.

carrots

peeled and sliced on a diagonal

1/2

c.

butter

1/2

c.

packed brown sugar

1

tsp.

pumpkin pie spice
Instructions
In a large, deep skillet, bring 1 inch of water to a boil.

Add carrots; boil 3 minutes. Drain.

In the same skillet, melt butter, brown sugar, and pumpkin pie spice over medium heat. Cook, stirring, until bubbly.

Add carrots and cook 2 minutes more.
Looking for more great side dishes? Be sure to check out more of these great recipes!

This is a sponsored conversation written by me on behalf of Analon Cookware. The opinions and text are all mine.