Basil Pesto Panzanella – chock full of fresh veggies, grilled bread, Italian sausage, and Parmesan cheese, and dressed in a flavor-filled pesto vinaigrette – the perfect tribute to summer!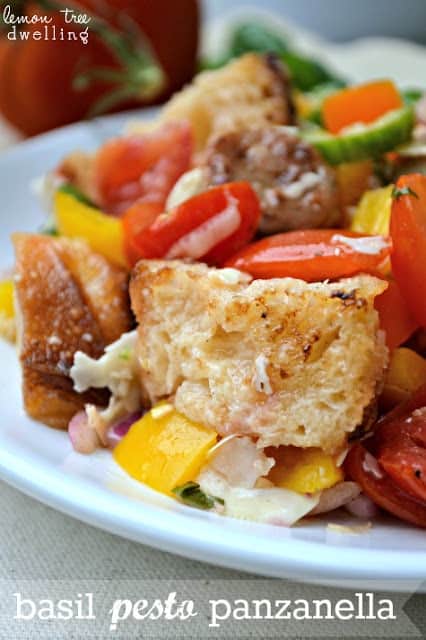 One of my absolute favorite parts of summer is planting a garden. We first planted one about 4 years ago, when we lived in our first home, in a tiny space on the edge of our tiny yard. And somehow, magically, it grew like crazy!! We had more tomatoes, peppers, zucchini, cucumbers, basil, and even lettuce than we knew what to do with….all without doing much of anything! Ever since that year, I am smitten with the idea of a garden and can't wait to watch it grow.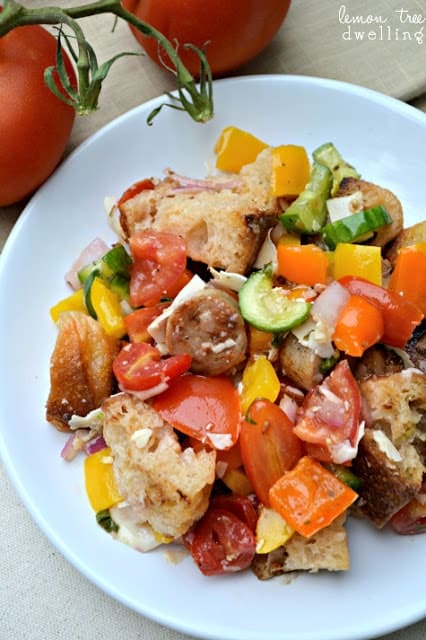 The only problem? Ever since that year, our garden has never been the same! Partly because we moved, so the space and the soil are different….and partly because our lives have become crazy! So for the past few years, we haven't gotten around to planting until Father's Day! Not ideal for growing a great vegetable garden. So while I wish I could say this Panzanella was straight from the garden, our garden isn't even a foot off the ground! We still won't have any vegetables for a while….if we have them at all (basil doesn't count)!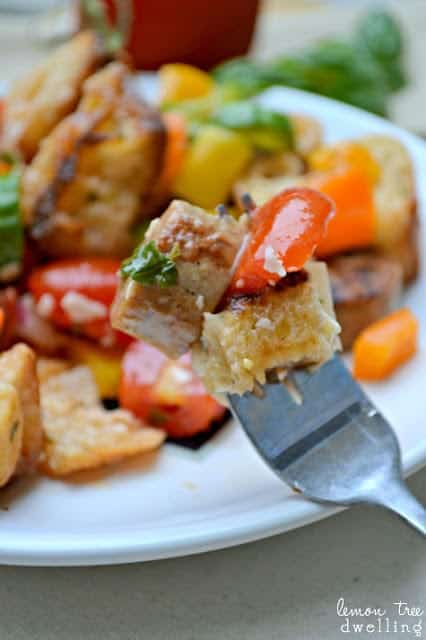 BUT. You better believe that if and when our garden takes off, this will be one of the first dishes I make. Because I'm a HUGE veggie lover, and this salad highlights all of them! Not to mention the crispy grilled bread, the delicious Italian sausage, the fresh-shaved Parmesan cheese, or the homemade pesto vinaigrette. The way the ingredients come together is amazing – it really is a complete meal, all on its own. Straight from the garden….or the grocery store….either way, it's delicious!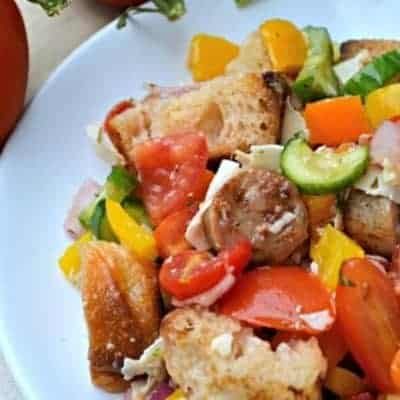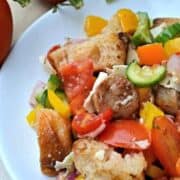 Basil Pesto Panzanella
Ingredients
Salad
6-8

c.

crusty bread

cubed

3

Tbsp.

oil

1/2

tsp.

kosher salt

12

oz.

fully cooked Italian sausage links

I used Trader Joe's Italian Chicken Sausages, cut into 1-inch pieces

3

c.

tomatoes

cut into bite-sized pieces (I used different sizes of red and yellow tomatoes)

2

c.

zucchini or cucumbers

cut into bite-sized pieces

1

c.

chopped bell peppers

I used a yellow & orange

1/4

c.

chopped red onion

1/4

c.

fresh basil leaves

torn

1/2

c.

fresh shaved Parmesan cheese
Pesto Vinaigrette
3/4

c.

olive oil

3

garlic cloves

minced

1 1/2

tsp.

kosher salt

3

Tbsp.

golden balsamic vinegar

3

Tbsp.

minced fresh basil

2

tsp.

prepared pesto

1/4

tsp.

fresh ground pepper
Instructions
Heat olive oil in a large skillet over medium heat. Add bread cubes and salt; cook, stirring, until bread is nicely browned. Remove from pan and set aside.

In the same pan, brown Italian sausage pieces, stirring occasionally, 10 min. or to taste.

Combine chopped tomatoes, cucumbers, red onion, and basil in a large salad bowl and toss to combine.

Add bread, sausage, Parmesan, and vinaigrette; toss to combine.
Pesto Vinaigrette
Combine all ingredients and shake well to mix.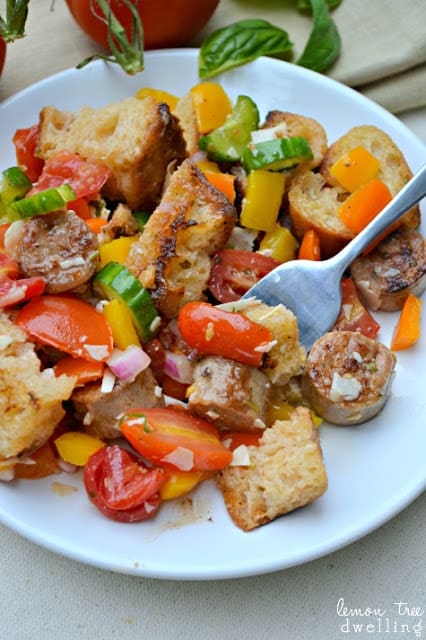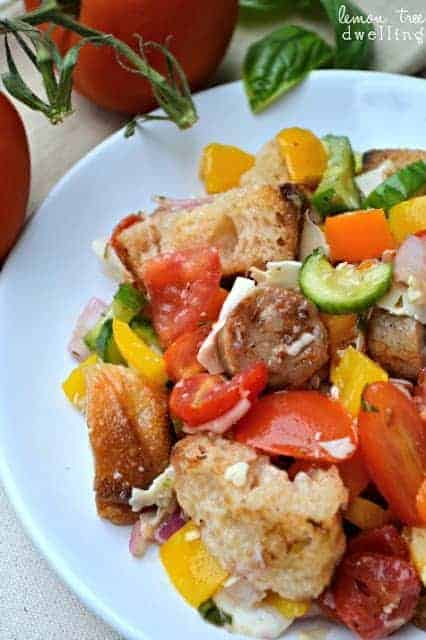 Enjoy!
If you liked this recipe, be sure to check out a few of my other delicious summer salads!
Grilled Corn Salad with Chili Lime Vinaigrette