White Chocolate Almond Crescent Rolls will please any crowd and are so simple to make. These easy rolls are not only delicious, they're so pretty, too! Perfect for New Year's morning, a wedding shower, or any special occasion.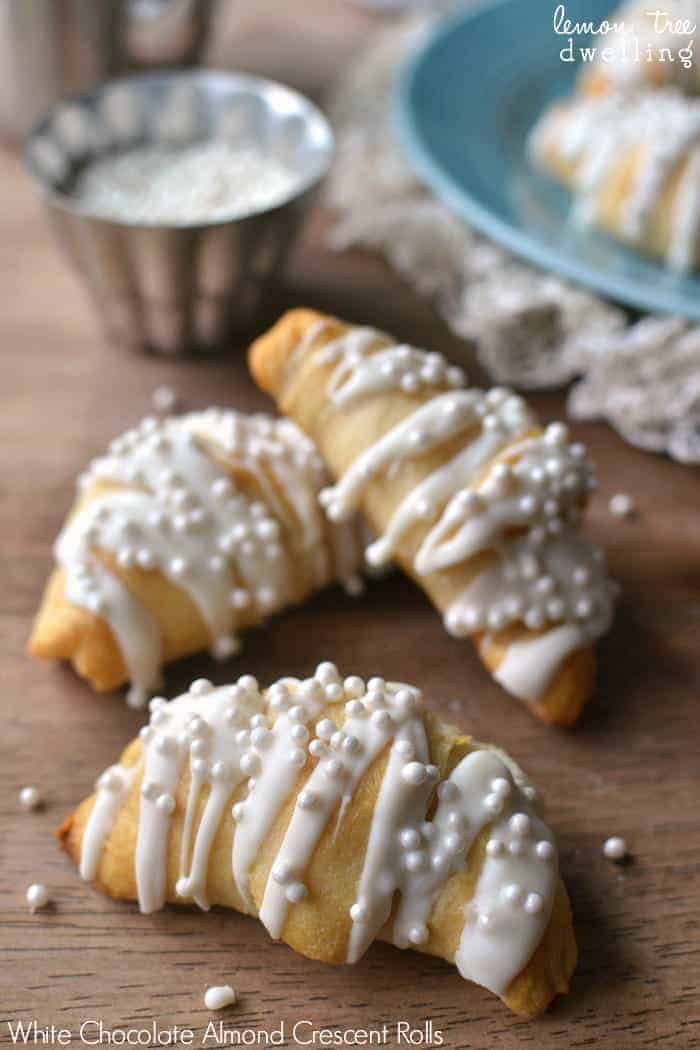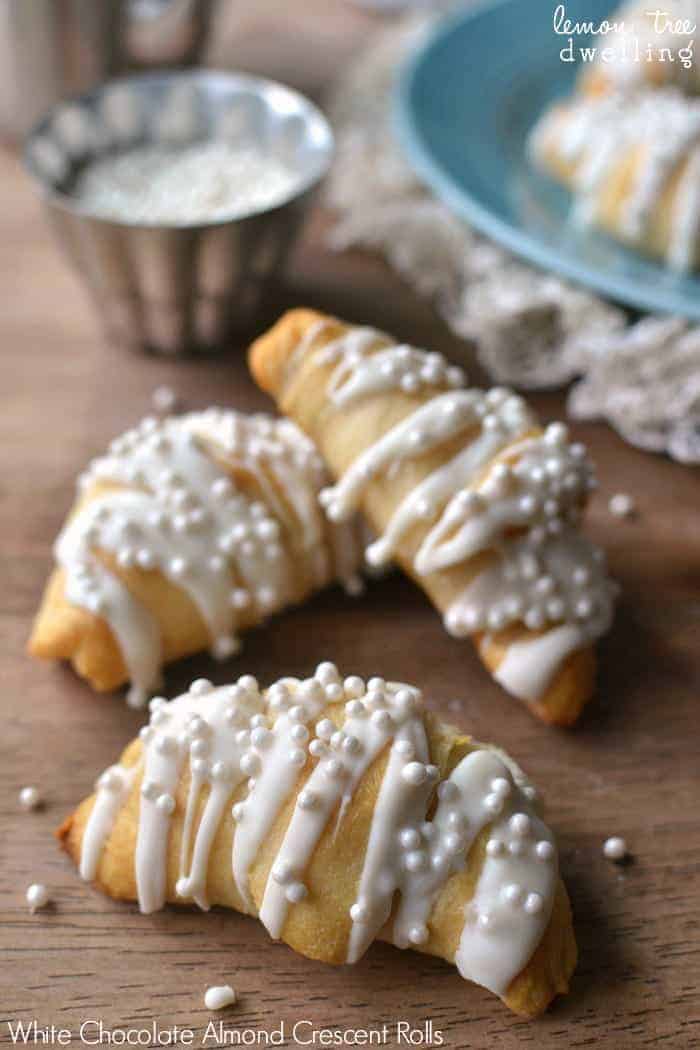 Tonight marks the official start of Christmas break….and Jorden and I want to do something fun with the girls to celebrate! One thing we haven't done yet this year? Candy Cane Lane – a few blocks of houses that go all out with outdoor Christmas decorations. It's something we've taken them to the past few years, but something I'm not sure I want to take them to tonight! Because we've noticed that each year fewer houses are participating and the houses that do participate are slacking more and more on the decorations!
When even your kids aren't impressed by the lights, you know it might be time to throw in the towel. But still, it's hard to give up something that's become a tradition!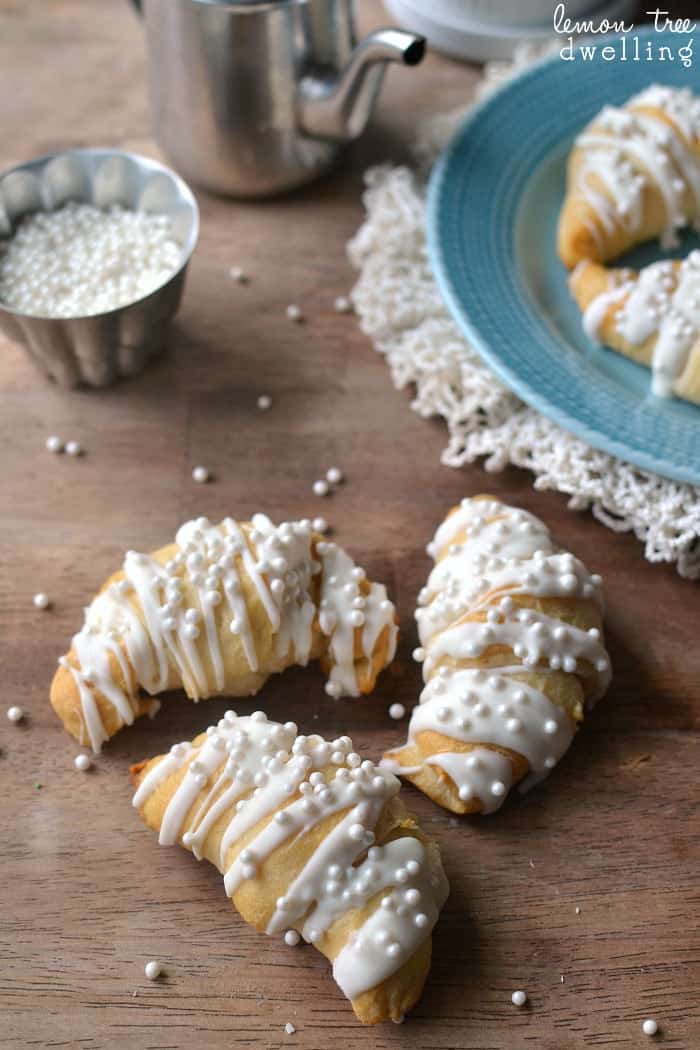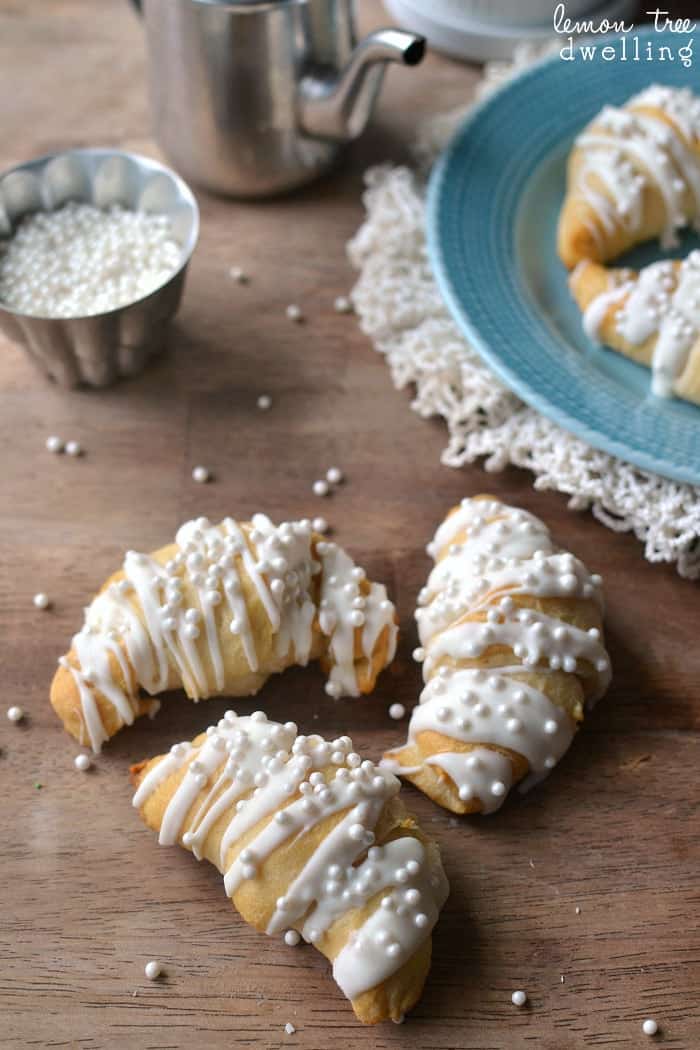 If we left it up to the kids, I have a strong suspicion we'd be ordering pizza and sitting in front of the TV watching their new favorite movie: Home Alone! We watched it with Ellia and Greta for the first time this past weekend and they have never laughed harder. Their favorite part? When Kevin uses his dad's aftershave…..followed closely by him riding down the stairs in a toboggan. They are girls after their daddy's heart.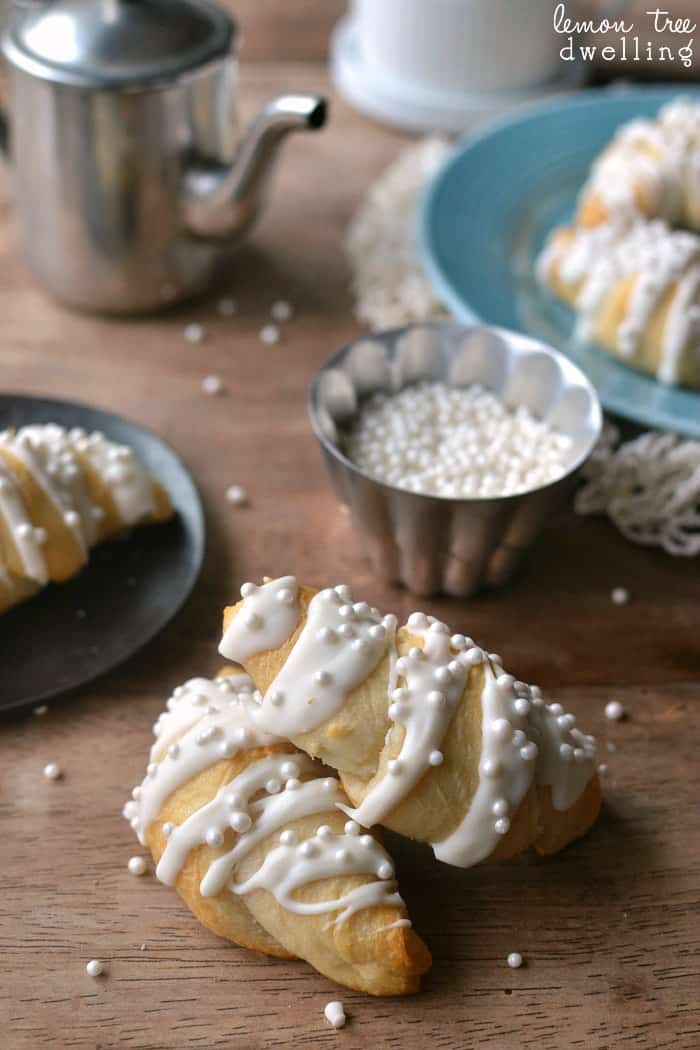 Hmmmm….maybe we have the makings of a new tradition here. One that involves pizza and a Christmas movie the night before Christmas Eve? Sounds better than Candy Cane Lane to me! Of course, Christmas Eve day is already spoken for. Our elf Cubby has been making us a white breakfast for the past few years and, whether he knows it or not, we're counting on it again this year!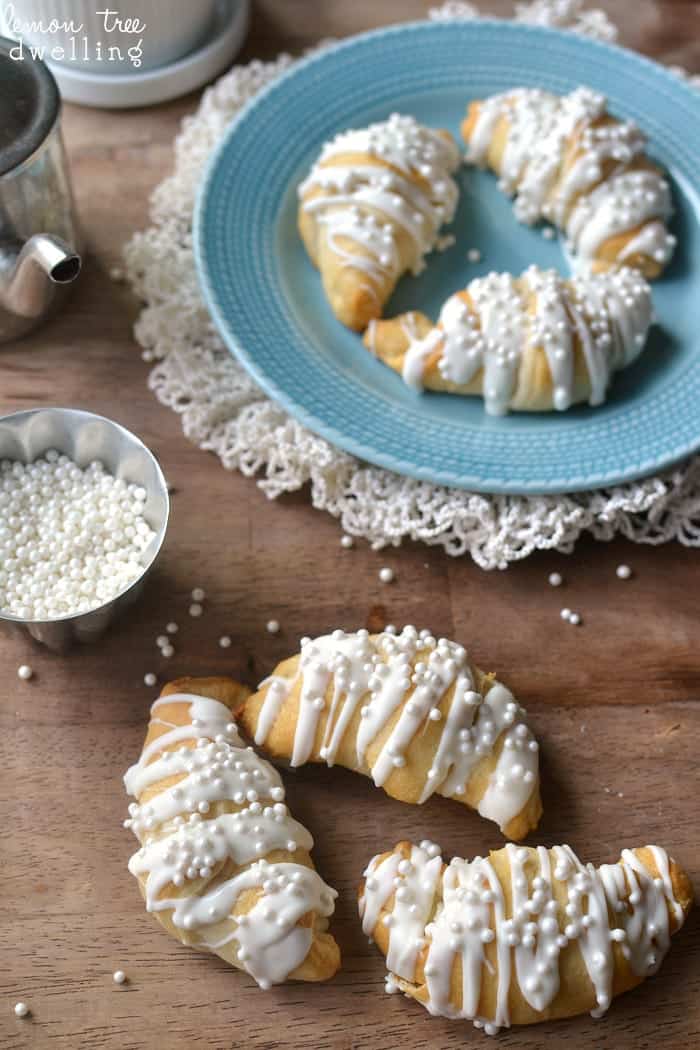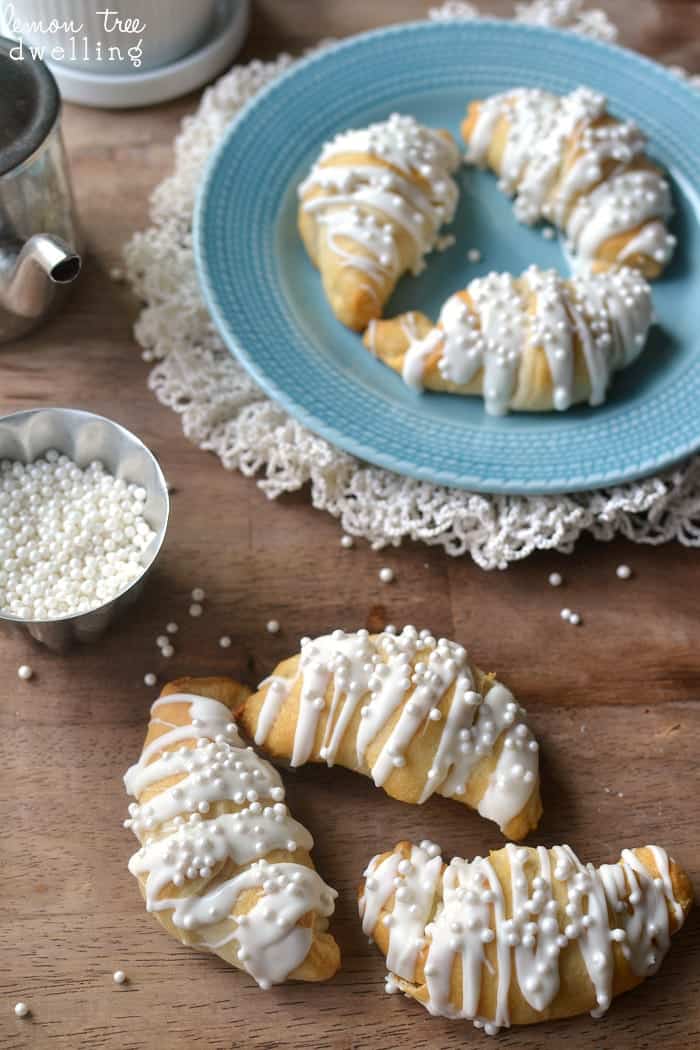 White Chocolate Almond Crescent Rolls
Speaking of which….we're all anxiously waiting to see what he'll make us this year! Perhaps something along the lines of these White Chocolate Almond Crescent Rolls? They'd fit right in, and we already know they taste amazing. Not to mention…..they're so easy, even an elf can make them! And so delicious, they might just become your new tradition.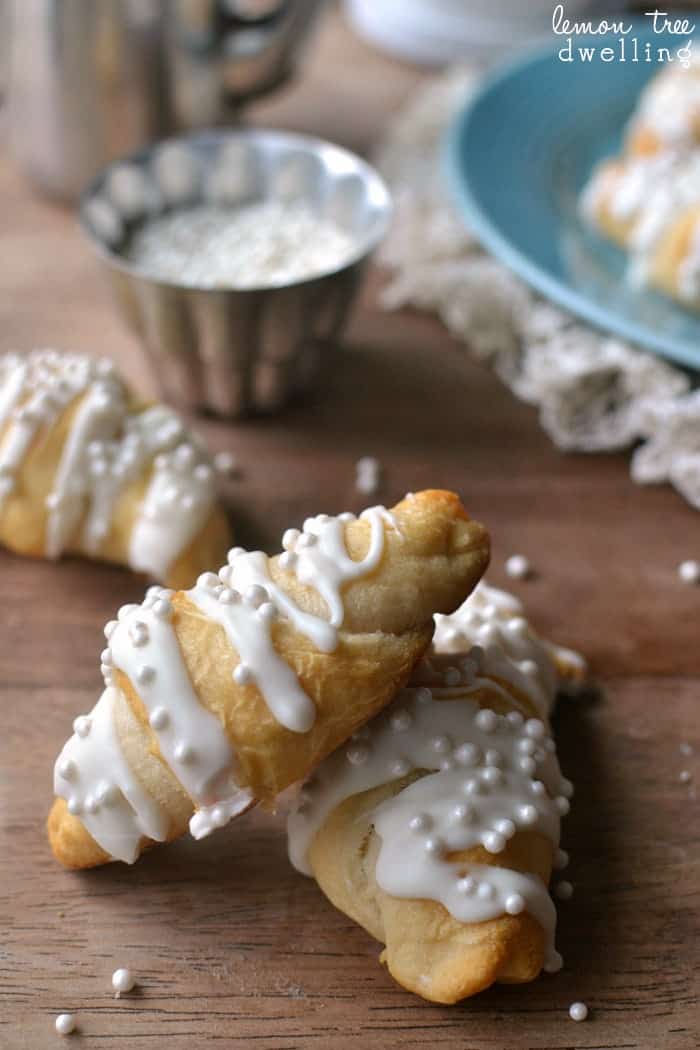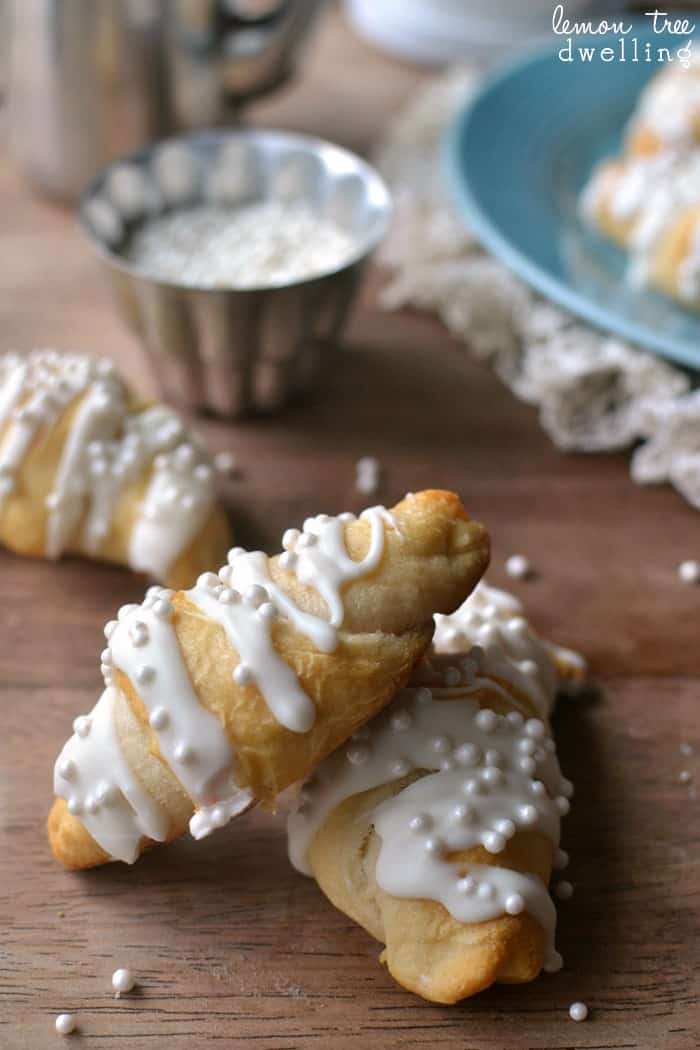 Not sure who Cubby is? Why he's our Elf! You can find out all about him HERE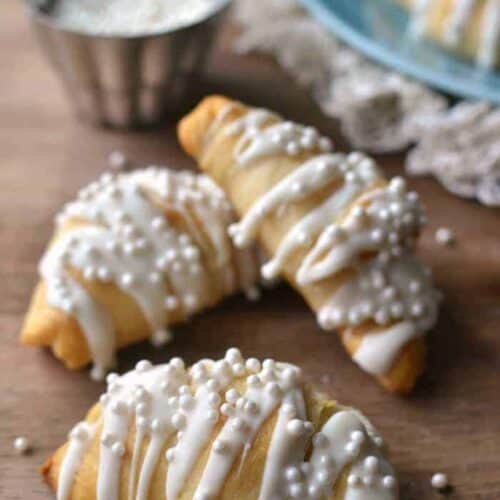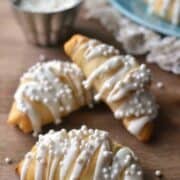 White Chocolate Almond Crescent Rolls
Ingredients
1

tube

8 count refrigerated crescent rolls

4

oz.

cream cheese

1/2

c.

powdered sugar

1/8

c.

sliced almonds

1/4

tsp.

almond extract

4

oz.

white chocolate

white pearl nonpareils
Instructions
Unroll crescent rolls on lightly greased baking sheet.

In a small bowl, combine cream cheese, powdered sugar, sliced almonds, and almond extract.

Divide mixture evenly among crescent rolls and roll into crescent shape, starting with large end.

Place crescents 2 inches apart on baking sheet and bake at 350 degrees 12-14 minutes or until golden brown.

Remove from oven and cool slightly.

Drizzle with white chocolate (melted) and sprinkle with nonpareils.