These Sriracha Tuna Pretzel Bowls will be your quickest lunchtime meal ever! This 5 ingredient hot pocket meal also doubles as a quick snack or game day appetizer. Perfect for those on the run meals with a kick of heat!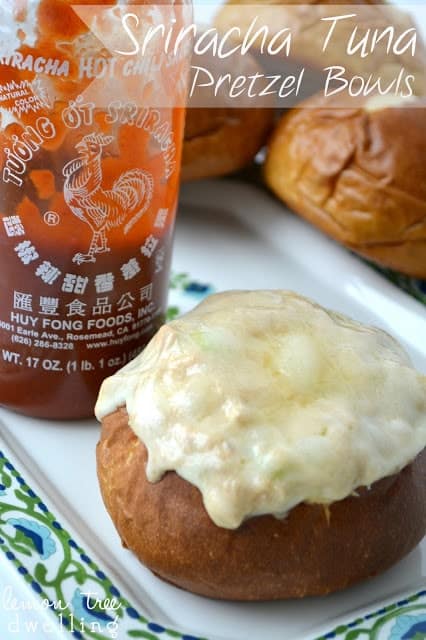 Around here, Sriracha is a bad word. Or it was….for a long time….before I broke down and finally tried it! See, ever since Jorden discovered it a few years ago, he has been putting it on everything! Eggs, soup, casserole, pasta, potatoes, you name it…. And since I'm the one in charge of cooking, I haven't necessarily taken kindly to him dousing all my hard work in hot sauce!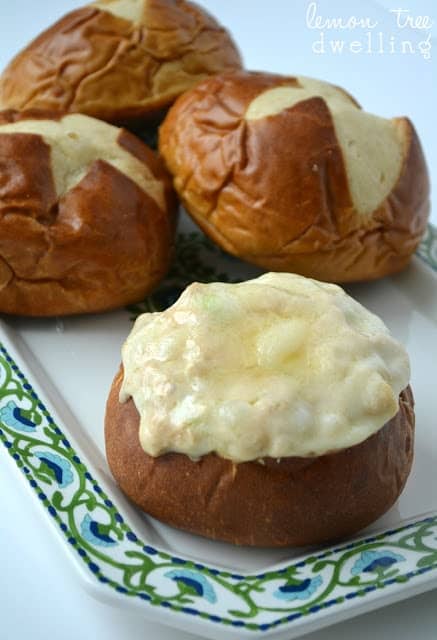 That was before I experienced Sriracha….Sriracha mayo, to be exact – the world's best dipping sauce for french fries – and fell in love! (If you can't beat 'em, join 'em….isn't that what they say?) So I made some a while ago using a recipe I found here, and the rest has been sitting in my fridge ever since. I've been trying to figure out a way to use it up…..
……and then, inspiration struck.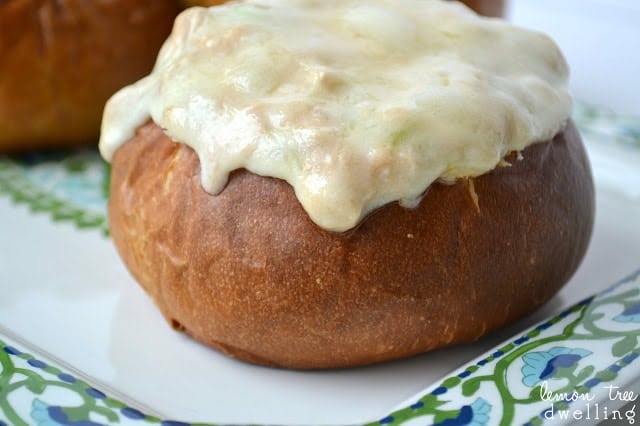 Sriracha Tuna Pretzel Bowls
Jorden was out of town (ironically enough) and I was trying to figure out what to do for dinner with the kiddos. I had some pretzel rolls that needed to be used, and the girls love tuna melts. Done! But as I dug through our always-overfull fridge to find the mayo, I spotted the leftover Sriracha mayo….and a grand idea was born!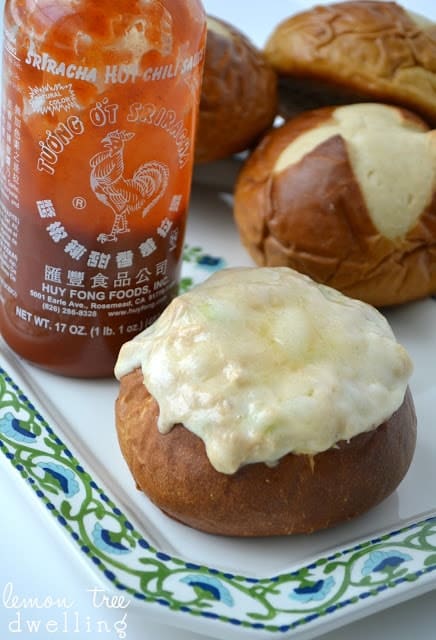 The chewiness of the pretzel rolls + the spiciness of the Sriracha + the meltiness of the cheese = pure deliciousness. Here's how it looked in progress: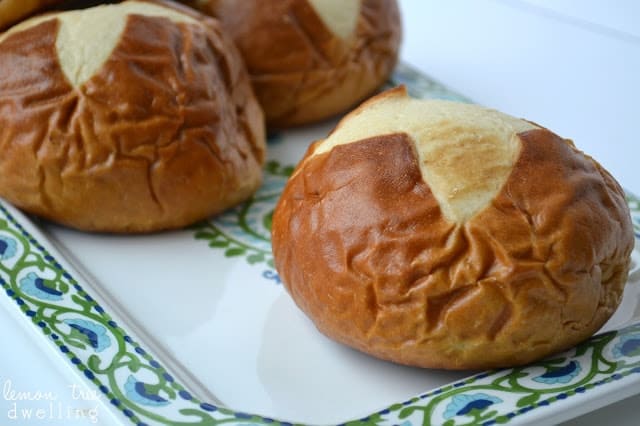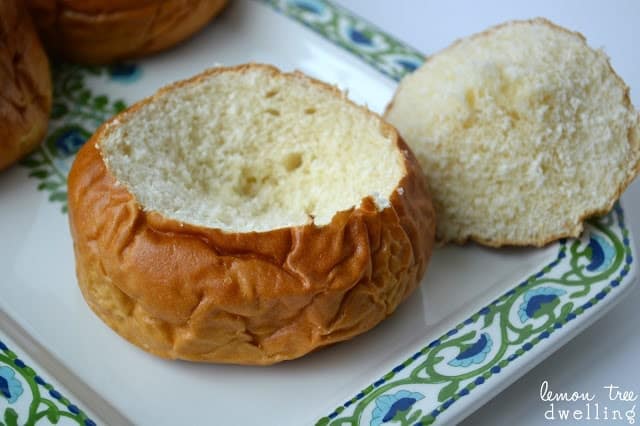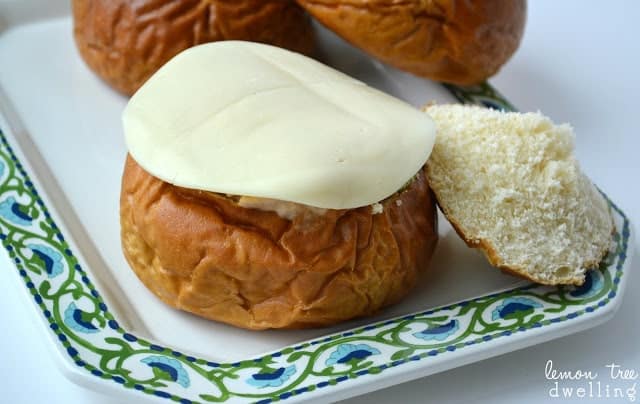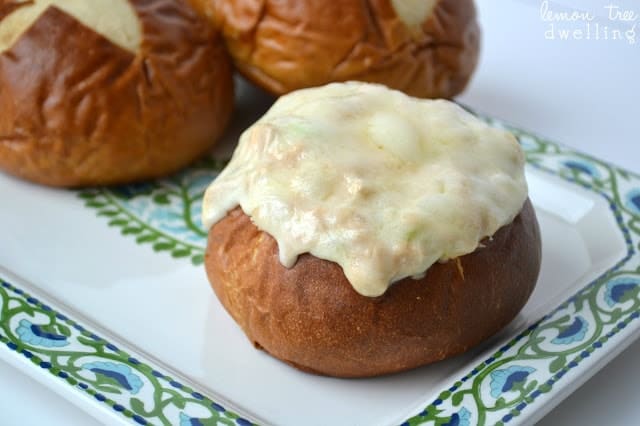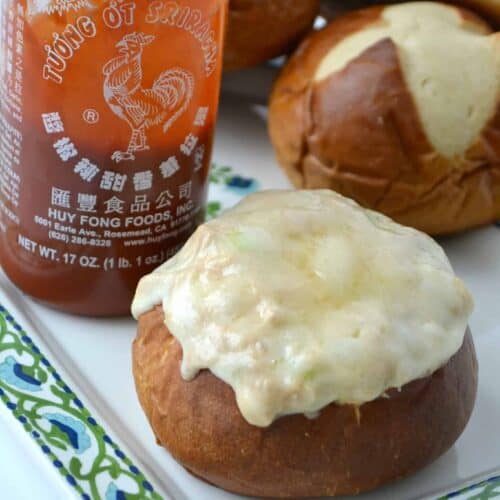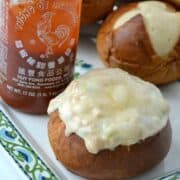 Sriracha Tuna Pretzel Bowls
Ingredients
4

Pretzel Rolls

2

5 oz. cans chunk white tuna

1/2

cup

Sriracha mayo

1/2 cup mayo + 1 Tbsp Sriracha Hot Chili Sauce or more, to taste

2

stalks celery

chopped

4

slices

Provolone cheese
Instructions
Cut a round cone out of the center of each pretzel roll to create a "bowl."

Drain tuna and mix with Sriracha mayo and chopped celery.

Divide tuna salad between the 4 rolls and top with cheese.

Bake at 375 for 15 minutes.