Print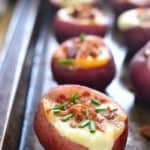 Poutine Potato Poppers
These Poutine Potato Poppers combine all the flavors of poutine in one delicious bite! Bursting with fresh cheese curds and gravy and topped with crispy bacon and chives, these little poppers are the perfect appetizer or mini meal!
1

package Roundy's Baby Red Potatoes

1

package cheese curds

you will not use the whole package

1

c.

gravy

recipe below

2

Tbsp.

bacon bits

2

Tbsp.

minced chives

For gravy:

2

Tbsp.

butter

2

Tbsp.

flour

2

c.

beef broth

1/2

Tbsp.

cider vinegar

1/2

Tbsp.

ketchup

1/4

tsp.

worcestershire sauce

1/4

tsp.

salt

1/8

tsp.

pepper
Place potatoes in a large pot with enough water to cover them by 2-3 inches.

Bring to a boil; reduce heat and simmer 20-25 minutes or until tender.

Drain; set potatoes aside to cool.

Prepare gravy by combining butter and flour in a medium saucepan.

Heat over medium heat for 1-2 minutes, stirring constantly.

Add broth, cider vinegar, ketchup, worcestershire sauce, salt and pepper. Bring to a boil and cook until thickened, stirring often.

Preheat oven to 350 degrees.

Once potatoes are cool enough to handle, cut the top off of each one and place on a rimmed baking sheet. (*It helps to find the natural "bottom" first so the potatoes don't roll!)

Stuff each potato with cheese curds. You may need to break curds to fit.

Carefully pour 1-2 tsp. of gravy into each potato. The gravy should fill in the empty spaces.

Bake at 350 degrees for 10 minutes or until cheese is melted.

Top each potato with bacon bits and minced chives.