This Valentine's Day framed art craft project is fun, easy, and inexpensive to make. With x's and o's representing hugs and kisses, this framed art craft makes a perfect homemade Valentine's Day gift!
Valentine's Day is less than 2 weeks away, and my house has already been decorated in red and white for a month. It's probably time for me to get over it and start thinking about something more important (like what's on the Super Bowl menu…) but my mind is still spinning with Valentine's Day ideas that I want to get to, meant to get to, or had no intention of getting to but am now too excited to let go of! So…before I switch gears to what really matters in life (aka Super Bowl menu), I want to share one last-minute Valentine's Day DIY craft idea with you.
A hugs and kisses (XOXO) Valentine's Day framed art craft project.
This homemade Valentine's Day craft is super cute, super easy to make, and it makes a great kids' project, too!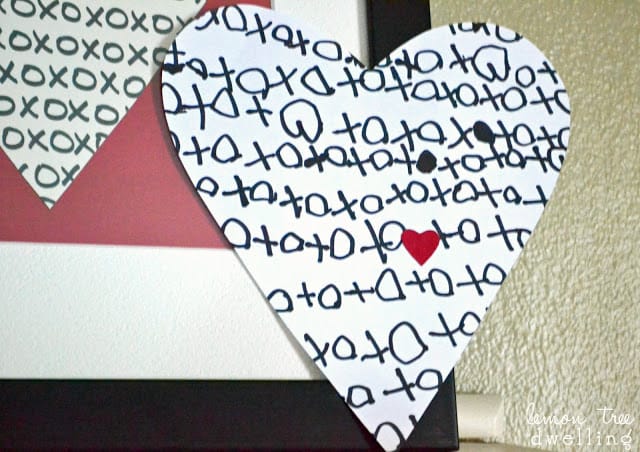 In fact, it all started as a kids' project. As you can see, Greta has been working on her letters. (Is it just me…or is there is nothing cuter than a little kids' handwriting?) She is SO proud of herself and loves to ask me how to spell things so she can write them on her cards and drawings. So when I suggested that she make a Valentine's Day project with x's & o's, she couldn't have been more excited. And when I told her she could use a Sharpie, well, she nearly fell out of her seat! (It's the simple things…) About halfway down the page, she started doing things like coloring in the o's, or making them into hearts, or turning x's into o's. She was clearly tired of writing, but that's okay… I find the imperfection charming 🙂
While she worked on hers, I worked on mine….
….and when we were both done, I cut them into hearts and added a tiny red heart to each.
For the frame, I used a simple black frame with a textured white mat.
I love the black & white with just a touch of red….simple, clean, and classic.
This is definitely giving me some more ideas…but since I'm cutting myself off from any more Valentine's Day decorating this year, I guess I'll have to wait 'till next 🙂
In the meantime, if you are looking for more Valentine's Day hugs and kisses craft ideas, check out my XOXO Candles!
Happy Valentine's Day!