Print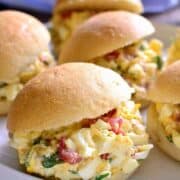 Cobb Egg Salad
Cobb Egg Salad is loaded with all the flavors of cobb salad and is delicious in a sandwich or all on its own! Perfect for lunch with friends or a picnic at the park, this recipe takes egg salad to a whole new level!
Chop eggs; add remaining ingredients and stir gently until mixed.

Enjoy in a sandwich, with crackers, or all on its own!