Print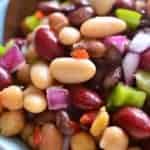 The Best 5-Bean Salad
This 5-Bean Salad combines black, pinto, garbanzo, cannellini, and kidney beans with green peppers, pimentos, and red onions in a sweet dressing that ties it all together in the most delicious way!
Drain and rinse beans.

Combine drained beans, pepper, celery, onion, and pimentos in a large bowl.

In a saucepan, combine remaining ingredients.

Bring to a boil; remove from heat and pour over bean mixture.

Chill until ready to serve.