Print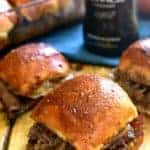 Guinness Beef Sliders
These Guinness Beef Sliders are everything you would want in a sandwich! Delicious butter rolls, layered with roast beef, swiss cheese, mushrooms, and onions, then topped with a rich Guinness glaze and baked to perfection. Perfect for St. Patrick's Day or any day, these sliders are guaranteed to become a favorite!
In a medium skillet, melt butter over medium-high heat. Add mushrooms, onions and ¼ c. Guinness and saute until liquid is absorbed.

Prepare glaze by combining all ingredients in a medium saucepan.

Bring mixture to a boil, then lower heat slightly and cook until thickened. (*Mixture should be reduced by at least half - when in doubt, reduce it a little more!)

Assemble sandwiches by slicing rolls in half, then filling with roast beef, sautéed mushrooms & onions, and swiss cheese.

Pour glaze evenly over sandwiches.

Bake, uncovered, at 350 degrees for 30 minutes.