Print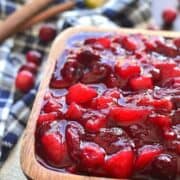 Spiced Cranberry-Pear Sauce
This Spiced Cranberry-Pear Sauce is deliciously sweet and tart, with hints of cinnamon, ginger, nutmeg, and allspice.
Combine water and brown sugar in a large saucepan; bring to a boil.

Add cranberries, pears, and spices.

Return to a boil, then reduce heat slightly and cook, stirring occasionally, until cranberry skins pop and mixture has thickened (about 10 minutes).

Remove from heat, cool to room temperature, and refrigerate until ready to use.