Print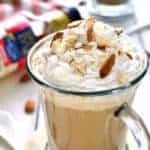 Vanilla Almond Latte
This Vanilla Almond Latte combines the classic flavors of vanilla and almond in a delicious drink that's easy to make and even better than your favorite coffeehouse beverage!
Brew coffee using 4 Tbsp. finely ground coffee and 1 c. water.

In a small saucepan, heat milk over medium heat, stirring constantly.

Combine brewed coffee, steamed milk, Tate + Lyle® Vanilla Pure Cane Syrup, and almond extract in a heatproof mug.

Top with whipped cream and chopped almonds.