Print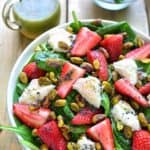 Strawberry Spinach Salad with Goat Cheese & Pistachios
This Strawberry Spinach Salad is an AMAZING twist on a summer classic! Loaded with fresh strawberries, goat cheese, pistachios, and a delicious honey balsamic vinaigrette....this salad is sure to become your new favorite go-to for picnics, cookouts, and everyday meals!
Fill a large salad bowl with fresh spinach.

Top with strawberries, Goat Tallegio, and pistachios.

Prepare dressing by combining all ingredients and shaking vigorously.

Top salad with dressing as desired.