Print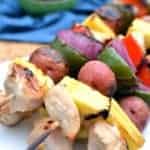 Hawaiian Grilled Chicken Kabobs
Sweet 'n savory Luau Kabobs made with marinated chicken, fresh pineapple, red potatoes, purple onion, and bell peppers, then grilled to perfection and drizzled with Honey Ginger Teriyaki Sauce! Perfect for all your summer grilling!
Cut chicken into 18 pieces.

Cut pineapple and peppers into 12 pieces each.

Cut purple onion into 12 pieces (it works best to use 3 layers at a time).

Prepare kabobs by layering chicken, pineapple, peppers, onion, and potatoes on wooden skewers.

Combine pineapple juice and ¼ c. teriyaki sauce and pour over kabobs in a shallow dish. Place dish in refrigerator and marinate 30 minutes or more.

Grill on medium heat, turning periodically, until chicken is cooked through.

For drizzle:

Combine ingredients in a small bowl and mix well.

Drizzle over grilled kabobs.