Print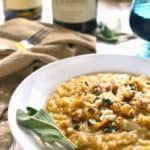 Butternut Squash Risotto
This Butternut Squash Risotto is rich and creamy, flavored with allspice, walnuts, parmesan, and chardonnay. It's the perfect fall risotto, and a delicious addition to any holiday table!
Heat olive oil in a large stock pot. Stir in squash and onions and cook over medium heat until squash softens and can be mashed.

Add arborio rice and cook 1 minute, stirring constantly.

Add Chardonnay and cook, stirring, until liquid is incorporated.

Begin adding chicken broth, 1/2 cup at a time, stirring after each addition until liquid is incorporated.

Once all the liquid is incorporated, and the risotto is nice and creamy, remove pan from heat.

Stir in allspice, salt, and pepper.

Serve, topped with walnuts and parmesan cheese.