Valentine's Day Gift Jars are the perfect gift to show you love someone. Mason jars decorated for Valentine's Day and filled with hot cocoa, marshmallows, and sprinkles. A fun, simple, and delicious gift idea!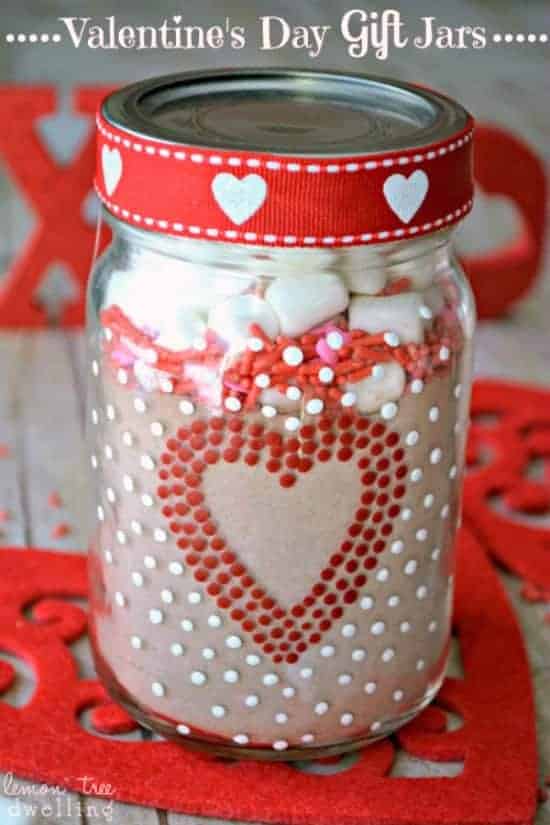 If you ask my kids, they would probably tell you that I'm not a super "fun" mom. I don't love to get on the floor and play with them, I don't love dance parties or spa days or makeovers, I don't take them to McDonald's or Monkey Joe's or Helium….at least not often….and I don't let them get away with a whole lot. At least not as much as I could!
But. I do love reading with them, baking with them, playing games with them, talking with them….and most of all….doing arts and crafts with them! And I always have, ever since the time Ellia was little. But I must confess….I find myself doing fewer and fewer craft projects with them the older they get! I'm not sure what it is – that I have less energy for arts and crafts, that my time with them is more limited, that I'm tired of all the messes…..?
Valentine's Day Gift Jars – love in a jar
Whatever the reason, I've decided that we need to pull out the paints and the glue and the glitter! Poor Nora…..she's missing out! So, the other day, while the older girls were at school, I got out a big stack of paper and paintbrushes and paints for Nora…..and a box of mason jars and acrylics and ribbon for me! And we both got to work. Nora painted about eight pictures and loved every minute of it. And I painted these three mason jars!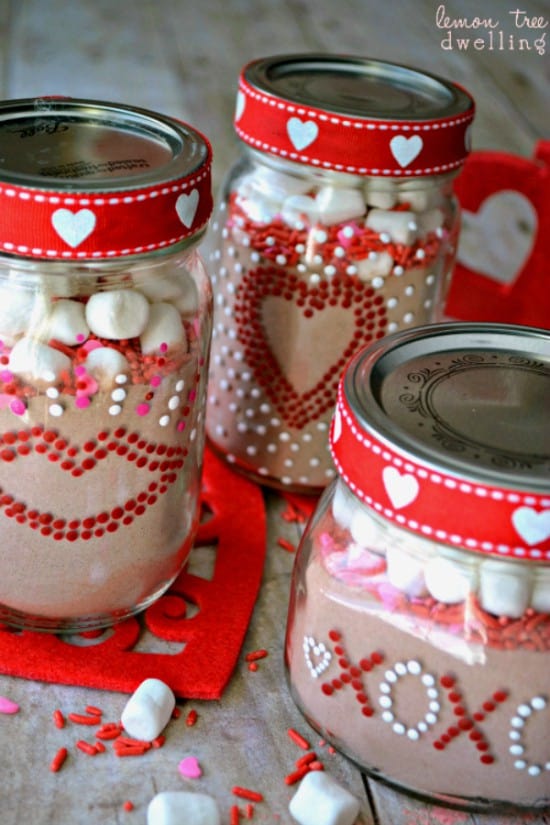 I used the end of a paintbrush for the dots and free-handed some simple Valentine's Day designs. Then I filled each jar with hot cocoa, marshmallows, and sprinkles, glued some pretty ribbon around the top rim, and….voila! Fun, easy, delicious Valentine's Day gifts! And a fun afternoon with Nora.
Materials Needed:
Mason jars or any glass jars with lids
Acrylic paints
Small paintbrushes
Ribbon
Hot glue gun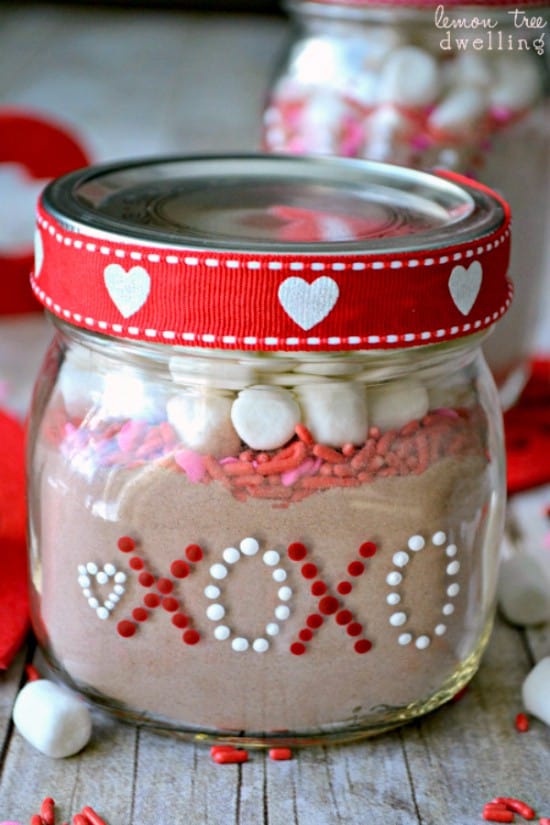 Enjoy!
Don't forget to follow us on Facebook!