This Thanksgiving Table Setting is sure to brighten your holiday table. Quick and easy to make and beautiful to show off this holiday season!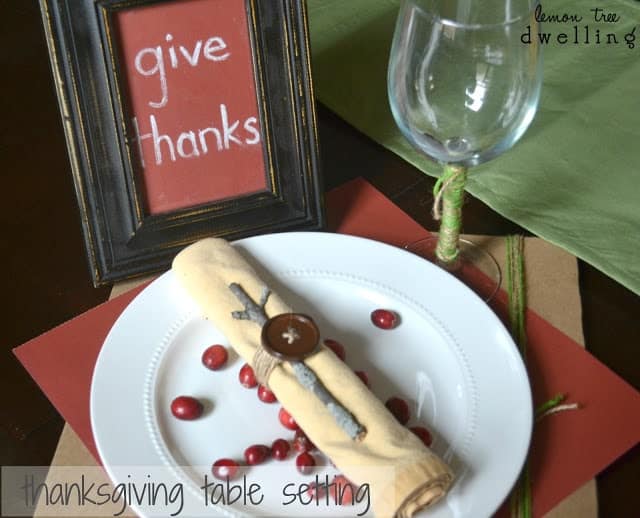 I have this image of Thanksgiving as everyone gathering what they have and bringing it to the table to share. The fruits of the harvest, brought together to build community, to nourish the body and soul. And, of course, we all know that when people come together and share what they have, there is always enough. It is a beautiful reality.
My Thanksgiving Table Setting
I wanted to extend this imagery to our table, the literal "gathering place" of the season. And so I opened up my cupboards…and I gathered. I gathered plates and wine glasses, yarn and paper. I made these simple napkin rings, inspired by the beauty of nature, and then used the twine throughout the various elements.
I wrapped it with yarn around the stems of wine glasses. I love the idea of using different colors of yarn in place of wine charms…
Then I wrapped the same yarn and twine around the edge of the placemats, which are actually just cardboard mailing envelopes! The color of the placemats can either coordinate or contrast with the color of the wineglasses:
I used 12×12 scrapbook paper to add another dimension to the placemats:
And used my favorite…cranberries…as the finishing touch.
I love that this setting was created using things I already had. Because, as Thanksgiving reminds us, what we already have is PLENTY.
There is much to be grateful for.
Happy Thanksgiving!
Be sure to check out my other holiday decor ideas, Thankfulness Turkey Wreath and my Framed Keepsake Art
Be sure to check us out on Pinterest!