Mmmmmmmmm…… what is it about Fall that is so delicious?? After a summer of corn on the cob and fresh fruit, grilled chicken and giant green salads, there is something wonderful about switching gears to Fall…to foods that are warmer, heartier, and oh so much more satisfying.
There is a lot about Fall that is wonderful…the crispness of the air, the welcome warmth of the sun, the crunch of dried leaves on the ground, the smell of bonfires, the way it sometimes looks like it's snowing leaves on a windy day. Fall days feel like a reminder to live in the moment and enjoy it while it lasts…because, of course, we all know it won't last long.
This weekend finally felt like Fall. Though the leaves have been falling for weeks, Summer still had a hold on us. But when I stepped outside Saturday morning, it was clear that a new season was upon us.
And so we decided it was time to do some important Fall things! We spent time raking….
We crunched through the leaves….
We took in the beauty of the season…
And… we baked some yummy pumpkin treats!!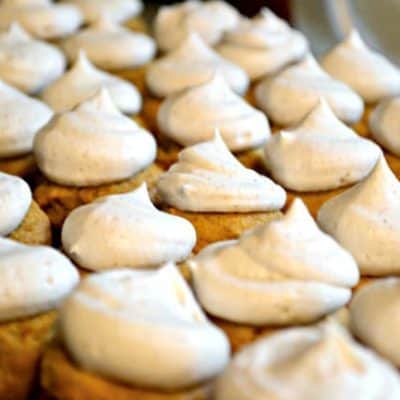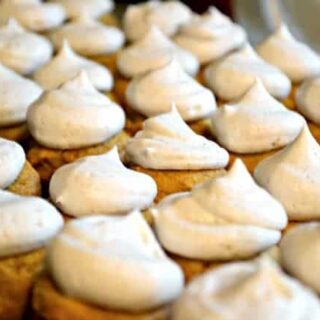 Sweet Taste of Fall: Spiced Pumpkin Cookie Cups
Yield: 48

Prep Time: 10 minutes

Cook Time: 20 minutes

Total Time: 30 minutes
Ingredients
Cookie Cups
1/2 cup butter, softened
1 cup packed brown sugar
1/2 cup granulated sugar
1 1/2 cups canned pumpkin
1 egg
1 tsp vanilla
2 1/4 cups all-purpose flour
1 1/4 tsp ground cinnamon
1 tsp baking powder
1/2 tsp baking soda
1/2 tsp salt
1/2 tsp ground nutmeg
Cinnamon-Ginger Cream Cheese Frosting
1/2 cup 1 stick butter, at room temperature
6 ounces cream cheese, at room temperature
1 tsp vanilla extract
3 cups powdered sugar
1/2 tsp cinnamon
1/2 tsp ground ginger
Instructions
Preheat oven to 350.
Beat butter and sugars in large bowl until creamy.
Beat in pumpkin, egg and vanilla until light and fluffy.
Mix in flour, cinnamon, baking powder, baking soda, salt and nutmeg until blended.
Lightly grease mini muffin tins and fill 3/4 full.
Bake 17-20 minutes or until set.
Cool 5 minutes in muffin tins and remove to wire racks. Cool completely.
In a large bowl, using an electric mixer on low speed, beat the butter, cream cheese, and vanilla until smooth and thoroughly blended, about 1 minute.
Add the powdered sugar, mixing until smooth, about 1 minute, then add the cinnamon and ginger and beat on medium speed for 1-2 minutes to lighten the frosting further.
Nutrition Information:
Yield: 48 Serving Size: 1 grams
Amount Per Serving: Calories: 122Total Fat: 5gSaturated Fat: 3gTrans Fat: 0gUnsaturated Fat: 2gCholesterol: 18mgSodium: 92mgCarbohydrates: 18gFiber: 0gSugar: 13gProtein: 1g

The result is a perfectly tasty, perfectly poppable treat somewhere between a muffin and a cookie. Once you add the frosting, though…. all bets are off. My advice? Take Fall as your cue: Live in the moment and enjoy it while it lasts 🙂