Skinny Key Lime Pie with Coconut Whipped Cream – lightened up with Truvia® and perfect for summer!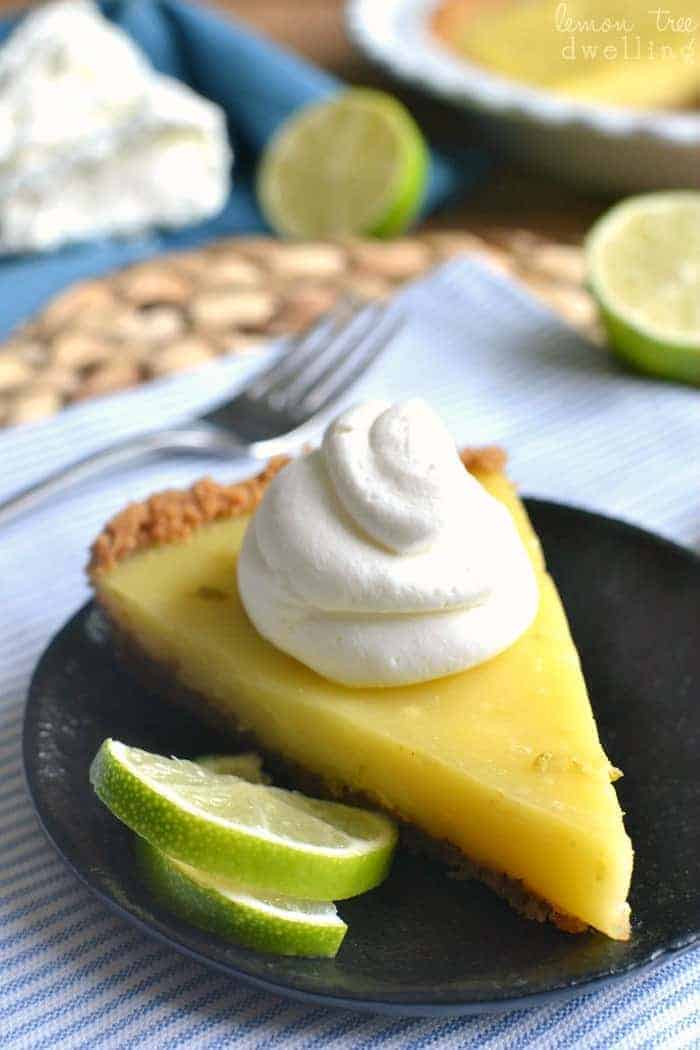 Well, here we are. Father's Day weekend! Are you ready??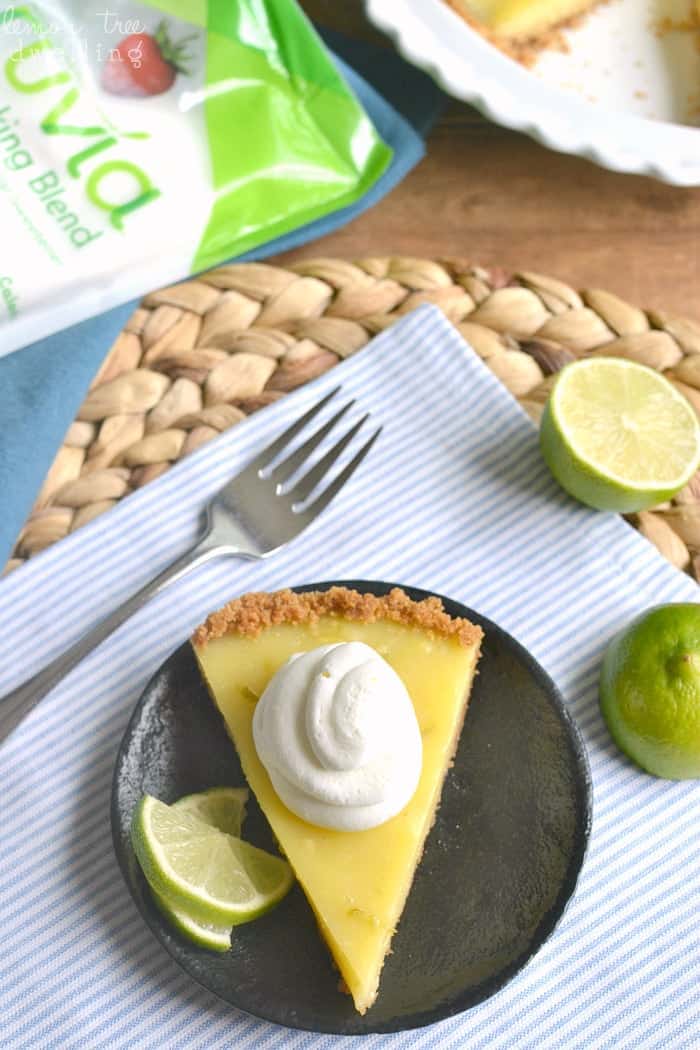 I'm happy to report that I'm all set. With a present, a plan, and a semi-clean house…..which always makes a difference in my enjoyment of the weekend. I'm feeling pretty proud of myself.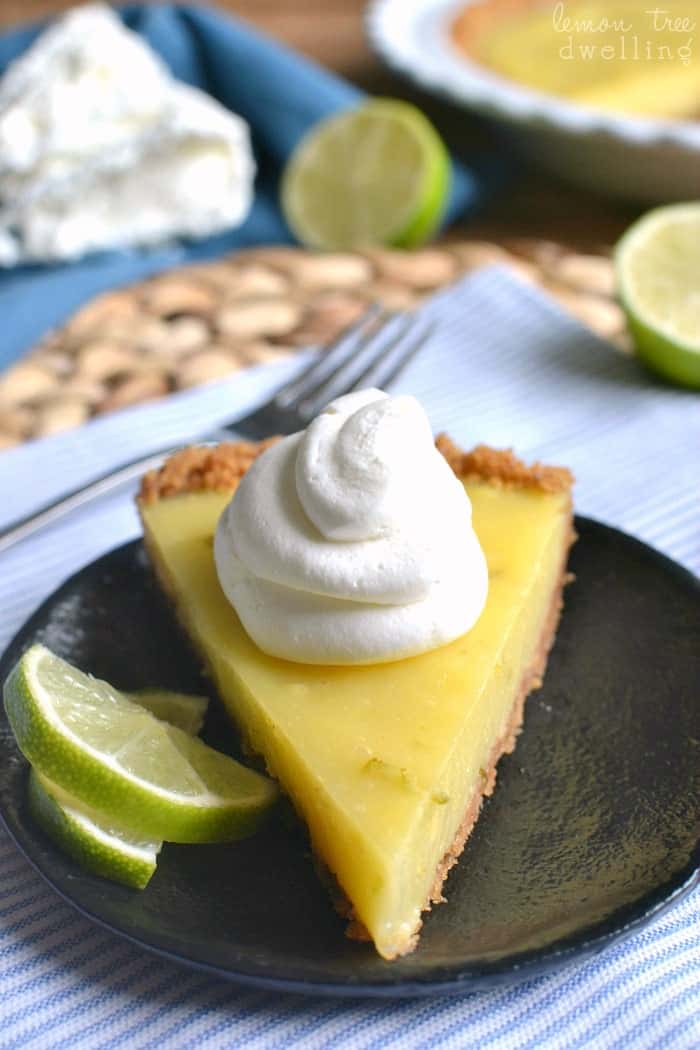 Not to mention the fact that I know exactly what I'll be making for dessert….! I went back and forth on the perfect Father's Day treat. To be honest, Jorden is not the biggest sweets guy. But key lime pie? That's a different story.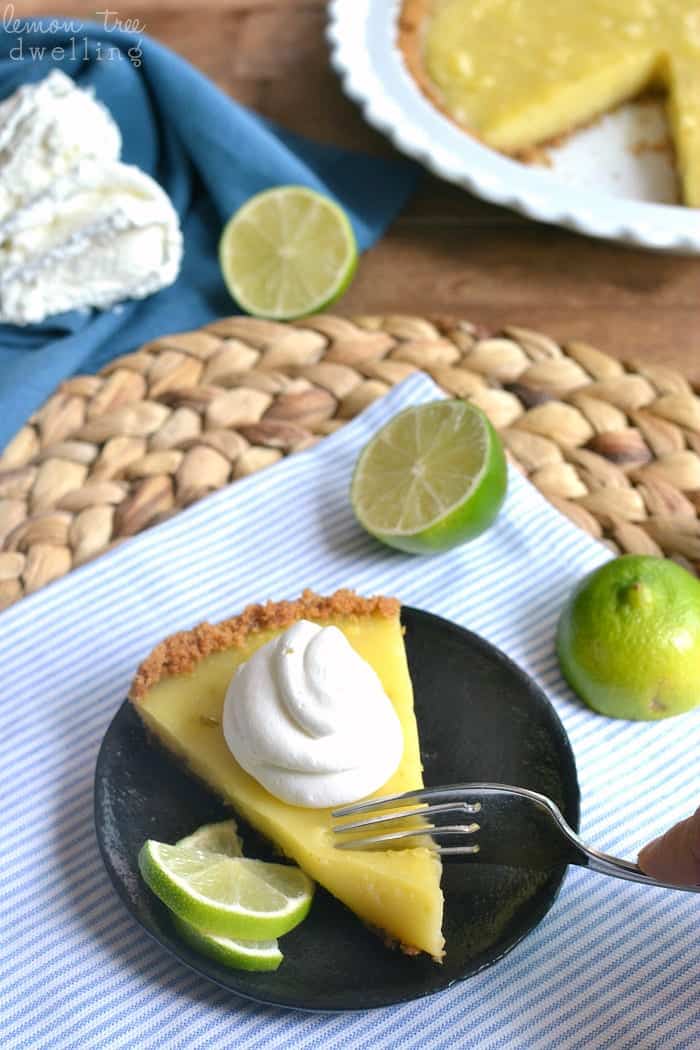 Because, to us, key lime pie is more than just a dessert. It's what we ate on our honeymoon. And when I say ate, I mean ATE. We ate so much key lime pie, we were almost sick of it by the time we left Florida. Almost. And ever since then, it has felt like such a special treat! One that brings us back to a different time in our lives.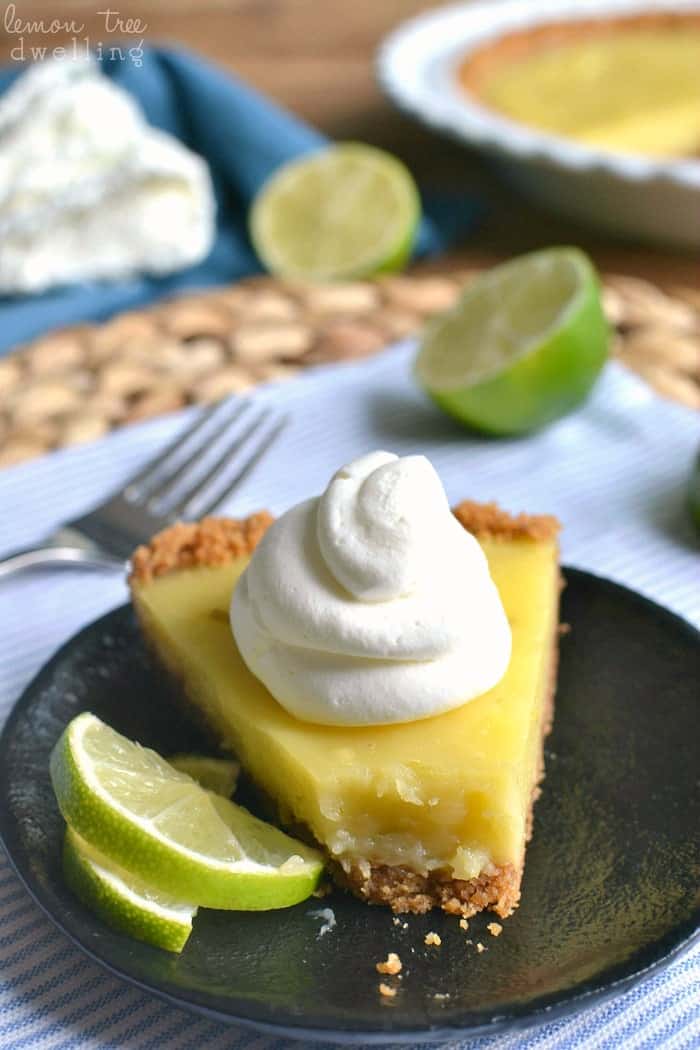 So I guess it's kinda funny that I plan to make it for Jorden for Father's Day….seeing as how all the memories surrounding it are pre-fatherhood! But that's okay, because we all know that even on Father's Day, there will be at least a moment or two when all he wants is to be transported back to that time before kids. And this pie will do that.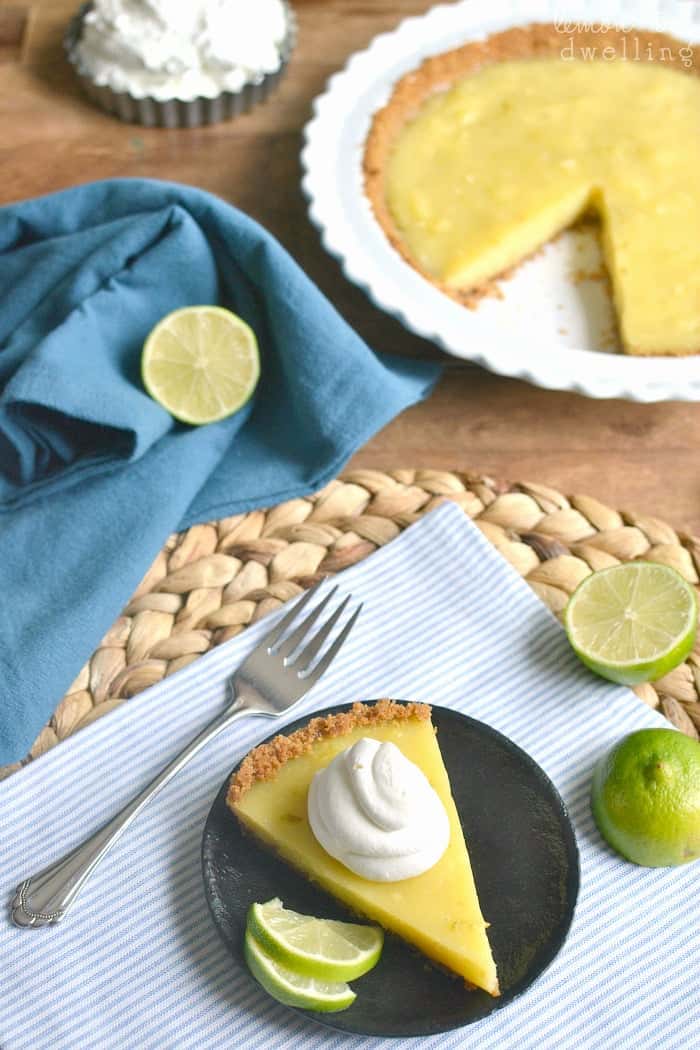 Another thing this pie will do? Make you feel totally fine about eating it! Because it's lightened up from top to bottom with Truvia® Baking Blend! From the graham cracker crust to the pie, itself, to the coconut whipped cream on top…..it's all made with Truvia®! Which means it has 75 percent less sugar than it otherwise would. And ALL the delicious flavor.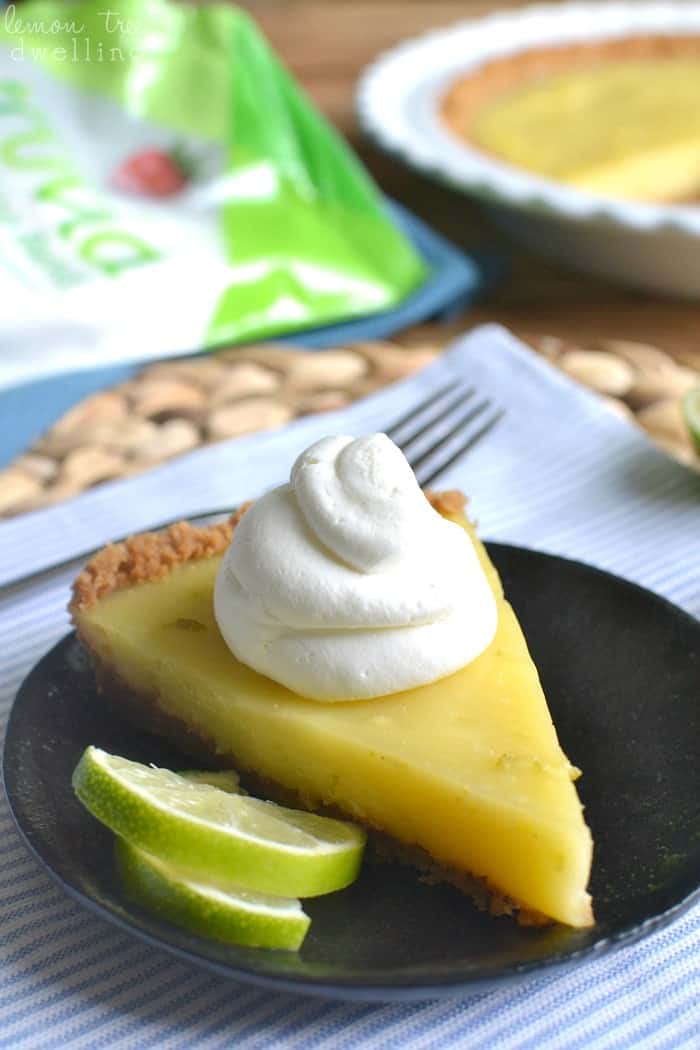 I hope you have a fabulous Father's Day weekend…..filled with pie!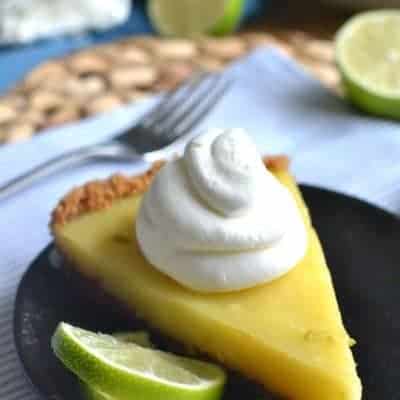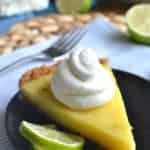 Skinny Key Lime Pie
Ingredients
For the crust:

1 1/2

c.

graham cracker crumbs

1/2

c.

butter

melted

1 1/2

Tbsp.

Truvia Baking Blend

For the filling:

3

egg yolks

3/4

c.

Truvia Baking Blend

3

Tbsp.

flour

3

Tbsp.

cornstarch

2

Tbsp.

butter

2

tsp.

finely grated lime peel

1/3

c.

key lime juice

For the whipped cream:

1

c.

heavy whipping cream

1

Tbsp.

Truvia Baking Blend

1/2

tsp.

coconut extract
Instructions
Prepare crust by combining graham cracker crumbs, melted butter, and Truvia Baking Blend until well-blended. Press into greased 9-inch pie pan.

Bake at 350 degrees for 10 minutes. Set aside.

In a medium saucepan, combine 3/4 c. Truvia Baking Blend, flour, cornstarch and a dash of salt.

Gradually stir in 1 1/2 c. water.

Cook, stirring constantly, over medium-high heat until thickened and bubbly.

Reduce heat; cook and stir 2 minutes more.

Remove from heat.

In a small bowl, beat egg yolks slightly.

Gradually stir 1 c. of hot filling into egg yolks.

Pour egg yolk mixture back into saucepan with remaining filling.

Bring to a gentle boil; cook and stir 2 minutes more.

Remove from heat.

Stir in butter and lime peel, then stir in key lime juice.

Pour warm filling into baked crust.

Bake at 350 degrees for 15 minutes.

Cool on wire rack 1 hour, then chill at least 3 hours before serving.

*Adapted from Better Homes & Gardens' Lemon Meringue Pie recipe

For whipped cream:

Combine heavy whipping cream, 1 Tbsp. Truvia, and coconut extract in a large chilled mixing bowl.

Using chilled beaters, beat at medium speed until stiff peaks form.

Spoon whipped cream into a Ziploc bag, snip corner, and pipe onto pie slices.