These simple slipknot napkin rings are made from a single piece of rope and add the perfect nautical touch to your summer napkins! Use them for your Memorial Day or 4th of July party and bring a touch of the sea to your table!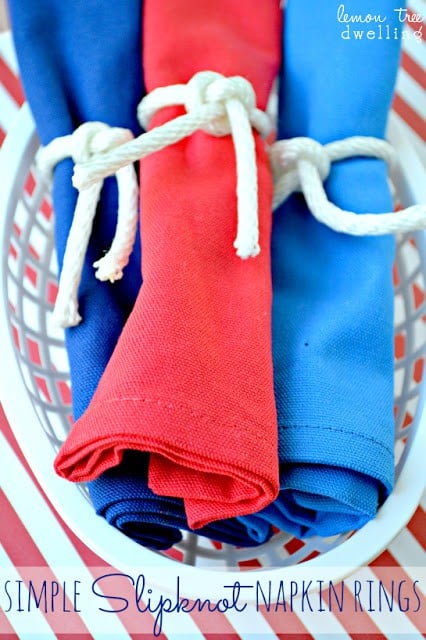 Truth be told, I'm probably just about the least nautical person I know. I've been on a boat maybe a dozen times in my life, and let's just say not all of those experiences have left me wanting more! I am thinking, in particular, of the time 3 or 4 summers ago when I took the ferry from Wisconsin to Michigan for a trip with Jorden's family. We had two kids at the time and I was looking forward to a fun boat ride with them….
…but as the trip got underway, it quickly became clear that the ride would be anything BUT fun! The movement of the boat made me feel seriously ill….to the point where I was laying down and hoping to fall asleep just to escape it! To the point where I was completely unable to take care of my kids. To the point where I made Jorden stop as soon as we got off the boat so that I could buy a pregnancy test….because I felt THAT sick. (I totally wasn't pregnant.)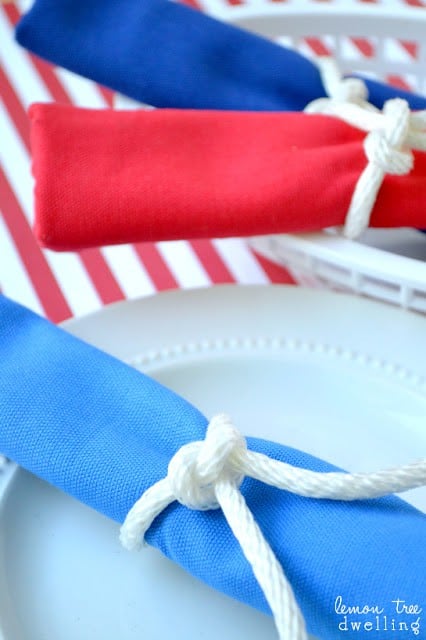 And thank goodness! Because – let's be serious – family vacations are ALWAYS a good time for an extra glass of wine….and by the time we got off the boat, I already needed one! I think it's safe to say I will probably never ride on a ferry again, and if I can avoid being on any boat for an extended length of time I will. But. For some reason I am really digging nautical-inspired decor this summer. Starting with my
Nautical-Inspired Bead & Twine Vases
…and now these!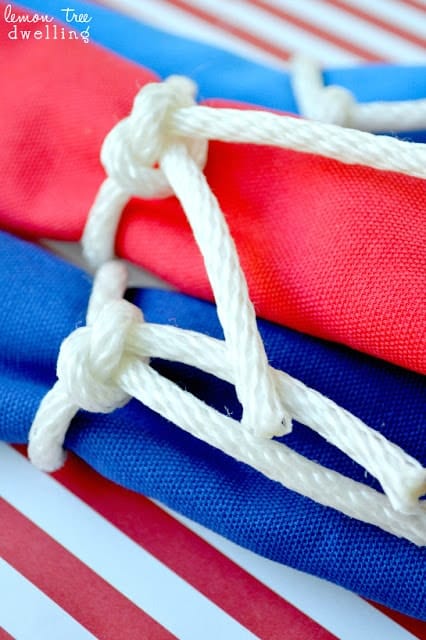 To make these rings I started with basic white nylon rope, cut into 12-inch pieces. I melted the ends of each piece by briefly holding a match near the ends to prevent fraying, and then tied a basic slipknot. I used
this tutorial on YouTube
to figure out how….and it took me all of 30 seconds to learn (it's that easy!) Here are my step-by-step photos:

And….voila! A simple slipknot napkin ring! What I love about these is that they're incredibly quick and easy to make – you can make a set in under 10 minutes – yet they make a great impact! They are definitely my new go-to summer napkin rings….because, nautical or not, I love me a great table setting! And let's face it – these nautical napkin rings are probably just about as close to the sea as I'll be getting….which is just fine with me!
*white nylon clothes line (12 inches each)