Shopping with the Target Cartwheel app makes it easy to save at your favorite store….without having to remember the coupons!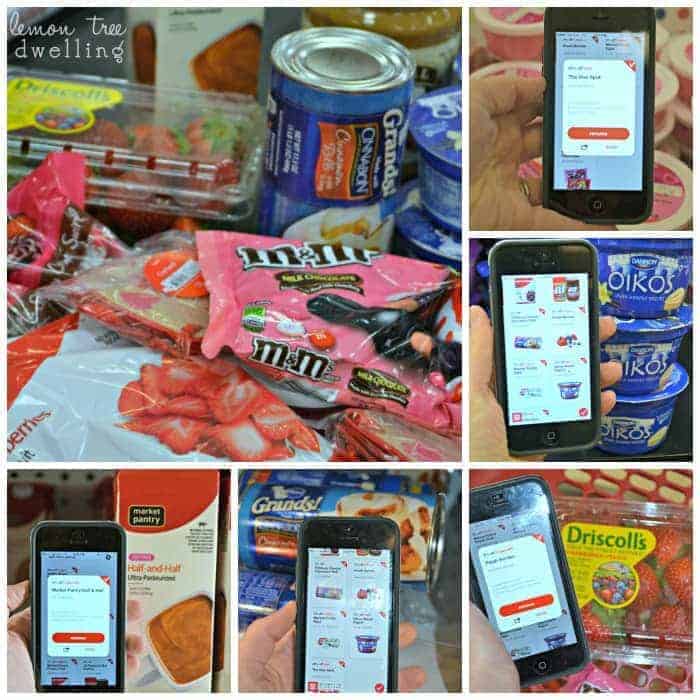 If you are anything like me…..then Target is your weakness!! And when you are on a post-holiday spending freeze, like we are, then even setting foot inside the doors is a dangerous venture. Not only will you find everything you went there looking for (like all the latest holiday candies for blog treats!) but you will also find approximately 27 other things that are too good a deal (or just too cute or delicious) to pass up! Trust me…..I know all about it! Oh, Target…..why must you do this to us!??
Now. I am not a crazy spender. In fact, I shop mostly clearance racks and groceries! But I still end up spending more than I need to! And while I'd love to say I do everything I can to save money, the truth is I don't. I love coupons in theory, but in practice, I find them annoying. And I especially love the idea of pairing coupons with weekly sale prices….but let's be serious! I am always shopping with at least one child in tow, and it's everything I can do to fill my cart, pay, and leave before losing my mind (and possibly my child!)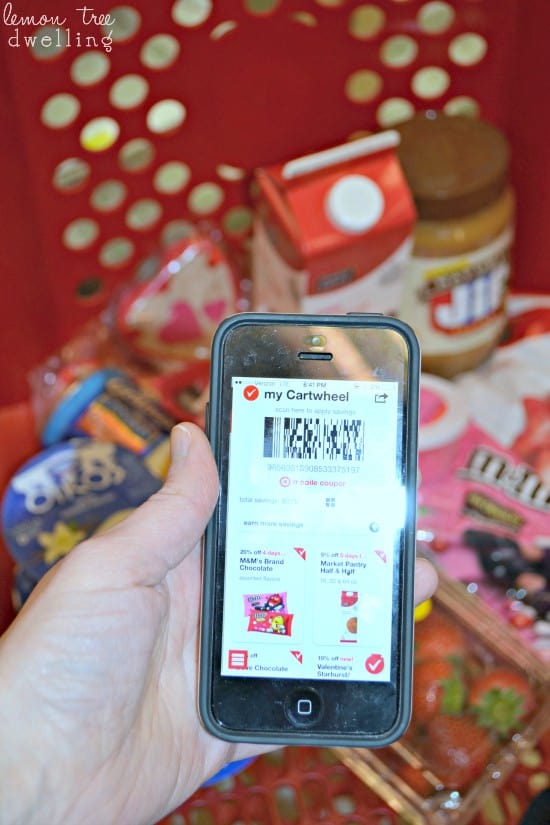 So when I was recently introduced to a new app called Target Cartwheel, I was definitely intrigued! A way of saving money on the go, with something I am sure to have with me (my phone!?) Sign me up! And…..I must say……it was as simple as that! I downloaded the app, I searched the available savings, I added them to my Cartwheel, I went to Target, and I saved! I saved more than 10%, in fact, PLUS the 5% I saved with my Target card…..and all without flipping through the Sunday ad or making a list or cutting out coupons or remembering to bring them with me (always the hardest part!)
It is actually a perfect system for someone who gets overwhelmed with these types of things (like me…..) and not just because I didn't have to remember the coupons.
Here's a run-down of what makes Target Cartwheel so perfect:
You start out with just 10 spots on your list. So even though there are more than 700 coupons available, you start out slow…..with just 10! In other words, you ease your way into it.
The more you use Cartwheel and get comfortable with it, the more coupon spots you get!
Cartwheel can only be used on in-store purchases…..meaning you won't be tempted to get crazy online!
Cartwheel can be used on your desktop, tablet, mobile web or iPhone and Droid apps.
You can scan any barcode in the store to see if that item has a Cartwheel offer on it! So you will never miss out on the savings!
You can log in through Facebook or Target.com….so you will never forget your log-in info
You can "stack" the discounts with sales, coupons, and your REDcard discount!
You can use the discounts in your Cartwheel multiple times….until the offer expires with the following exceptions: limit of 4 items per offer, per transaction; limit of 6 Cartwheel scans per day. (No handing over the coupon!)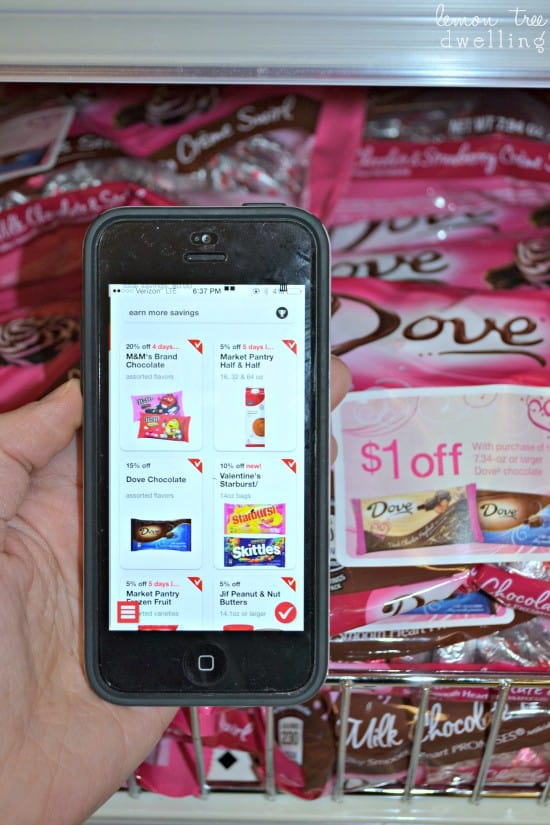 As you can see, I got a great deal on Dove Chocolates…..perfect for some Valentine's Day treats I'm working on! Not only did I save 15% with Cartwheel, but there was a $1 off coupon on each bag AND I saved an extra 5% with my REDcard! I had a similar experience with Jif peanut butter and a couple other sale items I happened to need….and because all the information is right on your phone screen, shopping and saving couldn't be easier!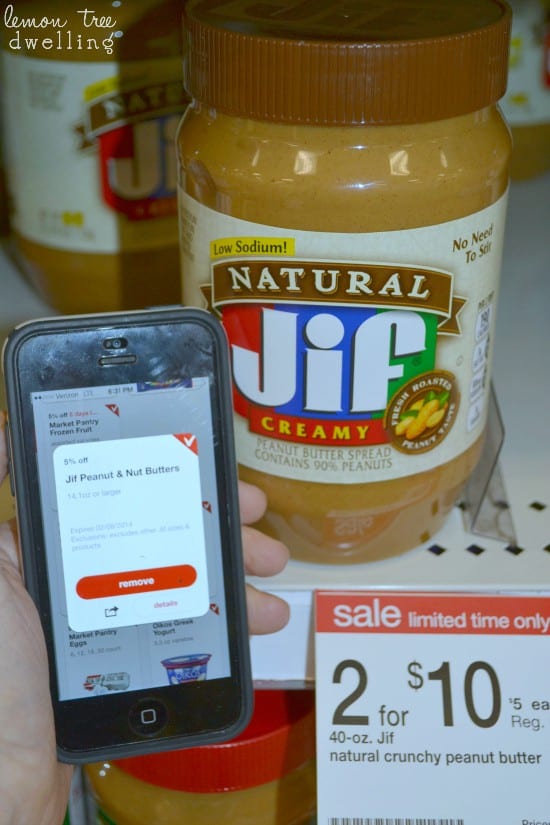 For this trip, I decided to stick mostly to the items in my Cartwheel. I'm sure that won't always be the case….but I wanted to get a clear sense of how much I would save by using it. So after I found all the things on my list, I headed up to the check out….where they rang me up, scanned the Cartwheel barcode on my phone, and that was it! The savings were applied automatically, and I ended up saving $2.97 on a bill that was originally $24.91. That's more than 10 percent! Which would add up (very) quickly with my multiple Target trips a week!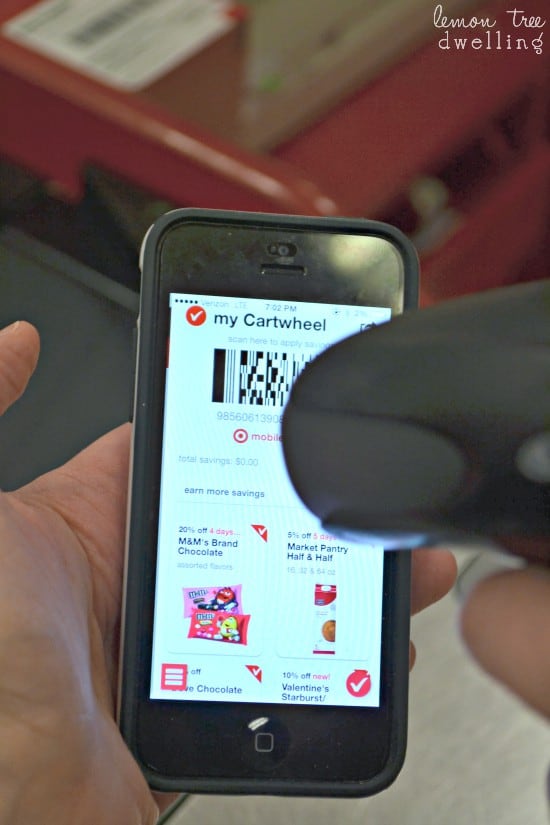 So….at the end of the day….was it worth it? The answer is ABSOLUTELY!! Not only do I plan to use Cartwheel for all my blogging needs, but also for the MANY other things I purchase at Target! The app is extremely user-friendly, the deals are plentiful, and there's no remembering ads or coupons or lists. It's perfect for a busy, hassled, and sometimes scatterbrained mom like me…..and my guess is it would be perfect for you, too!
*Please take a moment to answer the following question and automatically be entered into a random drawing for a $1,000 Target GiftCard®:
What is your favorite feature of the Target Cartwheel app?
Sweepstakes Rules:
No duplicate comments.
You may receive (2) total entries by selecting from the following entry methods:
Leave a comment in response to the sweepstakes prompt on this post
Tweet (public message) about this promotion; including exactly the following unique term in your tweet message: "#SweepstakesEntry"; and leave the URL to that tweet in a comment on this post
Blog about this promotion, including a disclosure that you are receiving a sweepstakes entry in exchange for writing the blog post, and leave the URL to that post in a comment on this post
For those with no Twitter or blog, read the official rules to learn about an alternate form of entry.
This giveaway is open to US Residents age 18 or older. Winners will be selected via random draw, and will be notified by e-mail. The notification email will come directly from BlogHer via the sweeps@blogher email address. You will have 72 hours to respond; otherwise a new winner will be selected.
The Official Rules are available here.
This sweepstakes runs from 1/30 – 2/28.
Be sure to visit the Target Cartwheel brand page on BlogHer.com where you can read other bloggers' posts!