Peanut Butter Chocolate Sandwich Cookies are the perfect pairing of two favorite flavors. Chewy chocolate cookies meet creamy peanut butter frosting in this deliciously dreamy sandwich cookies recipe!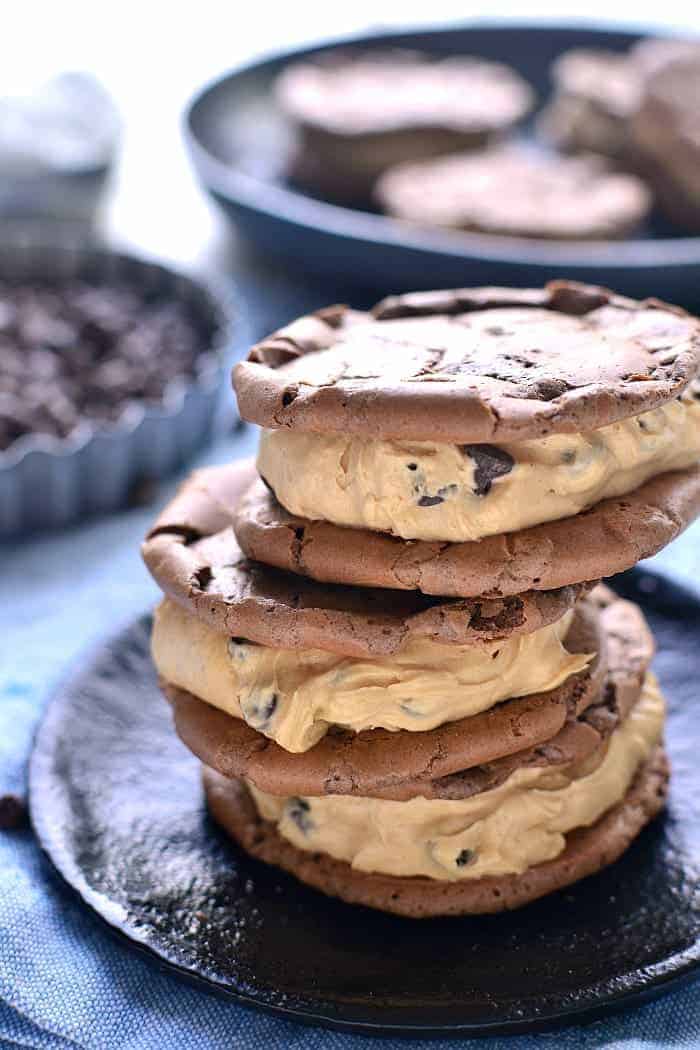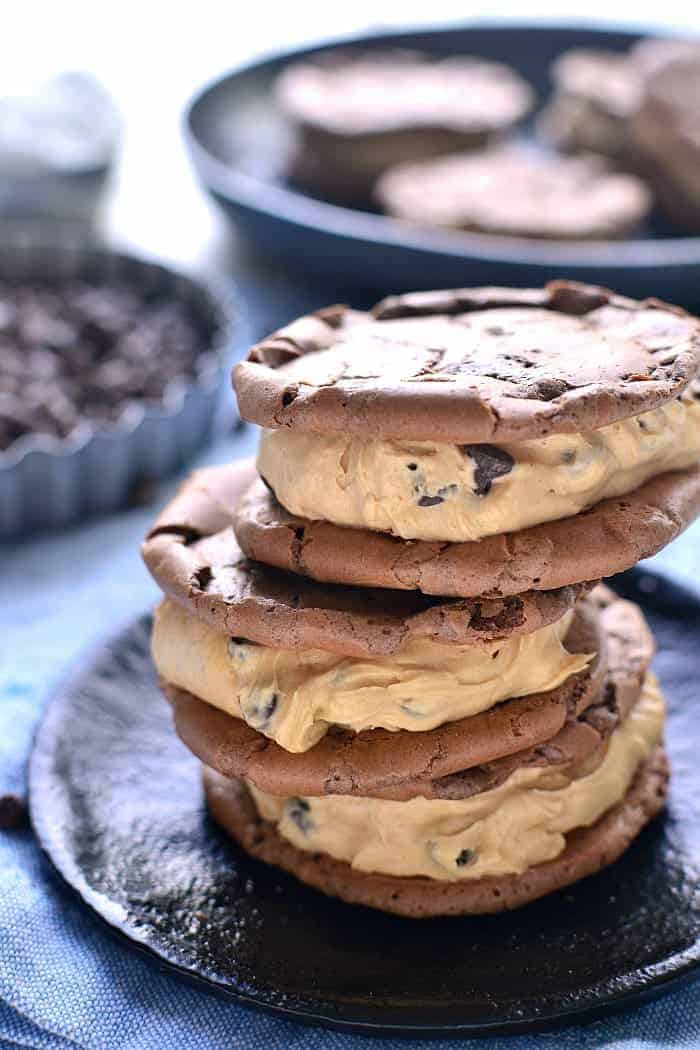 So did you know that my friend Tanya wrote a cookbook? Well, she did! It's called Sandwiched, and it's all about….you guessed it….sandwiches!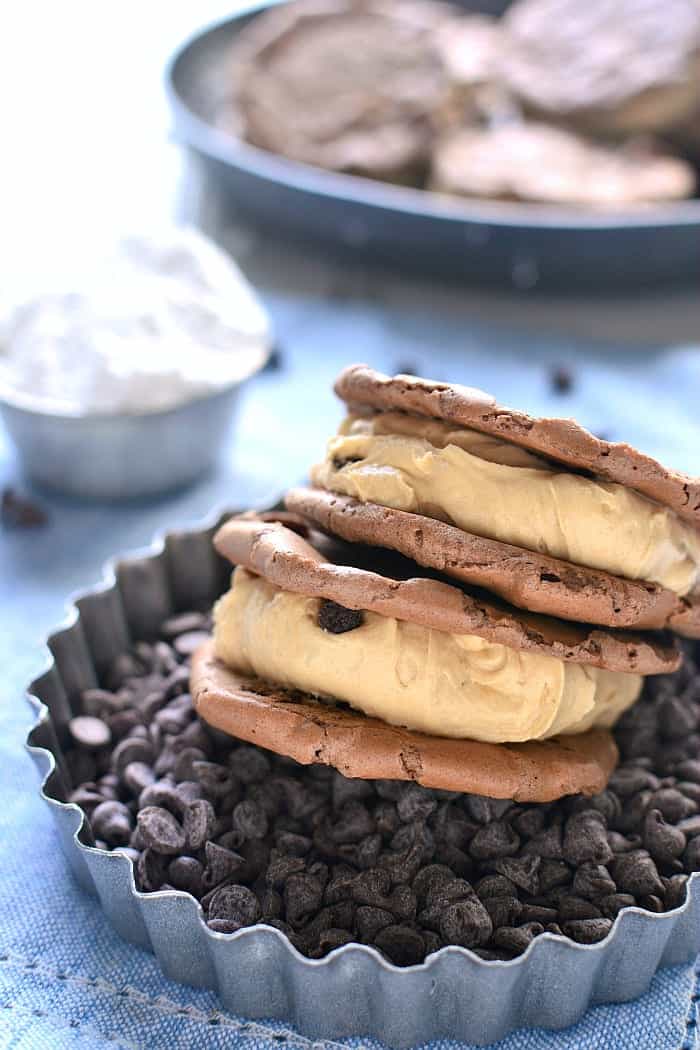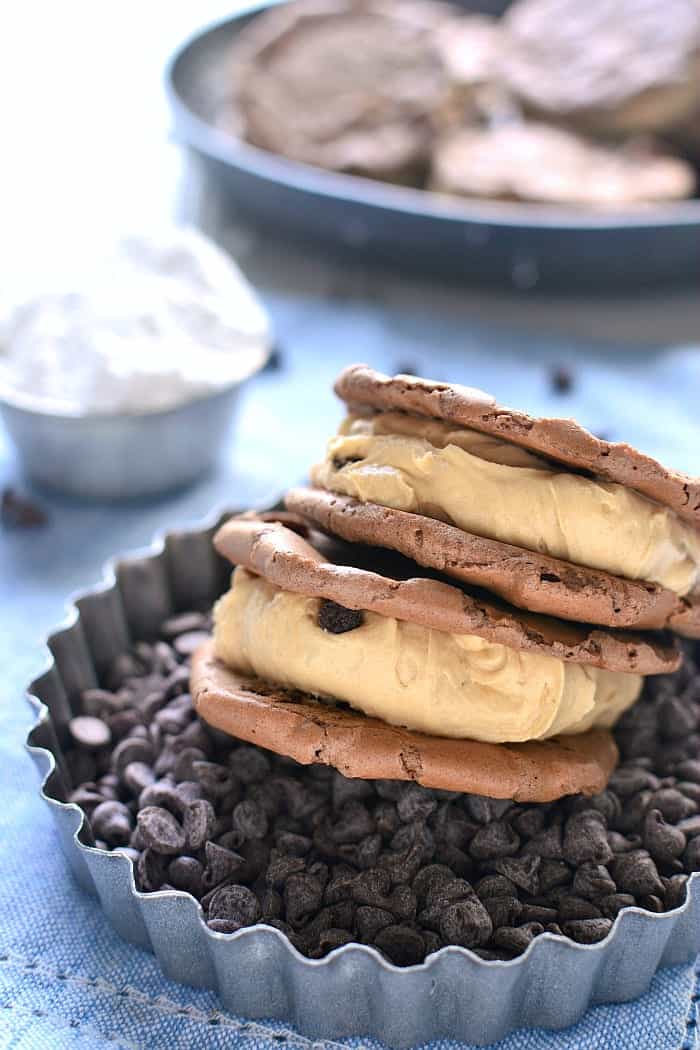 I don't know about you, but when I think of sandwiches, my view is typically pretty narrow. Bread, meat, cheese….maybe some fruit or veggies or Nutella if I'm getting really crazy…!? But, you guys, that's not what Sandwiched is all about. I mean, sure, it has a little bit of all of that. But Tanya is clearly much more creative than me! Ha!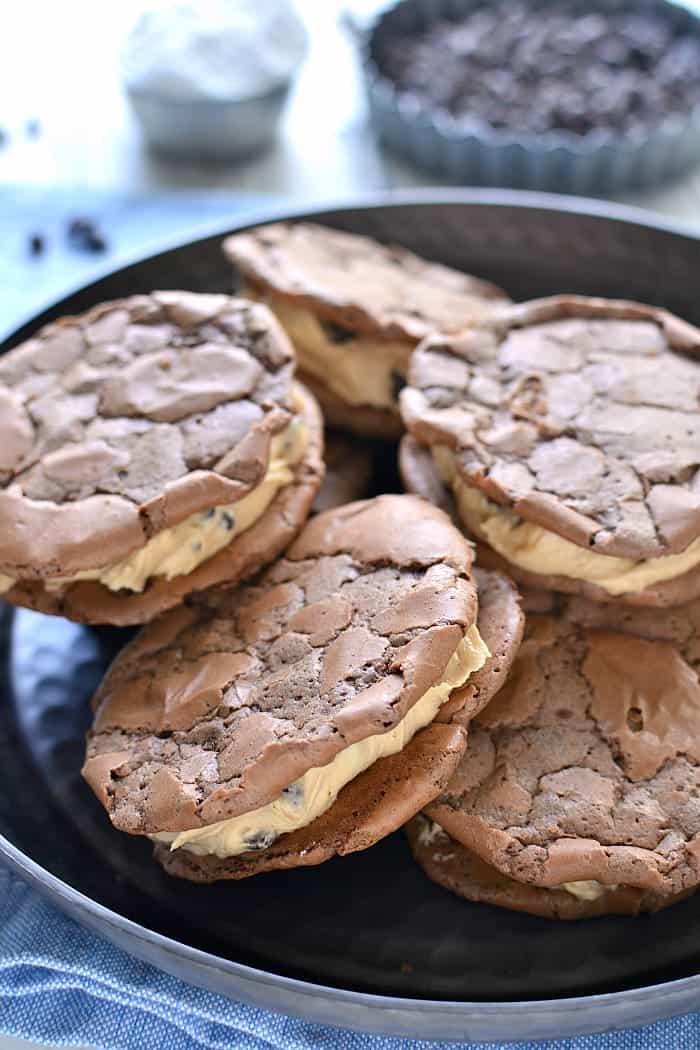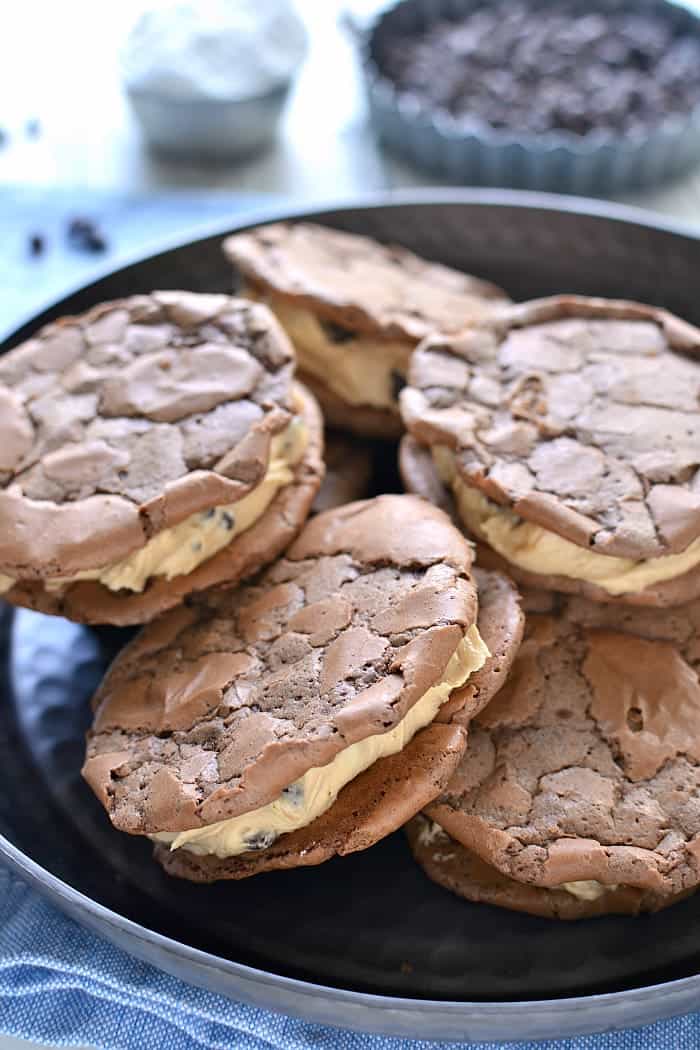 Because she thought of everything – from starter sammies to dessert sammies and everything in between. And let me just say, as I sat and paged through her cookbook, I wanted to make ALL of them. Cherry Barbecue Turkey Sandwiches? Greek Meatball Sliders? Bourbon Banana Waffle Sandwiches? Cuban Stromboli? Vegetarian Banh Mi? Yes, PLEASE! All of them! And that's barely even a dent in the damage I'll do to this book.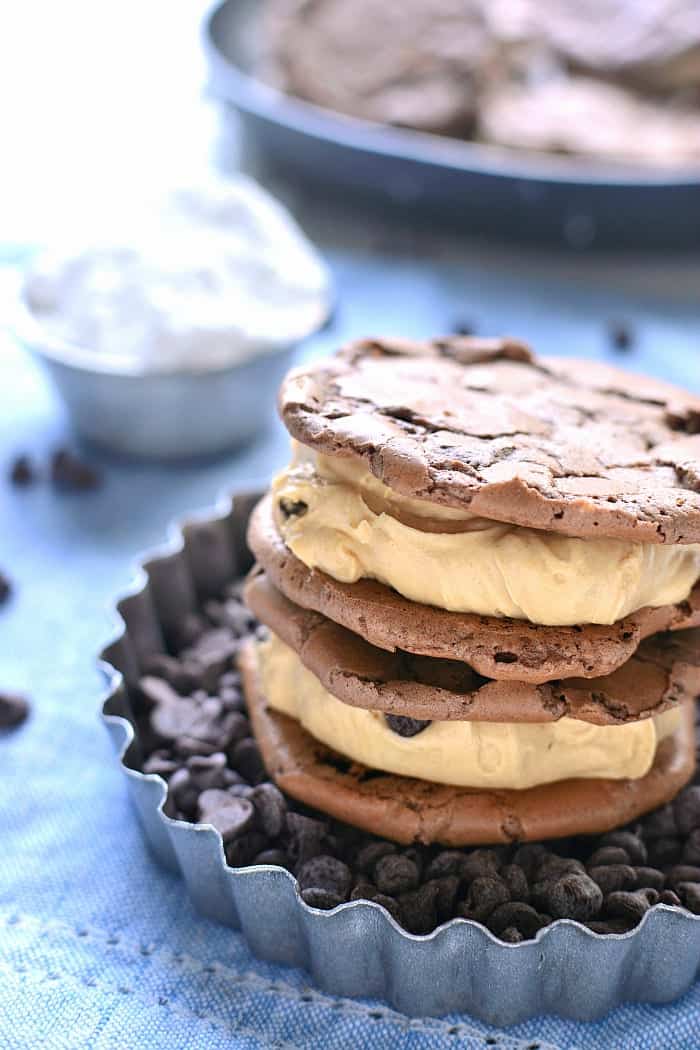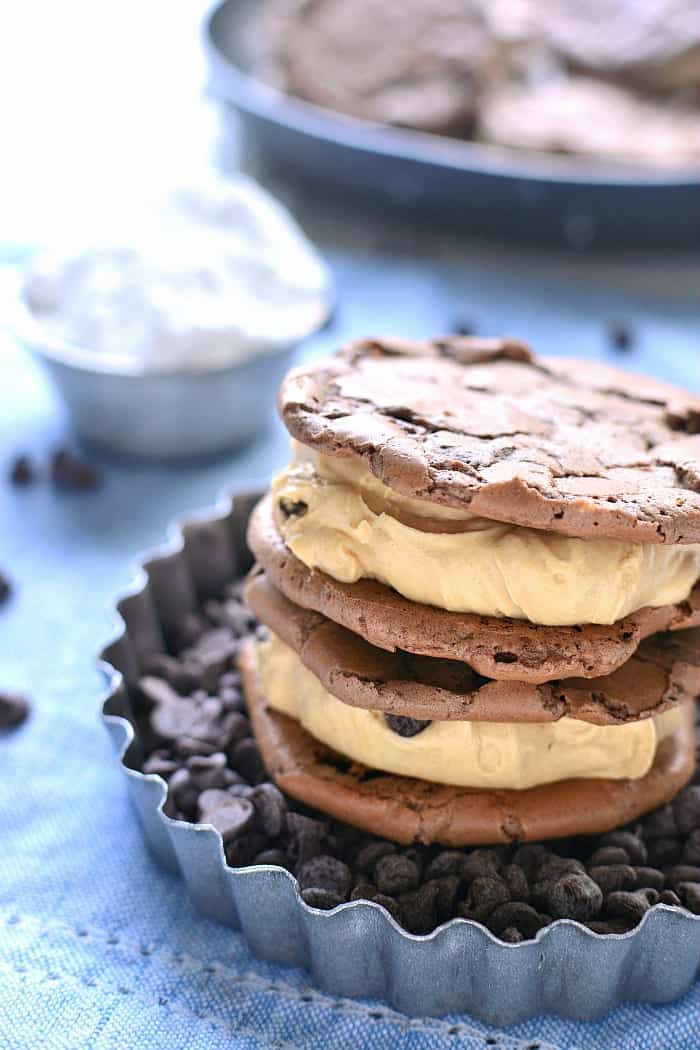 Of course, being someone with a prominent sweet tooth, I appreciate the fact that she has an entire chapter devoted to Sweet Sandwiches. Oh, Tanya. One of the many reasons I love you. As soon as I saw these Peanut Butter-Filled Chocolate Sandwich Cookies, I knew I had to make them….and as soon as I tasted them, I knew I had to share!
Peanut butter chocolate sandwich cookies are slightly reminiscent of brownies, and the peanut butter frosting is beyond words.
Together? They make one of the dreamiest cookies I've EVER eaten. And believe me, I've eaten my fair share. Full disclosure: Tanya's version turned out much prettier looking than mine. (I guess that's why she has the cookbook, right??) Luckily, nothing seemed to be lost in terms of taste. Thank goodness. Next up – Mocha Donut Sandwiches!
Are you wishing you lived closer? The good news (although clearly not as fun as you living closer) is that Sandwiched is available on Amazon….and just in time for Christmas! Be sure to grab your copy….and a few for friends and family while you're at it!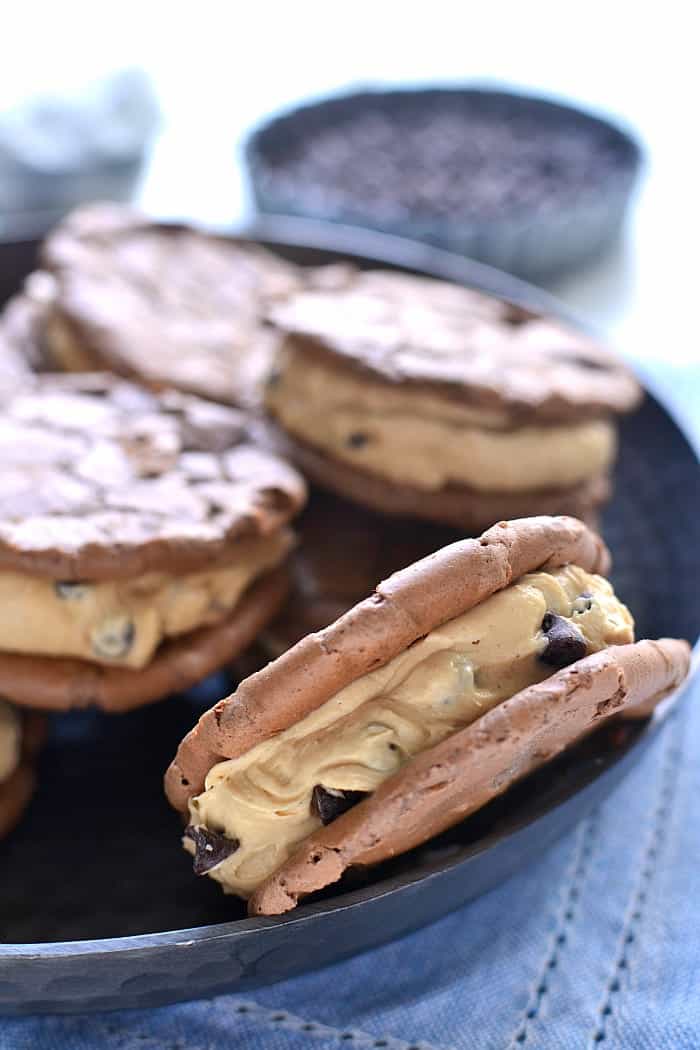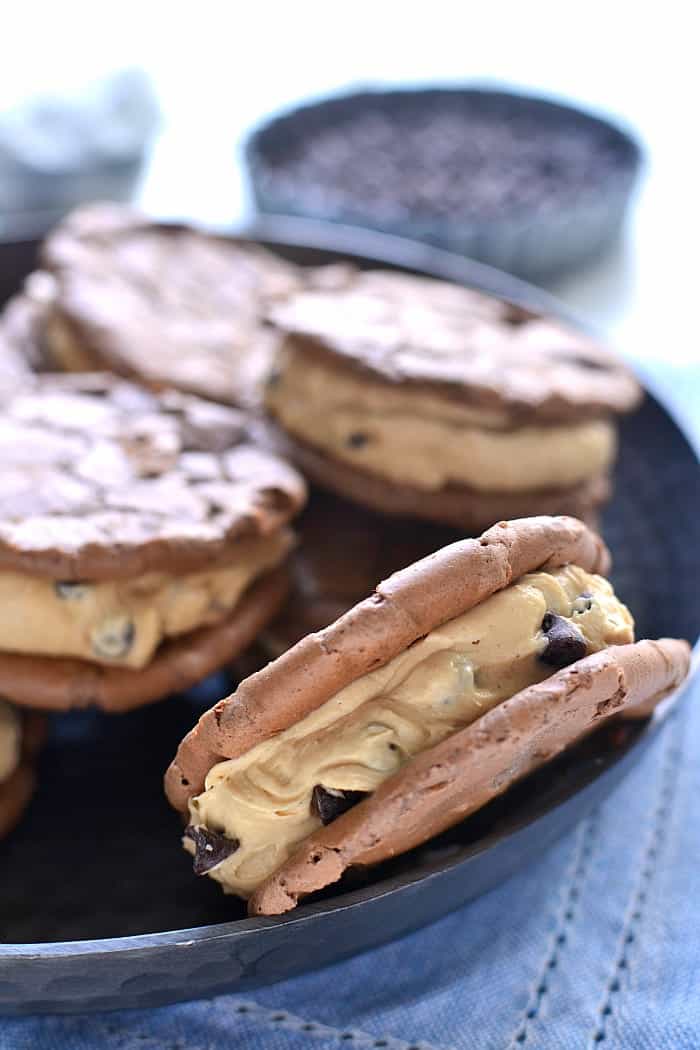 Congratulations, Tanya…..I can't wait to work my way through your book!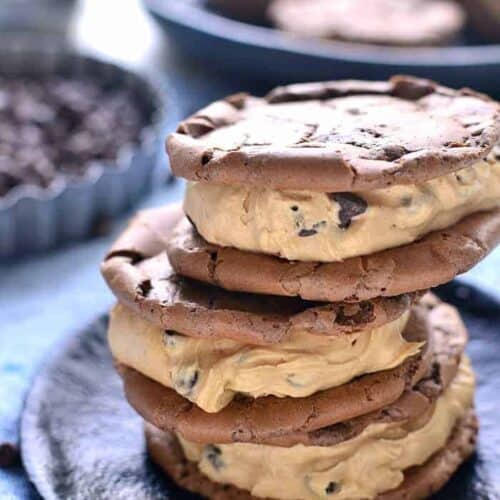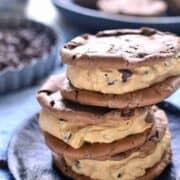 Peanut Butter-Filled Chocolate Sandwich Cookies
These Peanut Butter-Filled Chocolate Sandwich Cookies are the perfect pairing of two favorite flavors. Chewy chocolatey cookies meet creamy peanut butter frosting in these deliciously dreamy sandwich cookies!
Ingredients
4

oz.

semisweet chocolate

1

Tbsp.

butter

2

Tbsp.

flour

1/8

tsp.

baking powder

1/8

tsp.

salt

1

egg

1/3

c.

sugar

1/2

tsp.

vanilla

Frosting:

3

Tbsp.

softened butter

1/3

c.

creamy peanut butter

3/4

c.

powdered sugar

1

tsp.

vanilla

1 1/2

Tbsp.

cream

2

Tbsp.

mini chocolate chips
Instructions
In a small saucepan, combine chocolate and butter. Cook over low heat until both have melted.

Stir until smooth and set aside.

In a small bowl, combine flour, baking powder, and salt. Set aside.

In a mixing bowl, beat together the eggs, sugar, and vanilla until mixture begins to thicken.

Stir in cooled chocolate mixture, followed by flour mixture.

Beat until combined. Let batter stand 10 minutes in order to thicken up.

Preheat oven to 375 degrees.

Drop dough by tablespoon onto a lined baking sheet, keeping each cookie about 2 inches apart.

Bake for 8 minutes, or until edges are set and cookies are slightly cracked.

Let cool for 1 minute before removing to a cooling rack.

Prepare the frosting. In a mixer bowl, combine butter and peanut butter, beating until smooth.

Slowly mix in powdered sugar one cup at a time, mixing well after each addition.

Add in vanilla and cream and beat until frosting is spreadable consistency, adding more cream if necessary.

Stir in mini chocolate chips.

To assemble, pipe or spread a generous spoonful of frosting over the bottoms of 6 cookies.

Top each with remaining cookies.