Nautical-inspired twine wrapped vases….with a bright, fun twist!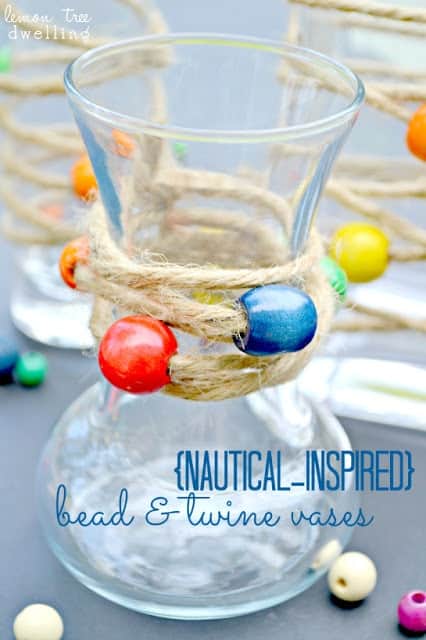 Growing up as the third girl in a family of four kids, I always felt the need to stand out. To be different. Not in a rebellious way, but because I wanted (needed) to be my own person. Which led to a lifetime of decisions like french horn instead of flute, cello instead of violin, babysitting instead of corn detassling. And, later in life, choosing to be friends with the "alternative" crowd….which was funny, because when it came to being different, I stood out like a sore thumb in that crowd! But, hey, at least I stood apart from my sisters…….!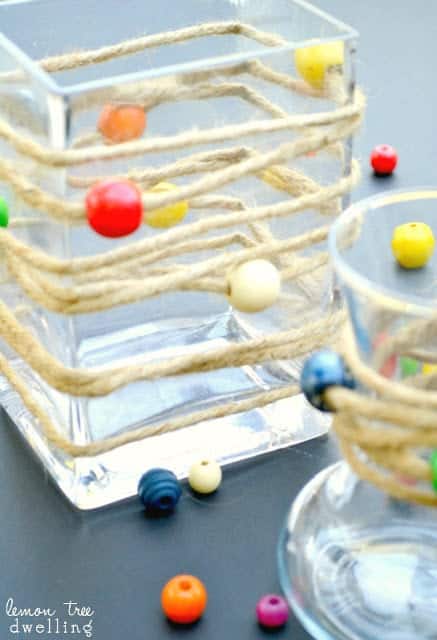 When it came to choosing a college, I nearly passed up a great scholarship just to avoid going to the same school as one of my sisters. And even though I'm the youngest of the girls, I have the oldest kids between us. Hmmmmm….how many decisions throughout my life were actually based on my desire to be different…..?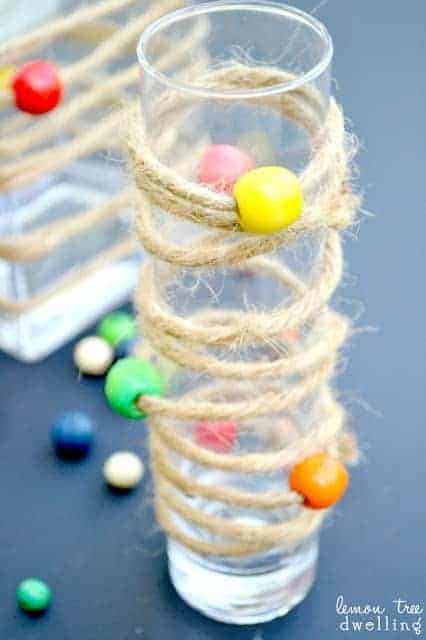 Case in point: these vases. I've had this roll of twine sitting around for a while now, and I love the look of twine-wrapped anything. But could I just make some lovely twine-wrapped vases? Nope. I had to go and add some beads and make them all funky and colorful. 
And you know what?? I love them!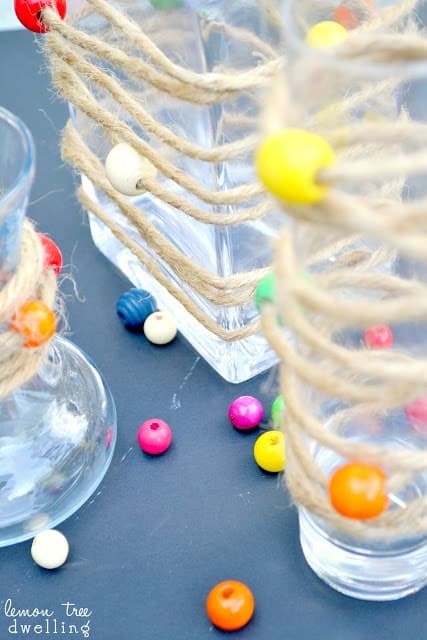 Because the truth is I don't really make my decisions JUST to be different…they just sometimes turn out that way. I make them because they're right….for me. Being different is just a bonus.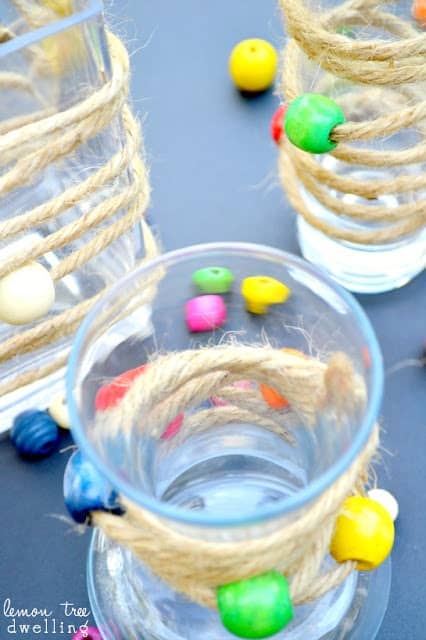 Here's what you need to complete this project:
clear glass vases – any size/shape
wooden beads
thick twine
1. Start with a long piece of twine – enough to wrap around the vase several times
2. String beads onto twine – I used 6-8 beads per vase, leaving large spaces between beads
3. Start at the bottom of the vase and leave a short tail. Wrap the twine up the vase and back down, tying a knot at the end to secure the twine.
Thanks for taking a peek inside my Lemon Tree Dwelling….
I hope you feel right at home!
-Cathy