Lucky mugs are the perfect DIY craft idea for St. Patrick's Day! These hand painted coffee mugs are a fun and inexpensive craft to give a little luck of the Irish to your favorite someone.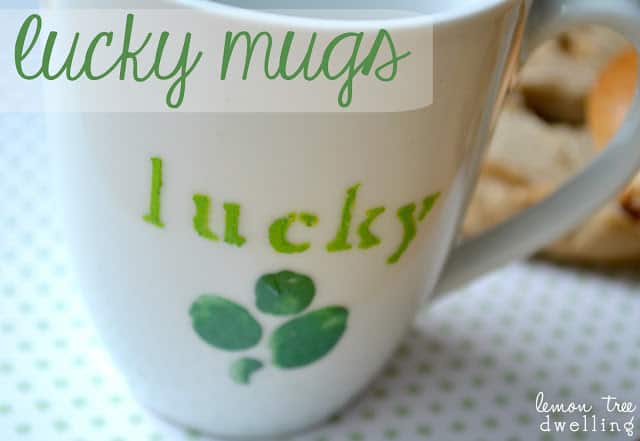 One of the things I love about St. Patrick's Day is that it's a holiday free from the expectation of gifts. And yet…since it's a holiday, and we love to give gifts on holidays, we decided to make these lucky mugs for a few "lucky" people in our lives!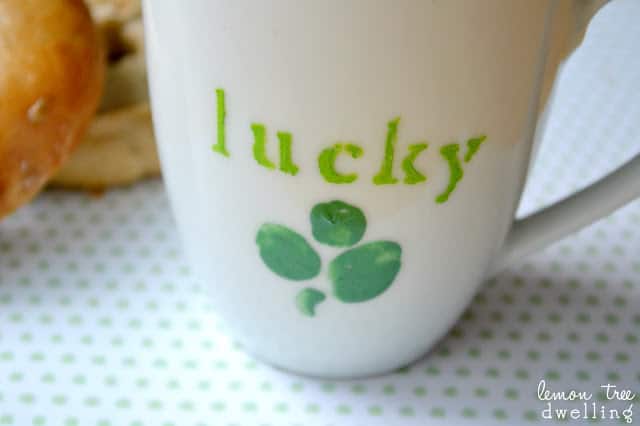 Lucky mugs! Actually, I tend to think that all mugs are lucky.
I can recall numerous times in my life when the ONLY thing that got me out of bed was the promise of a strong cup of coffee (or three!!) Like every time I've had a newborn…or anytime I've had a kid who was up sick in the middle of the night. Or how about the year we moved into a fixer-upper when I was 7 months pregnant!? Yep, at times like these, a warm mug in my hands makes me feel like the luckiest girl in the world. That and maybe a cupcake with Baileys Buttercream Frosting.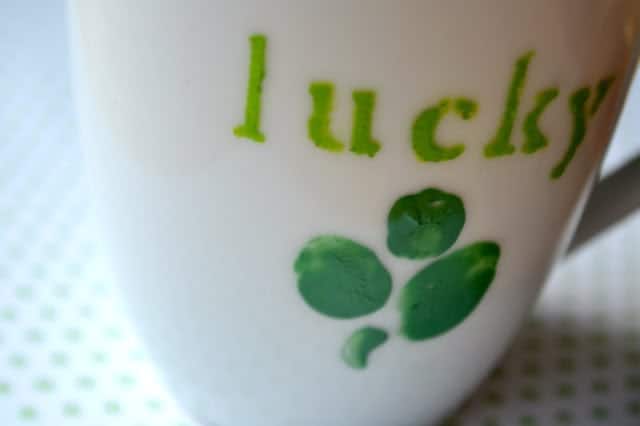 See, I think luck is about so much more than winning the lottery or making it big. I think luck is about all the small things that get us out of bed in the morning! Like our family, our friends, our work, our hobbies, our passions…. and, in a very literal sense (mine pull me out of bed every single morning), our kids!
Which is why I love the idea of these Lucky Mugs with fingerprint shamrocks – the perfect daily reminder of just how lucky we really are (an especially helpful reminder when you have just been woken up 5 times in one night…!)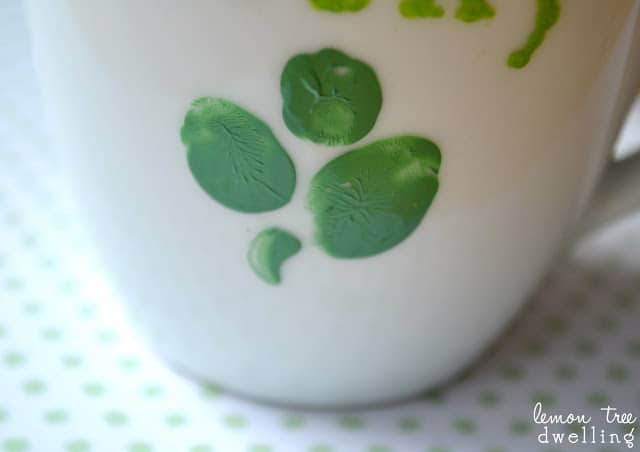 Materials Needed to Make a Lucky Mug
white mug (I found mine at Goodwill)
flexible alphabet stencils
small paintbrush
bakeable glass paint (dishwasher safe)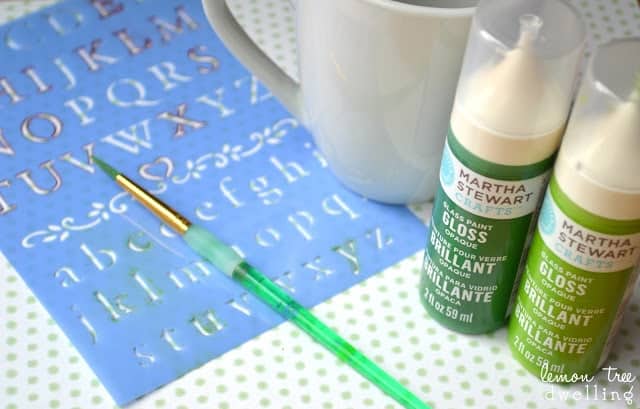 Directions:
1. Wash & dry mug, then wipe the area to be painted with alcohol. Let dry completely.
2. Use fingerprints to make the shamrock (each of my kids made one leaf) and use a paintbrush to make a stem.
3. Let the shamrock dry completely.
4. Using stencils and a small paintbrush, paint "lucky" or any word of your choice, one letter at a time. It works well to tape the edges of the stencil onto the mug to hold it in place.
5. Let the paint dry completely between letters.
6. Once all the paint has been applied and dried, use a toothpick to scrape away any imperfections.
7. Follow baking directions on paint bottle.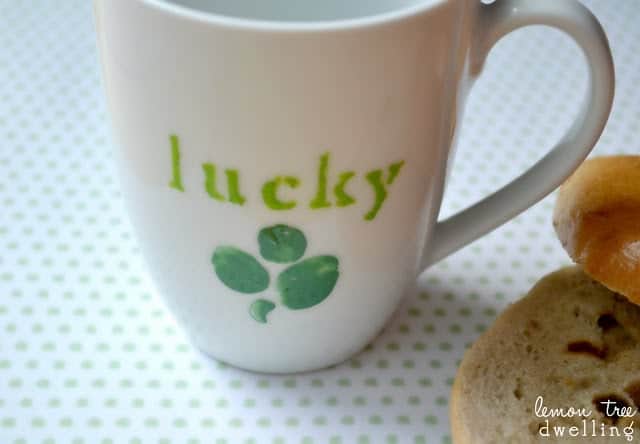 As you can see, our mug is still far from perfect. There is too much paint here, not enough paint there….. But I actually kind of like it that way. It's kind of like life – imperfect, but lucky nonetheless 🙂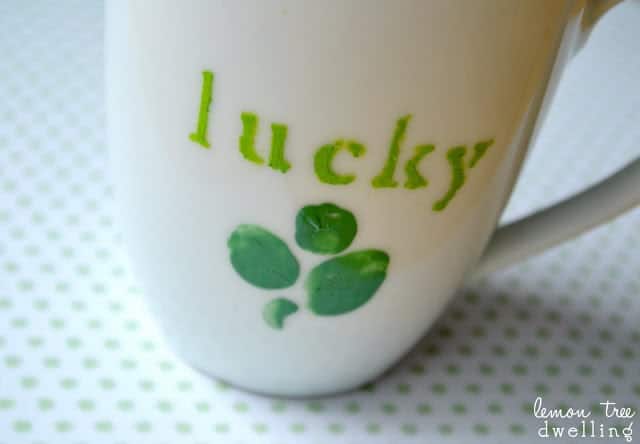 Looking for other kid-friendly gift ideas? Check out my XOXO Framed Art!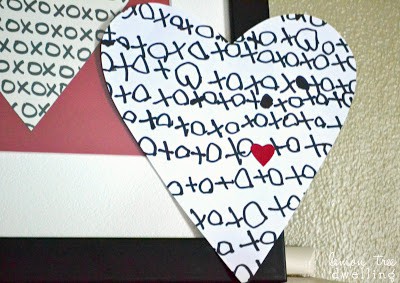 For more fun St. Patrick's Day DIY craft ideas, check out this post of 50 St. Patrick's Day crafts and recipes!