Love kindling is a homemade romantic Valentine's Day gift idea that is so easy to make. Keep the spark alive in your relationship with this easy DIY gift idea!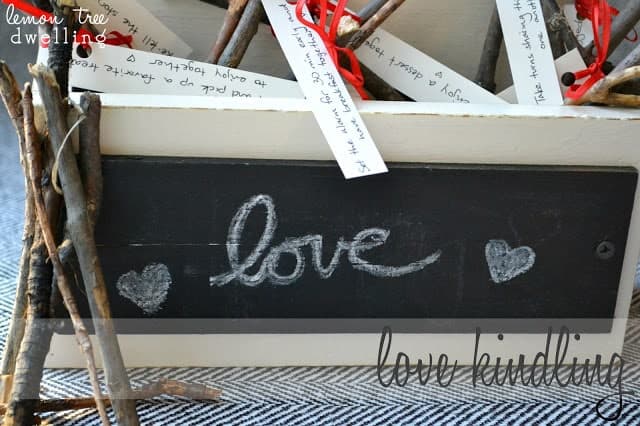 I have always believed in love at first sight. And not because I'm a hopeless romantic….but because for me, it has always worked. I met my now husband of 8 years at a cocktail party after our senior year of college, and I'm not exaggerating when I say that the moment I laid eyes on him, I knew. Want to hear the story? I thought so.
Love Kindling
It was Senior Week at Marquette University – the week between finals and graduation. It had been packed with fun things like a senior picnic, a baseball game…. (more that I can't remember….) But the final and most important event of the week was the senior ball. A friend of mine had invited a huge group of people to a pre-ball cocktail party at her parents' house, and I was excited to go and spend the evening with friends before graduation. If nothing else, it was a good excuse to get dressed up and let loose for a night (before starting summer school.  That's right – I wasn't actually done with classes….)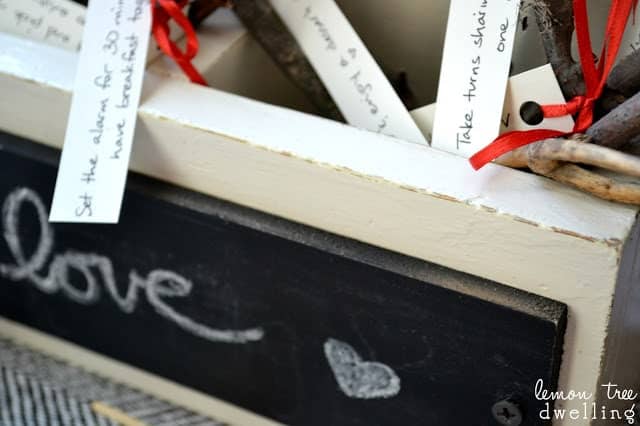 The party started at my friend's apartment on campus, and then we were all chauffeured (yellow school bus style) to her parents' house 45 minutes away. We had probably been there an hour or so when I spotted him across the patio. Yes, spotted him. And knew I HAD to talk to him. I know that sounds dramatic, but it was literally out of a movie where the music starts up and all else fades away. And I know it was like this because I couldn't forget the story even if I wanted to – the friends I was with have it forever engrained in their memory…and love to remind me how obnoxious absolutely smitten I was.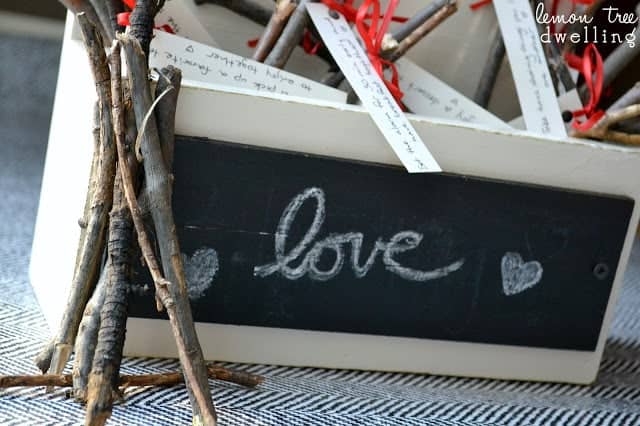 After a while of gawking, and a while of asking my friends, "Do you SEE him…???" I finally worked up the nerve to be introduced. And wouldn't you know it, I had nothing to say. Like, nothing. I'm pretty sure I asked him where he was from and then we got pulled into a group picture and that was it for the night. It wasn't until months later that we were set up by the same friend who had hosted the party, and the rest, as they say, is history!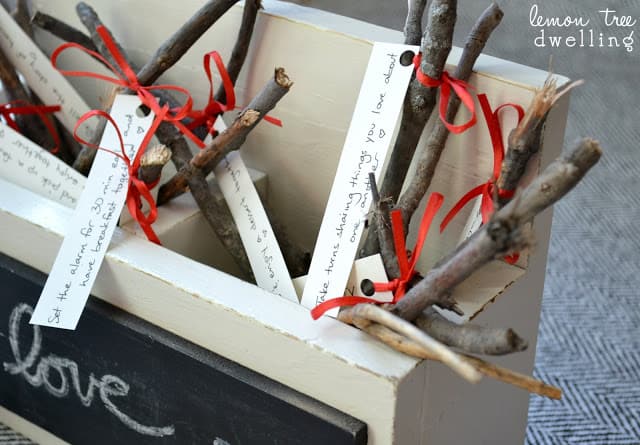 We hit it off immediately and knew within a short time that we couldn't imagine our lives without the other in it. We dated for a year, were engaged for a year, and have now been married for 8. We have 3 beautiful little girls and a beautiful life together. I couldn't feel luckier to have found such a sensitive, supportive, loving husband who believes in me fully and ALWAYS puts our family first.
So did I know, that night, that he'd be the person I'd spend the rest of my life with? No, of course not. But what I did know is that, for some reason, I was drawn to him. I was interested in our lives connecting. And I was open to the possibility of a relationship…of love…of forever.
Okay, so maybe I am a bit of a hopeless romantic. But I guess what I'm saying is that love is about more than just knowing someone and deciding that you love them. It's also about knowing that your heart is open to love and to all that love brings, and knowing that you're willing to put in the work that love requires.
So yeah, sometimes you just know 🙂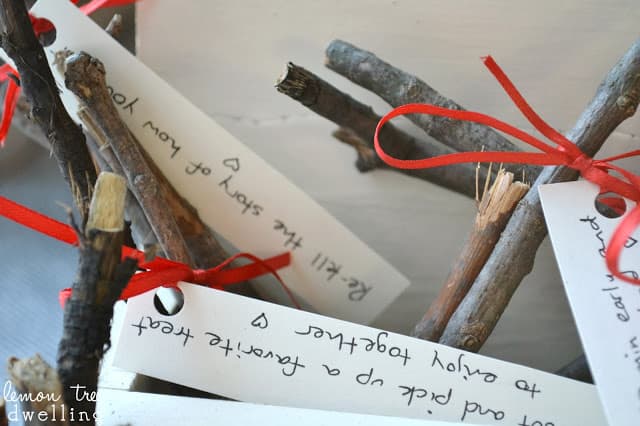 But what was that about the work that love requires? Well, anyone who's been in a relationship can tell you it's not always easy. 8 years into our marriage, Jorden and I have worked out a lot of the kinks and settled into a (usually) very comfortable routine. Anyone who's been in a relationship can also tell you that comfortable is not always ideal! Too comfortable means boring. And boring is no good.
So…with Valentine's Day on its way, I got to thinking: how can we rekindle the feelings from that day 10 years ago? The feelings of connection and openness that brought us together in the first place?
How to Make Love Kindling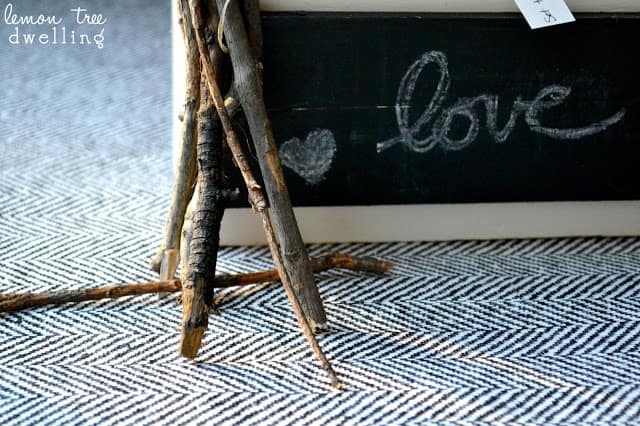 Love…….(re)kindling! Simple ways to connect with one another and keep the fire going.
I started with this simple wooden box, a piece of pine wood, and some twigs from our yard.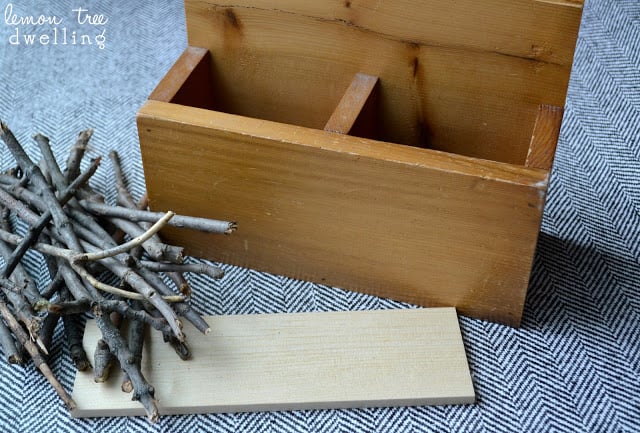 I painted the box ivory…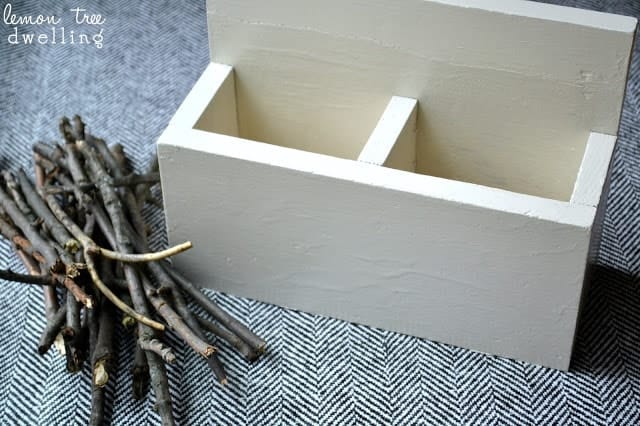 …then used fine sandpaper to rough up the edges. I painted the pine with chalkboard paint and drilled it into the front of the box… (if you look closely, you can see that the pine split as I was drilling it in…but I thought it actually added to the distressed look I was going for…)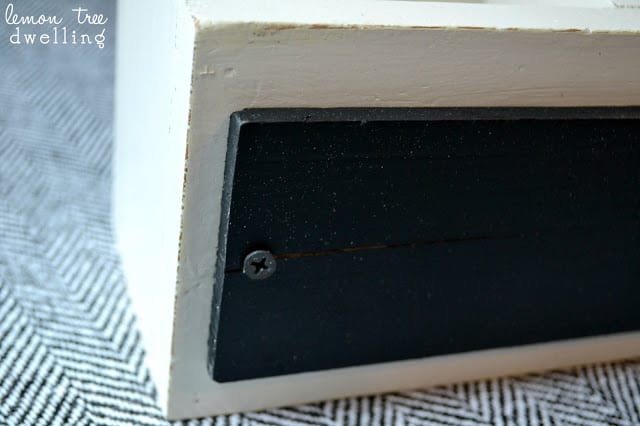 Then I cut some ivory cardstock into small strips and came up with my list of ideas:
Set the alarm for 30 minutes early and have breakfast together
Play a game – unplugged
Re-tell the story of how you met
Hold hands while watching TV
Get out paper & pens and write one another love letters
Make and enjoy a dessert together
Start a new nighttime tradition
Put on pj's, order takeout and snuggle on the couch
Take over a dreaded chore for the day (or week)
Look at old pictures together
Light some candles and enjoy one another's company
Read something together
Draw or paint one another a picture
Write relationship goals for the coming year
Run out and pick up a favorite treat to enjoy together
Exchange back scratches or massages
Do something to surprise one another
Teach one another something (anything) new
Do something together for someone else
Pack one another's lunches and include a hand-written note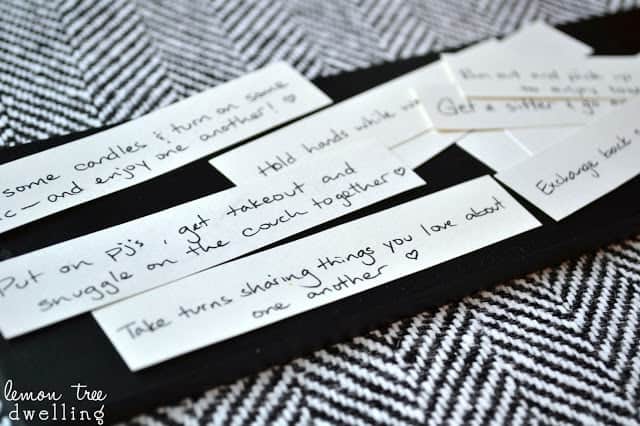 I punched a hole in one end of each slip and tied a ribbon onto it. Then I tied each ribbon onto a twig. The plan is to pick a twig from the box every day and do whatever it says!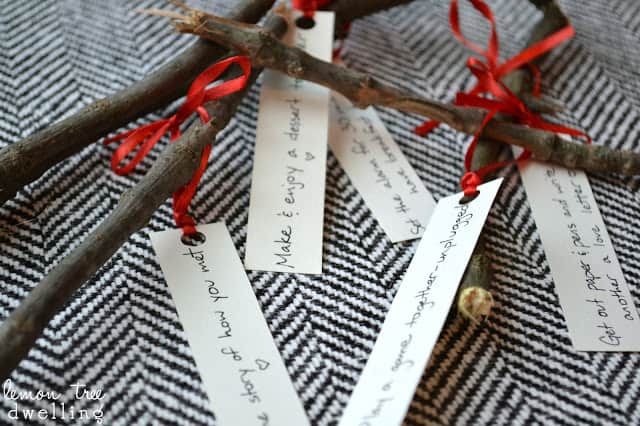 I decided to leave some slips blank to inspire ongoing creativity and newness….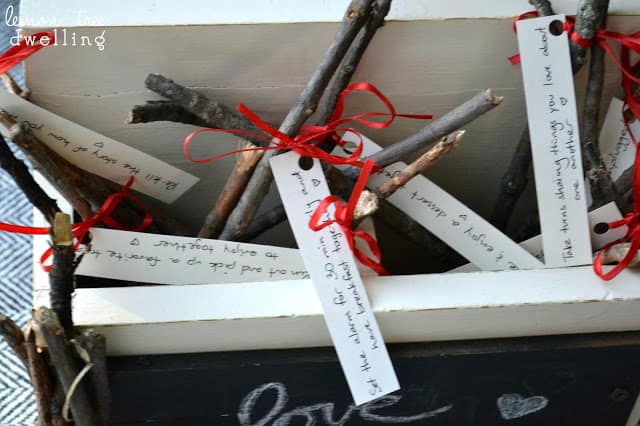 …We don't want things getting boring around here…!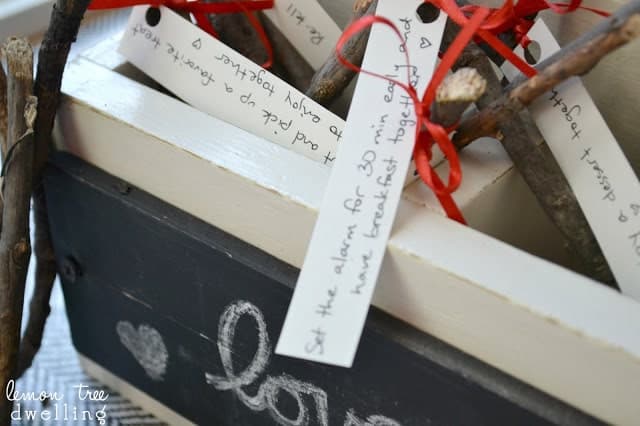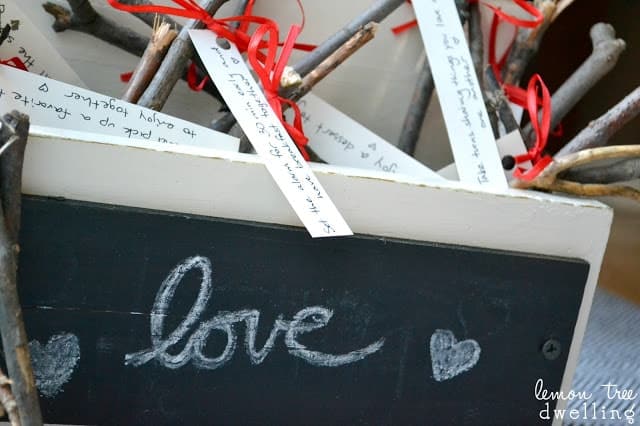 How do you "rekindle" the fire??  I'd love to hear your ideas!