Ever wondered how to put together your own perfect cheese board? It's actually quite easy!
Learn how to assemble a cheese board from start to finish with these simple step by step instructions.
Perfect for holidays, ladies nights, or everyday entertaining, charcuterie boards are a fun, versatile, delicious addition to any gathering!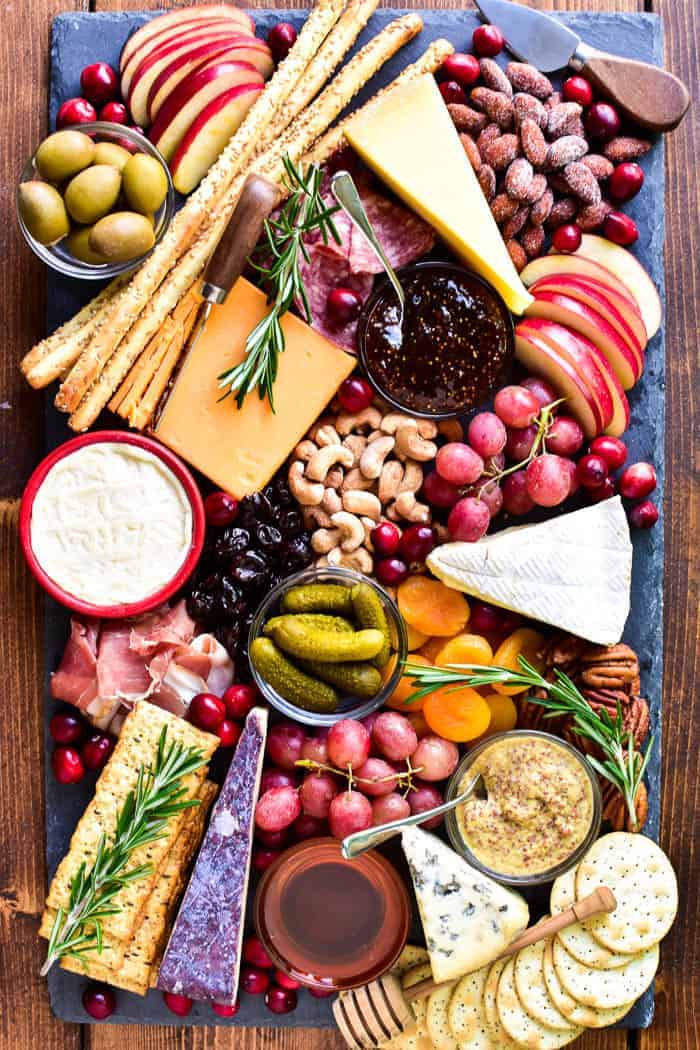 Is it just me…or is there something about a good charcuterie board? It's the perfect appetizer for any occasion!
Not only are they beautiful to look at…and delicious to eat…(who doesn't love all things cheese?)…but they're also incredibly fun to put together.
And best of all, they have something for everyone. From different types of cheese to sweet and savory snacks to crackers and cured meats, the best cheese boards leave no one behind.
Of course, having access to quality cheese board ingredients is key. Which is why I'm SO excited about the new Murray's Cheese Shop open at Metro Market. I recently had the opportunity to visit the shop and learn all about the delicious cheeses, meats, and other products they carry.
And let's just say…my visit inspired me to create this cheese board to share with all of you! With the holidays fast approaching, it's the perfect time to brush up on our cheese board ideas and refresh our charcuterie skills.
Ready to get started?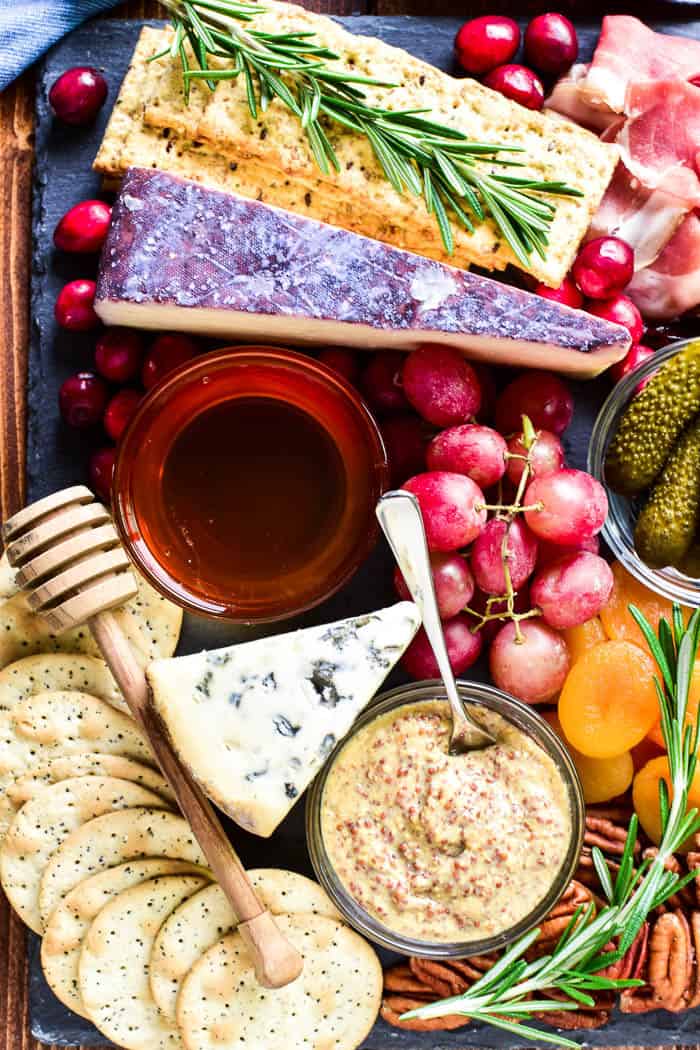 How to assemble a charcuterie board:
Start with the board. Cheese boards are typically assembled on a slate or wooden tray, which may be square, rectangular, or round. But if you don't already own one, don't feel like you need to go out and buy one. You can also use a plate, a cutting board, or even a baking sheet. Any flat surface will work.
Select the cheeses. Try to include a variety of flavors and textures by selecting cheeses from different families (see below).
Add some charcuterie…aka cured meats. Prosciutto, salami, sopressata, chorizo, or mortadella are all good options.
Add some savory. Think olives, pickles, roasted peppers, artichokes, tapenades, almonds, cashews, or spicy mustards.
Add some sweet. Think seasonal and dried fruits, candied nuts, preserves, honey, chutney, or even chocolate.
Offer a variety of breads. Sliced baguette, bread sticks, and a variety of crackers in different shapes, sizes, and flavors.
Finish it off with some garnishes. This is a great way to give your cheese board a seasonal touch. Use edible flowers, fresh herbs, or additional fruits to give your board the look and feel you want.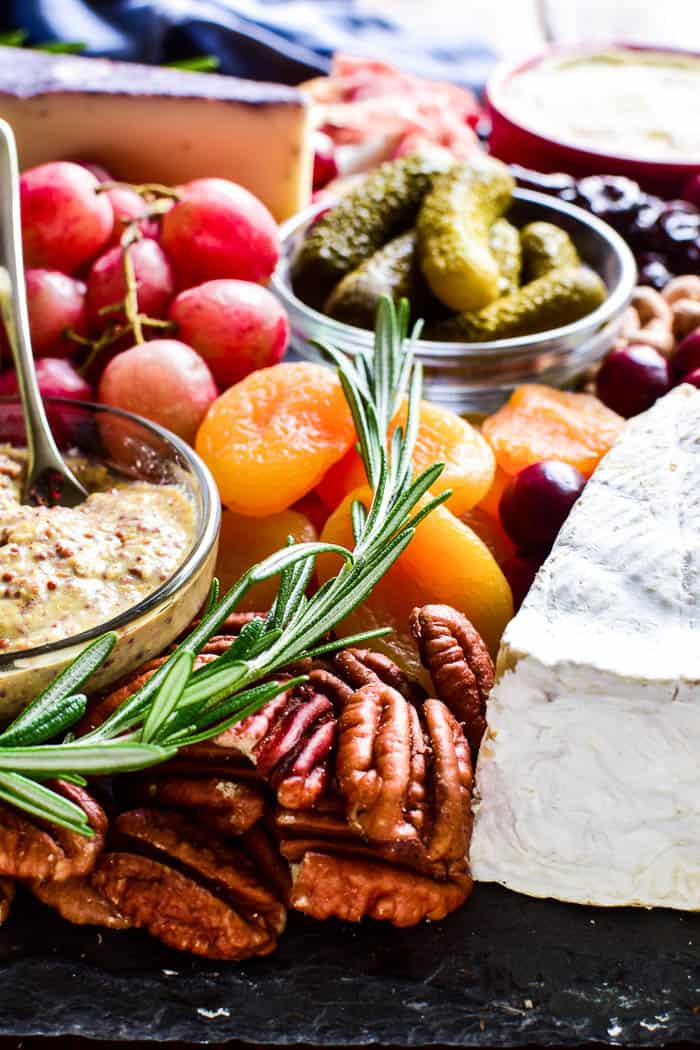 What are the best cheeses to include?
A good rule of thumb is to include cheeses from a variety of different families. Some basic families include:
Aged: Aged Cheddar, Gruyere, Gouda.
Soft: Brie, Camembert, Goat.
Firm: Manchego, Parmigiano-Reggiano, Edam.
Blue: Gorgonzola, Roquefort, Stilton.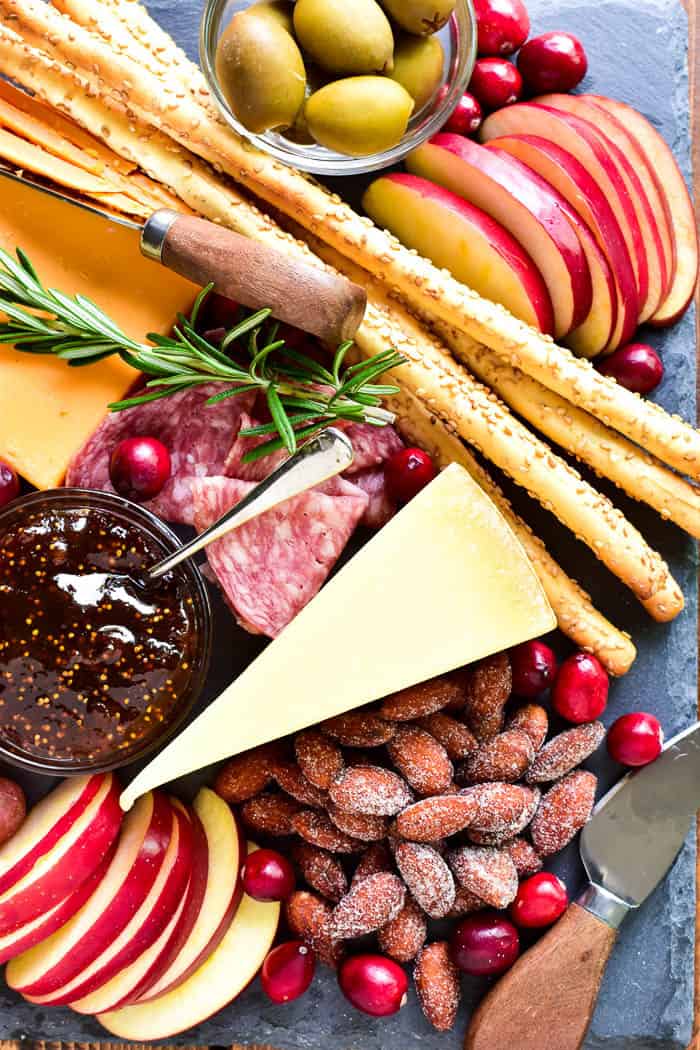 Tips for making the ultimate cheese board:
Offer a variety of savory and sweet ingredients. The truth is everyone likes their cheese a little different. Some like it savory, some like it sweet, and some like a combination of both. The best cheese boards have something for everyone.
Offer a variety of textures. Because eating is such a sensory experience, a variety of textures makes any cheeese board more interesting. Consider ingredients with various textures such as creamy, crunchy, crumbly, gooey, and crisp.
Use cheese markers to label cheese so everyone knows what they're getting.
Bring cheeses to room temperature before serving in order to bring out their true flavor.
Don't forget the knives, spoons, toothpicks, etc.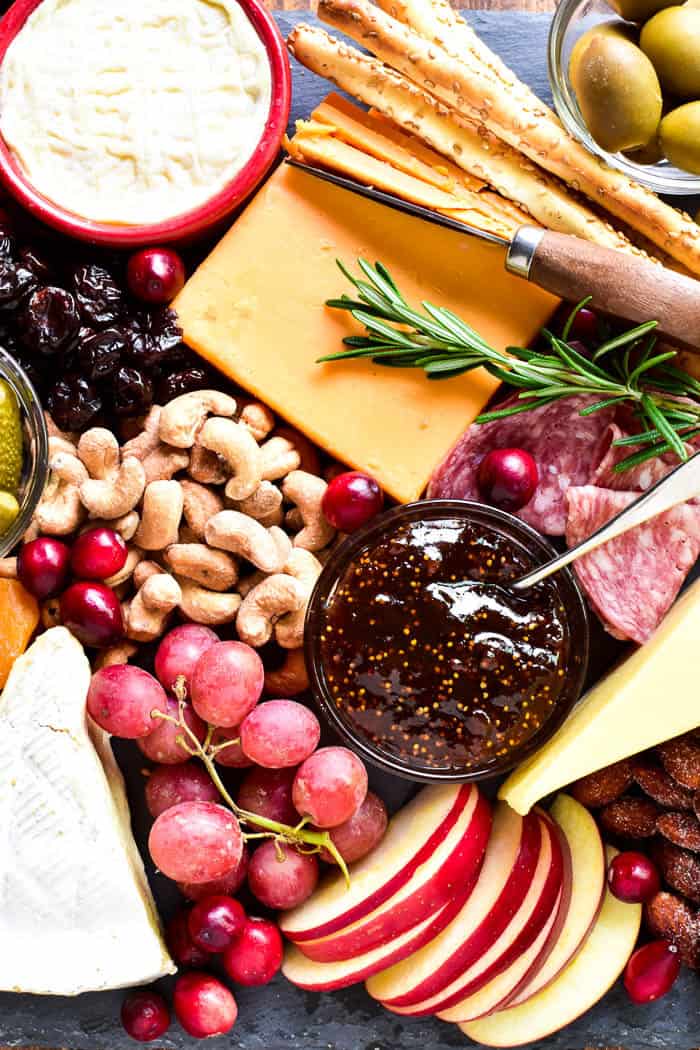 What I included on this cheese board:
CHEESE: Roth Kase Raw Private Reserve, Sartori Merlot Bellavitano, Wisconsin 5-Year Cheddar, St. Mark's Bloomy Rind, Bri Du Pommier, Bayley Hazen Blue
MEATS: Murray's Prosciutto di Parma, Murray's Genoa Salami
FRESH FRUITS: Snapdragon apple slices, red grapes
DRIED FRUITS: Mariani Dried Apricots, Cherry Bay Orchards Dried Montmorency Cherries
NUTS: Blue Diamond Honey Roasted Almonds, Fisher Roasted Cashews, Roundy's Pecan Halves
SAVORY: Murray's Garlic Stuffed Olives, Trois Petits Cochons Cornichons
DIPS: Private Selection Whole Grain Garlic Mustard, Local Hive Honey, Divina Fig Spread
BREADS: Alessi Breadsticks, Private Selection Peppercorn & Poppy Water Crisps, Back to Nature Multigrain Flax Seeded Flatbread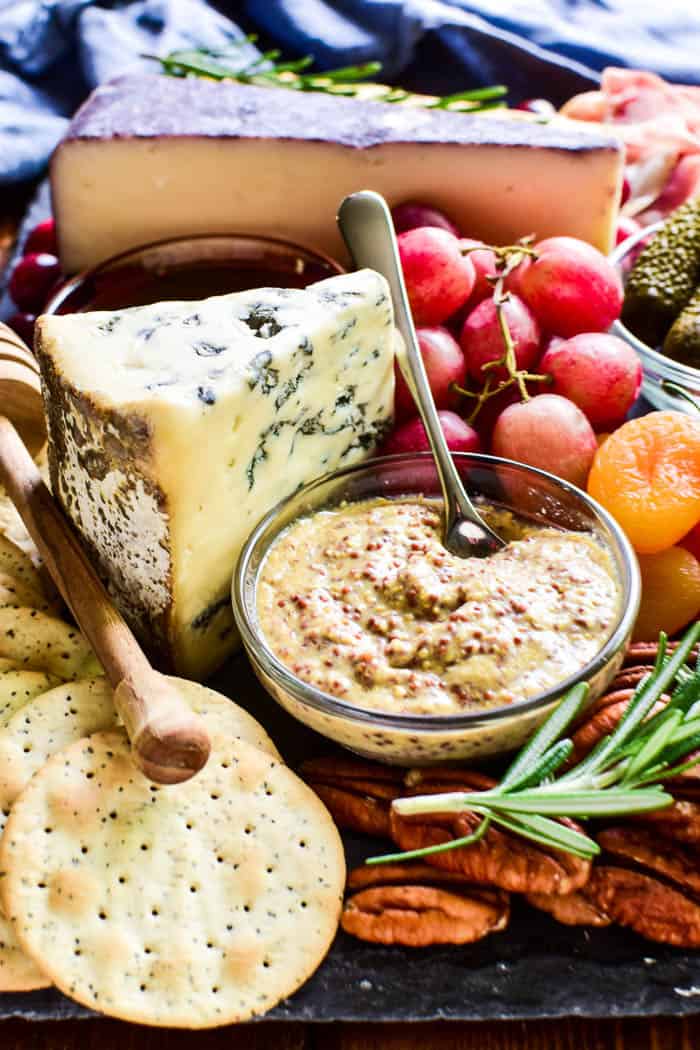 Love cheese? You might also enjoy these recipes!
Yield: 20
The Perfect Cheese Board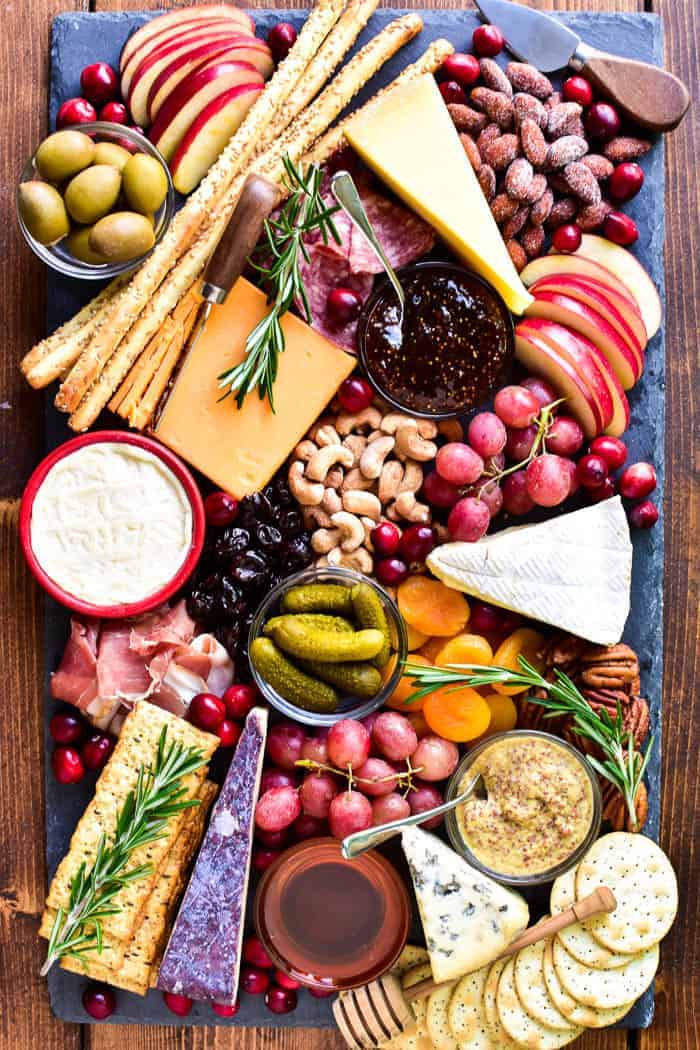 Ever wondered how to put together your own perfect cheese board? It's actually quite easy! Learn how to assemble a cheese board from start to finish with these simple step by step instructions. Perfect for holidays, ladies nights, or everyday entertaining, cheese boards are a fun, versatile, delicious addition to any gathering!

Prep Time 15 minutes

Total Time 15 minutes
Ingredients
1 wedge brie cheese
1 wedge blue cheese
1 wedge aged cheddar
1 wedge alpine cheese
1 wedge flavored cheese
1 apple, sliced
2-3 bunches grapes
1/3 c. olives
1/3 c. cornichons
1/3 c. dried apricots
1/3 c. dried cherries
2-4 Tbsp. whole grain mustard
2-4 Tbsp. honey
2-4 Tbsp. preserves
bread slices, crackers, and breadsticks
Nutrition Information:
Yield:
20
Serving Size:
1
Amount Per Serving: Calories: 110Total Fat: 3gSaturated Fat: 1gTrans Fat: 0gUnsaturated Fat: 1gCholesterol: 7mgSodium: 165mgCarbohydrates: 20gFiber: 1gSugar: 15gProtein: 2g