Yesterday Jorden and I celebrated 8 wonderful years of marriage!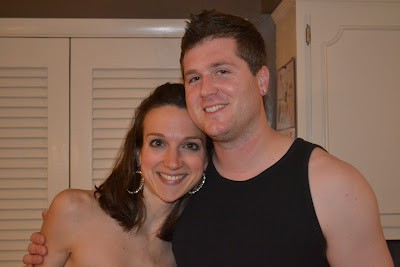 (The most recent picture I have of us, taken on Stallis Night in May. Don't judge.)

And when I say we celebrated, I mean Jorden went to the Brewers game while I stayed home and cleaned the kitchen. No kidding! I guess that's what 8 years will do to you… (Not to worry, we're going out tonight.)

In honor of our anniversary, as well as this being my inaugural blog post, I'd like to spend a moment explaining how, in my experience, husbands and houses really are one and the same.


1. When you find the right one, you just know
Sure, some people may question your judgment or think you're rushing into things…(or, in the case of our house, wonder what in the world we were so excited about…did we actually see the house we were buying??) Yet, something about it captures you and you can see yourself growing old with it. It feels right…you JUST KNOW it's the one for you.

2. There will be times when you second-guess your "decision to buy"
…like when the neighbors tell you a racoon once birthed a litter in your attic, or when you realize the beautiful front porch and wooded lot make your house feel like a virtual cave even during the daytime, or when your basement has water in it…again…

3. It's good to keep in mind that whatever you focus on grows
Yes…there might be things that legitimately need to be fixed (see above). But just as often, what needs to change is our focus. For example, when I first found out the previous renters had thrown dead fish in the backyard, I was utterly disgusted! But with a little time and a shift in my focus…(ok, I'm still utterly disgusted)… but at least it was good fertilization for the sod…?
     
4. The longer you have them, the more they feel like HOME
It is just under a year and a half since we moved in…and through all our ups and downs, there is no place I'd rather be.

It is 8 years since I said "I do" and set out on the greatest journey of my life…and as Jorden wrote in his card to me yesterday, "3 kids, 2 houses, and 8 years later I could not feel luckier to have you. I love you with all my heart." Ditto.



Thanks for taking a peek inside my Lemon Tree Dwelling!
I hope you feel right at home 🙂
-Cathy