Holiday sugar cookie brittle is crunchy, crispy sugar cookie brittle decorated with red and green m&m's. This easy holiday candy recipe makes a festive and delicious holiday treat!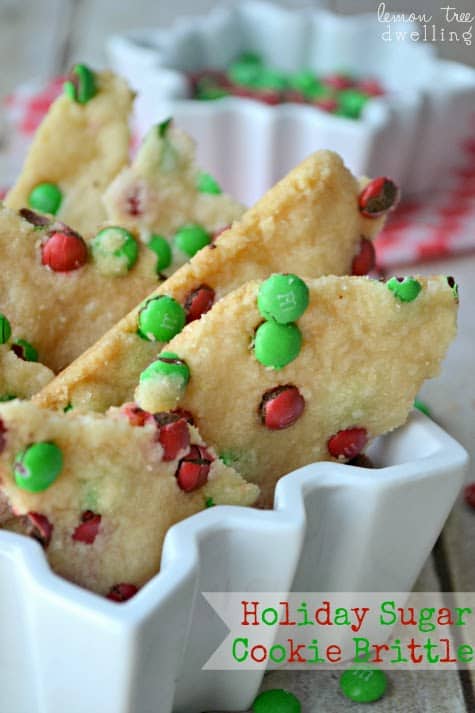 You may have noticed that ALL of my recipes lately have been desserts!! And there's a reason for that! With all the baking and treat making that December brings…..the LAST thing I feel like doing is making food, too! Sure, I might make the old standbys, like tacos and tuna melts and build your own paninis….but if it requires any level of creativity, forget it! My creative efforts are all focused on holiday treats! Even I know my limits.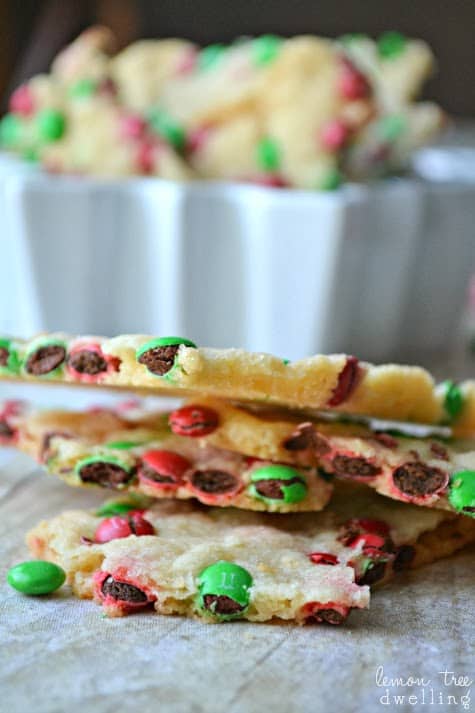 So when Ellia brought up the idea of Jimmy John's the other night, I was all over it! And when Jorden was out of town for work and we were heading to Grandma and Grandpa's to bring them dinner, Papa Murphy's sounded perfect! And when he came home last night and the girls were having dinner with friends, his suggestion of ordering sushi had me jumping up and down with excitement. Not just because I LOVE sushi (which I do….) but because I LOVE not cooking in December!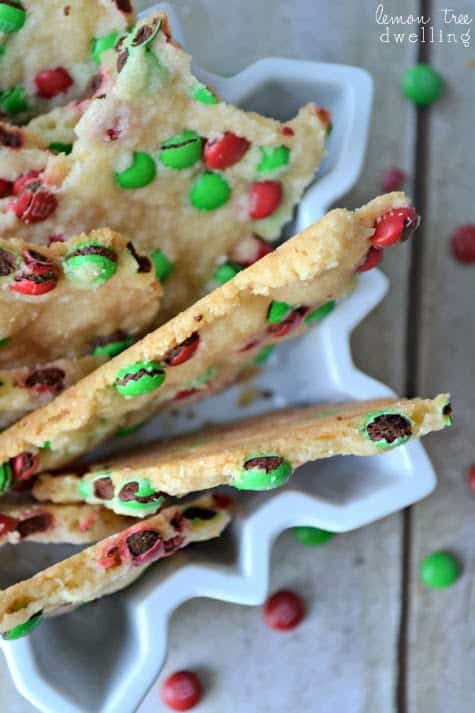 Holiday Sugar Cookie Brittle – A twist on brittle
It's for the best, really. It leaves me with plenty of time for delicious treats like this Holiday Sugar Cookie Brittle. And not just time, but energy and creativity! (These things don't just make themselves, you know! Ha!!) You may recognize this as a spin-off of my M&M Cookie Brittle….and it is! Ever since I first made (and tasted!) that sugar cookie brittle, I knew there would be more recipes to come. And this one is just as good (maybe even better?!) than the original! Better yet, this holiday sugar cookie brittle recipe is simple to make! Best of all… you don't have to worry about it breaking when you take it off the pan…because you want it to! Which, in my book, is the BEST kind of recipe EVER!!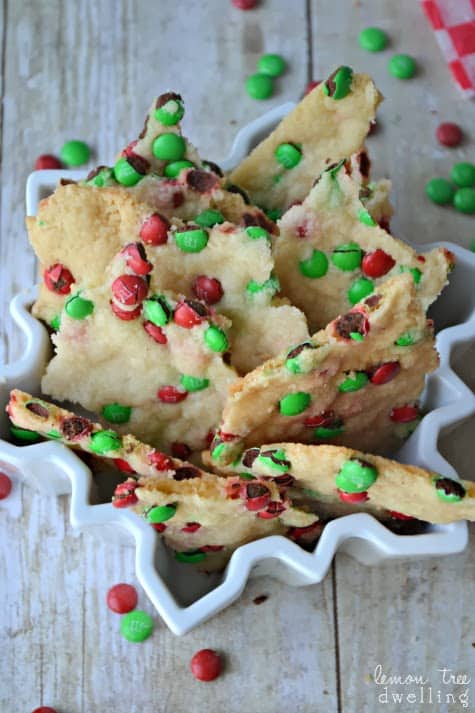 Holiday Sugar Cookie Brittle
1 stick butter, softened
3/4 c. granulated sugar
1 tsp. vanilla
1 c. flour
1/2 tsp. baking powder
1 c. red & green m&m's
1. Cream butter, sugar, and vanilla.
2. Add flour and baking powder and mix thoroughly. (Dough will be powdery.) Stir in m&m's.
3. Cover large jelly roll pan with foil. Spray with non-stick cooking spray and sprinkle dough evenly on pan.
4. Press dough to cover pan completely.
5. Bake at 375 degrees for 10-12 minutes.
6. Cool completely on pan; break into irregular pieces. Store at room temperature.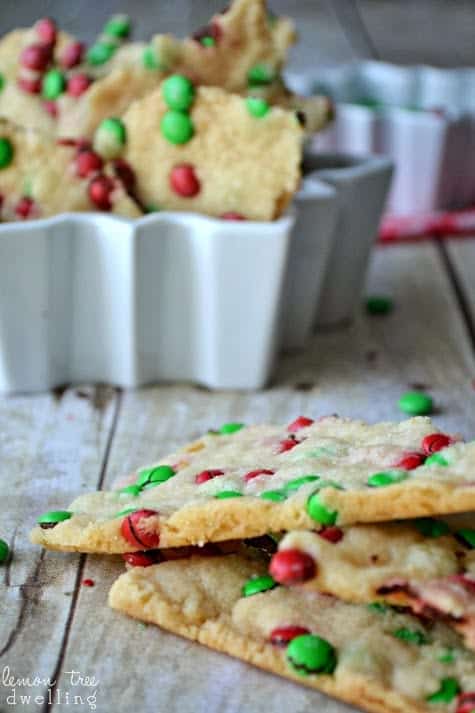 Enjoy!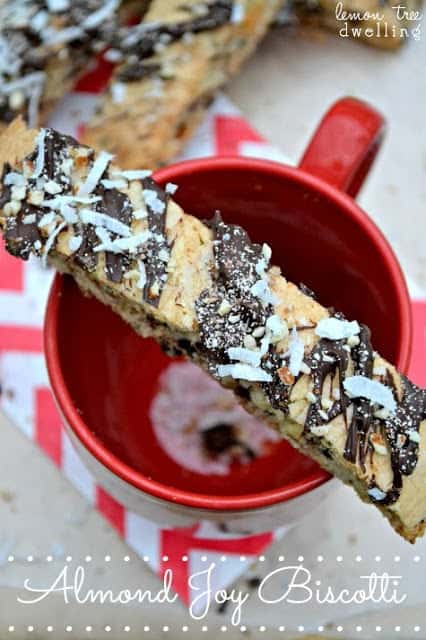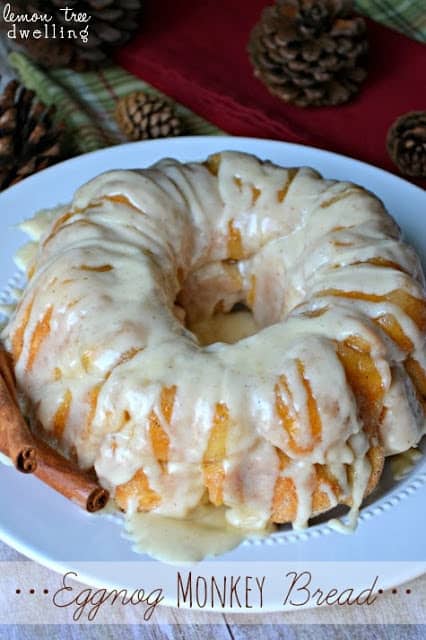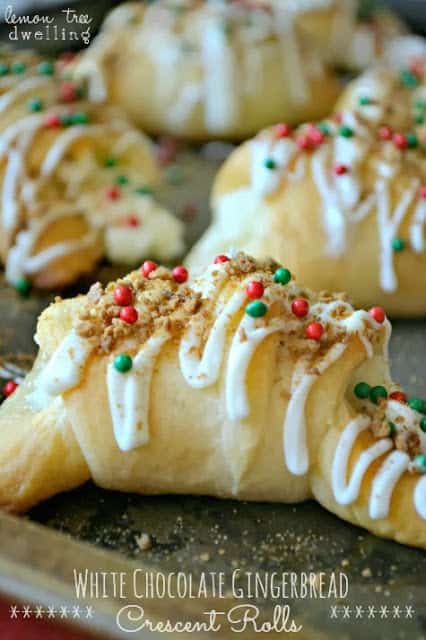 Thanks for taking a peek inside my Lemon Tree Dwelling….
I hope you feel right at home!
Be sure to follow us on
Pinterest
for more great recipe ideas!