These Funny Pumpkin Pails are easy to make using store-bought materials
and add an extra element of fun to your Halloween celebrations!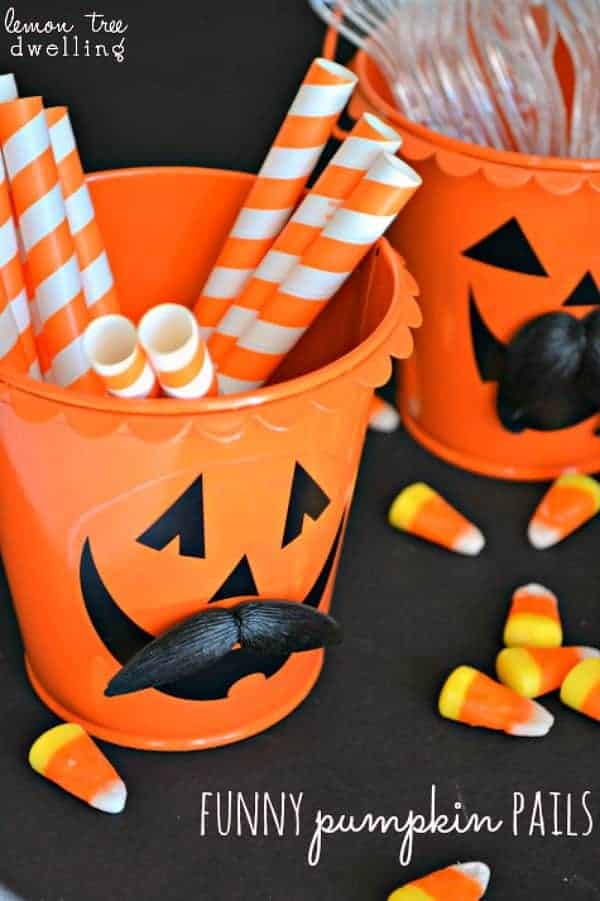 I've gotten really good at not making plans. I know….not something to be proud of, right?? I agree – it's not a source of great pride for me. But it IS true! I've gone from being the person with the always-full social calendar to being the person who, at best, has a couple things on the calendar each month. And most of those are NOT things I planned! I'm pretty sure I can blame it on having 3 kids….since I was finding that every time I had plans they ended up feeling stressful. So….to lessen my stress….I just stopped doing things!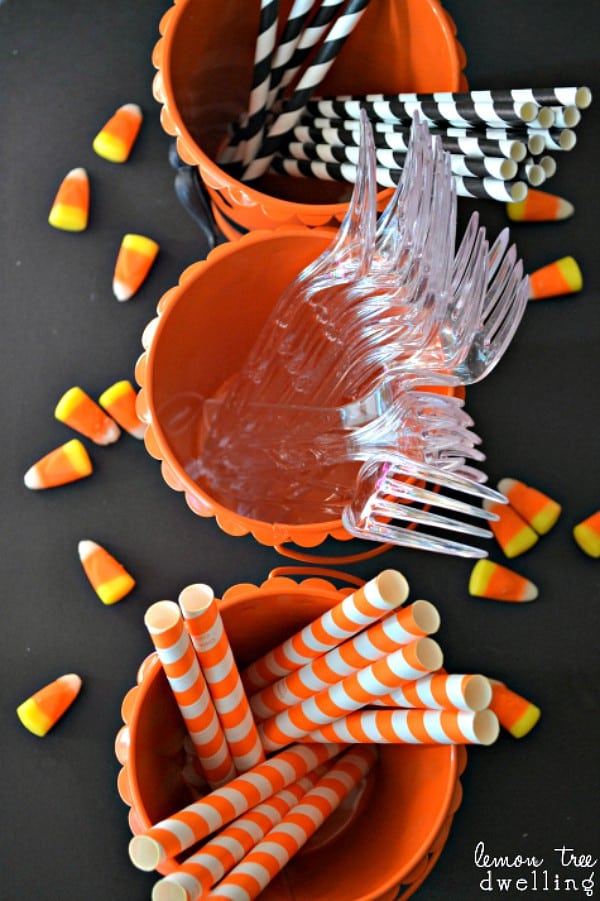 For the most part, I'm just fine with having a little more free time in my life. But. I do sometimes miss the plans! I miss feeling connected instead of out of the loop. I miss the fun of a full house on weekends. I miss running around like a crazy person with all my kids…..okay…..scratch that. You get the point. I miss it….and I don't. So I've been thinking that maybe it would be fun to have everyone over for one big Halloween party. On a Saturday. And everyone could bring their kids…..and we could all have a good time and catch up with one another! Because the reality is I'm not the only one who's gotten good at not making plans. Most people I know are in the same boat!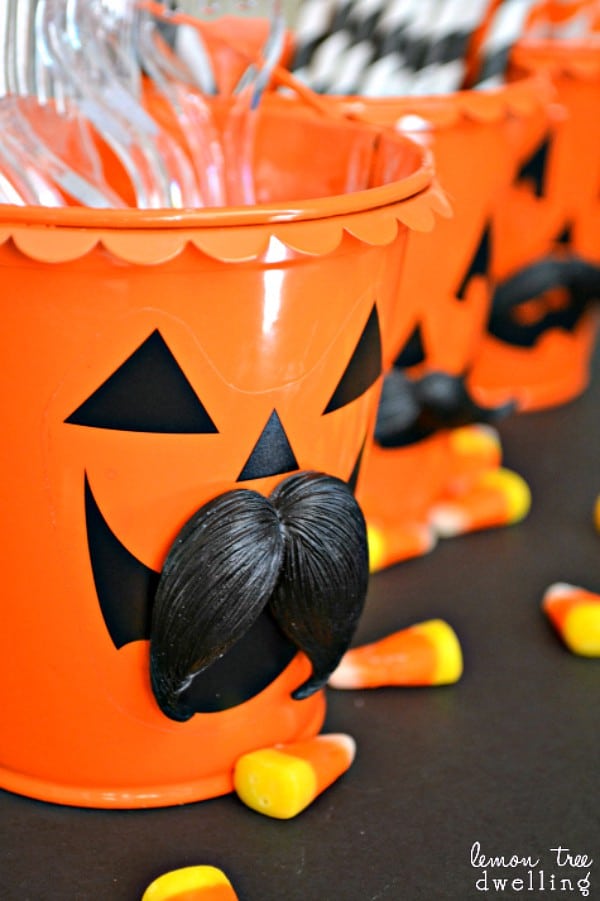 And….to help myself stick with the idea….I've been thinking that I should start making decorations for it! That way, when the time comes, most of the work will already be done! Not to mention the fact that I would feel too bad to NOT use them….! First up? These Funny Pumpkin Pails made with orange metal pails, jack-o-lantern beverage clings, and magnetic mustaches! (Clearly the party I have in mind is more silly than scary!) But SO FUN!! I'm getting excited already.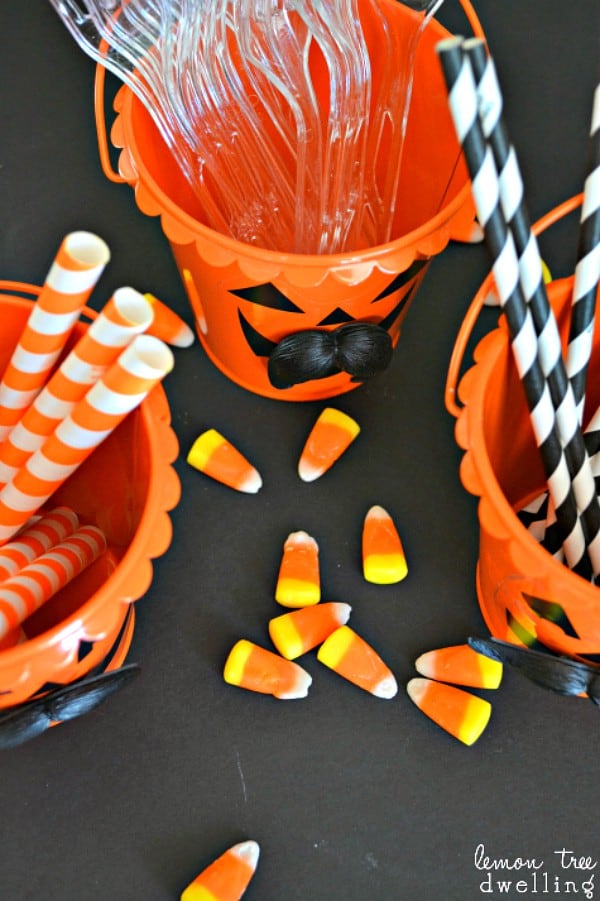 I guess the next step should be figuring out a date and actually inviting people….which, to be honest, will be a big step for me. Because clearly that means I'm locked in to having plans! And I'm also locked in to having a little extra stress in my life for the next few weeks. But not too much…..because I can guarantee that everything I do for it will be just as easy as these easy Funny Pumpkin Pails. Easy enough for a mom with 3 kids who's really good at not making plans. And DEFINITELY easy enough for you!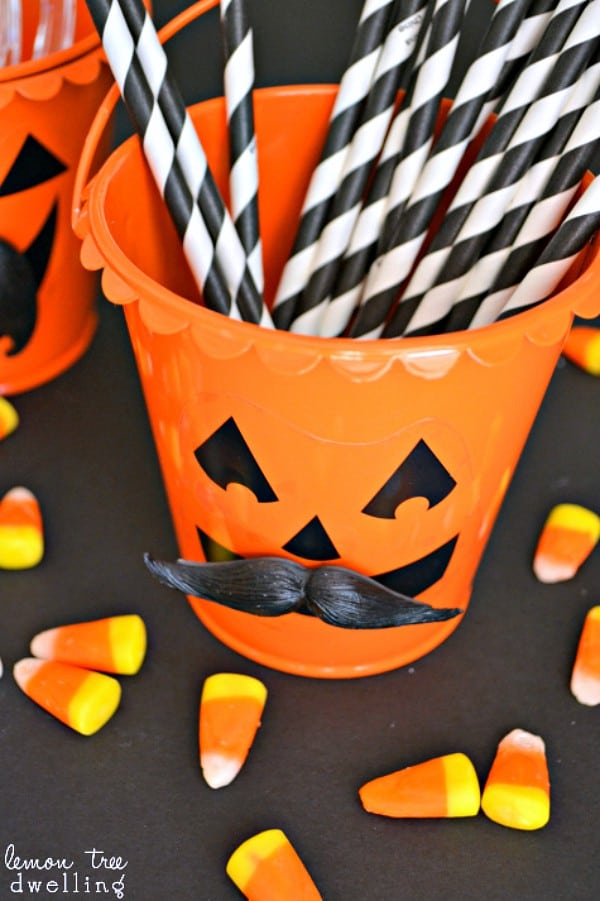 Supplies Needed:
Orange metal pails (I found mine in the Target $1 Spot)
Jack-o-lantern beverage clings (I found mine in the Target seasonal department)
Magnetic mustaches (I found mine in the Target stationery department)

Small powerful magnets (I found mine at the hardware store and used them for extra hold on the mustaches)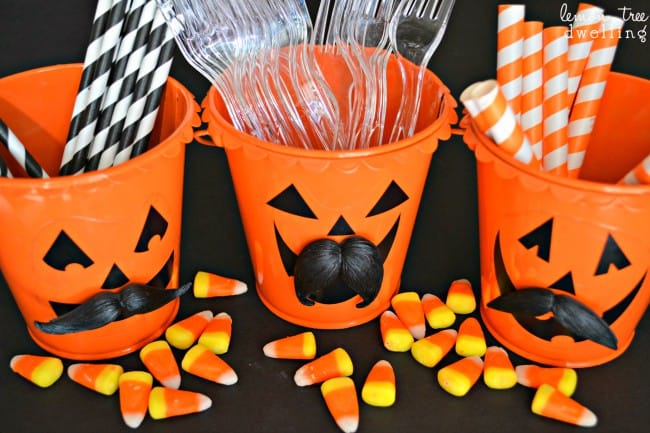 Enjoy!
Stay tuned for more fun Halloween ideas….coming soon!