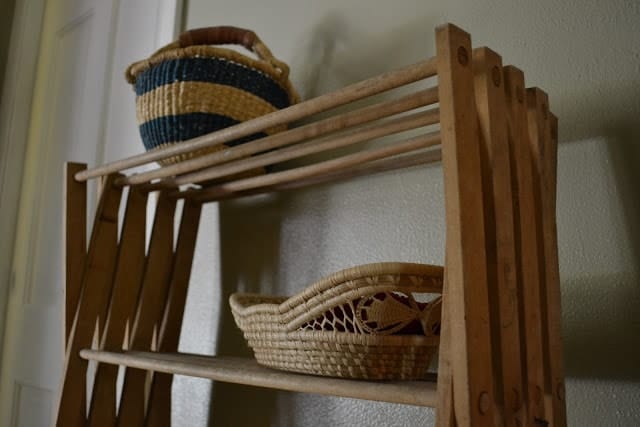 It is a common occurence around here that when friends and family come to visit they take themselves on a "scavenger hunt" of sorts to find out what's new. I am somewhat embarrassed to admit that I can't remember the last time someone set out on one of these hunts and came back empty-handed. Turns out there is ALWAYS something new!
Call it a hobby, call it an obsession… either way, the fact of the matter is that I LOVE changing/adding/cozying/personalizing our home.
Luckily, I also love to be thrifty (otherwise this "hobby" could really become problematic…)  One of my favorite places for thrifty decor is, of course, Goodwill. There is something exciting and almost magical about seeing the shelves piled high with other people's discards – items that were once owned, used, loved…but are now up for grabs. I love the challenge of seeing old things with fresh eyes, the intrigue of imagining how and where it might fit into my life, my space, my home.
I find that certain items captivate me, almost begging me to take them home and show them some love. One of my most recent fun finds is this old wooden drying rack, purchased for $2.99. I immediately fell in love with its rustic charm and imperfections – the dowels are slightly warped, the base slightly broken, the wood shows signs of wet laundry – yet, I could not be happier to have brought it into our home and made a place for it. It now functions as a lovely shelf in our currently-under-construction Family Room. It may be old, damaged, and water-stained, but in my eyes, for now, it is beautiful.