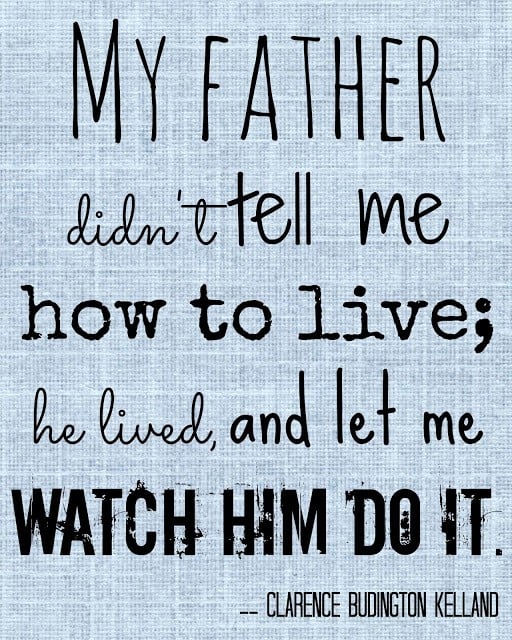 (click here to print)
A few years ago, when my dad turned 60, my siblings and I decided to come up with a list of "60 Life Lessons" we had learned from him over the years. All of us, spouses included, wrote down 5-10 things that came to mind – some heartwarming, some funny, some just plain fact – and compiled it into a list that we printed out for him and read around a campfire. It was such a special way to celebrate his birthday, and such a great opportunity to reflect on all he had taught us.

Here are some of the "life lessons" we came up with:
1.
That attitude is everything – you always try to look for the positives in a situation, and have helped us realize the impact we are able to have on our own reality.
2. How
to be a good conversationalist – you go out of your way to make connections and always show genuine interest in other people, both those you have known and those you are meeting for the first time. 
3.
A strong worth ethic (for better or for worse.)  That everything you want is yours to earn, not yours to be given.
4.
That without your approval, a driver's license is meaningless!

 
5. How to win respectfully and accept losing graciously.
6. To respect other religions – "… God is flattered by the myriad ways we have found to worship Him."  
7. Not to go along with something you don't believe in just for the sake of "keeping the peace." You stand behind your beliefs and opinions and aren't afraid to rock the boat once in a whil

e.
8. How to make frosting crackers, brown sugar sandwiches, and other delicious treats. 
9. Not to put too much stock in any one day. New Year's Eve is just another day. 
10. What a true father looks like.  Your sense of compassion, thoughtfulness, humor, and humility are a great example to all of us.

One of the things that struck me in looking back at these was how many of the lessons were implicit – learned by example, rather than explicitly through words. For better or for worse, I think that's really what parenting is: Teaching your kids through your actions and modeling the good qualities you want to see in them. 
So….as Father's Day approaches this year, I got to thinking. My family's gift to my dad on his 60th birthday would make a GREAT Father's Day gift for any dad! And yes….you guessed it….the girls and I have been busy working on a "Life Lessons" gift for Jorden. Stay tuned to see how it turns out…!
In the mean time, Happy Father's Day to all the dads out there….first and foremost, my own! Thanks for living a life worthy of imitation. Love you, Dad!
Thanks for taking a peek inside my Lemon Tree Dwelling…
I hope you feel right at home!
-Cathy