These Easy Mug Cozies are made from an old sweater! This upcycled craft is a great gift to give away to friends and family. A cool, stylish way to drink your warm winter beverage.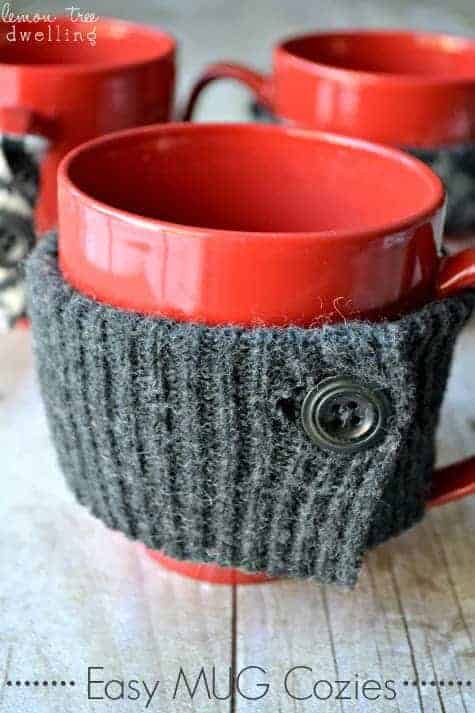 Is it just me….or do you kind of forget about all beverages other than coffee, tea, and hot chocolate in the winter time?? I usually go for coffee in the morning, tea in the afternoon and evening, and hot chocolate on special occasions. I must say, though, being pregnant really throws a wrench in my warm beverage obsession!
I still have coffee in the morning (one cup…) and one cup of tea at some point in the day….but between the caffeine and the herbs and the extra acid, I'm really trying to limit myself! (I've even resorted to drinking hot water with a squirt of lemon juice just so I could have something warm!)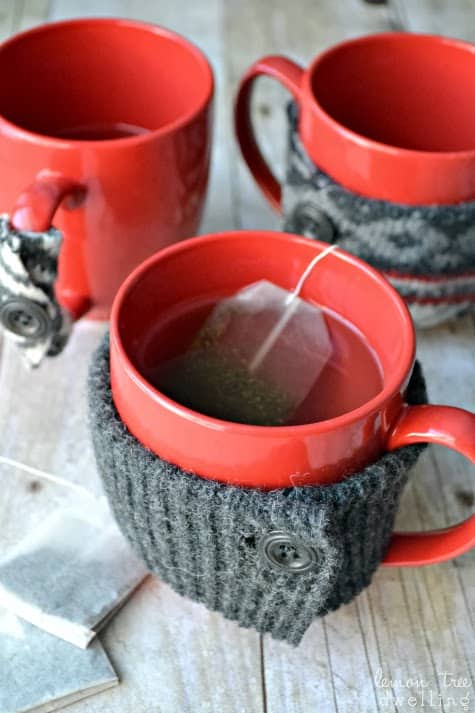 Easy Mug Cozies
Yes, I look forward to the days when I can drink freely without worrying or feeling guilty….and those days will come soon enough. (Just in time for warmer weather, right?) But until then, I've come up with a new way to enjoy my warm beverages: these adorable mug cozies! There is something about wrapping your hand around something cozy that feels just a little more enjoyable, a little more satisfying. Hopefully satisfying enough that I can get through the next weeks and months on just one cup a day!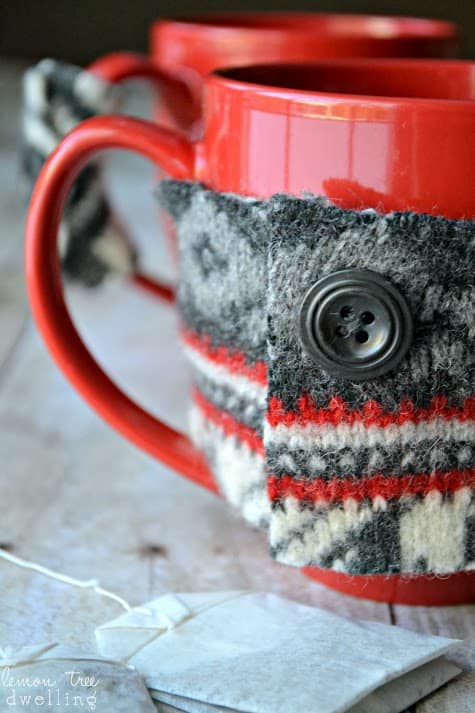 Since I don't sew…..(at least not yet)…..I knew I needed to come up with a simple way to make these. And truthfully, these could not be simpler! All you need is an old sweater with buttons, a good pair of scissors, and a couple of your favorite mugs!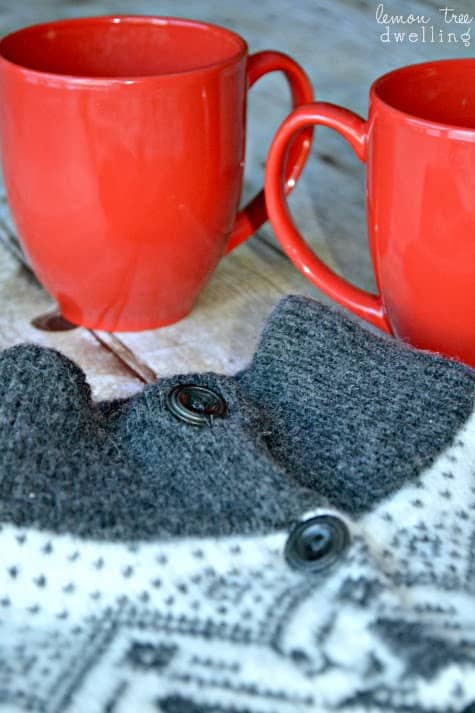 Then, just find a button and start cutting! You want to cut a strip long enough to wrap around your mug, but snug enough that it's not going to slide around. And don't worry about the button hole – just use your scissors to cut a new one wherever you need it!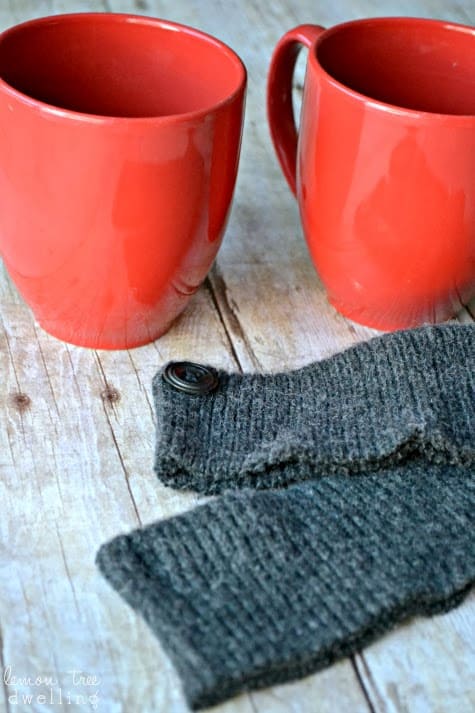 And then…..for a little fun…..try getting creative! I love this handle cozy just as much or even more as the full mug cozy! It was a great way to use a smaller piece of fabric, and there's nothing worse than a too-hot handle, which is especially a problem if you heat your water in the microwave.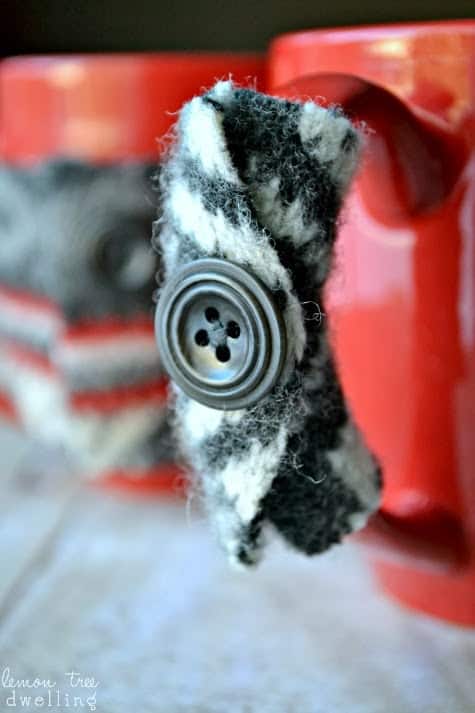 These are such a fun way to enjoy your winter beverage….and they'd make a perfect Valentine's Day or winter birthday gift, as well! They can be personalized to any holiday, color scheme, or personality….and, paired with some coffee, tea, or hot chocolate, they are a gift that anyone would love!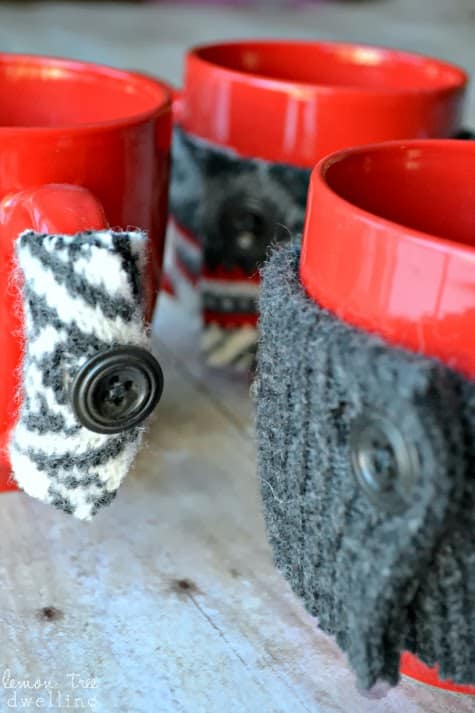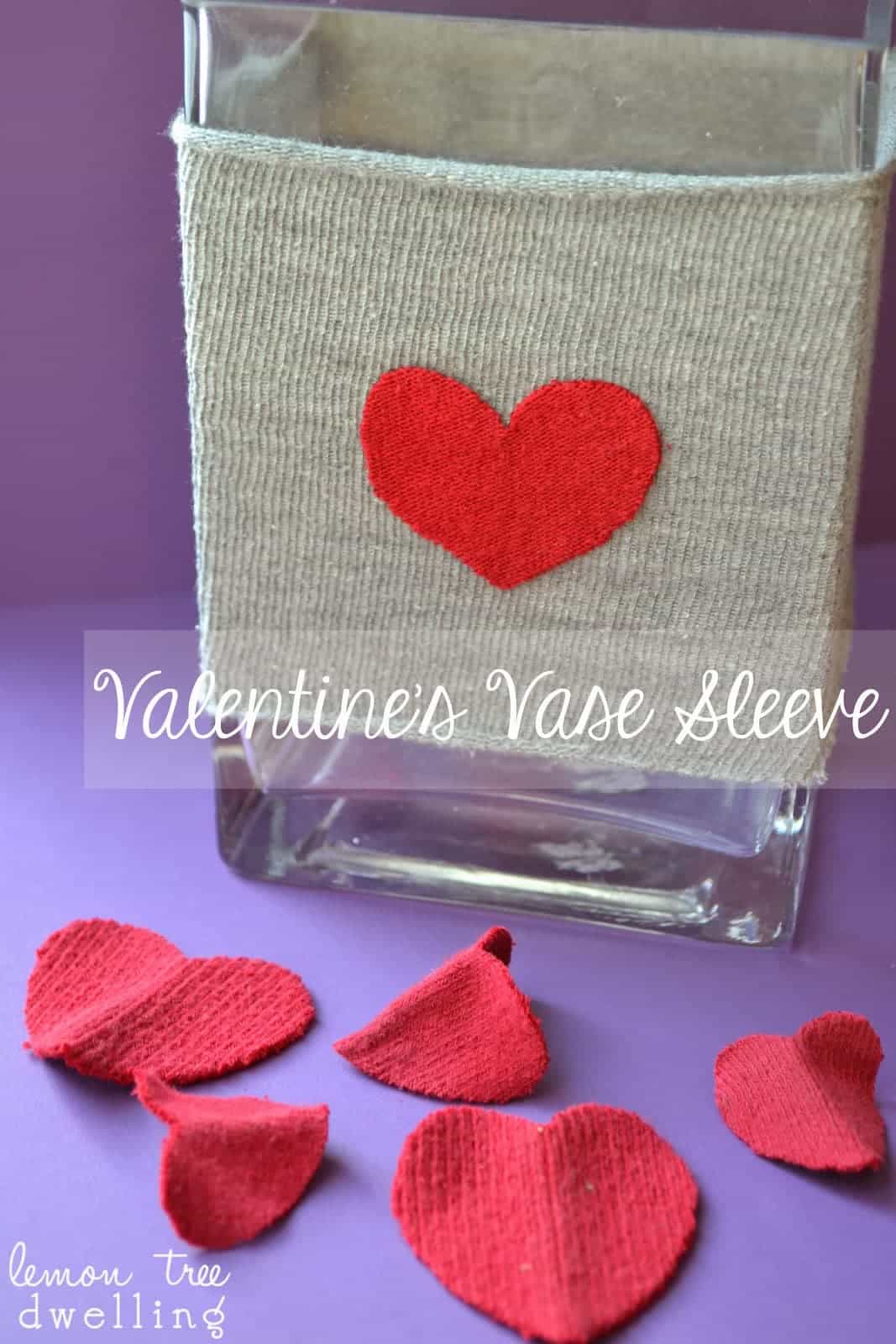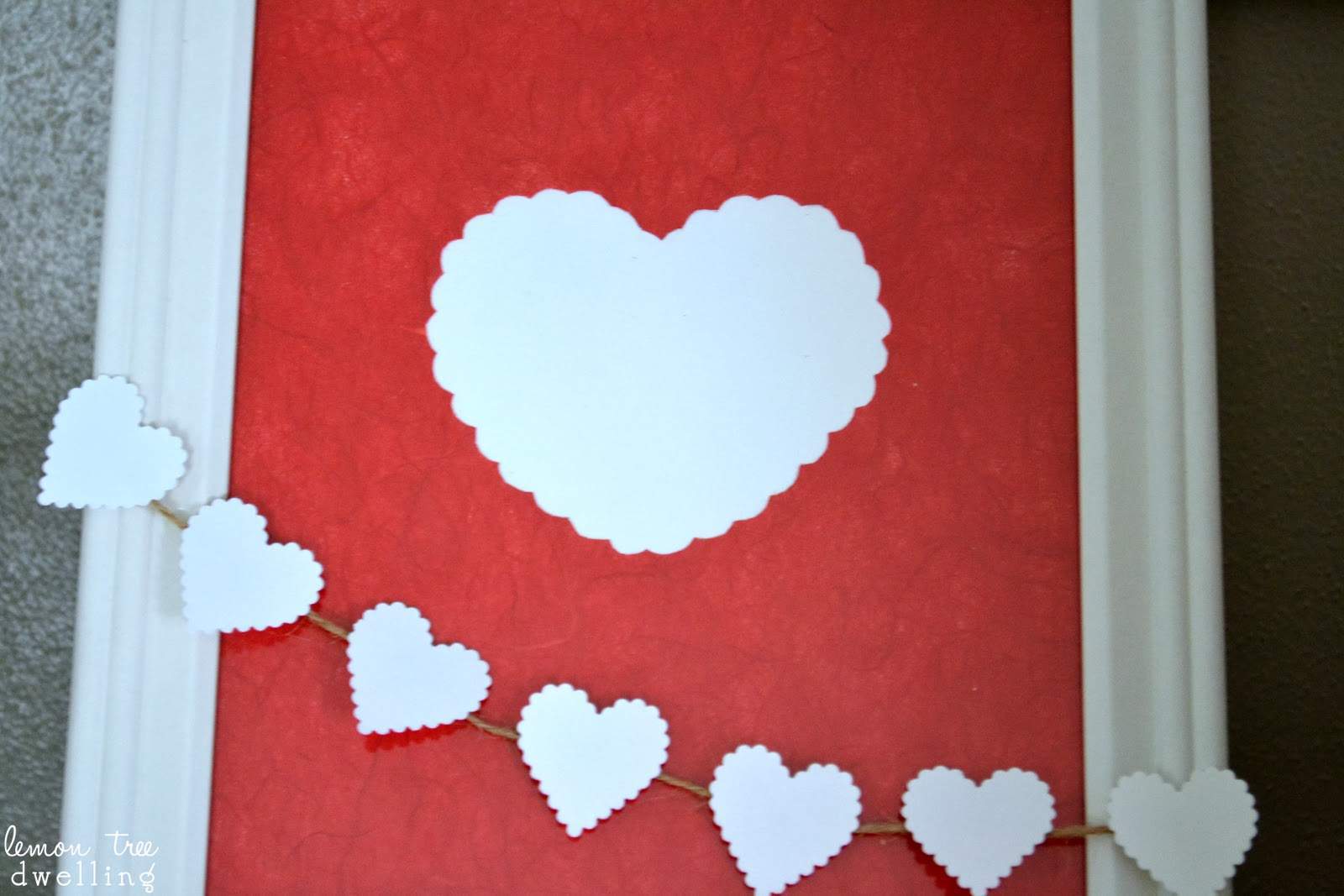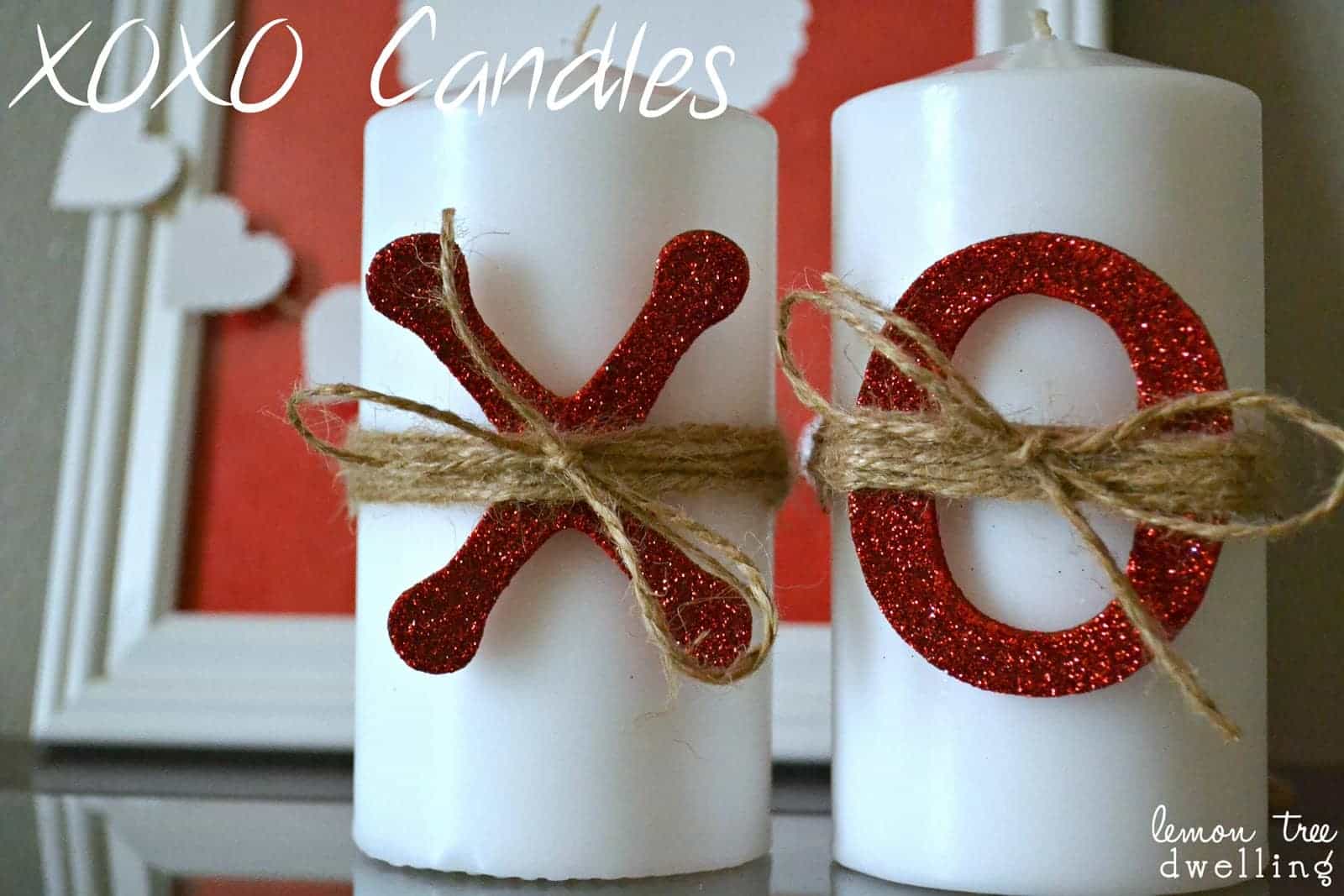 Thanks for taking a peek inside my Lemon Tree Dwelling….
I hope you feel right at home!
Be sure to follow us on Facebook