A DIY chalkboard serving tray and twine-wrapped bud vase….everything you need for an extra-special breakfast in bed!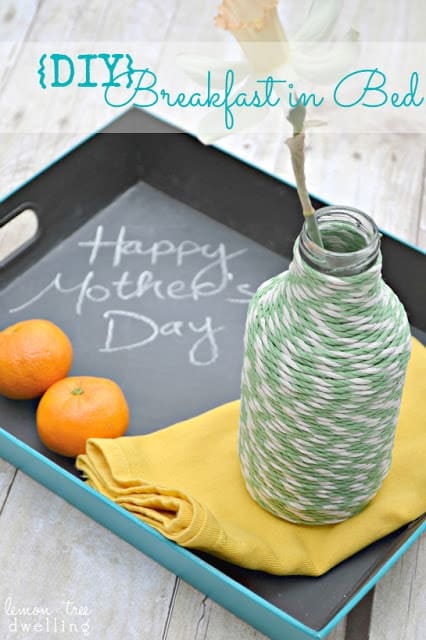 The longer I'm a mom, the more I realize that Mother's Day really is all about the simple things. A handmade card, an extra hug, a painted trivet, the flowers they picked from the yard. Since my two oldest kiddos are both in school now, it is fun to hear them talking about the "secret" presents they've been working on or their "secret" plans for me on Mother's Day. Truth be told, the only things I really want are the simple things….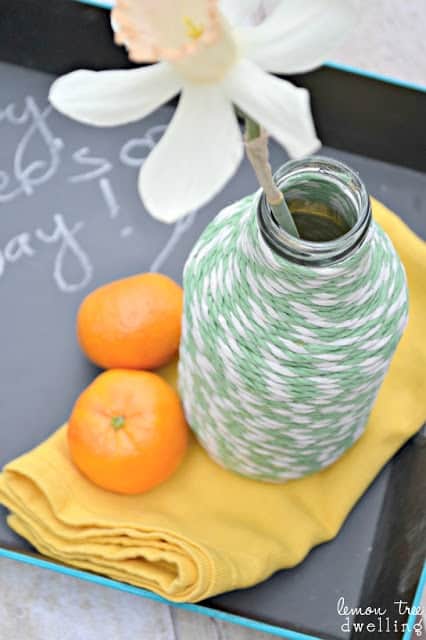 ….like some time to myself, some good coffee, something created by little hands, and some little hands to hold. Having my kiddos pretend for the day that I'm their favorite (even though we all know the truth) and having a chance during the day to do some of my favorite things.
Oh….and breakfast in bed wouldn't hurt, either…..!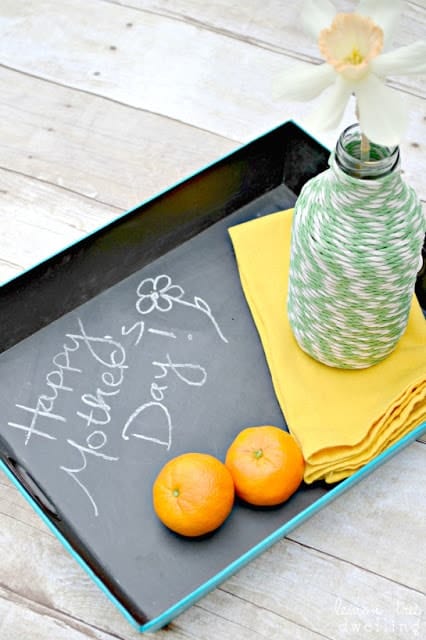 Rather than just secretly hope for the things I really want, this year I decided to be proactive…..starting, of course, with breakfast in bed! I started by scoring a Keurig (so Jorden can finally make me coffee) and I even made some biscotti to go with it (although I'm pretty sure my family has already eaten it all!) Since we've never had a breakfast tray to speak of (an essential part of breakfast in bed) I decided to make one out of this letter basket I found on clearance at Target: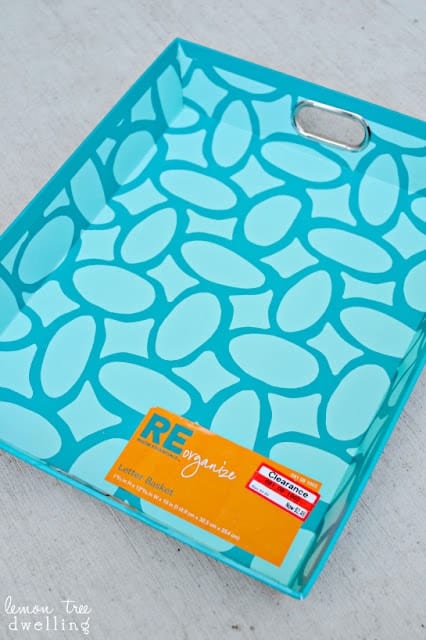 I know it's kinda cute as is….but I really wanted the kiddos to be able to write me a Mother's Day message! So I made the inside into a chalkboard using Painter's tape and Chalkboard Spray Paint. (Did you check out the price tag, by the way? Just $2.48 for a unique and very cool breakfast tray!)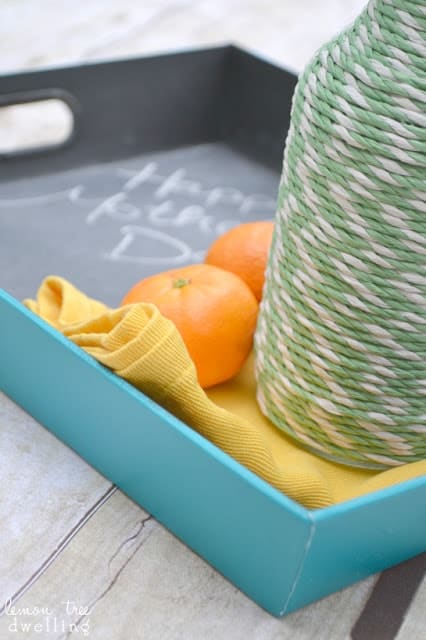 And, since no breakfast in bed is complete without flowers, I went ahead and made a simple bud vase using a recycled syrup bottle and some green & white clothes line from the Dollar Store. I started at the top of the bottle and used a hot glue gun to help hold the clothes line in place. It was a simple project and took me under 10 minutes to complete…but I love the way it turned out!
All in all, I think this is turning out to be quite the perfect Mother's Day (at least the breakfast part!) Thanks to a few simple supplies and some advance planning, Jorden and the girls should have no trouble at all pulling it off. As for the rest of the day…..they're on their own for that! (and/or you can refer to my list above, Jorden!)
Oh…and once Mother's Day is over…no worries! This tray is good all year round (just change the message!)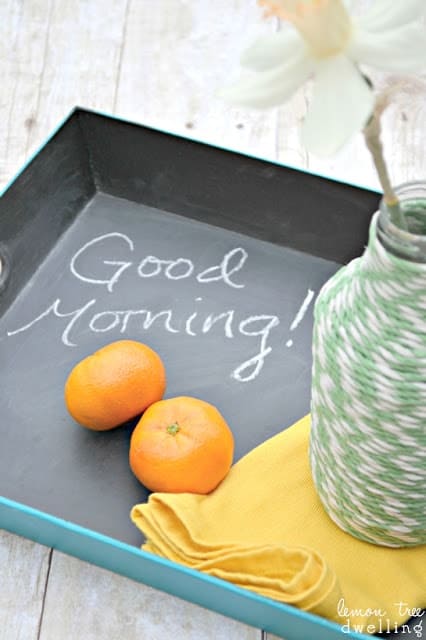 What about you? What do you have planned for Mother's Day?
I hope it is a great day….filled with the simple things….(and maybe breakfast in bed, too!)