I am a member of the Collective Bias®  Social Fabric® Community.  This shop has been compensated as part of a social shopper amplification for Collective Bias and its advertiser.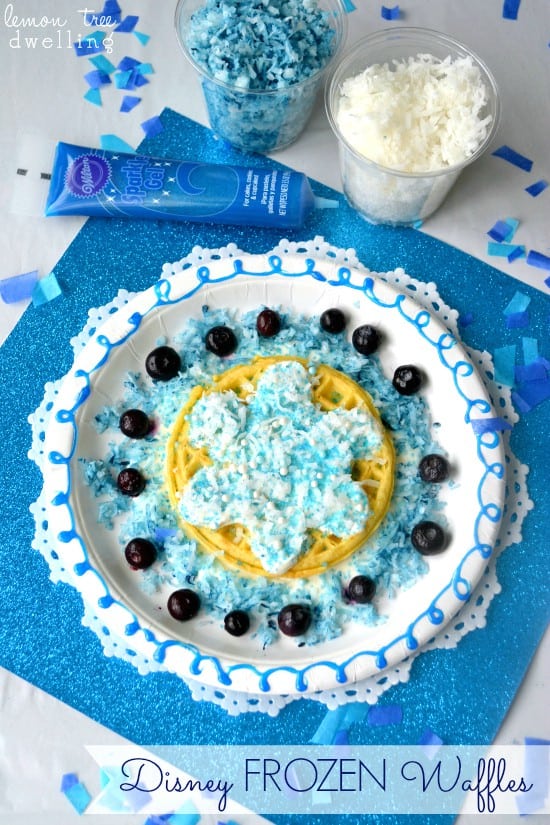 Well…we are officially 4 days away from a VERY exciting day: the DVD release of Disney FROZEN! Now, for those of you who ask what's so exciting about that….I have to imagine you don't have girls. Because if you did, you would clearly understand! For the past 2 1/2 months, since the girls saw the movie in theaters, our house has been filled with all things FROZEN. From music to dancing to dress up to stories, we've been living in a FROZEN wonderland! So….when the opportunity presented itself to have a little #FROZENFun with #collectivebias, I jumped on it!!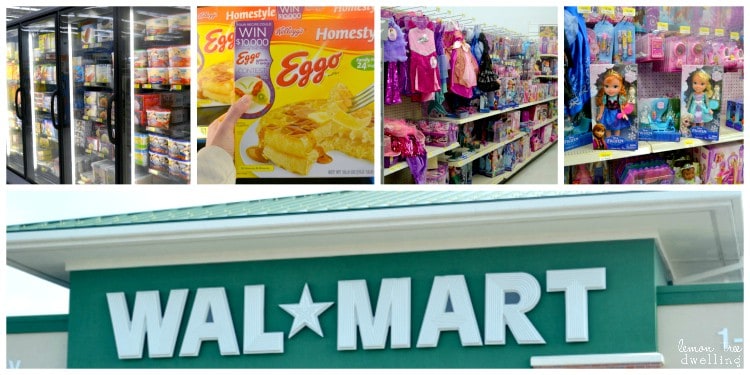 I wanted to keep it a surprise, so while the girls were busy having fun with Dad, I headed to Walmart to find Eggo Waffles and these adorable Anna and Elsa dolls. While I was there I picked up some other fun snack ingredients and party supplies for our FROZEN snack time with Anna and Elsa! SO fun!!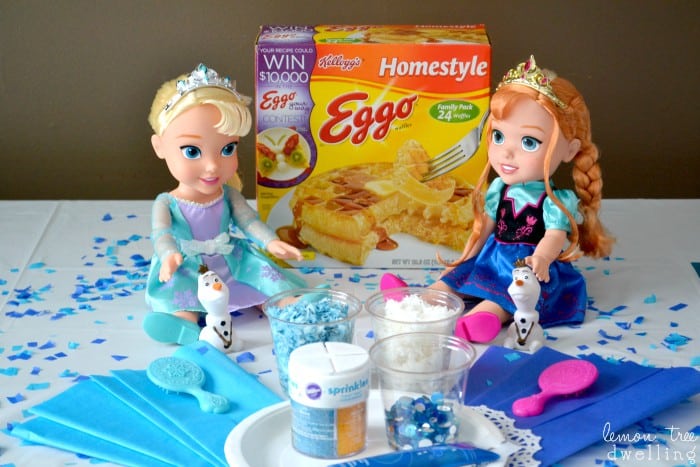 Since I'm typically not the kind of mom who comes home randomly with fun presents for the kiddos, they just about flipped when they saw the dolls. And when I told them the plan for the day, they just about double flipped! What little girl wouldn't want a play date with two of their favorite movie characters??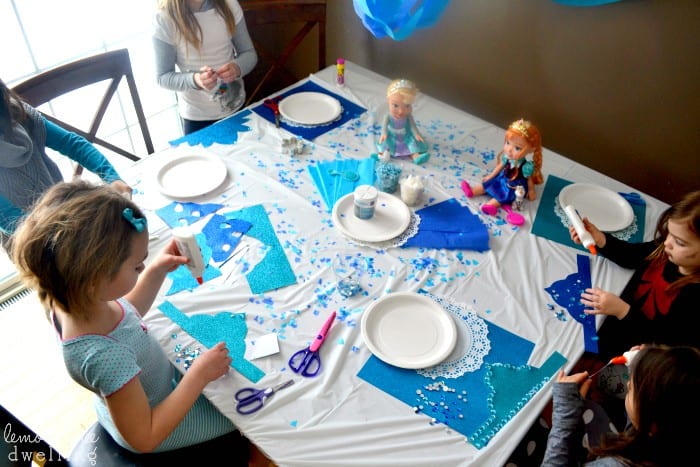 Of course, no party is complete without friends…..so we decided to invite a couple of Ellia's friends from school. And then….WE HAD FUN!!
First came the crowns. After all, if Anna and Elsa get crowns, shouldn't everybody??

While the crowns were drying (we used LOTS of sequins and glue….) we got to work on our snack! Toasted Eggo waffles on a bed of Greek yogurt with coconut and blueberries….and a decorated snowflake made of yogurt on top! If this isn't the perfect FROZEN snack, I don't know what is!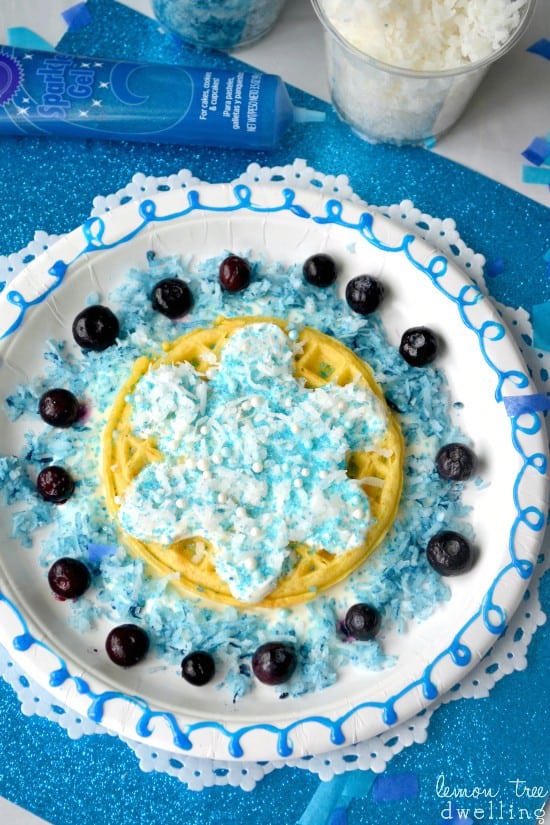 Anna and Elsa were very pleased with the final creation….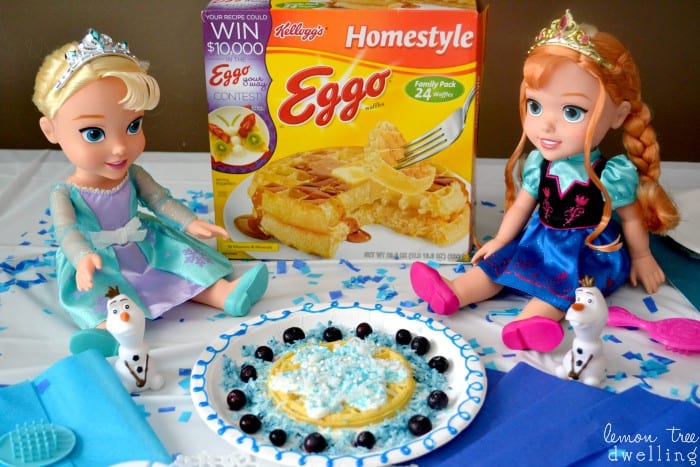 ….and the girls had a blast making and decorating their own!

At the end of the day, it was one of the most fun play dates we've ever had! Not only did we get to do fun arts and crafts and eat a delicious, healthy snack together…..but the girls had the added fun of Anna and Elsa being there with them! We listened to FROZEN music, the girls sang and danced and played with their new dolls, and everyone really got into the FROZEN spirit! Ellia even asked her friends to dress the part….and if you notice, they did! Everyone is wearing white, blue and silver! Except, of course, for Nora….because when it comes to 2 year olds, you don't really push things like that. You're just happy when they go along with the plan at all!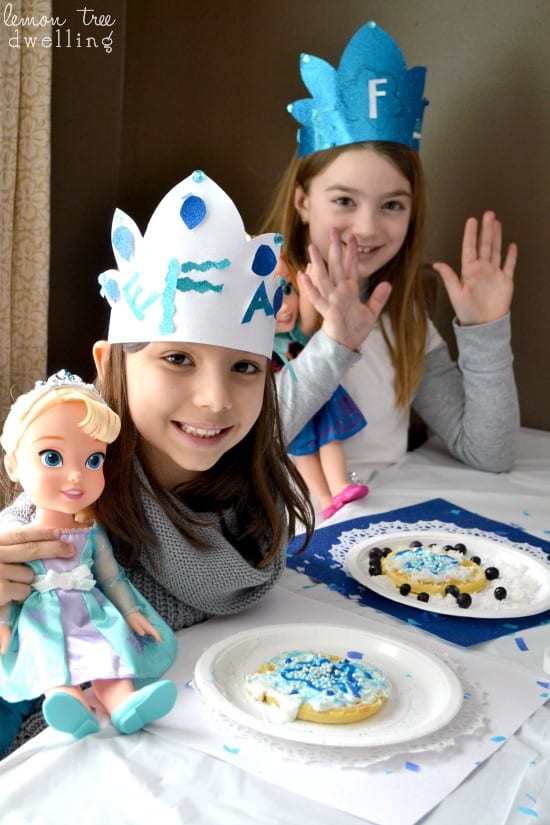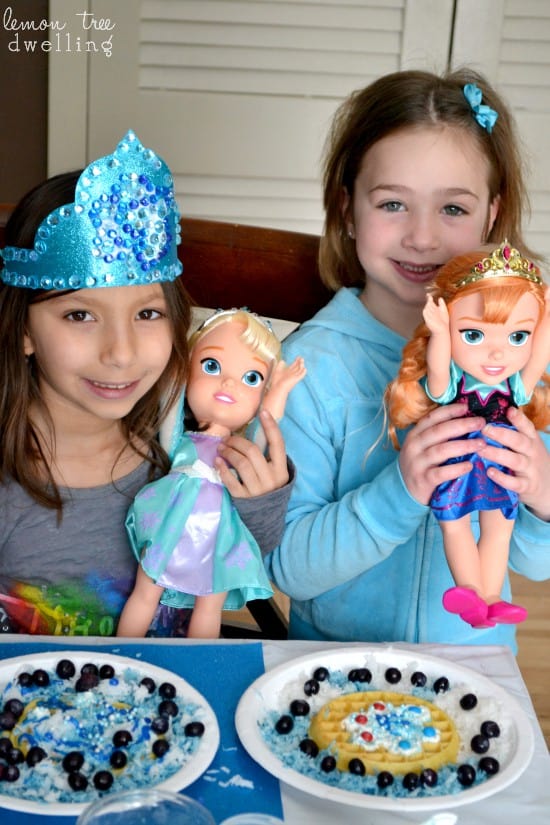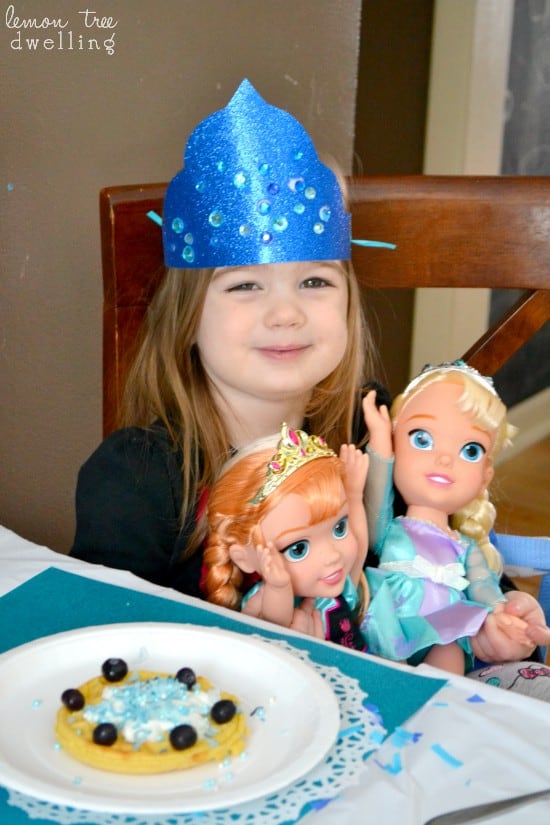 Now that the girls know the DVD will be available March 18th, there's no way we can get it even a day later! I can guarantee I'll be heading back to Walmart to take advantage of their price drop – the FROZEN DVD will be reduced from $16.95 down to $14.95. AND….if you buy specially marked packages of Eggo Waffles (24 count) you can get an extra $5 off coupon offer! While you're there, you might as well pick up a few other things to have a FROZEN party of your own…..trust me, your kids will love it!!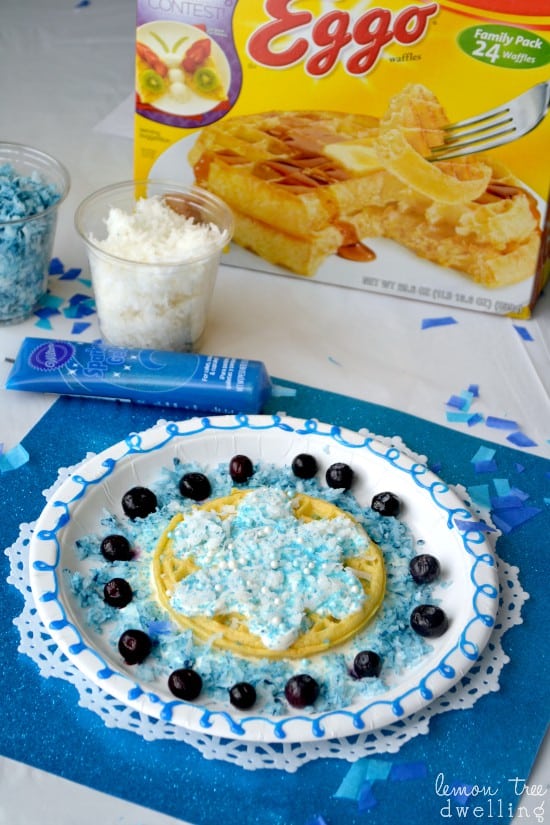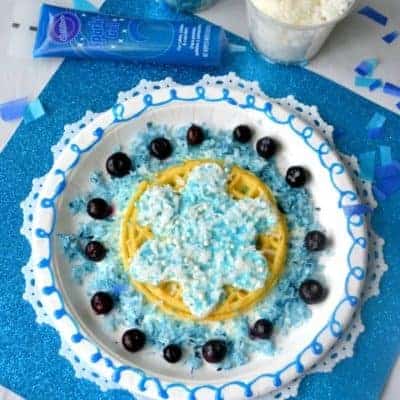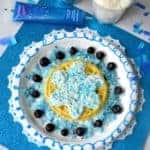 Disney FROZEN Waffles
Ingredients
4

frozen Eggo waffles

2

c.

plain Greek yogurt

2

Tbsp.

honey

1/2

c.

shredded coconut

1/2

c.

frozen blueberries

assorted silver

blue and white sprinkles

blue food coloring

snowflake cookie cutter
Instructions
Combine Greek yogurt and honey in a small bowl and stir until honey is incorporated.

Squeeze a couple drops of blue food coloring into coconut (you can dye some or all of it) and stir to combine. Set aside.

Toast waffles.

Spread approximately 1/4 c. yogurt on bottom of plate.

Top with 1-2 Tbsp. shredded coconut.

Set toasted waffle in center of plate and place snowflake cookie cutter on top.

Carefully spread yogurt inside cookie cutter to create snowflake design.

Top with additional shredded coconut and sprinkles.

Add blueberries as desired.